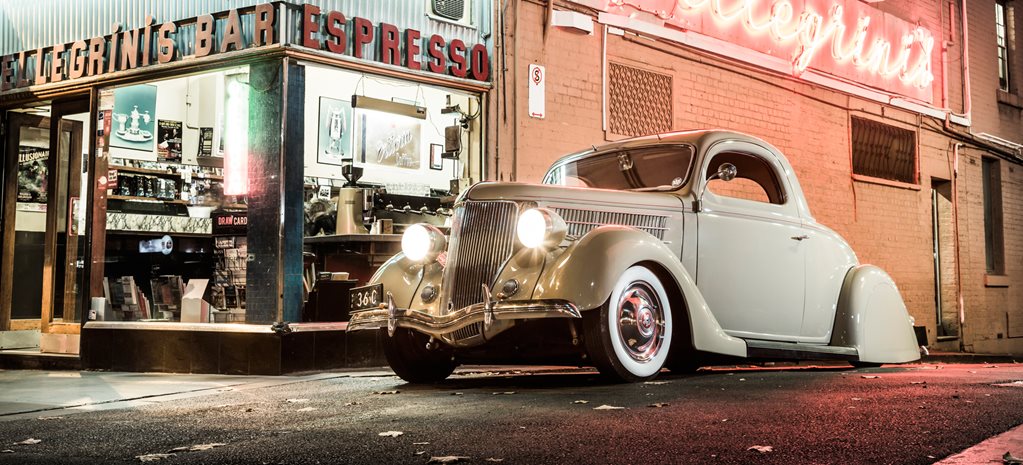 https://www.whichcar.com.au/features/tail-dragging-36-ford-coupe
This article was originally published in the Street Machine Hot Rod No.19 magazine
TAIL-draggers are the sleek, stylish midway point between stripped-down, speed-freak hot rods and the big 50s land yachts many think of when using the term 'custom car'. Inspired by art deco, they represent a more civil on-road presence, which is exactly what Melbourne's Dale French was after when he built this '36 Ford coupe.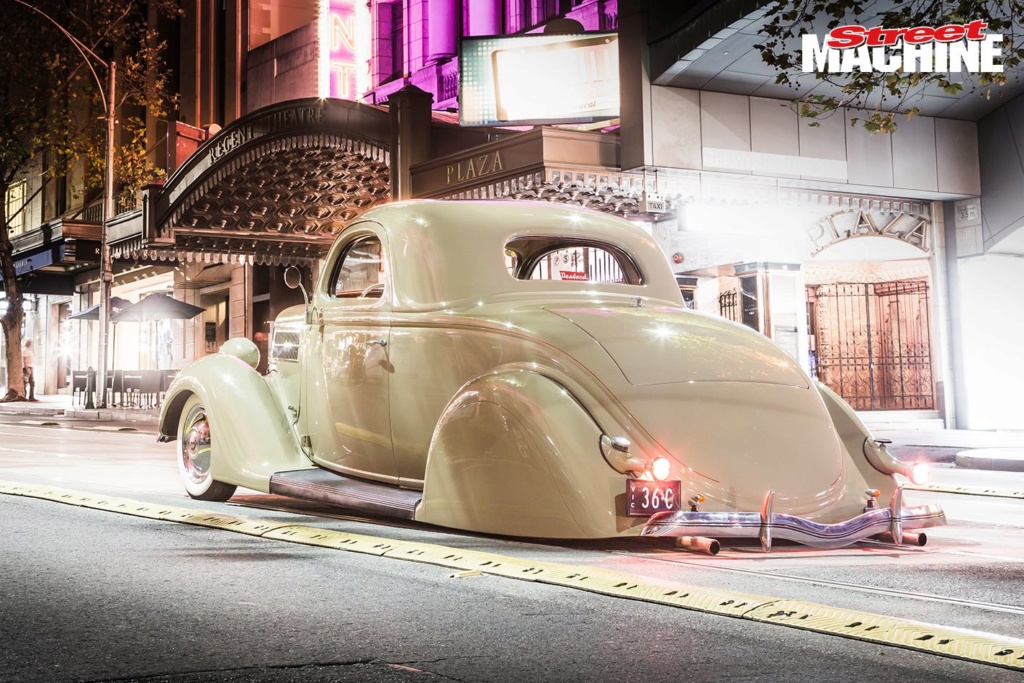 "I found the car in Boise, Idaho, on an internet forum in May 2016," he says. After getting the car in his shed, Dale got cracking: "I knew what I wanted to do so I didn't muck around – I got it on the hoist and it sat there for a year."
Dale saved heartache by starting with a car already in excellent shape, meaning he didn't have to budget for a whole car respray.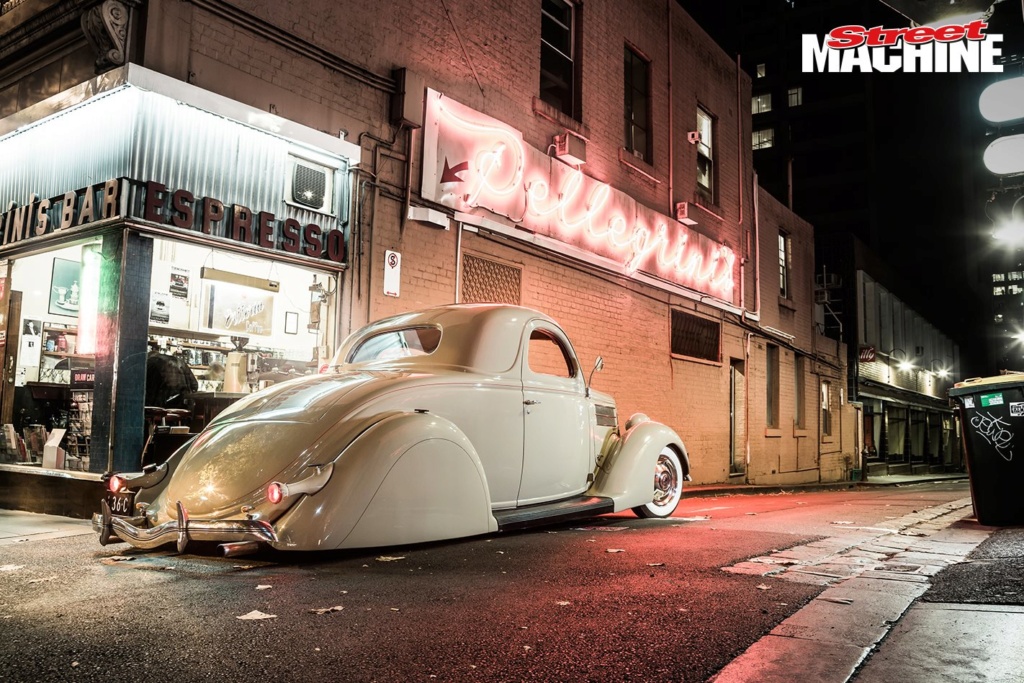 "It was in 100 per cent stock-standard original condition as it had been restored," he says. "It had mechanical brakes, as well as the factory flathead V8, three-speed and banjo diff."
There was no rust, though Andy Scicluna from Area 51 in Woodend, Victoria – who was handling the metalwork – did find a bit of filler in the guards. Then Troy Palmer from Ballarat took over, painting it and fixing up the area where the spare wheel bolts onto the rear.

_________________
We don't care the People Says , Rock 'n' roll is here to stay - Danny & the Juniors - 1958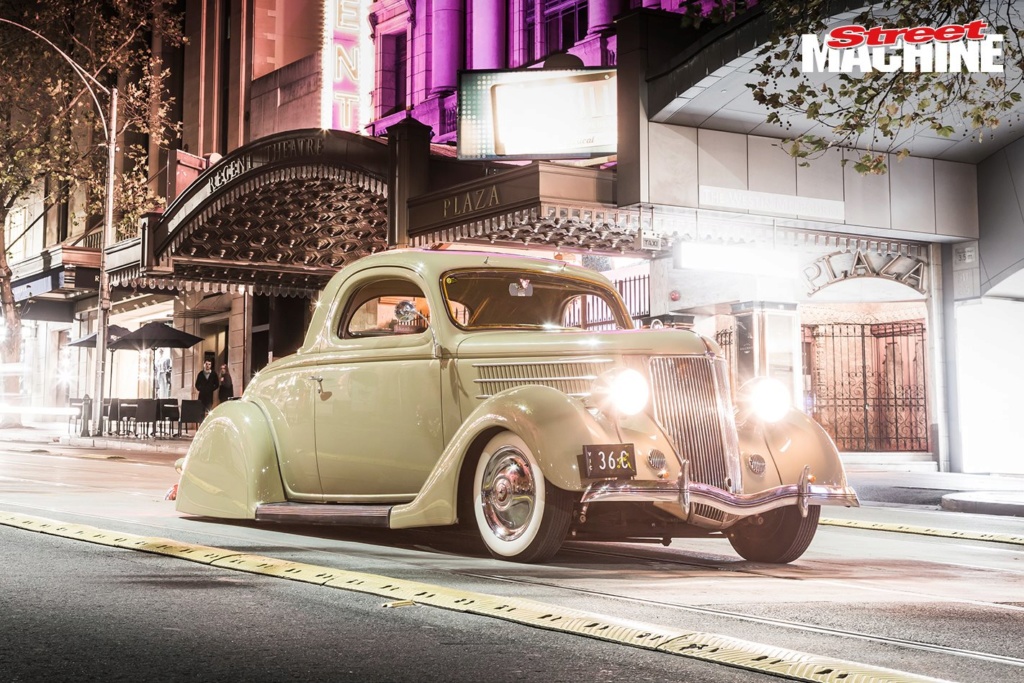 Much more time was spent under the stock cream body to get the stance on-point, as Dale was never going to be happy with the original cable-stoppers or mile-high ride height. He fitted a dropped axle and lowered spring in the front, as well as a hydraulic disc brake conversion. "It's a modern disc rotor that uses a Commodore caliper and is fitted using brackets from Rod-Tech," he explains. "It's a typical hot rod set-up as it also uses a Gemini booster and an XA Falcon master cylinder mounted under the floor, with the stock drums that came on the eight-inch diff out the back. It has the original handbrake, too."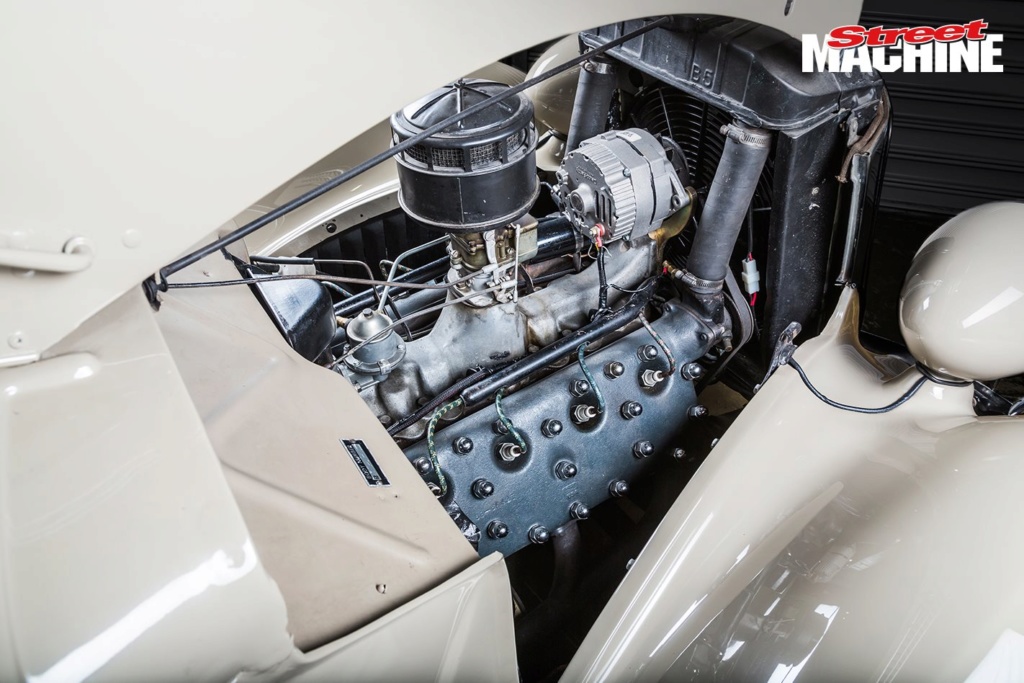 Out back Dale had more work to do, choosing to notch the chassis five inches before designing and building a custom four-link rear-end. He fitted AccuAir air suspension, complete with e-Level height-management system, from Air Ride Suspension Supplies in Melbourne.
"I like that tail-dragger look with the nose up and rear end down," says Dale, "and I cruise it tail-down."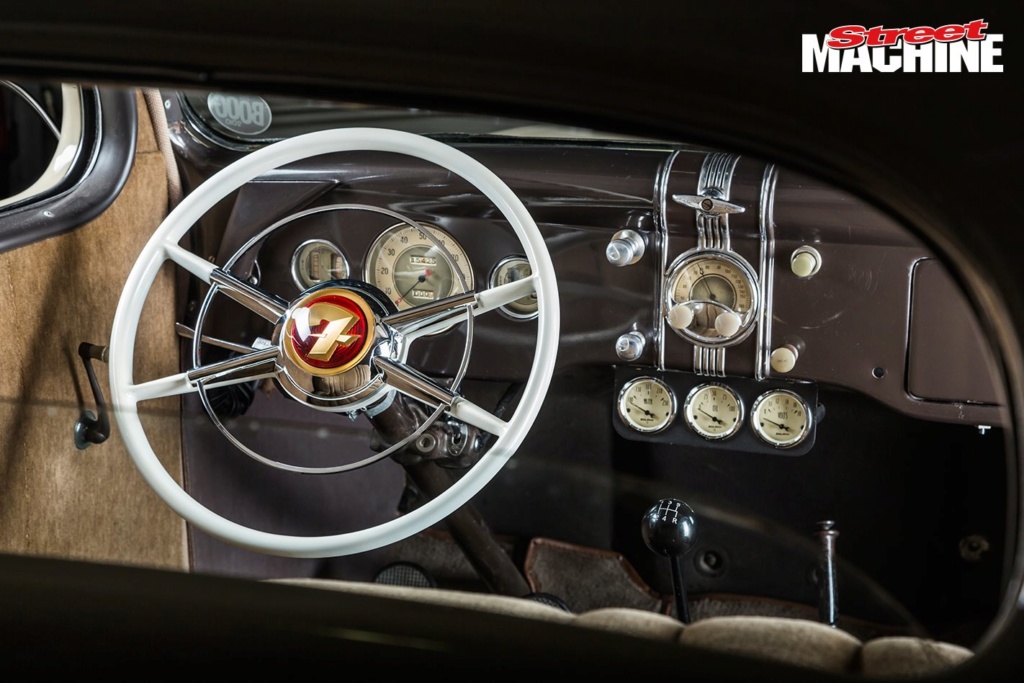 Dale chose to leave the stock 221ci flathead in play, but upgraded to a late-model Tremec T5 five-speed manual from a Chevy S-10 pick-up, which he fitted using a Macs conversion kit from Sutton's Classic Cars & Restorations. "The centre crossmember came as a 'bolt-in' kit but that turned out to be more work than I first thought to make it fit."
There were a couple of other minor upgrades to the running gear to ensure the coupe cruised with perfect manners.

_________________
We don't care the People Says , Rock 'n' roll is here to stay - Danny & the Juniors - 1958
"Simplicity is the key to this car," Dale says. "I wanted to make sure everything worked and was easy to use and drive. I totally rewired the car with a basic nine-circuit harness to convert it to 12-volt with an alternator, and that's about it for engine mods."
That said, if he tires of simplicity he's got a '39 flathead waiting in the wings, with twin carbs and alloy heads. "The twin-carb motor should wake it up a bit," he laughs.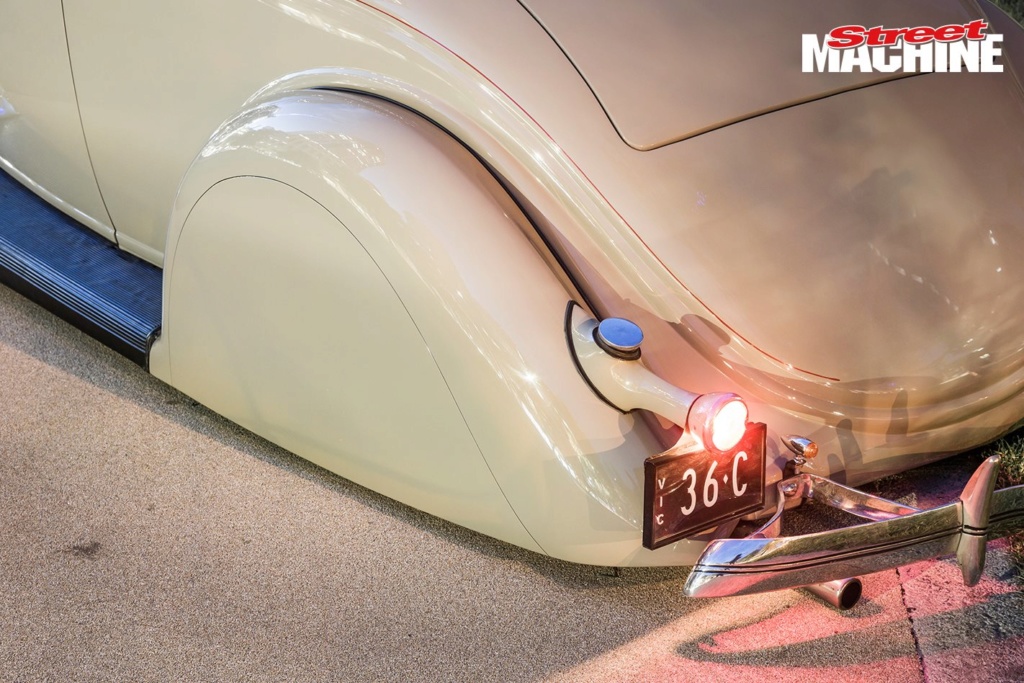 There's also the option of further tinkering down the track. "I did plan on doing the trim, but I'm undecided on chopping the '36," he says. "I have a dickie seat for the rear, but I need to modify it before I can put it back in, as the chassis notch in the rear stops it from fitting. Really this coupe was built as a cruiser. I have a '59 Chevy wagon, and the hot rod is for when I get a chance to head out on my own."
One thing Dale's adamant about is that all his cars are for driving – you won't find him rocking up with a trailer. That's why he reckons the simple builds are the most enjoyable.
As the man says: "You get to spend time actually driving them and not building or repairing them."

_________________
We don't care the People Says , Rock 'n' roll is here to stay - Danny & the Juniors - 1958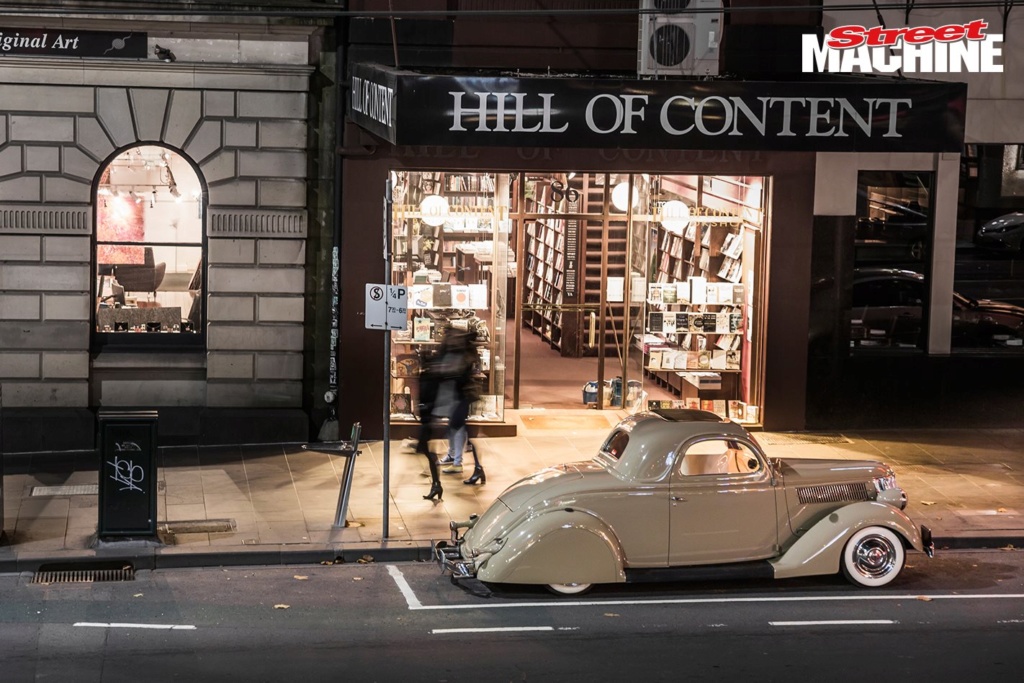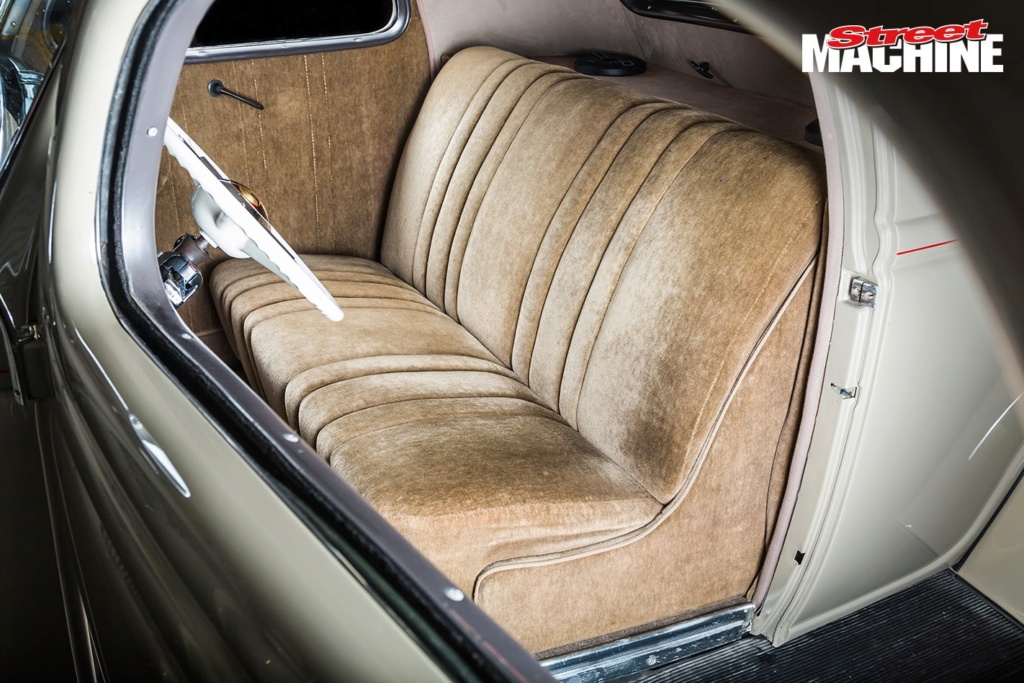 DALE FRENCH
1936 FORD THREE-WINDOW COUPE
Paint: Stock cream
ENGINE
Brand: 1936 Ford flathead V8
Capacity: 221ci
Internals: Stock
Wiring: 12V conversion
Carburettor: Stock one-barrel
TRANSMISSION
Gearbox: Tremec T5
five-speed manual
Clutch: Stock T5
Diff: Ford 8in
SUSPENSION & BRAKES
Front: Dropped I-beam and lowered spring
Rear: AccuAir e-Level air suspension, custom four-link arms
Brakes: Discs with Commodore calipers, Rod-tech brackets (f) Ford 8in drums (r); Gemini booster, Falcon master cylinder
WHEELS & TYRES
Rims: Steel 15x6 (f & r)
Rubber: Firestone 5.60x15 (f & r)
THANKS
Thanks to everyone involved in the build

_________________
We don't care the People Says , Rock 'n' roll is here to stay - Danny & the Juniors - 1958

_________________
We don't care the People Says , Rock 'n' roll is here to stay - Danny & the Juniors - 1958
Sujets similaires
---
Permission de ce forum:
Vous
ne pouvez pas
répondre aux sujets dans ce forum