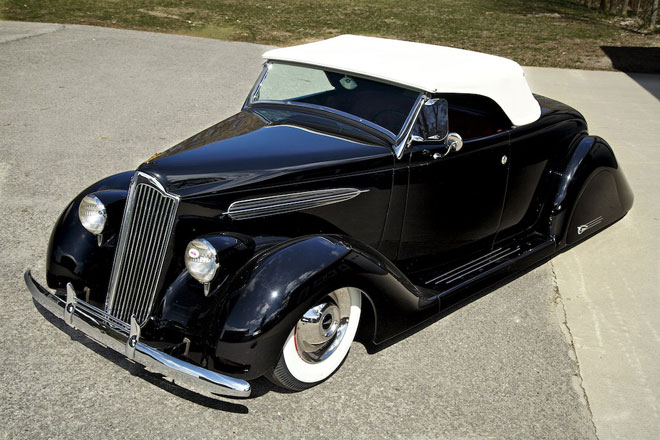 Inspired by the Harry Westergard 1940's styled roadsters John St Germain set out to built his own personal version of the perfect 1936 Ford all steel Roadster. The car was built as a labor of love over a period of several years. Using nothing but the best craftsman, parts and products.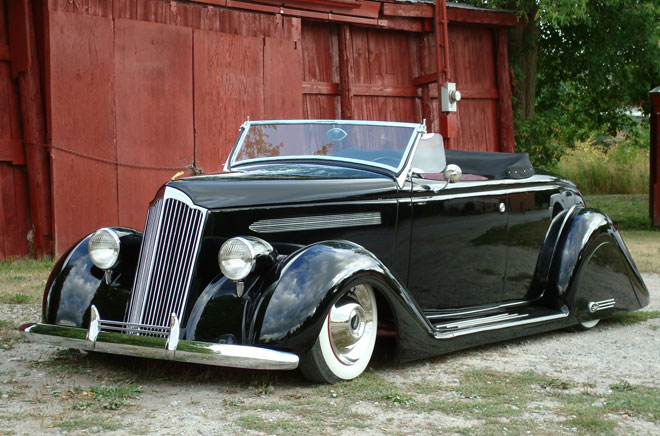 Body Modifications
Windshield chopped 2-7/16ths
Post leaned back
Hidden hinges
Custom hood hinges and inner bracing
Custom trunk hinges
Filled cowl vent
Front fenders extended 2 3/16ths of an inch
Front fenders modified to fit Packard grill
Rear fenders extended and rear panel 8 inches
Handmade Trunk lid
Handmade Hood
Handmade skirts
Handmade rear deck below trunk opening
Handmade rear fender extensions
Handmade grill shell opening [6 pieces]
Handmade inner frame for hood strength
Hand made rocker subframes and lower body panels
Entire body braced with 1×1 steel rectangular tubing
New floor pans, new lower patch panels
New old stock firewall
Replace all wood in doors
Handmade hood, trunk lid, fender skirts, side panels, hood latch, grills on side panels, rear deck, rear fenders lengthened
New inner wheel wells, extended rear quarters
Handmade licence plate frame, rear window frame, rear view mirror, taillight bezels, skirt emblems, hood ornament and wind wings.
Modified wind wing brackets
All metal fabrication and panels by Dave Remian and Brinn
All lead work and hand filing and finishing by Sir Peter Laabs
NOTE:
Metal work on the car took approx.3 years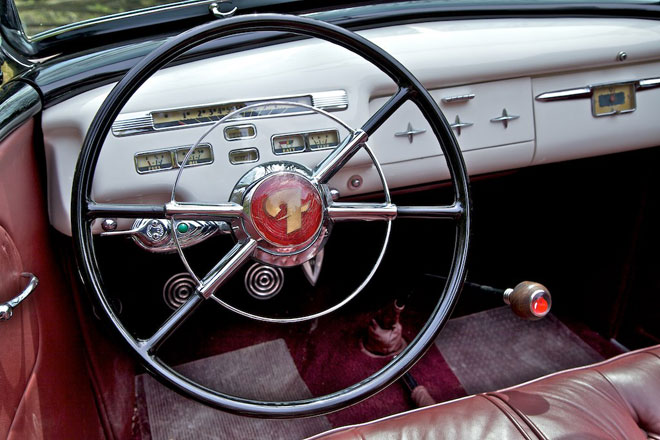 Body and Paint
All final body prep and panel straightening, primer and 1st stage paint by Roy Gibeault
Chassis prep and paint by Painters Edge
Hand polished by owner
Chrome by Mayfair plating, Toronto
Paint sponsored by Glassuritz
1st stage chrome by Carl at Queen city plating
Powder coating by Hal Rowe
YEAR AND MAKE OF DONOR CARS
35 Olds stainless grills in hood side panels
29 Marmon interior lights and bezels under dash
36 Ford hood side trim on running boards
57 Olds dash clock bezels modified for rear exhaust tips and molded in lead
37 Plymouth front bumper sectioned 42" to make rear bumper and modified guards
Custom made license plate light bezel
37 Packard stainless trim pieces on skirts with cnc V/8 emblems on replica 38 Lincoln side panel badges
39 Hudson rear taillight lenses, original glass, and hand made stainless bezels
40 Mercury dash shortened to fit
40 Mercury dash insert with stock gauges
41 Packard grill modified heavily to fit custom made shell
49 Ford door garnish trim modified to fit clock on glove box door
50 Meteor stars on middle glove box door for air ride
51 Ford ash tray handle for pull down on air ride glove box door
50 Ford Crestliner Deluxe steering wheel and horn ring
48 Lincoln trunk buttons for door openers on solenoids
40 Ford steering column with locking mechanism and start switch
49 Ford turn signal switch
49 Ford dash knobs with custom made dash bezels to match
36 Ford headlight lenses modified to fit Packard buckets
53 Chevy armrest
50 Ford interior pillar lights modified for front turn signals
37 Packard headlight pots
Modified headlight rings narrowed and custom fastening system
Handmade brake pedal, clutch and gas pedals, shifter knob black walnut with glass bezel and stainless reveal trim and Time-Bomb logo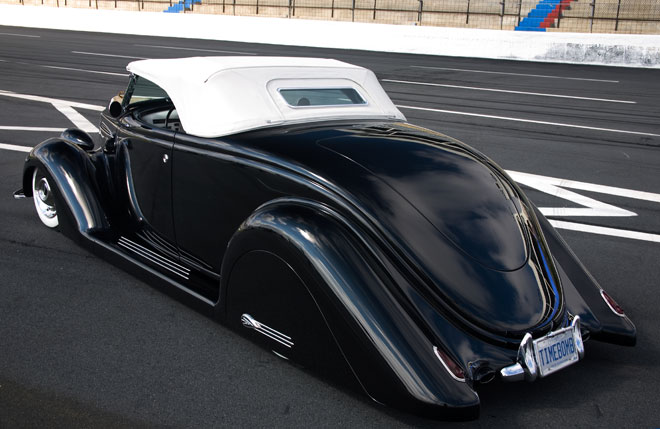 Chassis Specs
1937 Ford chassis boxed
New front and rear crossmembers
Mustang II front end with 4 way independent air bags
Handmade front sway bar chromed
Juice clutch
9" Ford rear end with 373 gears shortened 3 inches
4-bar set up with crossover panhard bar chromed
Sandblasted prepped and painted in Urethane
Handmade front fender brackets chromed
Custom made drive shaft chromed
All Air-ride lines are hard piped
Handmade brake line brackets, fuel line brackets, air ride brackets, e-brake brackets, wiring brackets
Chassis has been C`d in rear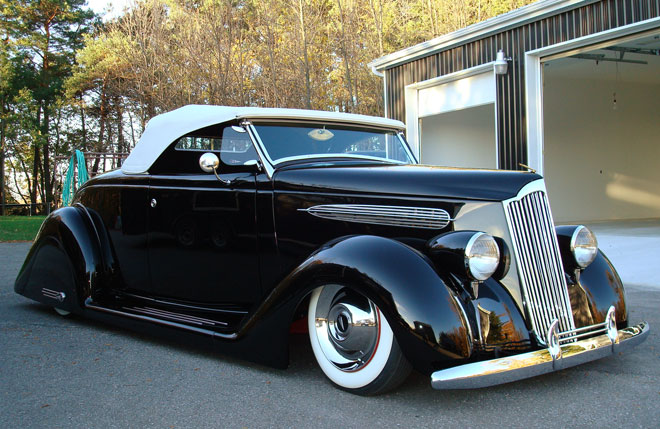 _________________
We don't care the People Says , Rock 'n' roll is here to stay - Danny & the Juniors - 1958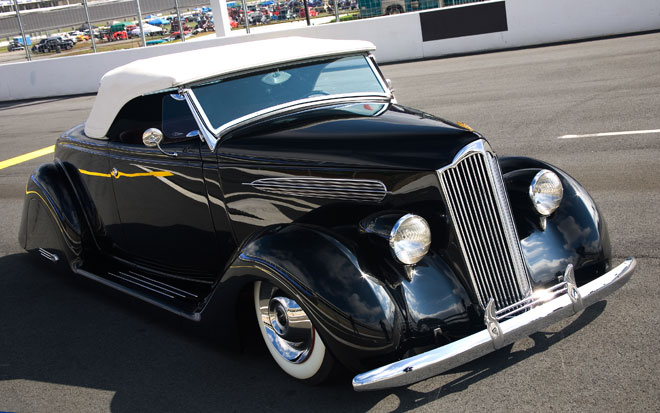 Motor Specs
296c.i. stroker Flathead with 4-1/8th Mercury crank
Full race cam with high lift ratio by Isky
Navarro 3 pot intake
2 Ford 97`s on the outside and Ford 91 in the middle with progressive linkage
Mallory electronic distributor
Stewart Warner fuel pump
65 Mustang Toploader 4-gear with Jeep conversion kit
Block has been relieved, ported, balanced, with Titanium valves and hardened seats
Water pumps shortened ¾" of an inch to fit modified grill and radiator opening ( extra pair made for stock)
Handmade altenator bracket and PVC system
Edelbrock heads
Jahn`s forged pistons weighted
Fenton headers with center port splitter
Handmade exhaust with compression fittings and powder coated
Handmade exhaust hangers with 2" chrome compression unions
High volume oil pump
Ford truck oil pan
Custom fitted air filter modified to fit
Custom oil breather
Walker heavy duty radiator made for this engines specs
Bottom necks modified 90 degrees to clear sway bar
16" electric fan with sensor
Painted, polished, plated, to achieve reasonable road usage and detail.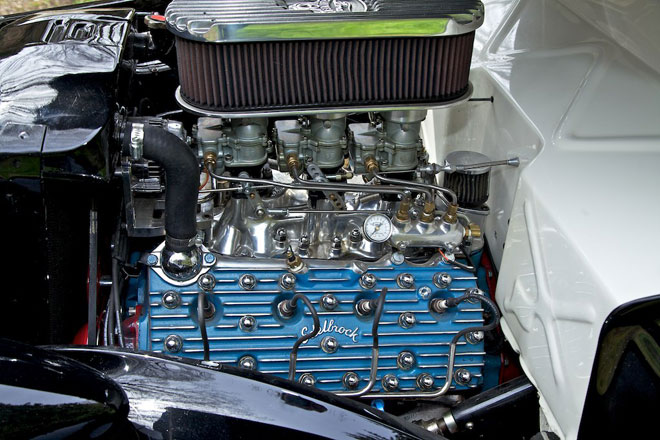 Interior and Wiring
Custom diamond tufted Swedish leather
Ox blood
Custom made bench bucket by Wayne Edwards
White Stayfast material with black headliner top material
Chopped with folding top by Wayne Edwards
Wood bows modified and stained
Wool Mercedes maroon carpeting
Completely made and installed with all fabricating by Wayne Edwards
Centech fuse panel
Complete custom wiring by Steve Marsden
All connections and terminals are soldered with heat shrink tubing and harnessed in PVC tubing rated at 105 degrees celsius
Designed and installed with all relays switches and perfect execution
Halogen headlight bulbs
Dual filament signal light and taillight bulbs
4-way flashers
Turn signals
High-beam indicator shows left and right signals when on
12 volt to 6 volt electronic reducer for dash gauges
Main power disconnect hidden
Remote booster for battery cables
Alpine Stereo:
Alpine stereo 2000 watt system complete with sub-woofers dual amplifiers and tweeters
6 cd changer am/fm
Completely wired by Willy at W.C.Enterprises
Awards include
Goodguys Kustom of the year finalist 07
Best Kustom 35-48 Cobo Hall 07
Top 100 Kustoms of all time as nominated on the H.A.M.B.
Featured in several magazines including 2 covers and illustrated on an event t-shirt for Goodguys
Boyd Coddington Pro Pick award Scottsdale Az. 07
Chip Foose Award Toronto 07
Best Engineered Toronto 07
Street Rodder top 100
Rod and Custom Top Ten Ohio
Rod and Custom Top Tin Az.
AMBR contender 08
AMBC contender 08
Pro Pick Buckaroo publications
Designer's Dozen award Syracuse NY.
http://www.customcarchronicle.com/forums/topic/for-sale-1936-ford-roadster-custom/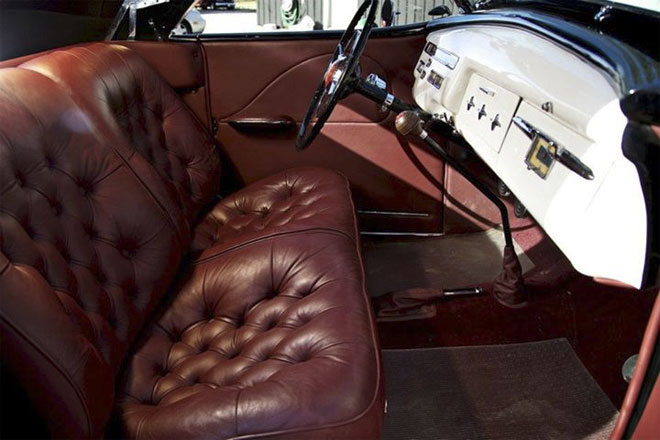 _________________
We don't care the People Says , Rock 'n' roll is here to stay - Danny & the Juniors - 1958

_________________
We don't care the People Says , Rock 'n' roll is here to stay - Danny & the Juniors - 1958

_________________
We don't care the People Says , Rock 'n' roll is here to stay - Danny & the Juniors - 1958
Sujets similaires
---
Permission de ce forum:
Vous
ne pouvez pas
répondre aux sujets dans ce forum