_________________
We don't care the People Says , Rock 'n' roll is here to stay - Danny & the Juniors - 1958
A Westergard-style 1936 is surely in the top five on most kustom aficionados' dream car lists. We know it was for Pennsylvania's Jim Thompson. Not only has he been involved with customs since his first trip to Sled Scene East in Gettysburg, Pennsylvania, some 25 years ago, but he admits, "After years of visualizing my dream of a Westergard-style, Carson-topped 1936 Ford, and 23 years of looking at the reproduction 1940 Packard grille hanging on the wall of my garage, I began the search for a 1936 Ford cabriolet." That search finally ended in Nashville with this basket case. OK, it's not a basket case now, but it was when Jim dragged it home.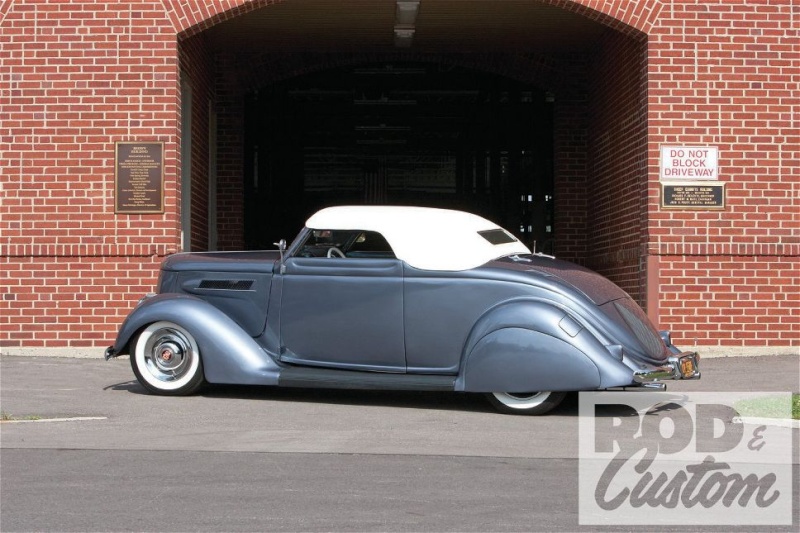 Within two days the stock windshield posts had been removed, replaced by the chopped windshield surround from a 1949 Ford parts car, as Jim had long envisioned the car with a V'd windshield. With this completed to his satisfaction, and a healthy 6 inches lower than the stocker, Jim turned to the chassis. Figuring a convertible body flexes more than a coupe or sedan, he opted to underpin his kustom with a Fatman Fabrications frame, outfitted with an 8-inch Ford rearend on Posies springs and a Mustang II IFS using QA1 coilovers.
With a solid foundation upon which to build, new floorpans went in, swiftly followed by the hand-built Carson-style top. A steel perimeter frame was constructed along with a windshield header, door glass apertures, and top bows. This was followed by a covering of chicken wire and fiberglass mat. A new rear window from LeBaron Bonney was installed and door window frames fabricated, which would later be chrome plated.
The windshield frame and roof were undoubtedly major tasks, but so is the bodywork on any custom, and the 1936 was no exception. Jim narrowed the dashboard from that 1949 parts car by 14 inches to fit the 1936 body, then moved on to modify the rear wheel openings to accept the teardrop fender skirts, which are now mounted in recesses. If you're wondering what the taillights are from, they're 1940 Packard, donated by a good friend, and mounted offset to the inside of the rear fender peaks. Those fenders have been molded to the body, too.
[url=https://servimg.com/view/17914166/45645]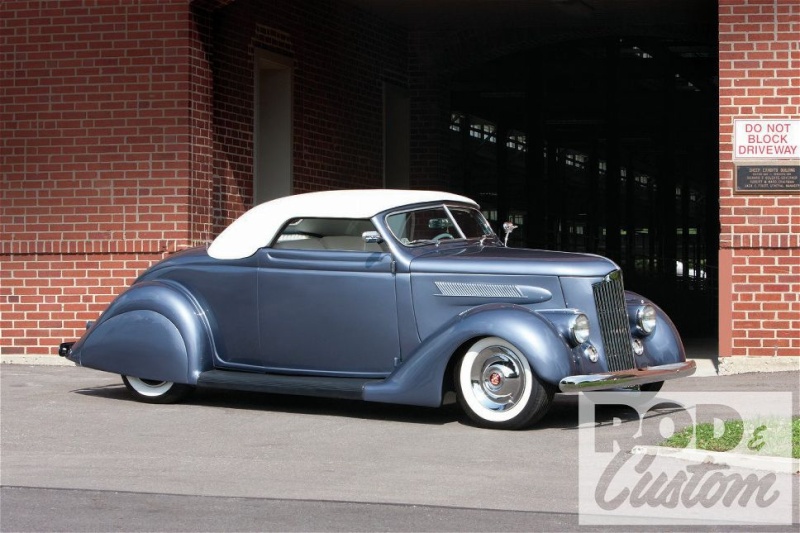 [/url]
That Packard grille finally came down off the garage wall and made its way onto the 1936, as did 1937 Chevy hood side louvers, a pair of 1940 Chevy headlights, and 1940 Ford pickup bumpers, front and rear. Jim tackled all the modifications and bodywork himself, as well as spraying the DuPont Spectermaster Blue. He says that painting the entire car in pieces and then reassembling it all without damaging anything was the most challenging part of the entire build.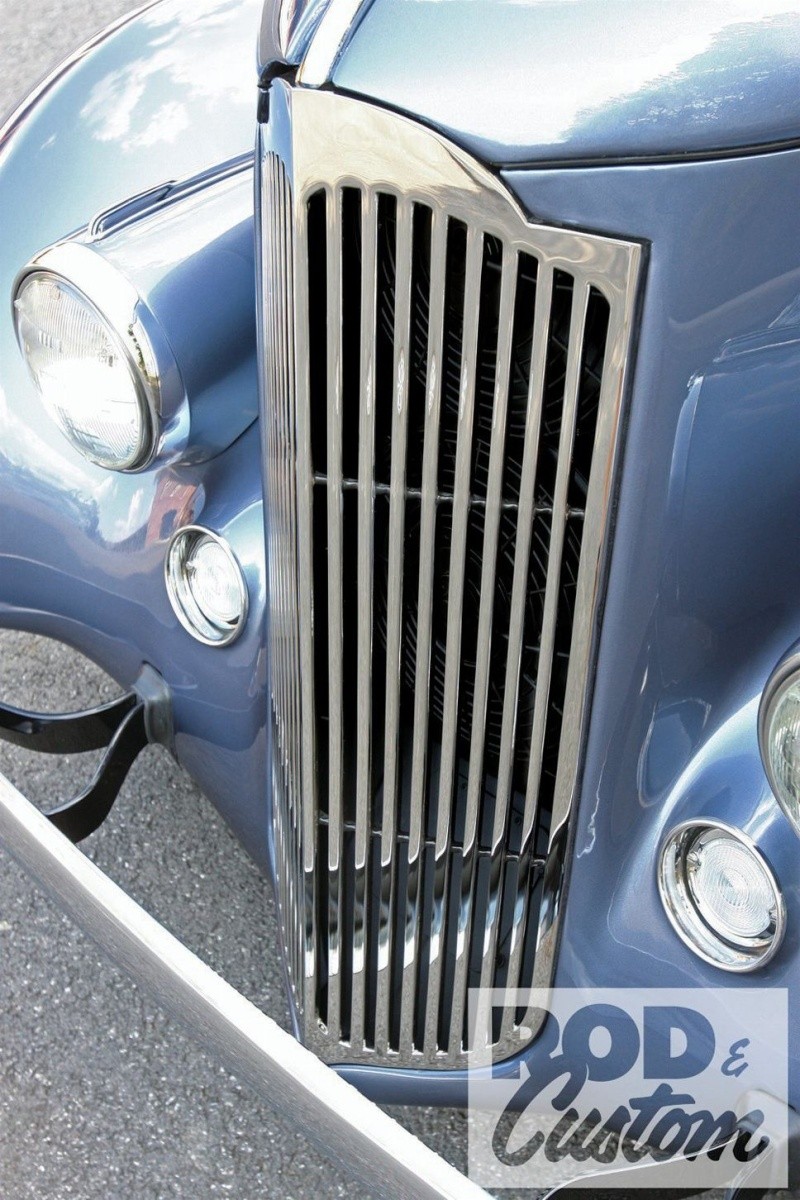 After the endless bodywork, wiring, engine and transmission installation, paint choices, exhaust system, chrome plating, and a million other jobs, the car was finally at the point where it could be upholstered. Jim says, "I took the car to my buddy's upholstery shop (Kiski Valley Upholstery in Vandergrift, Pennsylvania) and he did his best to meet my deadline to take the car to the Midwest Custom Car Revival in Indianapolis. With only 300 miles on a fresh homebuilt car, my wife and I left on a 700-mile round-trip to Indy and returned with the Most Outstanding Custom Award." We have a feeling you better get used to hauling those trophies home, Jim!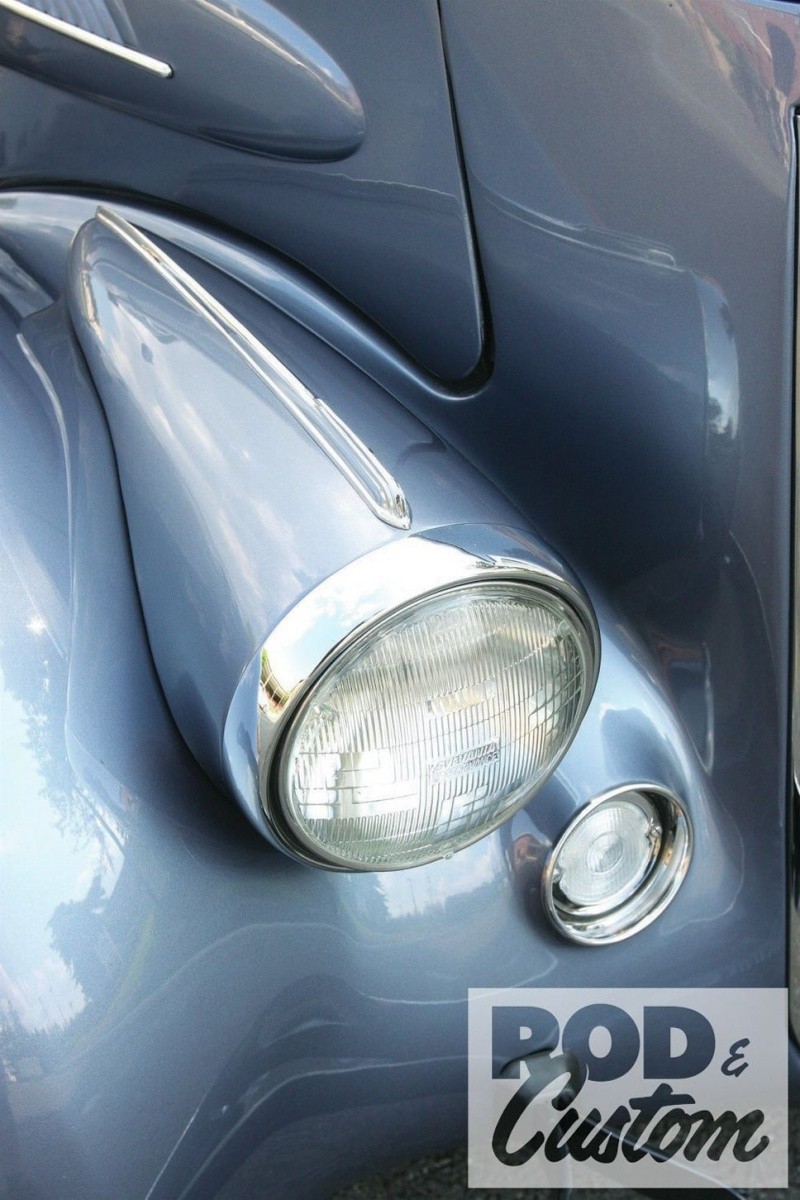 _________________
We don't care the People Says , Rock 'n' roll is here to stay - Danny & the Juniors - 1958
Rod & Custom Feature Car
Jim Thompson
Saxonburg, Pennsylvania
1936 Ford Cabriolet
Chassis
The entire stock chassis was replaced with a new version from Fatman Fabrications, offering a stiffer foundation for the roofless sheetmetal. It features a Mustang II IFS with Ford spindles, QA1 coilover shocks, and a power steering rack. An ECI master cylinder and disc brakes bring everything to a stop. A Tanks 17-gallon steel gas tank lives in the stock location, fed through a filler door in the left rear fender.
[url=https://servimg.com/view/17914166/45648]
[/url]
Drivetrain
Between those rows of Chevrolet hood louvers you'll find another GM product: a 0.040-over 350 small-block from Blueprint Engines, outfitted with an Edelbrock 600-cfm carburetor on a same-make intake, and Alan Grove accessory brackets. A PerTronix distributor and Taylor wires keep the fire lit, ram's horn manifolds take away the exhaust gases, and a Walker radiator keeps everything cool. Jeff's Transmissions in Gibsonia, PA, rebuilt a TH350, pushing the ponies down a Pittsburgh Driveline Service driveshaft to a 2.79:1-geared Ford 8-inch rearend.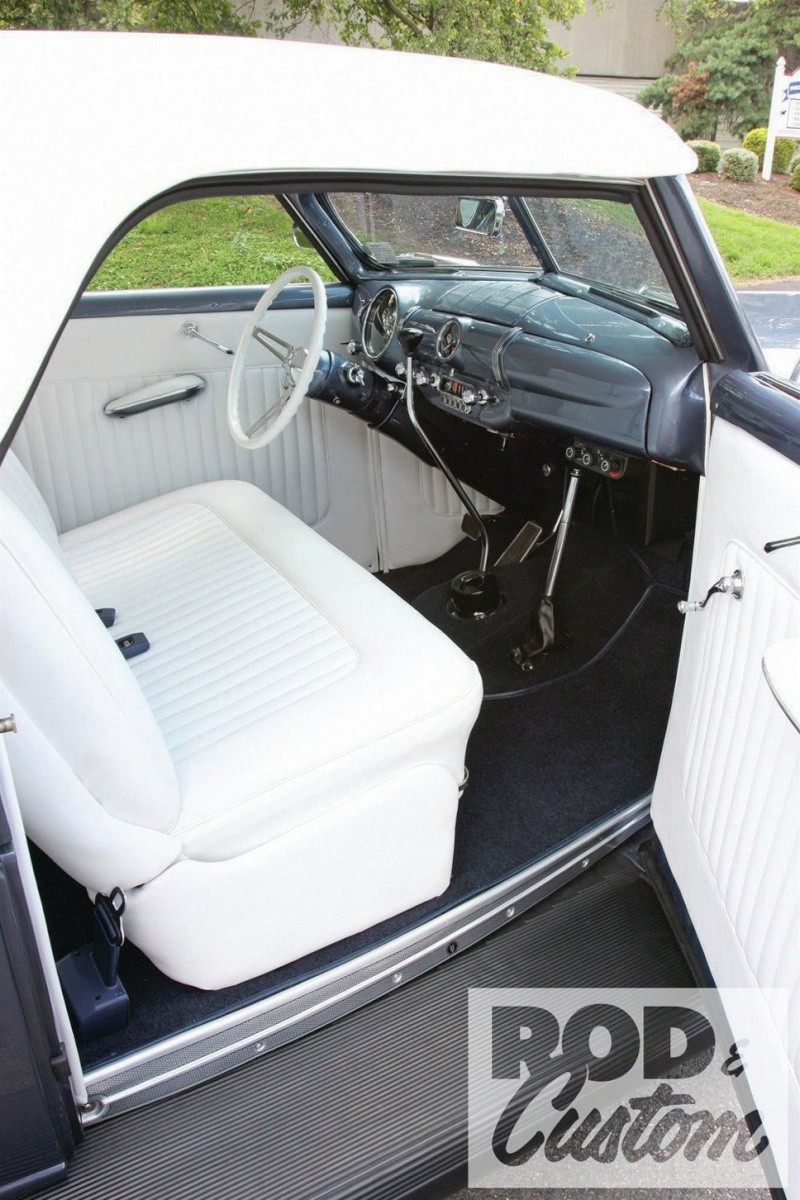 Wheels & Tires
Behind those Sombrero caps and fender skirts are nothing more glamorous than a set of 15x5.5 Ford Ranger steel wheels, wearing a quartet of 205/75R15 Diamondback whitewall radials.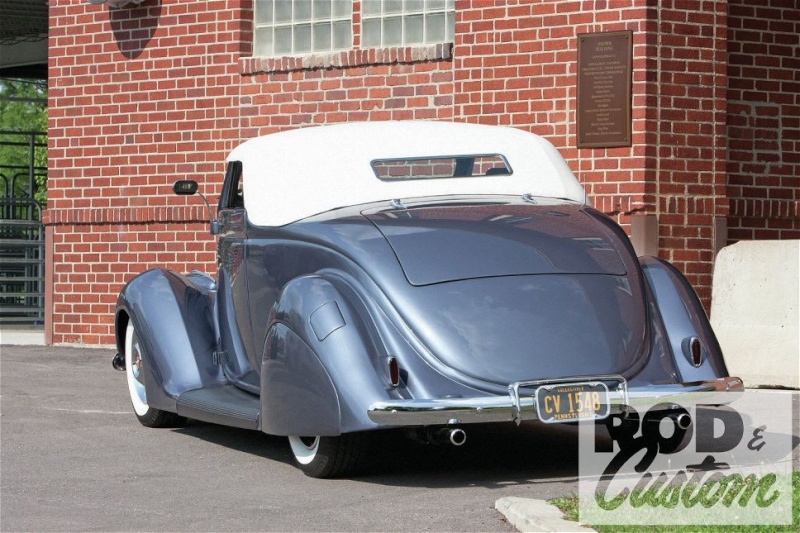 Body & Paint
A package this good looking takes a lot of planning and parts from several marques. Jim had the 1940 Packard grille hanging on his garage wall for years, and already had the 1949 Ford parts car that donated the dash and windshield surround, but had to source the 1940 Chevy headlights, 1937 Chevy hood side louvers, and 1952 Buick parking lights. He then grafted them all together to appear as if they came from the factory that way, as well as molding the rear fenders, adding the teardrop skirts and 1940 Ford pickup bumpers, and fabricating his own Carson-style roof. To top it all off, he sprayed the car himself too.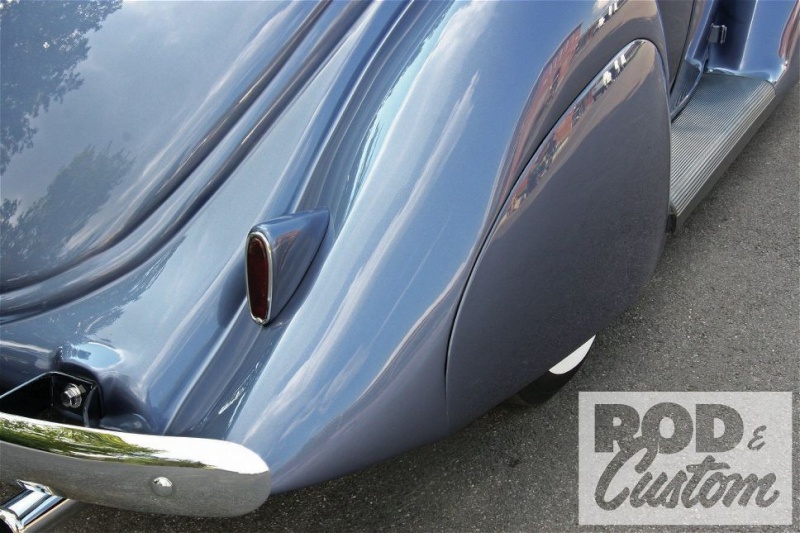 Interior
We've already mentioned the 14-inch narrowed 1949 Ford dash, which use its stock gauges and radio. Bolted to its underside is a GM tilt column, while a Lokar shifter and e-brake pass through the marine-grade navy blue carpet. The original bench seat is now upholstered in white Ultraleather, as are the door cards and kick panels. A Vintage Air heat and defrost unit lives behind the dash, while a hidden Pioneer stereo and Kenwood speakers provide music. Jim handled the wiring himself, using an EZ Wiring harness. The upholstery extends to the trunk too, where a false front "wall" hides the spare tire and tools.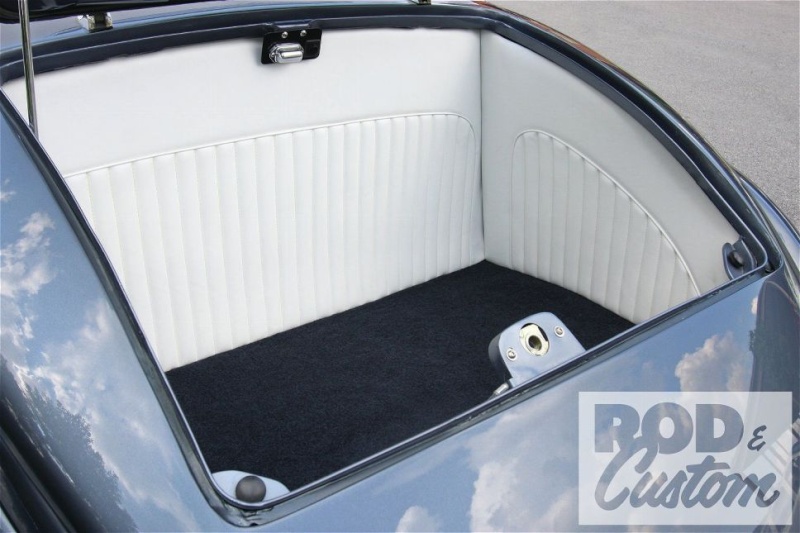 Read more:
http://www.rodandcustommagazine.com/featuredvehicles/1403_1936_ford_cabriolet/#ixzz3DBI0ABgW

_________________
We don't care the People Says , Rock 'n' roll is here to stay - Danny & the Juniors - 1958

_________________
We don't care the People Says , Rock 'n' roll is here to stay - Danny & the Juniors - 1958

_________________
We don't care the People Says , Rock 'n' roll is here to stay - Danny & the Juniors - 1958
Sujets similaires
---
Permission de ce forum:
Vous
ne pouvez pas
répondre aux sujets dans ce forum