This 23 "T" was originally built/completed by Orlan Miller of Dover, Ohio in 1967. He made a custom frame, Interior, Top, Metal Flake Paint, 1965 Vette 327 Dual Quad backed by a 4 Speed and 57 Chevy 4.11 Posi Rear. After completed in 67 this 23 "T" traveled 15,000+ mile's and attended 20+ major ISCA and other Car Show's where it won 17 Trophies for "Best Paint", "Best Engineered", and "Best in Show" for 1967 alone. It was also awarded overall 11th best out of hundred's of other Show Car's in competition. Then in 1968 it graced the cover and major article in "1001 Rod's" following many more year's of winning till 1973.
In 1973 the 23 "T" was sold to a young man, car enthusiast, who would later become an accomplished Actor, Stunt Man, Writer and great friend. He wanted to frame off restore the 23 "T" to his liking yet keep the awesomeness and DNA that it already was known for in earlier year's. He named the 23"T" "Chuck's T", rebuilt, re-chromed, and re-painted again in Metal Flake with Candy Flame's!!!! The drivetrain was rebuilt and all reinstalled as it was previously! "Chuck's T" went on throughout the 1970's again winning "Best Paint", Best Undercarriage" and "Best in Show by Hot Rod Magazine and many top ISCA Show's like the NY Coliseum in NYC. The Summer of 1978 Magazine "Hi-Performance Rod's" did a huge multi-page article and photo's of "Chuck's T". In 1980 "Chuck's T" was sold to a friend's family member where in sat in storage till 2007. The "T" unfortunately had the rear Halibrand Magnesium 4 window Wheel's switched with Cregar's and the side body Lantern's were removed. I do have a contact for the same exact wheel's if the new owner would like to purchase them. Similar Lantern's can be purchased on Ebay cheap.

_________________
We don't care the People Says , Rock 'n' roll is here to stay - Danny & the Juniors - 1958
In 2007, "Chuck's T" was sold to a friend of mine who placed in again in long term storage till was purchased it in 2017. Once home, I had it primed, new oil/filter(heavy zinc break in) and a quick going over before she fired right up and ran surprisingly with great oil pressure and little to no smoke after sitting for 35+ year's. I have acquired lot's of new/NOS part's that would be needed to freshen the Hot Rod up and make road worthy including new front original Avon Speed Masters Mark 2 Tire's. The rear tire's "Firestone" were also replaced due to dry rot flat's and will need new one's. The "T" has been completely cleaned and since it's last restoration 47 year's ago, the car is amazingly in nice unrestored original condition however it is need of elbow grease, brake's, tune up, and some minor touch up's. The car run's well and can drive however its best to go over the entire "T" to ensure it's road worthy.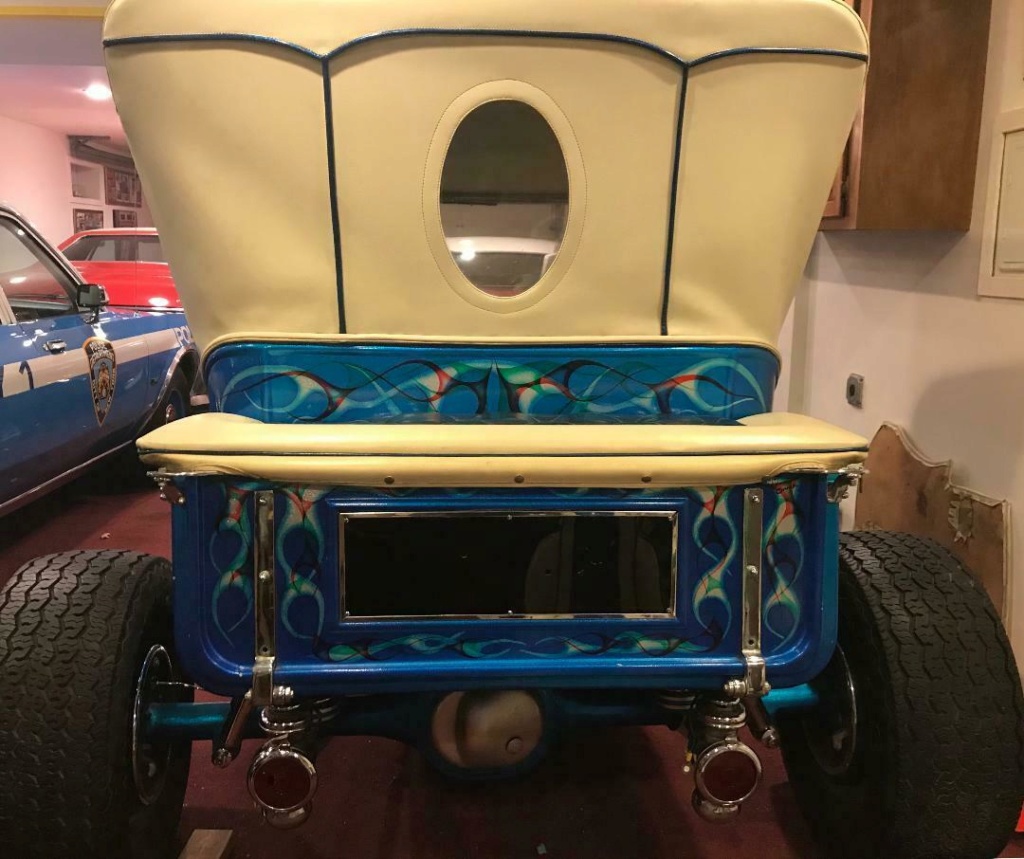 _________________
We don't care the People Says , Rock 'n' roll is here to stay - Danny & the Juniors - 1958
Finally, here is a chance to own a piece of Hot Rod history and one of the most award winning Hot Rod's in the last 50 year's. Please have all your Spouse's permission, finance's and you are welcome to come inspect the "T" by appointment however 2 people came and wasted my time(1-no money needed loan & 2nd Just wanted to look at my other car's and chat). The "Hot Rod Magazine" wall plaque belong's to Chuck, mounted on his wall for 40 year's and not included with car. Some of the picture's in listing are from the 70's. a video of the "T" running is available. Please email me with any question's or concern's.

_________________
We don't care the People Says , Rock 'n' roll is here to stay - Danny & the Juniors - 1958

_________________
We don't care the People Says , Rock 'n' roll is here to stay - Danny & the Juniors - 1958

_________________
We don't care the People Says , Rock 'n' roll is here to stay - Danny & the Juniors - 1958

_________________
We don't care the People Says , Rock 'n' roll is here to stay - Danny & the Juniors - 1958

_________________
We don't care the People Says , Rock 'n' roll is here to stay - Danny & the Juniors - 1958
---
Permission de ce forum:
Vous
ne pouvez pas
répondre aux sujets dans ce forum