1950 Mercury- Rick Dore's personal car. This is Rick's eighth radically built Mercury. To See High Res Photos go to
classiccars.com/listings/view/1032083/1950-mercury-custom-for-sale-in-carlsbad-california-92008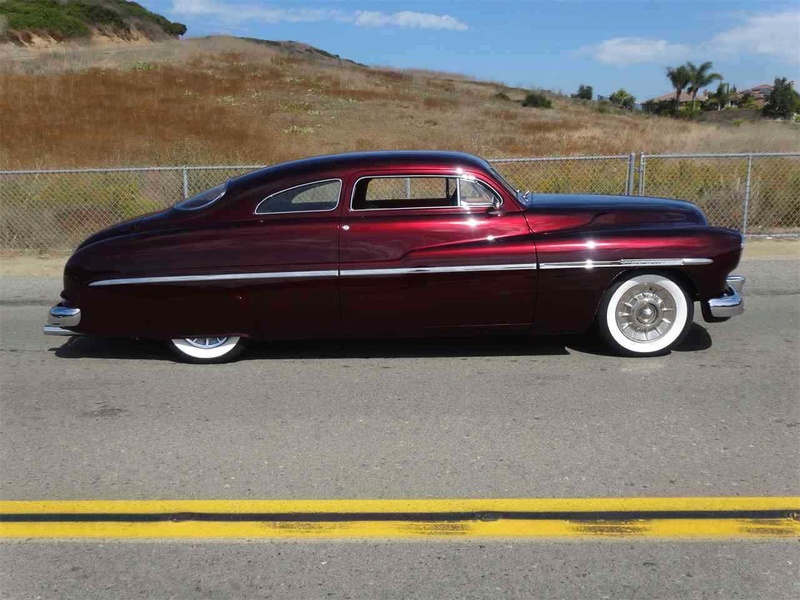 The top has been chopped and the B pillar's have been leaned.
The chrome surround that goes around the rear quarter glass and the doors has been made from one solid piece of brass then chrome plated. This is unlike the typical stainless steel that people use when they chop a Merc. The one-piece brass is expensive to do but well worth it.
The skirts have been completely reworked and flush mounted with a flare on the bottom.
The hood corners have been rounded, the grill cavity has been completely molded and the grill has been re-worked.
The rear quarters were welded solid directly to the body.
The front bumper is stock with the exception of the bumper guards taken from the rear of the original bumper.
The rear bumper has a Kaiser over-rider added. The drip rails were shaved.
Headlights were molded utilizing 56 Oldsmobile headlight rings that were cut back and peaked. That peak carries through onto the fender and shows up very subtly.
Scoops were cut in the hood and molded them in.
Door handles were shaved and used a 1946 Lincoln push button instead to have a physical function to open the door. They are well-made and stainless steel.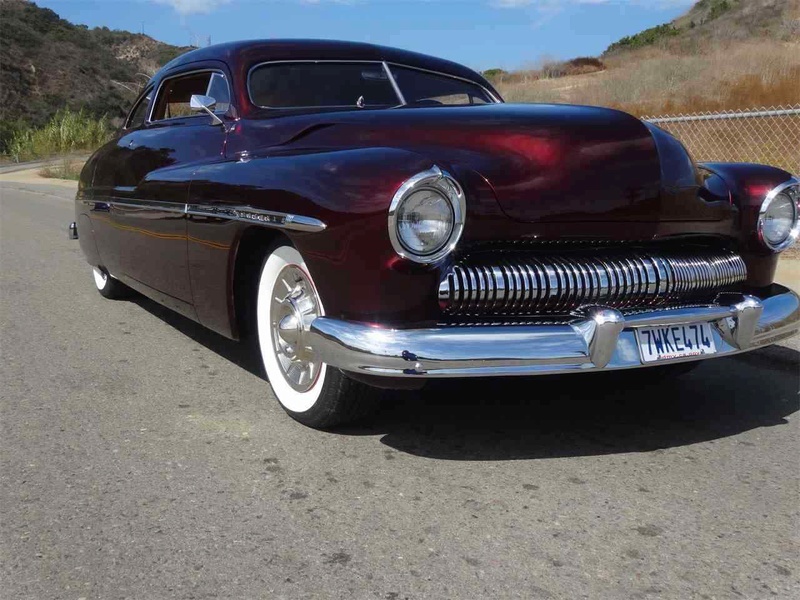 1956 Cadillac hubcaps were used in the front and rear.
The tires are brand new Coker radial wide whites.
Sherms plating did all of the polishing and chrome plating on the car, I use them on all of my cars. Benny Flores well known for his painting and fabrication skills applied the candy paint job on this car utilizing all PPG current Products. It would cheapen it to call it a Brandywine, so I won't, let's just say it's a very nice burgundy Candy that must be seen to believe.
As you can see the interior has been completely gone through. It has also been soundproofed with Dynamat throughout. The carpet is looped burgundy and the materials used on the seats, the headliner and door panels are a fawn color with burgundy inserts.
All window cranks and interior door handles were re-plated as well.
The trunk has been upholstered to match the interior, also has a hidden compartment.
The engine is the original flat head that was rebuilt seven years ago and has only several hundred miles on it. It is a factory three speed on the column with overdrive, and is a dependable driver.
The dash board looks great, with all the original parts such as the gauges, radio making the overall look authentic.
All of the glass and all of the rubber is new.
I have gone through pretty much everything on this car, I am confident it could sit for six months and start right up with no problem, I should also mention it's been switched from a 6 Volt to a 12 Volt.

_________________
We don't care the People Says , Rock 'n' roll is here to stay - Danny & the Juniors - 1958

_________________
We don't care the People Says , Rock 'n' roll is here to stay - Danny & the Juniors - 1958

_________________
We don't care the People Says , Rock 'n' roll is here to stay - Danny & the Juniors - 1958

_________________
We don't care the People Says , Rock 'n' roll is here to stay - Danny & the Juniors - 1958

_________________
We don't care the People Says , Rock 'n' roll is here to stay - Danny & the Juniors - 1958

_________________
We don't care the People Says , Rock 'n' roll is here to stay - Danny & the Juniors - 1958
---
Permission de ce forum:
Vous
ne pouvez pas
répondre aux sujets dans ce forum