allez un peu de hillbilly
Aubrey Wilson Mullican (29 Mars 1909 - 1 Janvier , 1967), connu sous le nom de Moon Mullican, était un chanteur , auteur-compositeur et pianiste. Il a été associé avec le style boogie hillbilly et a influencé le rockabilly, Jerry Lee Lewis l'a cité comme une influence majeure sur son propre chant et piano.
Mullican et sont groupe
Mullican a commencé à jouer de l'orgue, dont son père avait acheté afin de mieux chanter des cantiques à l'église. Toutefois, Moon s'était lié d'amitié a un noir americain, un guitariste du nom de Joe Jones, qui lui fait découvrir le blues du pays. Après avoir fait sa marque en tant que pianiste local, il a quitté la maison à 16 ans et à destination de Houston, où il a commencé à jouer du piano et à chanter dans les clubs locaux.
Dans les années 1930, Mullican a valu le surnom de «Moon», de ses performances toute la nuit .Ses premières influences étaient des artistes de blues populaires de l'époque comme Bessie Smith, Blind Lemon Jefferson et Leroy Carr, avec des musiciens de pays, y compris Jimmie Rodgers et Bob Wills. Il a également joué et enregistré avec Cliff Bruner , les Sunshine Boys, et Jimmie Davis. À la fin des années 1930, il était devenu un chanteur populaire.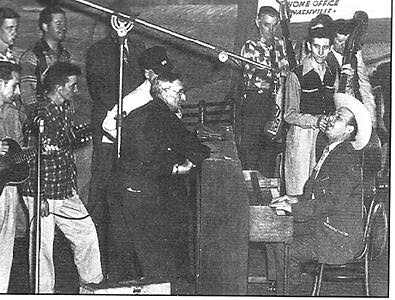 En 1945, il fonde son propre groupe, les Showboys, qui devient rapidement l'une des tenues les plus populaires dans la région du Texas / Louisiana avec un mélange de musique country, western swing, et le piano sauvage de Mullican en jouant et en chantant. Bien que leur style est très éclectique et inclus des ballades country, une partie de leur musique préfigure clairement ce que sera plus tard appelé le rock and roll. En 1946, Mullican fait ses premiers enregistrements comme chef d'orchestre, pour King Records à Cincinnati. Son premier succès était «New Jole Blon" en 1947 suivi par la ballade "Sweeter Than the Flowers" en 1948.
Il a influencé de nombreux artistes. Il avait défini un style de balladeering pays qui n'est pas fait allusion dans son travail des années 1930. Ce style de musique a influencé Hank Williams, Hank Snow, Bill Haley, Elvis Presley, et surtout Jerry Lee Lewis. C'est dans le domaine de boogie hillbilly cependant que Mullican a eu sa plus grande influence. Beaucoup de ses chansons comme "Blues pipeliners", "Hey! Mister Cotton-Picker" et "Cherokee Boogie" (son plus grand succès en 1951).
Dans les années 1960, Mullican a été une figure largement oubliée à l'échelle nationale. Toutefois, Moon avait un problème cardiaque, mais il a continué à jouer régulièrement. Le soir du réveillon du Nouvel An 1966, il a souffert d'une crise cardiaque à Beaumont, au Texas, et est décédé tôt le matin le 1 Janvier 1967.

custom 56




Messages

: 2660


Date d'inscription

: 14/11/2012


Age

: 25


Localisation

: 77 seine et marne




custom 56




Messages

: 2660


Date d'inscription

: 14/11/2012


Age

: 25


Localisation

: 77 seine et marne





Dans une cover du tube de Jan & Dean

_________________
We don't care the People Says , Rock 'n' roll is here to stay - Danny & the Juniors - 1958
Sujets similaires
---
Permission de ce forum:
Vous
ne pouvez pas
répondre aux sujets dans ce forum