Kayelynn Johnson, Chopper Jim, and their families are from Kingman, Arizona, and are as American as the Route 66 Highway in which they live on. They are also responsible for making sure many pieces of Denver Mullins' life's work are well preserved. Denver, who built some of the wildest motorcycles to hit the streets, was the cornerstone of the burgeoning chopper scene in San Bernardino, California, in the '70s until his untimely death in the early '90s.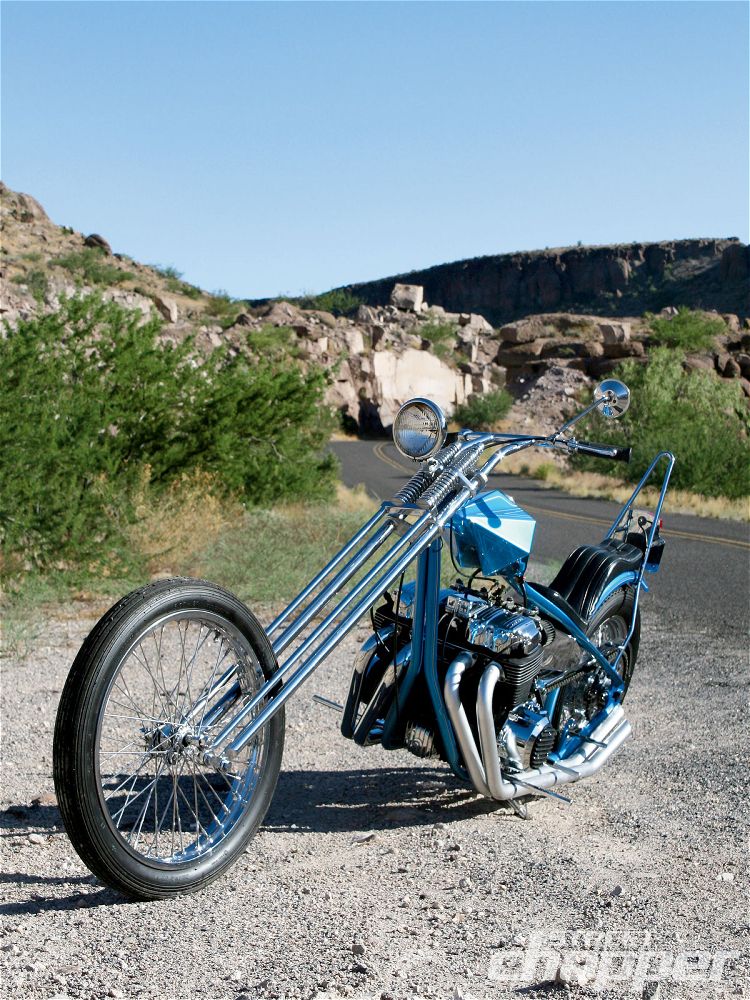 In our 40th anniversary issue we showed you a few of the Kingman clan's restored Denver's choppers, and we are back to show more of their two-wheeled time machines. This time we met up with Kayelynn at his Arizona residence, and we let the man behind the resurrections do the talking while we snapped some shots of this beautiful blue Honda.
And Then There Were Five

After meeting Butch Araiza, who worked for Denver for years at the 2004 Laughlin River Run, my partner Chopper Jim and I were introduced to Mel Scaggs, who told us he had an original Denver's bike. We asked the one question we are famous for when one of Denver Mullins' creations comes into play. Is it for sale? His answer was no. We met up with Butch and Mel the next year at the run, and after asking yet again, we got the same answer. Then five months later out of the blue I received a call from Mel. He was interested in selling the bike and would like to send me some pictures if we were still interested, which we were. After looking at the pictures Chopper Jim and I headed for SoCal the next weekend to pick it up.

_________________
We don't care the People Says , Rock 'n' roll is here to stay - Danny & the Juniors - 1958
We met up with Mel at his house and looked over the bike. We gladly paid his asking price and loaded it up. Then Mel had us load two more Honda 750 engines, a box of miscellaneous parts, and another of Denver's springer frontends. We were then headed back home to let the magic begin.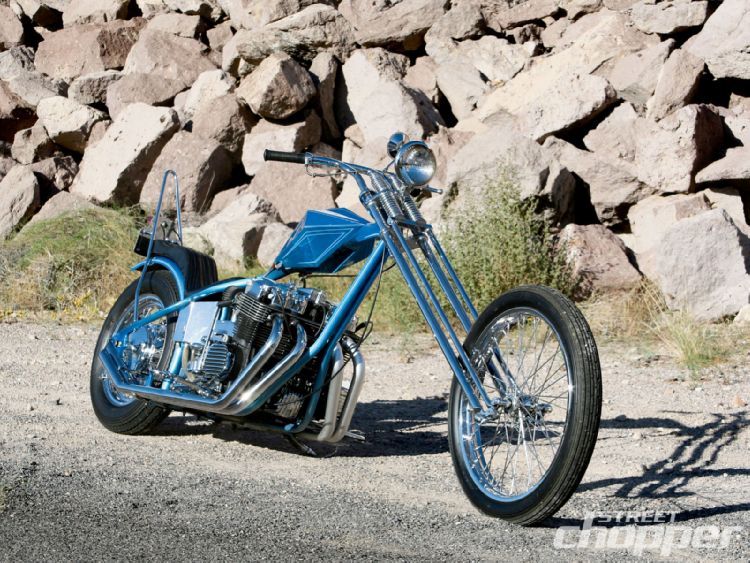 The Teardown
We already had Jim's "My Dream" (STC, Fall 2009) all apart for a complete restoration and were starting to pull our friend Kenny's chopper apart for a repaint and repairs after a mishap on the way back from a show. What's another bike coming apart, right? There's not much to them, and we had some empty shelves to hang the parts on.
After looking over the new bike we decided to go for a total rebuild. The molding on the tank and frame was in excellent condition, so it would need little to no bodywork. Previous to us owning the bike, the engine was freshened up, and most of the chrome was still in good shape. This was going to be a fairly easy task.

_________________
We don't care the People Says , Rock 'n' roll is here to stay - Danny & the Juniors - 1958
Once it was down to a bare frame we started sanding off the black paint it currently wore to find the beautiful original blue candy lacquer paint and pinstriping that Lil Louie from San Bernardino, California, did over 34 years ago.
We gave Louie a call and consulted him regarding the original paint. He remembers doing three blue bikes with the half-moon kicks in the silver stripe, two Hondas and one Harley.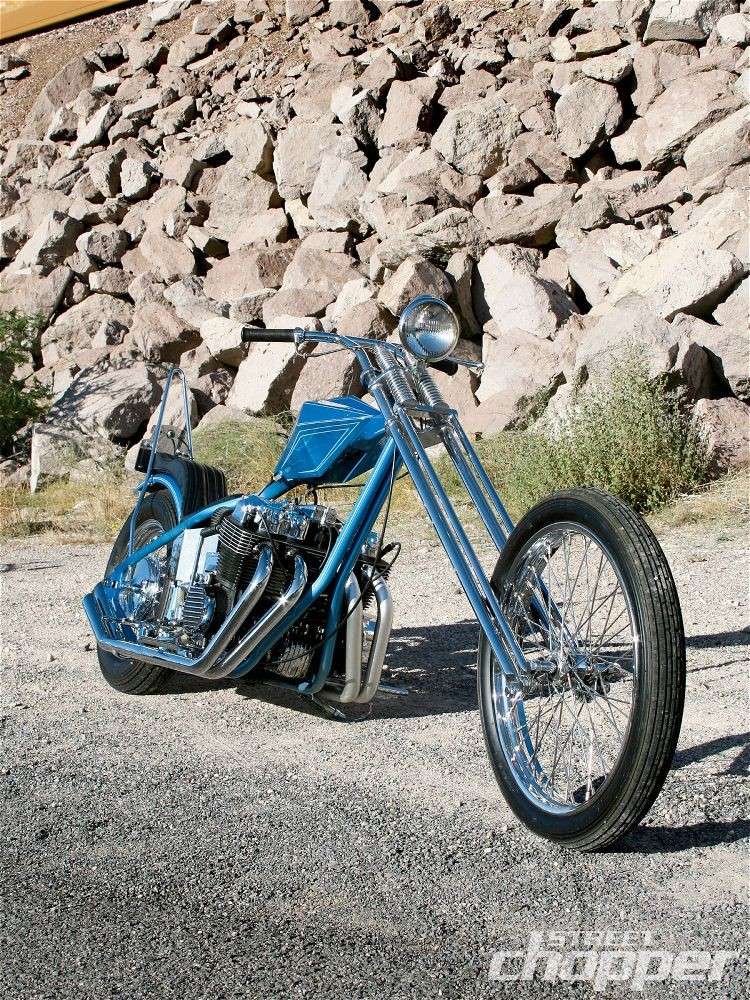 The Paint

After sanding all the black off the frame, tank, and fender, we found that the candy blue started out darker at the neck, faded to a lighter blue and then darkened again at the axle plates. The tank was stripped to bare metal at one time, so we had no design reference to what was on the tank originally. Clueless, Jim and I turned to my many old STREET CHOPPER issues for some paint ideas, and we came up with a reversed-faded set of panels that fit the design to a tee. After a couple coats of clear lacquer over the new blue paint, it was off to Lil Louie to reproduce his pinstriping.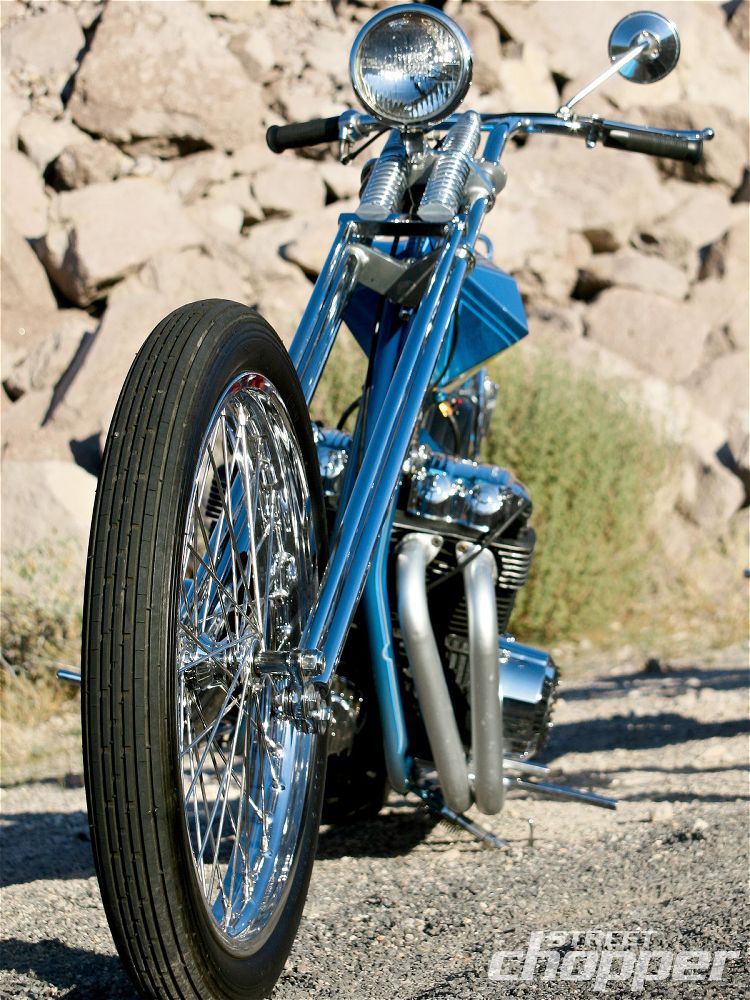 _________________
We don't care the People Says , Rock 'n' roll is here to stay - Danny & the Juniors - 1958
Seeing that the engine was fresh, all we did was repaint it, then we rechromed all the normal parts that Denver would have done and assembled it with a chrome bolt kit to dress it up a bit.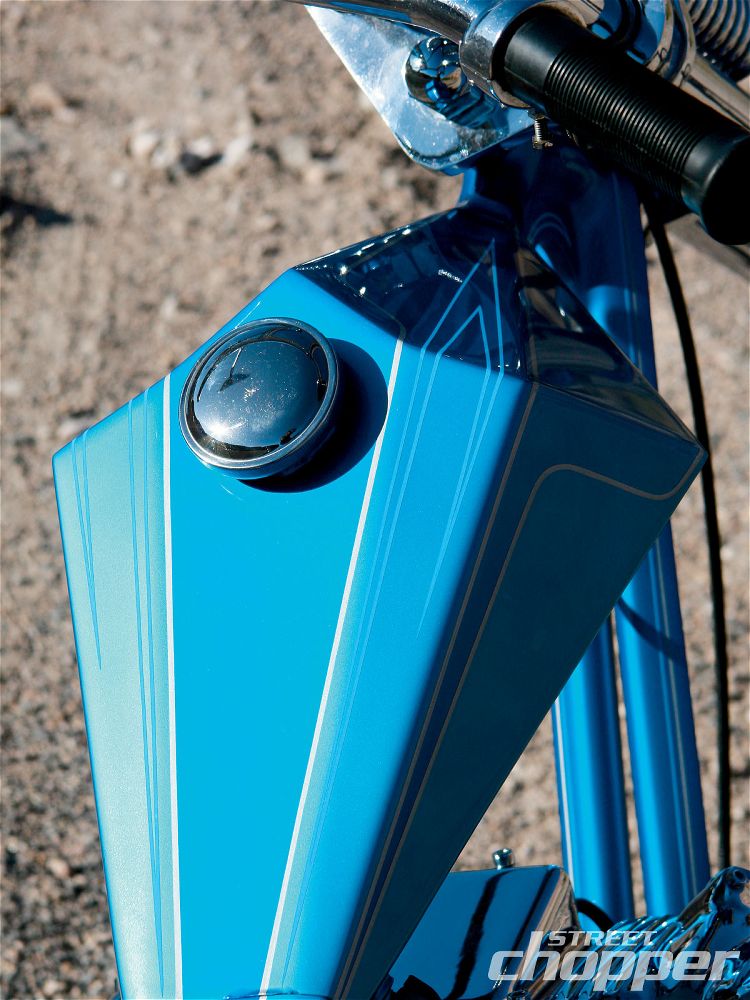 The Rebuild

After picking the frame up from Lil Louie's, we cleared and polished the paint, and then the fun of assembly started. Even though the bike is 30 years old Denver and the crew built a quality bike for its time. Everything was fit very well when the bike was initially built, so the bike came back together very easily.
The only other things we did to the bike was replacing all the wiring, adding new petcocks, grips, a new mirror, a set of original-style tires, and exchanging the aftermarket seat that was added sometime in the '90s with an original one.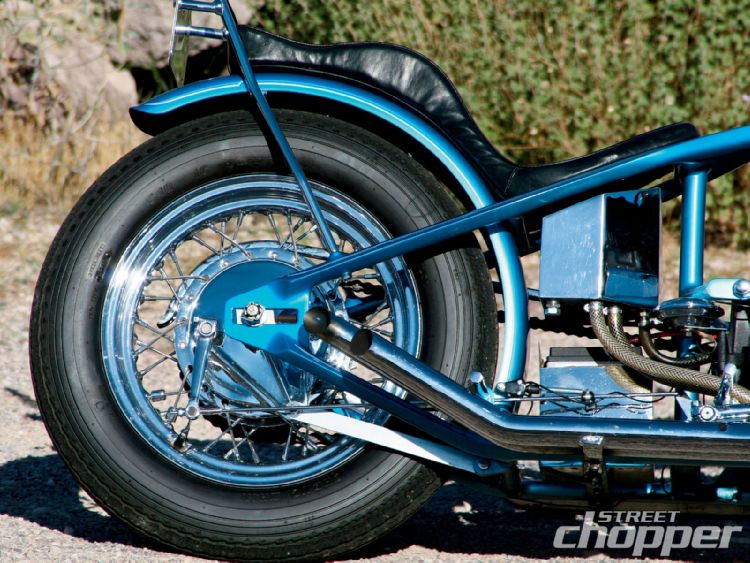 _________________
We don't care the People Says , Rock 'n' roll is here to stay - Danny & the Juniors - 1958
Still Counting

We are steadfastly preserving pieces of history for both enthusiasts and the public to enjoy and understand. This bike was our fifth out of the seven we now own, and we're not close to being done yet. If there's a Denver's-built bike out there, we want to save it!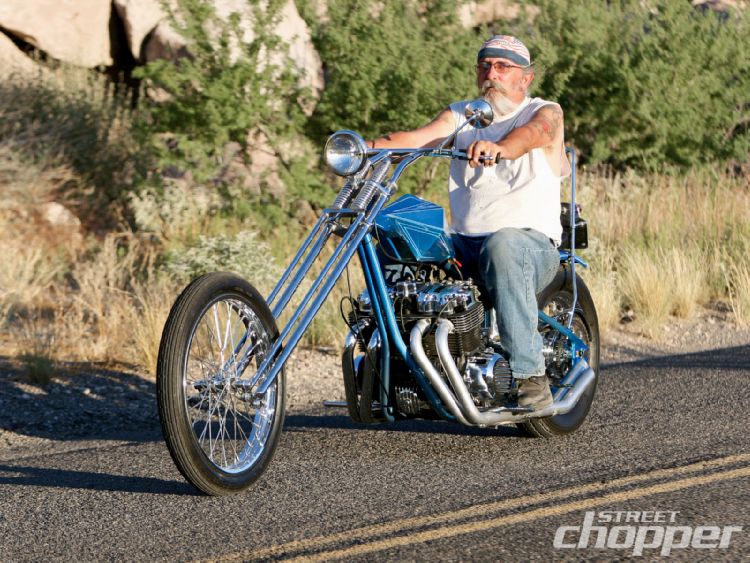 SPEC SHEET

GENERAL
OWNER TOM AND ALYCE ENGLE
YEAR/MAKE/MODEL '76/DENVER'S/HONDA
FABRICATION DENVER'S CHOPPERS
ASSEMBLY KAYELYNN JOHNSON, KEN STEPHENS, CHOPPER JIM
BUILD TIME 60 DAYS
SPECIAL THANKS EVERYONE INVOLVED
ENGINE

YEAR/TYPE/SIZE '74/HONDA/750
BUILDER UNKNOWN
CASES HONDA
FLYWHEELS STOCK
RODS STOCK
PISTONS STOCK
CYLINDERS STOCK
HEADS STOCK
VALVES STOCK
ROCKERS STOCK
ROCKER BOXES CHROMED
PUSHRODS STOCK
PUSHROD TUBES STOCK
CAM STOCK
LIFTERS STOCK
CARBURETOR CHROMED
AIR CLEANER K&N
IGNITION DANA ELECTRIC
EXHAUST DENVER'S
TRANSMISSION

YEAR/TYPE '74/HONDA FIVE-SPEED
CASE HONDA
GEARS STOCK
CLUTCH BARNETT
PRIMARY DRIVE STOCK
FRAME
YEAR/TYPE '76/DENVER'S
RAKE STOCK
STRETCH STOCK
SUSPENSION

FRONT DENVER'S
LENGTH 20-INCH OVER
TRIPLE TREES DENVER'S
REAR NONE
SWINGARM NONE
SHOCKS NONE
WHEELS, TIRES, AND BRAKES

FRONT
BUILDER/SIZE DENVER'S/21X2.25
TIRE/SIZE CST/3.00-21
CALIPER NONE
ROTOR NONE
REAR
BUILDER/SIZE DENVER'S/16X4.00
TIRE/SIZE CST/5.10-16
DRUM HONDA
ROTOR NONE
SPROCKET HONDA
FINISH/PAINT

COLOR(S) SILVER BASE/BLUE CANDY
PAINT TYPE HOUSE OF KOLOR
PAINTER KAYELYNN JOHNSON
GRAPHICS LIL LOUIE
MOLDING DENVER'S
PLATING/POLISHING DENVER'S/SHINE SHOP
POWDERCOATING NONE
ACCESSORIES

FRONT FENDER NONE
REAR FENDER DENVER'S
GAS TANK GARY LITTLEJOHN
GAS CAP DENVER'S
OIL TANK DENVER'S
DASH NONE
GAUGES NONE
HANDLEBARS DENVER'S
GRIPS VINTAGE
RISERS NONE
MIRRORS BATES
HAND CONTROLS VINTAGE
FOOT CONTROLS DENVER'S
PEGS DENVER'S
HEADLIGHT BATES
TAILLIGHT DENVER'S
TURN SIGNALS NONE
LICENSE MOUNT DENVER'S
SEAT DENVER'S
SISSYBAR DENVER'S
ELECTRICAL KAYELYNN JOHNSON
article original:
http://www.streetchopperweb.com/features/1009_stcp_1976_denvers_honda/viewall.html

_________________
We don't care the People Says , Rock 'n' roll is here to stay - Danny & the Juniors - 1958
p*tin que c'est beau

custom 56




Messages

: 2660


Date d'inscription

: 14/11/2012


Age

: 26


Localisation

: 77 seine et marne



custom 56 a écrit:p*tin que c'est beau
quand j'ai vu l'article j'ai pensé direct au tien,je sais pas pourquoi
!
oui très très beau,y a du boulot dessus là
!!

_________________
Rockabilly Rulzzzz !!

Jerry Yankee




Messages

: 1268


Date d'inscription

: 09/11/2012


Age

: 29


Localisation

: 94,ile-de-françe



sais vrai bah merci sa me fait vraiment plaisir

custom 56




Messages

: 2660


Date d'inscription

: 14/11/2012


Age

: 26


Localisation

: 77 seine et marne



---
Permission de ce forum:
Vous
ne pouvez pas
répondre aux sujets dans ce forum