Projects start for countless reasons. Dick Rash's 1930 Ford Model A coupe started out as a bet. "I bet him that he couldn't build a car without going overboard," Marshall Woolery says.
Dick knows overboard. Prior to the coupe, he hired Woolery at Thun Field Rod & Custom to build a '36 Ford. It was an invitation for excess; it came to him as a five-window shell and a bunch of Chip Foose illustrations that showed how it would look as a roadster.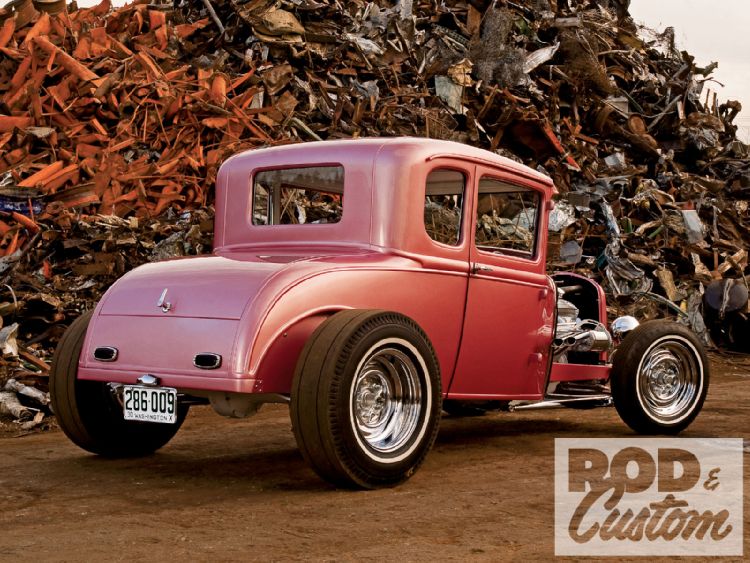 Dubbed "Sublime," it turned out as a Foose-drawn car should, glorious, hence its name. "Dick ended up [having us] build a full-on indoor show car. Then he discovered that he didn't like indoor car shows," Woolery says. "After we went so overboard on the '36, [Woolery] tried to talk me into the ol' flat black 'let's drive the thing' idea," Dick says.

_________________
We don't care the People Says , Rock 'n' roll is here to stay - Danny & the Juniors - 1958
One look and you'll know who lost that bet. "He can't not go overboard," Woolery says. Though lost, this wager has a distinct chrome-plated lining: Dick's coupe is probably one of the neatest if not most faithful interpretations of a show rod built at the cusp of the '60s-the era that pretty much defined the term overboard as far as hot rods go.
An Amethyst In The Rough "I started building the car for myself," Woolery says. He horse-traded his way into a Model A coupe project partly for its Total Cost Involved chassis, but primarily to avoid having to help a friend repair the rough and badly chopped body that sat on it. Initially resigned to forsake the body as a lost cause, Woolery rejoined and used it anyway when the prior owner proposed that Woolery couldn't rather than wouldn't repair it. "It was supposed to be just flat black with a used motor and transmission-just stuff we had lying around the shop," he says.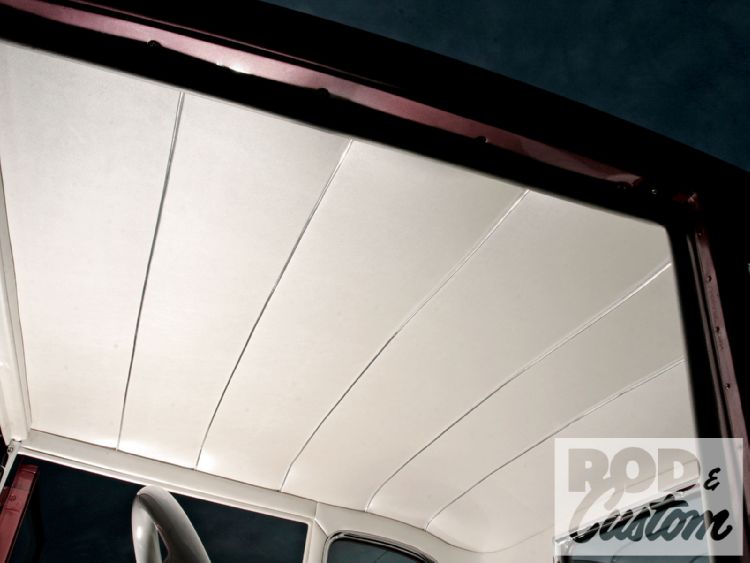 And, in fact, it probably would've gone that way if Dick and his wife, Helen, hadn't seen it in front of Woolery's shop. By that point the car had acquired a good running Y-block from a friend's pickup, a steering box from a long-gone Falcon, and a '40 rear axle from Calbag Metals-the same scrap yard that served as the backdrop for this car's shoot. "I sort of figured that I'd build it to look the way a car would've looked in about 1959 or 1960," Woolery says.

_________________
We don't care the People Says , Rock 'n' roll is here to stay - Danny & the Juniors - 1958
Dick admitted finding that last part most appealing. Prior to succumbing to the mistress of gluttony on the '36 he was a horseless carriage guy. For those who don't know, horseless carriages are the brass-laden veteran jobs from just after the turn of the century, a period when only the wealthy could own an automobile. Restoring them, as he'd done with the ones he owned, requires a fair bit of research since the cars are frequently wasted and rarely intact. At the very least his wife, who put up with his old-car capers, approved if not actually admitted to finding the chopped-up coupe pretty cool. Apparently the gods found the prospect of him doing another period car appealing too. Soon after Dick committed to the car, one of Woolery's friends offered to trade a near mint, un-chopped body for the butchered one. Only Woolery elected to not chop this one's top.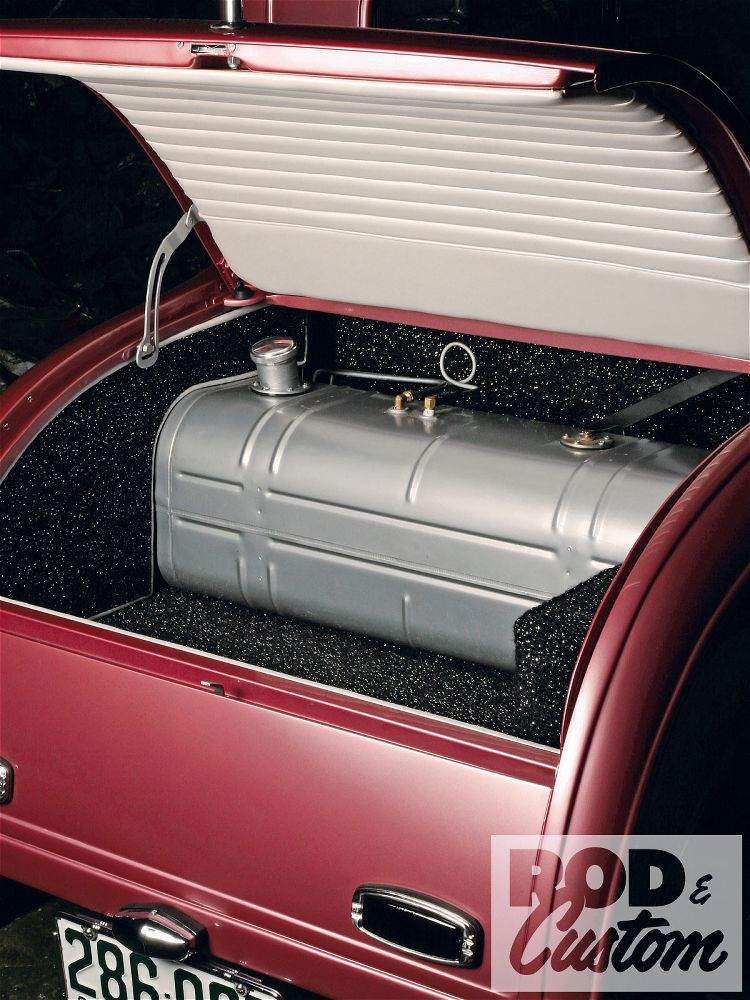 Besides crazy colors, raked stances, and chrome aplenty, one of the things common to late '50s/early '60s hot rods was excessively channeled stock-top bodies. Channeling to old standards-8 inches wasn't uncommon-would obliterate any interior space, but Woolery said he knew that if he channeled the body just enough to conceal the frame's cross section he could hide a step in the frame behind the firewall that would make the body appear to be channeled to a greater degree. That way the body would only lose 3 inches of headroom instead of the 7 or more inches necessary to chop the body enough to look right and channel it sufficiently to conceal the narrower Model A chassis.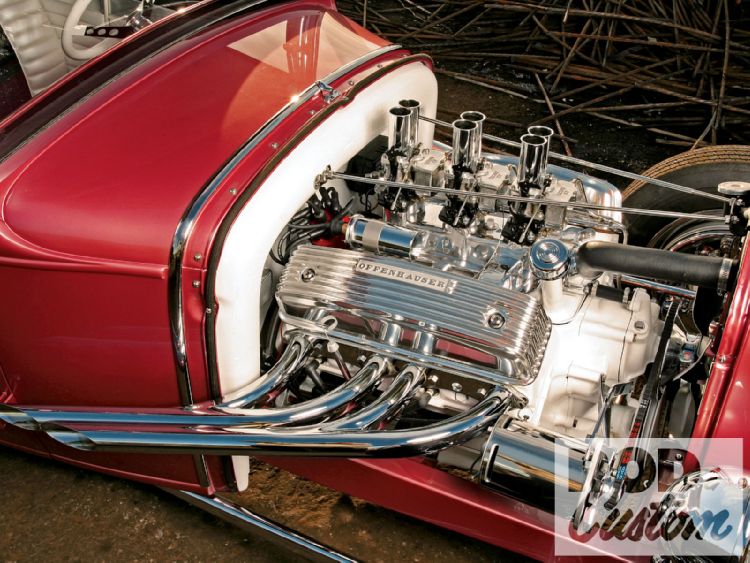 Dick certainly approved. "I've gotten rid of cars just because I had to hunch over to see anything," he says. Though the body was nice to start, the floors weren't. So Mark Veltkamp, who worked for Woolery as part of his high school's work-shadow program, replaced them.

_________________
We don't care the People Says , Rock 'n' roll is here to stay - Danny & the Juniors - 1958
After channeling and roughing in the body, Woolery delivered it to Dick, who turned it over to Shawn Harvey, thus initiating the slippery slope of excess. "We told him to get the car nice enough so it would look good in flat black," Woolery says. "Well the instant it was in filler primer, Dick started seeing little things here and there." Though Woolery held his ground on an economical finish, "I just couldn't do it," Dick says. Woolery recused himself. "At that point it was at Dick's house so it was out of my control."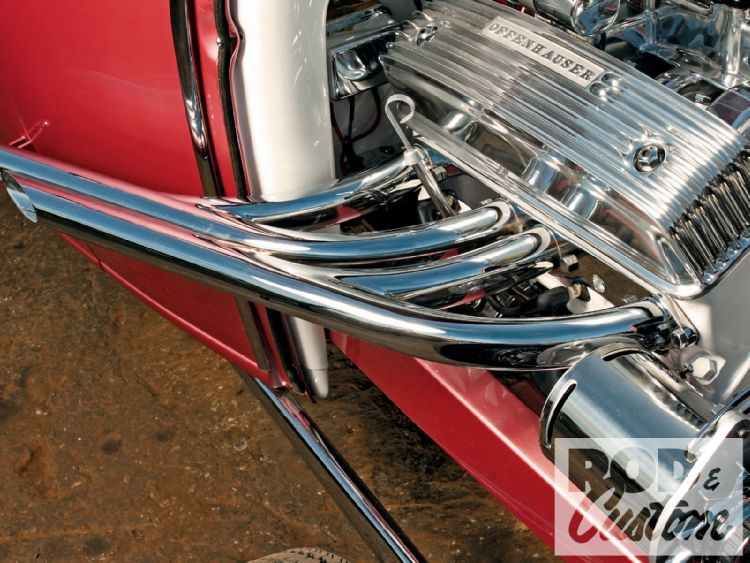 Then detailer Jason Kilmer dropped by. "So he sees it and starts putting his two cents in," Woolery says, groaning. "The whole time I've been arguing to not paint the car but Dick just couldn't leave it alone. He had to paint it."
But what color? Resigned to the idea of shiny paint, Woolery took Dick color shopping. "We were looking for something that came out in that (early '60s) period," Dick says. Then it struck them.
General Motors called one of the colors applied to the '59 Pontiac Royal Amethyst Poly, but to everyone else, "It's pink," Woolery says. "Everybody who sees it thinks that Helen picked it. Nope. That's Dick's choice. And really, it's the right color for that car," he says. Shawn Harvey, who worked on the '36, juiced it. The least Kilmer could do after encouraging Dick to paint the car was cut and rub the finish.
"Paint changed everything," Woolery says. "Now that we had a fresh new paintjob, Dick's like 'Well, do we really want to run a used engine?' " Dick bought a rebuilt Y-block, an old stock piece from Hagen's Hiway Auto Parts, a local obsolete parts emporium. Woolery and his sidekick, Russell Jadin, disassembled it to replace the rings that probably took a set over the years and, for good measure, replaced the cam with a lumpier one from Delta Camshafts. Toni Rosser at RT Hot Rods helped out by scaring up hardware. "It's the only real hot rod parts store in this area," Woolery says.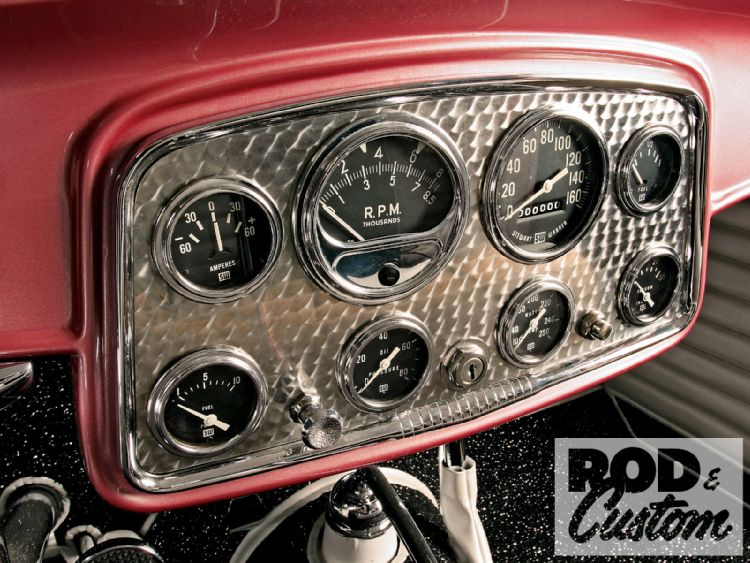 They say the road to hell is paved with good intentions. "Now that we were going to paint everything, and we already had the engine apart, we should probably grind the block smooth," Woolery says. "Stupid move," he admitted. "Have you ever ground a Y-block? It's a high-nickel casting.
"That's when things started getting out of control," he says. He delivered the Offy manifold and rocker covers to his polisher, Paul McNeely. "He knows how fussy I can get. Dick's fussy too. So instead of doing a normal job he'd do for a normal person, [McNeely] just went overboard," Woolery says.
Detailing is like a C2 narcotic; a little bit is too much and a whole lot is never enough. "Things just started snowballing," Woolery says. "Then we noticed that we needed more chrome here and there. In one sense it went along with the '59-60 theme ... but we tried to keep it from being too gaudy," he says. If he only knew what he was in for.
When Paul Reichlin got the body, he got a box of '59 and '60 magazines, and the following request: "Make the upholstery look like something that's supposed to be in there," Woolery says.
Study show cars from the decadent period that turned hot rods into show cars, and you'll know the potential danger in such creative license. The upholstery world changed due in part to the "factory custom" era ushered in with the '58 models. Suddenly, trimmers had a host of wild pearls, metallics, brocades, and patterned foils from which to choose and a free-for-all ensued. For the sake of one-upmanship, trimmers frequently turned good taste right on its head. Pleats went every which way, piping outlined shapes that weren't there, and unlikely material pairings met in unlikeable ways. Interiors got, for the lack of a better term, hideous. Still, Woolery affirmed his faith: "[Reichlin] is the best you can get."
Article original:
http://www.rodandcustommagazine.com/featuredvehicles/1010rc_1930_ford_model_a_coupe/

_________________
We don't care the People Says , Rock 'n' roll is here to stay - Danny & the Juniors - 1958
---
Permission de ce forum:
Vous
ne pouvez pas
répondre aux sujets dans ce forum