New England was a hotbed of hot rodding in the early 1950s. The bustling industrial city of Lynn, Massachusetts on Boston's North Shore boasted its own small speed shop, along with a Western Auto store and crowded wrecking yards like Cap's, United Auto, Harbor Auto Sales and Joe's, on lower Highland Avenue. Enterprising hot rodders could buy the latest speed equipment, or pick apart a promising wreck for its V8 engine, transmission or rear end. Vintage tin was cheap in those days. Many prewar cars were scrapped, but they were less likely to be broken up immediately for their steel bodywork.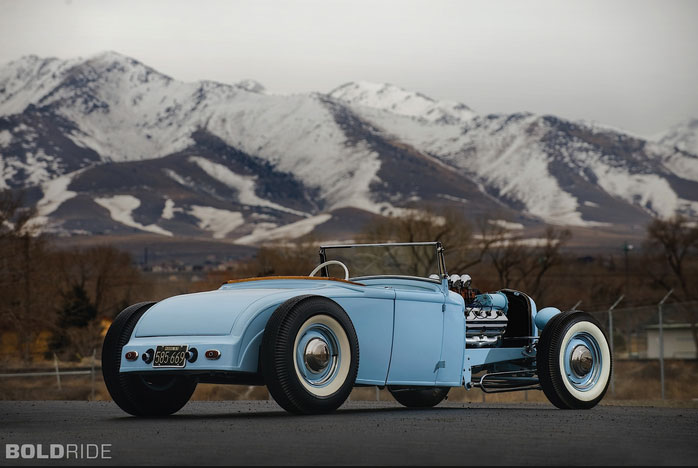 The Lynn-based Hi-Winders hot rod club were members of the New England Hot Rod Council (NEHRC) and the group was well known for its wickedly fast Fiat Topolino altered drag coupe. Avid Lynn customizers like Lenny Legere owned radical cars that were featured in the period rodding magazines. In 1953, Joe "Sonny" Mazza, a Lynn native, began building a Model A roadster that was the equal of anything in that era from California. He began with an original 1930 Ford roadster that he'd purchased for $35, just to harvest its rust-free body, and a clean, straight '32 Ford frame that set him back another $25 bucks. He ordered a dropped front axle from California's Bell Auto Parts for $24.95. A junked '48 Ford at Harbor Auto Sales contributed its transmission, driveshaft and rear end. Mazza hand made a set of hairpin wishbones, and he fabricated dropped headlight mounts for a pair of free-standing 'Yankee' accessory headlights.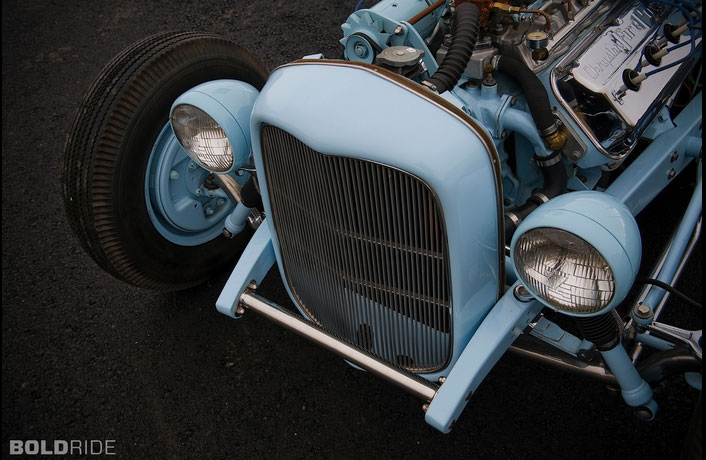 Returning to Harbor Auto's sprawling yard, Mazza bought a nearly-new 331 cubic inch '52 Chrysler Hemi V-8, to which he added a Howard racing camshaft, Chrysler Imperial pistons, an aluminum four-carburetor manifold, and a quartet of Stromberg 97's. A set of Smithy fiberglass-packed mufflers quieted the big Chrysler just a little. While the handwriting wasn't quite on the wall to confirm the demise of Ford's venerable flathead, Sonny Mazza recognized that a powerful new overhead, with a few modifications, could easily double the output of a hot Ford 59A block. Like many of his fellow Hi-Winders, Sonny had drag racing on his mind, and he didn't want to lose.

_________________
We don't care the People Says , Rock 'n' roll is here to stay - Danny & the Juniors - 1958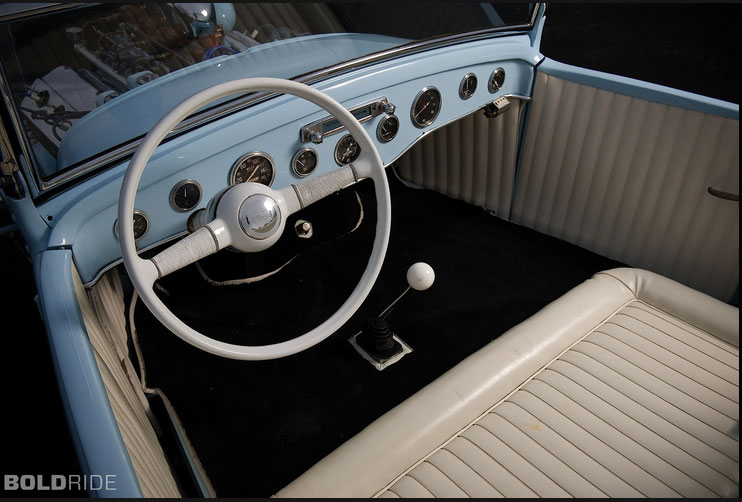 His next step was to drop the roadster body over the deuce frame in a process known as channeling. For seriously radical lowering, many East Coast hot rodders preferred to channel their early coupes and roadsters. The process was 'relatively' easy: cut out the floor, drop the body over the chassis rails, fashion a new floor pan and weld it all neatly back together. Two youngsters who were handy with an acetylene torch could do this task in two days in a backyard. On Mazza's car, the body is well below the lower level of the frame rails, so much so that the rear 8.20x16's are nearly as high as the rear body.
On the West coast, taller 'highboy roadsters', with bodies that sat on top of their frames, were more the norm. In California, a channeled street-driven car immediately moved its owner up to the modified class, where it had to compete against serious, purpose-built dry lakes racers. Back East, this was less of a problem, so guys who wanted that low, low silhouette, fired up their torches and just had at it. Mazza also chopped his roadster's windshield several inches, and he filled and sectioned a '32 Ford grille to match the channel height. A custom radiator was made by Auto Cool, of Lynn, using a then-expensive ($125) BX racing core that was mated to upper and lower '32 Ford radiator tanks.
The car's cowl, doors and decklid were filled; the lid received a pair of '53 Studebaker hidden hinges; a new gas tank was mounted inside the trunk; a handsome rear tailpan was made to accommodate a pair of '48 Ford taillights, and the twin exhaust pipes were routed through the same panel to ensure sufficient ground clearance. The steering wheel was a cut-down '40 Ford unit on a modified Plymouth column. Mazza inverted the hand-made drag link because this roadster was so low it would have interfered with the chromed hairpins if it'd been mounted conventionally. Hot rods in this era were largely built from carefully salvaged wrecking yard parts, and this smart-looking roadster was no exception.

_________________
We don't care the People Says , Rock 'n' roll is here to stay - Danny & the Juniors - 1958
Fifty years ago in Lynn, you could go to NelNick Ford for brand new FoMoCo spare parts. Mazza bought a set of new old stock 26-tooth Lincoln Zephyr gears, which he used to rebuild his transmission, and he rebuilt the emergency brake with fresh parts from NelNick, as well. The floor shifter was made from a '55 T-Bird. The dealership's parts department sold him a '52 Ford radio, which was installed in the dash along with a full set of period Stewart-Warner gauges. All the bodywork was done with lead, carefully melted and tinned, then hand-filed and sanded to perfection. He painted the roadster with '55 Ford Fleet Pastel Blue enamel (probably obtained at NelNick's), doing the re-spray work right in his own garage.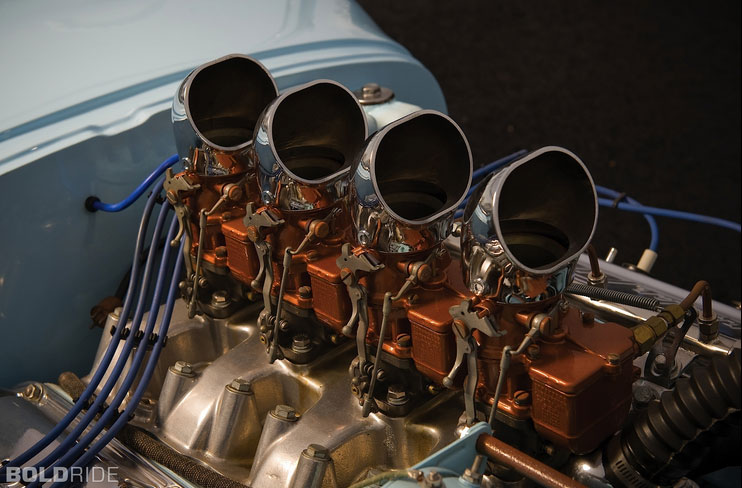 Mazza proudly showed his completed street roadster at many local events, drove it occasionally on the street, and drag raced it at the Sanford, Maine airport's popular quarter-mile strip. The light and ultra-low roadster consistently turned 100-to-105-mph trap speeds with low 14-second elapsed times. It's reported that Mazza planned to rebuild the car in 1957, but life somehow got in the way. Relegated to Sonny's basement, hidden out of sight, the channeled roadster languished in pieces for the next 40 years(!), until a friend, Russ Cummings, managed to convince him to sell it. Cummings planned to restore the car exactly the way Mazza had built it, a deciding factor that prompted the sale.
After several years of show and go, the restored Mazza roadster passed from Cummings to Rudy Pasternack in a trade for a '34 Ford roadster, then to the Dragone brothers in Bridgeport, Connecticut, and finally to a Northwest collector named Jeff Mincheff.
Beautifully restored and preserved, the lowslung Sonny Mazza roadster is a period-perfect example of 'the way we were,' and it would be warmly welcomed at any vintage hot rod event.
This car was auctioned off by RM Auctions in September 2009 at the Petersen Automotive Museum, Los Angeles, California.
Est. 325 bhp, 331 cu. in. 1952 Chrysler Hemi V8 engine with four Stromberg 97 carburetors, Howard racing camshaft, 1948 Ford three-speed gearbox with 26-tooth Lincoln-Zephyr gears, and 1955 Thunderbird floorshift, transverse front and rear semi-elliptic leaf springs, 1948 Ford solid axle rear end. Wheelbase: 102"
Source: RM Auctions
Photo Credit: Copyright Darin Schnabel

_________________
We don't care the People Says , Rock 'n' roll is here to stay - Danny & the Juniors - 1958
---
Permission de ce forum:
Vous
ne pouvez pas
répondre aux sujets dans ce forum