Fifteen-year-old Jim Keeter was the happiest kid on the block the day his dad brought home an old Model A Coupe in 1950. The father-and-son team tore into the old Ford with the intent of building a cool hot rod. Jim did most of the work with guidance from his dad along with a few of his older hot rodding friends. By the time he started high school, the car was drivable but far from finished. Work progressed during his sophomore year, which included chopping the top, installing a flathead mill and fitting a genuine '34 Auburn dashboard. By his junior year, Jim upgraded the hardware to a "full-race" flathead, a LaSalle transmission, and a quick-change rearend. He finished out his high school experience adding paint, chrome, and upholstery during his senior year.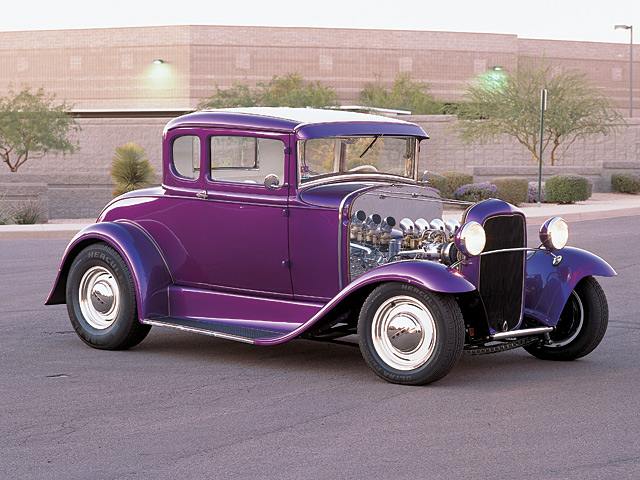 Street racing quickly became one of Jim's interests, and his father wisely advised him to do his racing on the Santa Ana Drag Strip. Before shipping off with the U.S. Navy Sea-Bees in 1955, Jim sold the coupe to his best friend, who totaled the car in 1956. Thinking ahead, Jim removed the engine, transmission, and rearend from the Model A, which all would become the basis for his rear-engine '27 T roadster, built after his return from the Navy. This racecar was the starting point for some serious drag racing that would last until 1965, when he reached the pinnacle by building his own successful blown, Hemi-powered, front-engine digger. After that, Jim drifted away from earthbound speed and moved onto airplanes.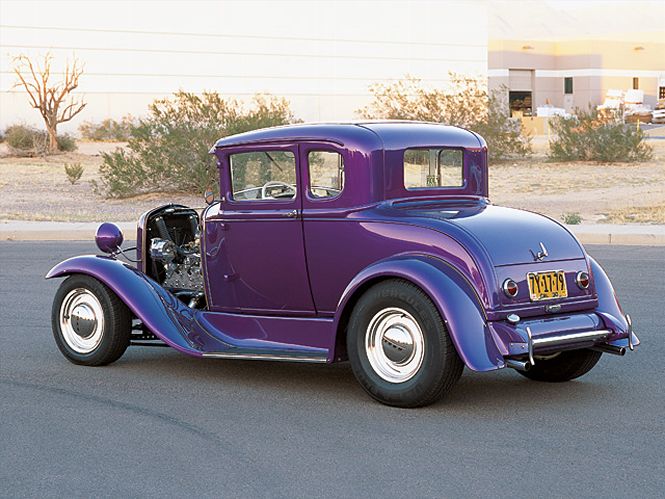 Skip forward 30 years and Jim became inspired by a friend who was building a Model A coupe. He decided right then it was the perfect time to recreate his high school hot rod. This time the starting point was nowhere near as complete as the first one, but the rusted and battered bare body and frame did have an original California pink slip.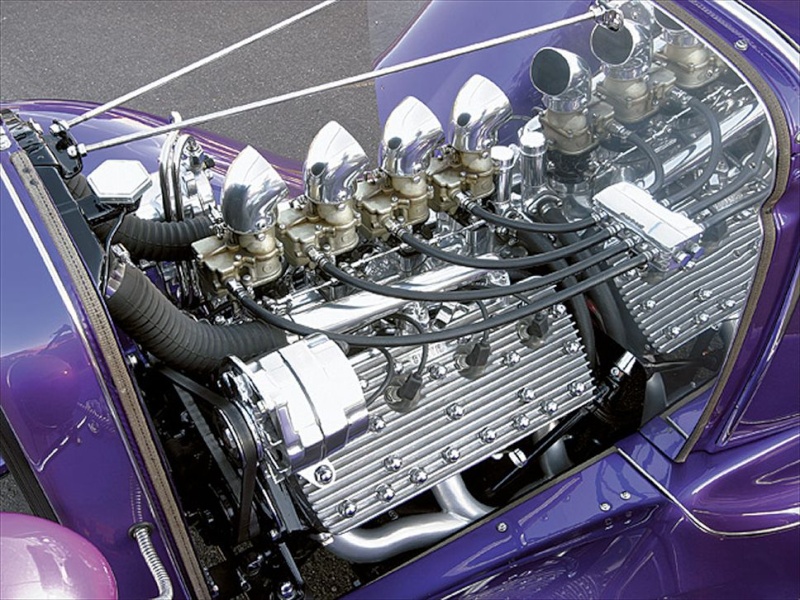 _________________
We don't care the People Says , Rock 'n' roll is here to stay - Danny & the Juniors - 1958
Jim's fabrication skills came in handy when he got busy repairing all the rust with self-stamped patch panels. After the body was again sound, Jim removed 2 1/2 inches from the roof height, just like his original coupe. With the body roughed out, Jim utilized his skills fabricating a brand-new chassis from fresh steel with original Model A horns on the front and '32 horns on the rear.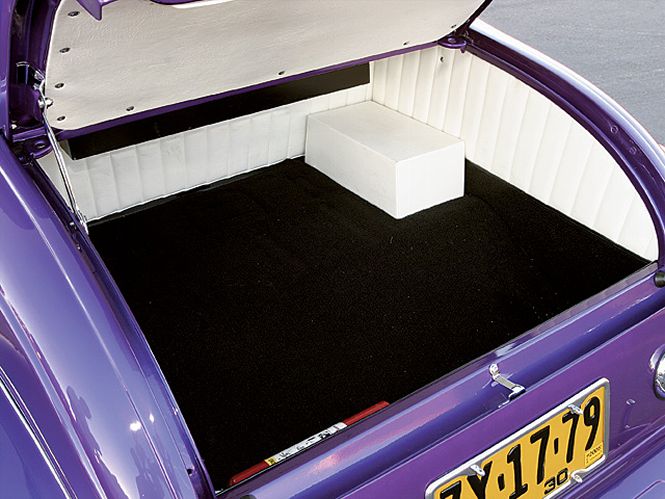 Jim says the most difficult part of recreating his old coupe was finding the exact same pieces he used over 50 years ago, and that really came into play when it came time to build the engine. While flatheads were a dime a dozen in 1950, finding a rebuildable 8BA block was the first hurdle. After all the parts were machined, it was like riding a bike for Jim, assembling the mill just like the old days.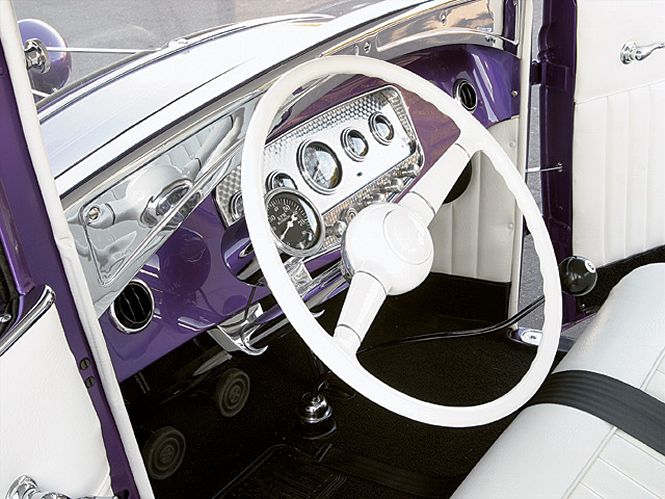 With the frame and engine taking shape, attention was put back on the body with Jim laying out the House of Kolor two-stage Passion Purple over the reworked metal. Replicating the original look of the coupe is a pair of Deitz headlights, '50 Pontiac taillights, white steelies in black rubber, and owner-built nerf bars.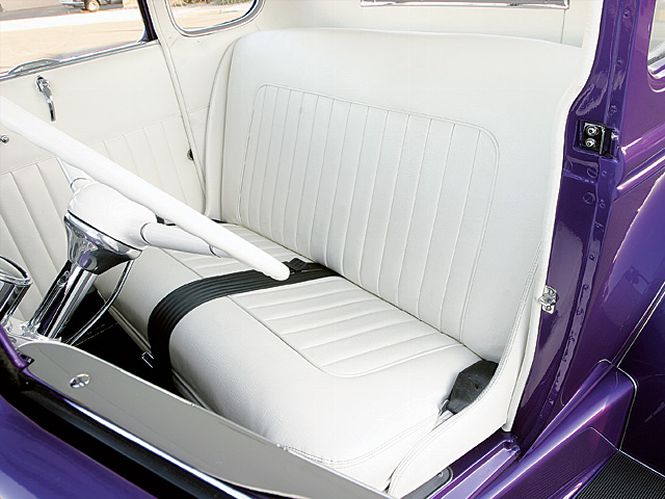 Inside is more of Jim's handiwork. Back when Jim built his first coupe, you were still able to pick a '34 Auburn dash out of an old relic down at the local wrecking yard, but since that was a long time ago and an original could not be reasonably located, he had no choice but to build one from scratch.Jim proves that while you can't ever go back, you can do it all over bigger and better than in your wildest high school dreams.

_________________
We don't care the People Says , Rock 'n' roll is here to stay - Danny & the Juniors - 1958
Jim & Kathy Keeter
Long Beach, California
1930 Ford coupe
Drivetrain
When Jim was recreating his high school hot rod, one of the greatest challenges was replicating the original mill. A rebuildable 8BA ('49-53) Ford block was located, and after Reath Automotive (Long Beach, CA) got it back into shape, Jim loaded it with all the good stuff including a polished Mercury crank and a Clay Smith camshaft. The 275ci engine was topped off with a pair of repo Smith finned aluminum heads and an original Edelbrock intake sporting four Stromberg 81 carbs. Following the formidable flatty is a '39 gearbox that spins a Halibrand quick-change sandwiched between a pair of '35 axle housings and '56 Ford pickup drums.
Chassis
Years of fabricating skills came in handy for Jim when he scratch-built his own frame from steel channel (he wanted the un-boxed look of an original, with the added strength of larger material). Original pieces attached to the fresh rails include an early dropped, drilled, and filled axle up front with '40 Ford brakes on each end. New pieces added to the mix include SO-CAL covered tube shocks, a Vega steering box, and a '32 Ford-style fuel tank from Tanks.
Wheels & Tires
Nothing fancy was needed in the rolling stock department since a set of 15-inch steelies with caps and rings match the original equipment Jim was running 50 years ago. A modern concession to drivability is the 195/75R15 and 225/70R15 Hercules radial rubber.
Body & Paint
The top was chopped 2 1/2 inches like the original before Jim laid on the House of Kolors Passion Purple. Additional elements true to the original include '50 Pontiac taillights and owner-built nerf bars.
Interior
Phil's Upholstery (Wilmington, CA) made the retro vibe complete with an off-white vinyl stitch job. The scratch-built '34 Auburn-style dash and gauge panel and owner-built '40 Ford-style column topped by a gennie '40 Ford Deluxe steering wheel keep the '50s theme.
Read more:
http://www.rodandcustommagazine.com/featuredvehicles/135_0506_1930_ford_model_a_coupe

_________________
We don't care the People Says , Rock 'n' roll is here to stay - Danny & the Juniors - 1958
---
Permission de ce forum:
Vous
ne pouvez pas
répondre aux sujets dans ce forum