Charles Ormond Eames, junior, dit Charles Eames, né le 17 juin 1907 à Saint-Louis, Missouri, et mort le 21 août 1978 à Saint-Louis, était un designer, architecte et cinéaste américain. Il a principalement travaillé avec son épouse, Ray Eames. Il est considéré comme un designer majeur du XXe siècle car il a su faire évoluer le design vers la production de masse.
Entrée principale de la Eames House (N° 8 Case Study House)
En 1925, Charles Eames commence des études d'architecture à l'Université Washington à Saint-Louis, mais il les interrompt deux ans plus tard. En 1929, il visite l'Europe et découvre Ludwig Mies van der Rohe et Le Corbusier. En 1930 il ouvre un cabinet d'architecte avec Charles Gray à Saint Louis. Durant cette période il collabore aussi avec l'architecte Eliel Saarinen. C'est avec son fils, Eero Saarinen, qu'il remportera le premier prix d'un concours de création de design organique organisé par le Museum of Modern Art de New York. En 1936, il publie un ouvrage sur la photographie animalière qui rencontrera une diffusion très faible.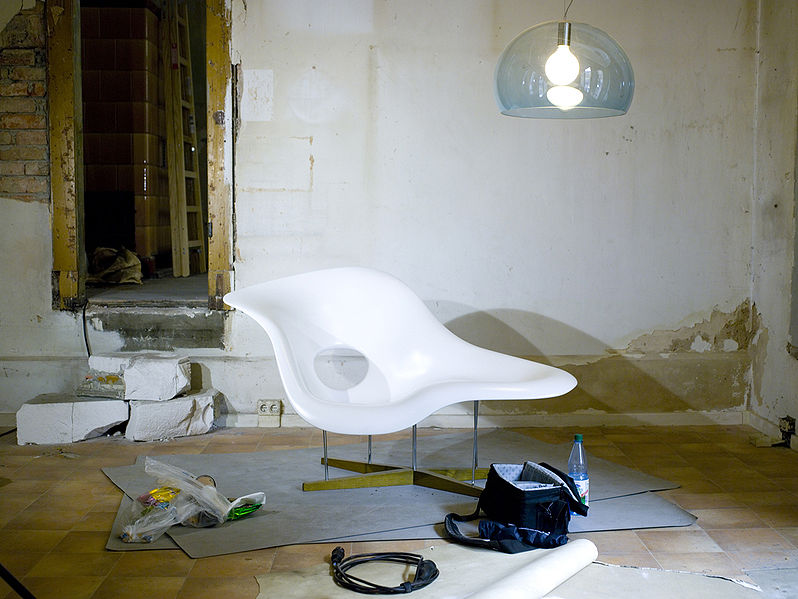 Inspired by Floating Figure by Gaston Lachaise, "La Chaise" is a "Chaise Longue" - clever that - of exqusite beauty and functionality. Designed by Charles and Ray Eames in 1948 for a competition at the New York Museum of Modern Art (MoMa) and produced by Vitra since 1991 "La Chaise" was one of the Eames's first plastic creations and in many ways the forerunner of their plastic chair series, such as the DSR, DSX or DAW. Set beside the lamp FL/Y by Ferruccio Laviani for Kartell one appreciates much more the free flowing form of "La Chaise"
En 1938, sur l'invitation d'Eliel Saarinen, il vient étudier l'architecture (Architecture and Urban Planning Program) à l'Académie des Arts de Cranbrook dans le Michigan. Charles Eames y deviendra rapidement professeur de design industriel. C'est dans cette université qu'il rencontre Ray Kaiser, étudiante en peinture, qui l'assistera dans ses travaux, avant de devenir son épouse en 1941. Le couple aura deux enfants, Walter et Jesse.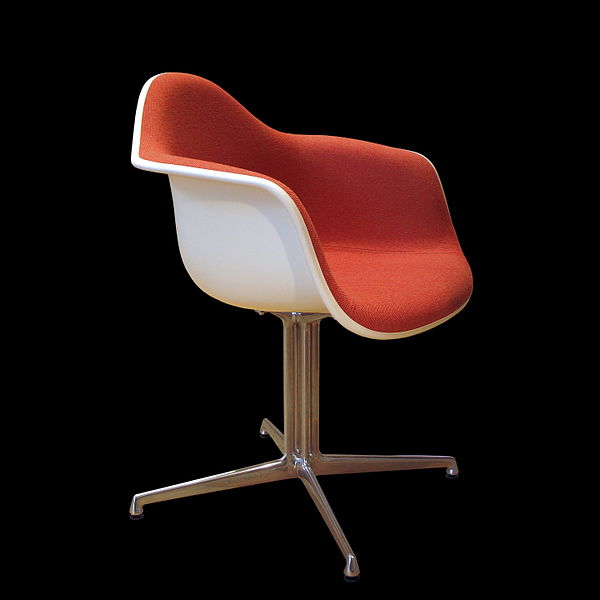 La Plastic chair, version fauteuil à accoudoirs rembourré à pied central 4 branches
Ils s'installent à Venice en Californie et réalisent de nombreux décors en contreplaqué pour la MGM qui leur permet de développer des techniques de moulage et cintrage. En 1942, pendant la Seconde Guerre mondiale, ils sont subventionnés par la marine américaine pour leurs avancés techniques sur le contreplaqué. Dans ce cadre-là, ils produiront des attelles, des brancards et des fuselages de planeurs expérimentaux. À la suite de ce travail, ils créent leur société, Evans Products, afin de vendre leurs produits auprès du public, mais c'est un échec. En 1946, Herman Miller croit en eux et achète les droits de distribution de leurs créations. Trois ans plus tard, les produits Eames sont de vrais succès.
The Eames Lounge Chair Wood - LWC chair. This one is in the Conchango design studio in Southwark Bridge Road.
En 1949, le couple expose sa célèbre maison de Pacific Palisades à Los Angeles en Californie. Construite dans le cadre des Case Study Houses, elle devient une référence pour les maisons en préfabriqué. La construction en forme de parallélépipède a une structure légère qui évoque l'architecture traditionnelle japonaise.
En 1956, Charles Eames édite le fauteuil Eames Lounge Chair, qui révolutionne le siège de détente, ce sera son plus grand succès. Il est composé de coques en contreplaqué moulé dans les trois dimensions. Aujourd'hui, le Lounge Chair est toujours en production par les sociétés Vitra et Herman Miller. Depuis son lancement, ce fauteuil s'est vendu à plus de six millions d'exemplaires à travers le monde.
Durant toute leur carrière, Charles et Ray s'intéressent aussi à la photographie. Ils réaliseront de nombreuses présentations multimédias, combinant images et sons ainsi qu'une cinquantaine de films éducatifs dont Powers of Ten.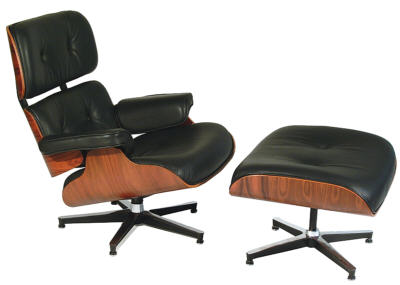 Lounge Chair and Ottoman by Charles Eames (1955) Image source and courtesy of http://www.steelform.com/lounch.html Used with permission. Ce fichier est dans le domaine public, parce que the maker of the picture (and furniture) released it, see discussion page. Si cela n'est pas légalement possible : Le droit d'utiliser cette œuvre est accordé à toute personne, pour tout usage, sans conditions, sauf celles requises par la loi. Veuillez vérifier que la raison donnée est compatible avec la politique de licences de Commons.
Il meurt d'une crise cardiaque en août 1978, à l'âge de 71 ans, alors qu'il était en visite d'affaires dans sa ville natale de Saint-Louis.
Dernière édition par Predicta le Mer 5 Aoû - 19:58, édité 1 fois

_________________
We don't care the People Says , Rock 'n' roll is here to stay - Danny & the Juniors - 1958
Meubles
   Eames-Saarinen Kleinhans chair (1939)
   Eames-Saarinen organic chair (1941)
   Children's chairs (1945)
   Eames Lounge Chair Wood (1945)
   Circular table wood (1945)
   Eames Plywood Side Chair (1946)
   La Chaise (1948)
   Eames RAR (Rocker Armchair Rod) Rocker (1948)
   Eames Eiffel Plastic Side Chair (1950)
   Eames Eiffel Plastic Armchair (1950)
   Eames Desk and Storage Units (1950)
   Eames Desk and Storage Units (1950)
   Eames Sofa Compact (1954)
   Eames Molded Plastic Side Chair (DSSN), Stacking base (1955)
   Eames lounge chair and ottoman (1956)
   Eames Aluminum Management Chair (1958)
   Eames Aluminum Side Chair (1958)
   Eames Aluminum Ottoman (1958)
   Eames Executive Chair (1960) (aka: Lobby Chair, Time-Life Chair)
   Eames Walnut Stool (1960)
   Eames tandem sling seating (1962)
   Two piece plastic chair (1971)
   Eames Sofa (1984) production posthume
https://fr.wikipedia.org/wiki/Charles_Eames
Chaise Eiffel Tower (DAR) 1950-53
Charles and Ray Eames — Travail personnel
Plastic Armchair 1950/53 by Vitra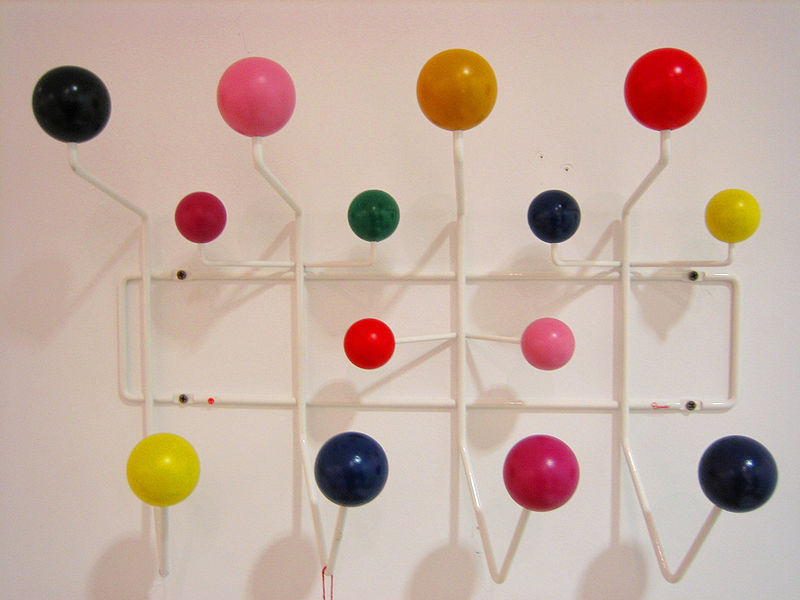 Porte-manteaux Hang It All créé en 1953

_________________
We don't care the People Says , Rock 'n' roll is here to stay - Danny & the Juniors - 1958
Un nom notable dans le milieu de l'architecture et du design
J'adore ce qu'ils ont fait !
---
Permission de ce forum:
Vous
ne pouvez pas
répondre aux sujets dans ce forum