1935 Auburn Boat Tail Speedster. This unique car while be turning heads where ever you go. This Auburn Deco Ride is title as a 1935  but sits on a custom Fatman frame with a fiberglass body made my Deco rides. This is #8 of about 15 made, so you will have a hard time finding another one like this anywhere. This is coming off a fresh custom build with only 1,100 miles on it! The engine is a 5.7 Liter Hemi crate engine bolted to a TCI Torque Flight 727 automatic transmission with a Ford 9" rear end out back with 3.23 gears. This awesome Auburn is painted in a silver and red two tone paint that is show quality, with red leather interior to match. Some unique options on the this car are: four wheel power disc brakes, air ride suspension on all four corners, tilt wheel, power tilt hood and truck, stainless steel firewall, stainless steel front tubular A-arms, heater, seat belts hidden under the seats, radial tires, and all new parts throughout the entire build. The Auburn sits on Dayton wire wheels in the front with aluminum alloy rims in the rear. True roadster but included is a custom made  powder-coated soft top frame and new canvas top as pictured.  If you are looking for a vehicle that no one else has, your search stops here!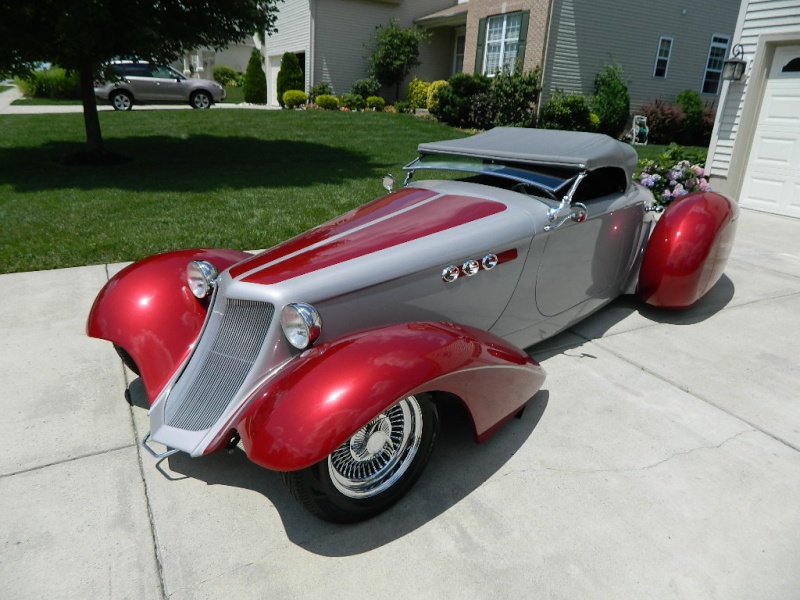 Former HOT ROD Editor Terry Cook Teamed With Chip Foose To Design And Build A Hot-Rodded Auburn Boattail Speedster special thanks to both of them for designing an awesome car!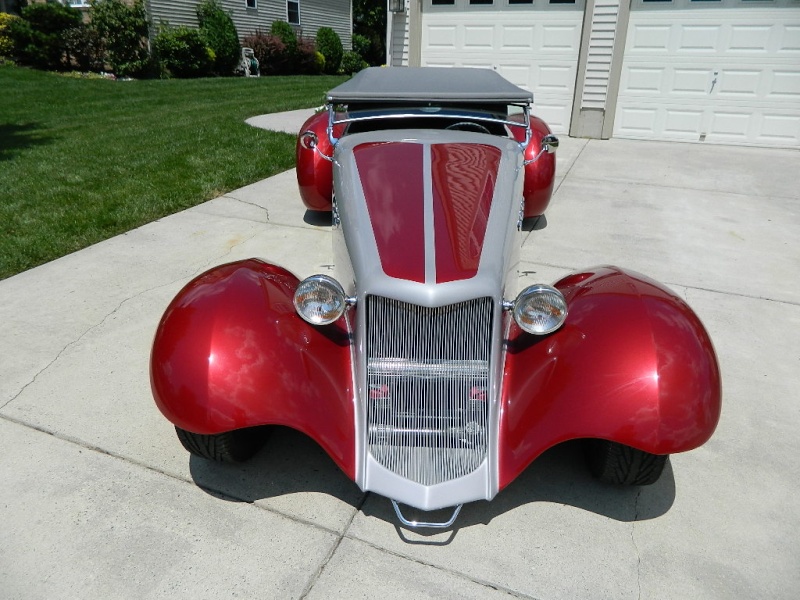 Clear Title, Street Legal and titled as a 1935!
HIGH RESALE VALUE
Using a Fat Man Fabrications chassis with a V-10 Viper engine, the first Gen One orange and white "Creamsickle" DECO RIDES Boattail Speedster  was completed in July 2004. It sold for $137,500 no top. at the RM Auction in Monterey, CA during Pebble Beach week to a Texas collector.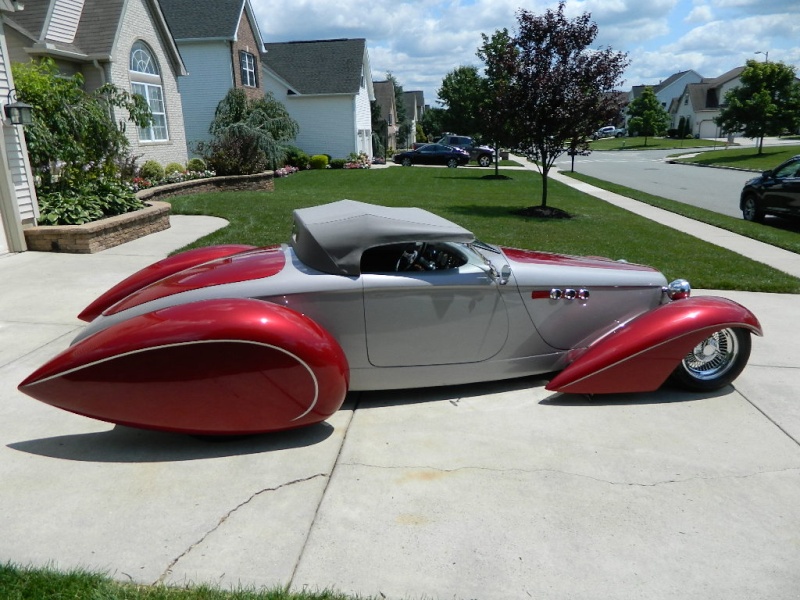 A second Gen One black and silver Boattail with enclosed pontoon rear fenders, powered by a Maserati V-8, was completed in June of 2005, and likewise sold at Pebble Beach in August 2005 for $121,000 to a different Texas collector.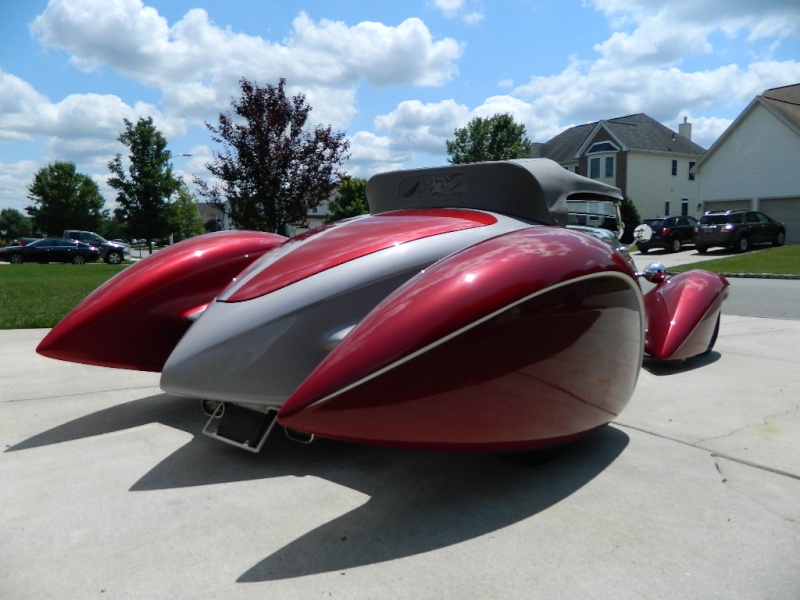 A third fenderless Boattail (C5 Corvette based) was built as a Highboy, complete with real wood laminated on the top body surface to make it look like an old Chris Craft or Riva speedboat. Fully enclosed Gen Two pontoon fenders were added to that car in late 2006 and it sold at the Seabrook, TX John Kruse Auction in 2007 at the Keels & Wheels Concours for $117,000 to an Arizona collector.
The fourth DECO RIDES "BUGNOTTI" Boattail, a Gen Two model with Type 57 Bugatti grille, was sold Jan. 17, 2009 at the Gooding and Company auction in Scottsdale for $203,500 despite the weak economic climate. DECO has two other turnkey Boattail Speedsters currently under construction for future sale.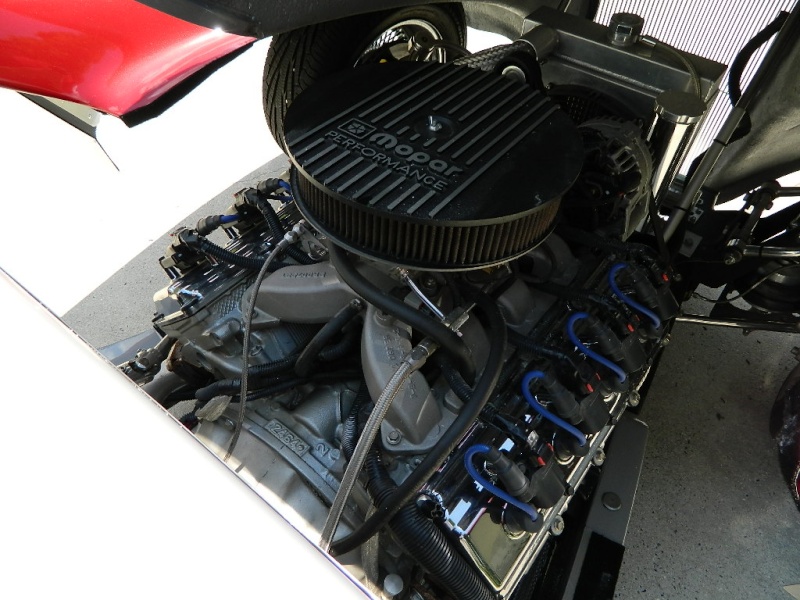 There's an important message to be learned here. Today, 1932 and 1934 Ford roadsters rarely ever sell for $100,000 or more. Despite how much you pour into them financially when building them, because they are so "common" and so plentiful, anyone who can sell one for more than $40,000 is lucky. It's a simple example of the law of Supply and Demand. Our DECO Boatails, because they are unique, have never sold at auction for less than $100,000. And if you spend a few more dollars for the Delahaye or Bugatti style grille shell, you increase the value and raise the selling price!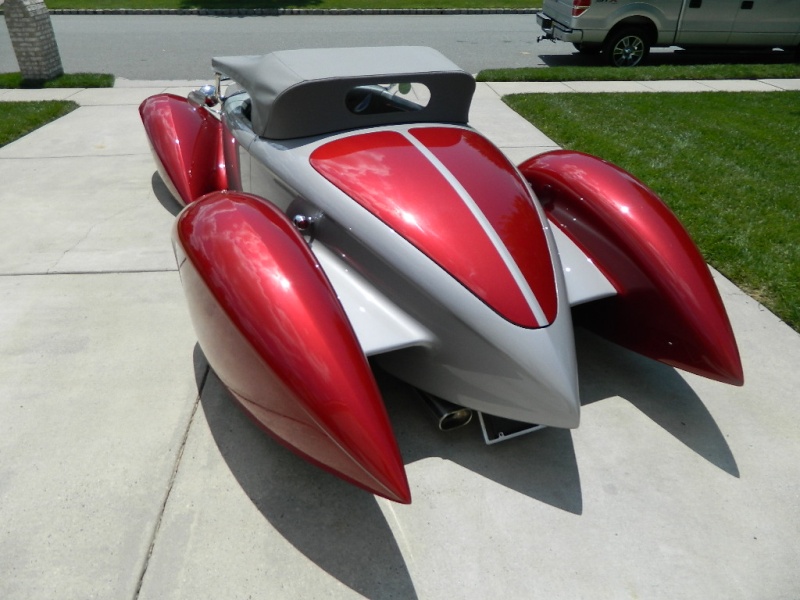 There is an important lesson to be learned in the above paragraph. The prices the above cars sold for at collector car auctions were all greater than $100,000 because the DECO RIDES  Boattail is not just another '32 or '37 Ford. Common kit cars fetch "common" resale prices. The DECO Boattail has truly beautiful styling inspired by some of history's best looking c

_________________
We don't care the People Says , Rock 'n' roll is here to stay - Danny & the Juniors - 1958

_________________
We don't care the People Says , Rock 'n' roll is here to stay - Danny & the Juniors - 1958

_________________
We don't care the People Says , Rock 'n' roll is here to stay - Danny & the Juniors - 1958

_________________
We don't care the People Says , Rock 'n' roll is here to stay - Danny & the Juniors - 1958
c'est quand même assez special

_________________
OLD KIT NEVER DIE
AUTOS-CAMIONS-WEBMAG
---
Permission de ce forum:
Vous
ne pouvez pas
répondre aux sujets dans ce forum