Page 4 sur 4 •
1, 2, 3, 4
*En aquest Dixie Rebel Bop del mes de Febrer 2022 es podran escoltar cançons gravades el 1946 fins al 1963, des de Rock and Roll fins a Western Swing, des de British R&R fins a Strollers…. Un programa altament recomanat, si pots escoltar-lo i compartir-lo, gràcies, salutacions des de Catalonia
www.rockabillyradio.net
sí no vols rebre mes correos fes m´ho saber, gràcies.
*In this Dixie Rebel Bop for the month of February 2022 you will be able to listen to songs recorded in 1946 to 1963, from Rock and Roll to Western Swing, from British R&R to Strollers…. A highly recommended program, if you can listen to it and share it, thanks, greetings from Catalonia
www.rockabillyradio.net
If this information does not arouse any interest in you, do not hesitate to let me know and I will stop bothering you.
1-Chuck Higgins "Chuck a Buck" 1953
2-Earl King "Have You Gone Crazy" 1953
4-Red Foley "Kentucky Fox Chase" 1950
5-Jerry Lee Lewis "Shame on You" 1957
6-Malcolm Yelvington "Goodbye Marie" 1957
7-Bullmoose Jackson and his Buffalo Bearcats "Keep Your Big Mouth Shut" 1946
8-Freddie Starr and the Midnighters "Peter Gunn Locomotion" 1963
9-Billy Red Love "There´s No Use" 1952
10-The Jordanaires "I Ain´t Never" 1962
11-Elmore James "Talk To Me Baby" 1963
12-Don Lang andhis Frantics "I Want You to Be My Baby" 1956
13-Paul Howard and his Arkansas Cotton Pickers "Drinking All My Troubles Away" 1947
14-Little Wilburn and the Pleasers "P.B Baby" 1957
15-Harrold Burrage "Way Down Boogie" 1953
16-Carl Perkins "Roll Over Beethoven" 1957
17-Cliff Richard and the Shadows "Gee Whiz It´s You" 1961
18-Byron Johnson "True Affection" 1958
19-B.B King "Please Hurry Home" 1953
20-Johnny Garner "Didi Didi" 1958
21-Jack Turner "Walkin´the Chalk Line" 1954
22-Lee Lawrence "Don´t Nobody Move" 1956
23-Bill Haley and his Comets "Dim,Dim the Lights" 1954
24-Johnny Kid and the Pirantes "Shakin´All Over" 1960
25-Red Prysock "Wiggles" 1952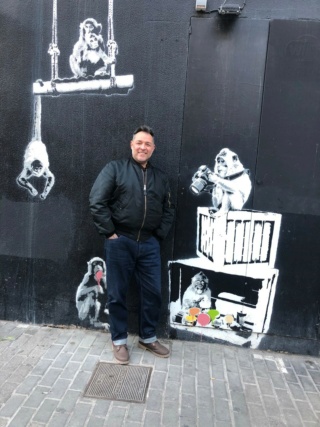 Dj Eddie-Cesc




Messages

: 490


Date d'inscription

: 03/07/2015



*En aquest Dixie Rebel Bop del mes de Març 2022 es podran escoltar una seriés d'artistes/grups molt interessants, aquestes cançons es poden escoltar en diversos formats des de fa molts anys, per si no ho saps encara totes aquestes també es poden escoltar a la meravellosa seriés de vinils 10", Multigroove Records i Minigroove Records, totes les portades són pura meravella, les meves més sinceres felicitacions al dissenyador de totes elles, que gaudeixis del programa
www.rockabillyradio.net
-------------------------------------------------------------------------------------------------------------------
* In this Dixie Rebel Bop of the month of March 2022 you can listen to a series of very interesting artists/groups, these songs can be heard in various formats for many years, in case you don't know it yet, all of them can also be heard by the wonderful 10" vinyl series, Multigroove Records and Minigroove Records, all the covers are pure wonder, my most sincere congratulations to the designer of all of them, enjoy the program
www.rockabillyradio.net
1- Kenny Parchman & his High-Hats "Satelite Hop"
2-Joe Hill Louis "Broke and Hungry"
3-Johnny Carroll "Sugar Lips"
4-Ray Sharpe "Silly Dilly Millie"
5-Eddie Bond "Love,Love, Love"
6-Bo Diddley "Little Girl"
7-Conway Twitty "Double Talk Baby"
8-Lightnin´Slim "Long Leanie Mama"
9-Charlie Feathers "Wilde River"
10-Jerry McCain "Run Uncle John, Run"
11-Bob Luman "Stranger Than Fiction"
12-Lazy Lester "Through the Goodness of my Heart"
13-Mac Curtis "What You Want"
14-Muddy Waters "Diamonds at Your Feet"
15-Ronnie Dawson "Fire Fire Fire"
16-Howlin´Wolf "Wand Dang Doodle"
17-Jackie Lee Cochran "Do Baby Do"
18-Slim Harpo "Strange Love"
19-Johnny Jano "Havin´a Whole Lotta Fun"
20-Little Walter "One More Chance With You"
21-Roy Hall "Christine"
22-Juke Boy Bonner "Let´s Boogie"
23-Ronnie Self "Bop a Lena"
24-Chuck Berry "Oh Yeah"
25- Gene Summers and His Rebels "Scholl of Rock and Roll"
26-Silas Hogan "Go On Pretty Baby"

Dj Eddie-Cesc




Messages

: 490


Date d'inscription

: 03/07/2015



Enjoy this Dixie Rebel Bop of the month of April; do not hesitate to share this information in your blogs, forums and friends, thanks, greetings from Catalonia.
www.rockabillyradio.net
friendship 100% R&R
www.bluemonday01.com
---------------------------------------------------------------
Que gaudeixis d'aquest Dixie Rebel Bop del mes d'abril, no dubtis en compartir aquesta informació en als teus blocs, fòrums i amistats, gràcies, salutacions des de Catalonia.
www.rockabillyradio.net
amistat 100% R&R
www.bluemonday01.com
1-Tony Crombie and his Rockets "Rock Shuffle Boogie"
2-Don Lang and the Rhythm Shop "Just Gigolo/I Ain´t Got Nobady"
3-Terry Dene with the Malcom Lockyer Group "C´min & Be Lover"
4-Vince Taylor and the Playboys "Shot of Rhythm and Blues"
5-Cliff Richard and the Drifters "Don´t Bug My Baby"
6-Lonnie Donegan "Keep On the Sunny Side"
7-Johnny Kid and the Pirates "Longing Lips"
8-Billy Fury "What Am I Gonna Do"
9-Alexis Korner Skiffle Group "I Ain´t Gonna Worry No More"
10-Sharky Todd and the Monsters "Cool, Goll"
11-Colin Hicks and his Cabin Boys "Book of Love"
12-Marty Wilde and the Widcats "Down the Line"
13-The Vipers Skiffle Group "Glory Land"
14-The King Brothers and an Ace "Mais Oui"
15-Tommy Steele and the Steelmen "Swaller Tail Coat"
16-Wee Willie Harris "Love Bug Crawl"
17-Dickie Loader and the Blue Jeans "Chills & Fever"
18-Shane Fenton and the Fentones "Five Foot Two, Eyes of Blue"
19-Danny Rivers and the River Men "Movin´In"
20-Nicky James and the Breakaways "My Color Is Blue"
21-Danny River "I Got"
22-Cliff Bennett and the Rebel Rousers "You´ve Got What Like"
23-Tommy Bruce & the Bruisers "London Boys"
24-Curl Jensen with the Don Henze Rhythmaires "Just For You"
25-Jimmy Powell "Sugar Babe"
26-Jet Harris and Tony Meehan "Diamonds"

Dj Eddie-Cesc




Messages

: 490


Date d'inscription

: 03/07/2015



El Dixie Rebel Bop del mes de maig del 2022 està dedicat a bandes molt apreciades per la majoria de Teds & Rockers i altres fans de Rock and Roll….
Per saber els horaris i els dies d'emissió del programa visiteu el quadrant de
www.rockabillyradio.net
Gràcies per compartir aquesta informació amb totes les vostres amistats, fòrums, blocs…. Cuideu-vos molts, fins aviat.
Dj Rockin´Badalona "Eddie-Cesc"
-------------------------------------------------------------------------------------------------------------------------
The Dixie Rebel Bop of the month of May 2022 is dedicated to bands highly appreciated by the majority of Teds & Rockers and other Rock and Roll fans….
To know the schedules and days of broadcasting of the program visit the quadrant of
www.rockabillyradio.net
Thank you for sharing this information with all your friends, forums, blogs….
Take care of yourselves, see you soon.
Dj Rockin´Badalona "Eddie-Cesc"
1-The Rapiers "Breakfast at the Ace"
2-At Last the 1958 R&R Show "I Can´t Drive"
3-Bonneville "Rockabilly Beat"
4-Roy Powell and the Shiver Givers "Rock Ness Monster"
5-Wild Angels "Please Don´t Touch"
6-Whirlwind "Don´t Be Crazy"
7-Johnny & the Jailbirds "Jenny Lee"
8-Shotgun "Boogie Bop Bear"
9-C.S.A "Till i Waltz Again With You"
10-The Firebirds "It´s Late"
11-Yakety Yak "Please Don´t Ask"
12-The Hellraisers "Singing the Blues"
13-Johnny and the Roccos "R&R Woman"
14-Jets "Hit It On"
15-The Riot Rockers "Boppin´the Blues"
16-Rock and Roll All-stars "My Girl Josephine"
17-Cadillac "Telephone Baby"
18-Rockin´Louie and the Mamma Jammers "Real Gone Lover"
19-Flying Saucers "My Baby"
20-Screaming Lord Sutch "London Rocker"
21-Matchbox "Please Don´t Touch"
22-Crazy Cavan and the Rhythm Rockers "Why don´t somebody"
23-Rockin´Shades "Mary Lou"
24-The South Rebels "South Rebel Boogie"

Dj Eddie-Cesc




Messages

: 490


Date d'inscription

: 03/07/2015



Page 4 sur 4 •
1, 2, 3, 4
---
Permission de ce forum:
Vous
ne pouvez pas
répondre aux sujets dans ce forum