Though "subtle" is not an adjective often associated with George Barris and his automotive creations, his 1963 "Asteroid" Corvette, built for offshore powerboat racer and airline equipment mogul Bob Nordskog, is, perhaps, one of the more understated creations to roll out of Barris's garage. Designed as a do-it-all racer, show car and street car, the one-of-a-kind Corvette, fresh from a 2013 restoration, is scheduled to cross the auction block early next year. -
Bob Nordskog was a remarkable man, so it stands to reason that no ordinary car would fit his larger-than-life personality. A mechanical engineer by trade, Nordskog built a string of successful businesses, including Nordskog Manufacturing (now Nordskog Industries), a supplier of galleys and galley equipment to the aircraft industry. His passion, however, was offshore powerboat racing, a dangerous (and expensive) sport that Nordskog excelled at, although he didn't begin offshore racing until age 46. His final victory came at age 79, just one month prior to his 1992 death, when he averaged a speed of 93 MPH in his 40-foot Fountain, the Powerboat Magazine Special.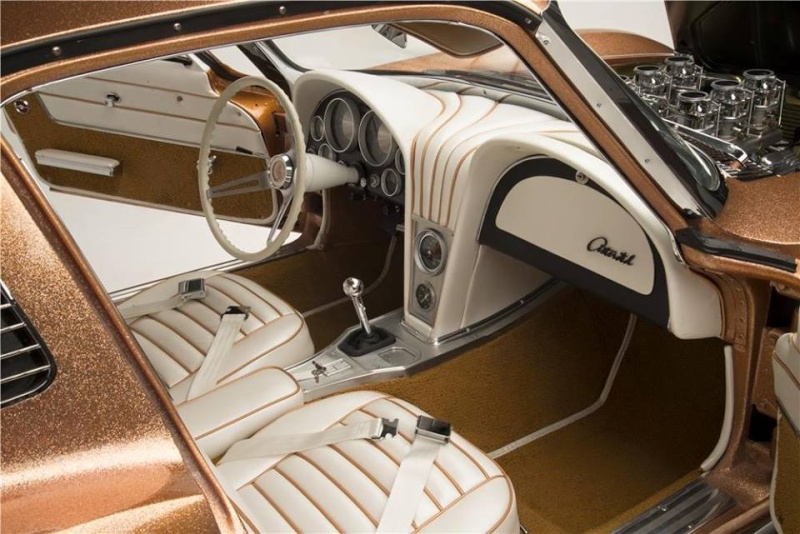 Nordskog set records racing on land as well, including a Model T speed record of 125 MPH at Muroc Dry Lake. When Chevrolet introduced the second-generation Corvette for the 1963 model year, Nordskog quickly placed an order for a Stingray sans paint. His intention all along was to deliver the car to George Barris for a bit of customization, which ultimately included an revised nose; headlamps hidden behind a custom grille; headers that passed through the front fenders (and terminated in sidepipes, of course); deletion of the rear-window divider; a pearl white Naugahyde interior (stitched by Don Ferrara, Bob Nordskog's brother-in-law); and the addition of a metallic copper livery that gave the car its "Asteroid" nickname.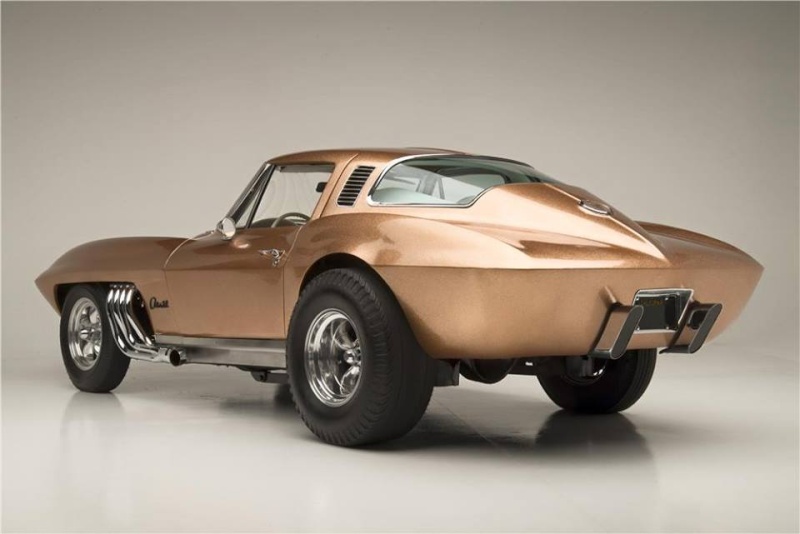 Under the car's reshaped fiberglass hood, the 352-cu.in. V-8 (achieved by using a 350 crankshaft with the 327 block) was fed by six Stromberg 97 carburetors, producing a measured output of 400 horsepower and 430 pound-feet of torque on an engine dynamometer. In keeping with the Asteroid's part-time show car mission, many underhood bits were either chromed or painted in a metallic gold finish for a further custom touch. For street duty, the Asteroid wore wire wheels, but for track use, American Racing mag wheels were bolted on; at shows, it was regularly displayed with one side wearing street wheels and tires, with the other set up for racing. In the mid-1960s, the Asteroid was seemingly everywhere, appearing on the cover of Jan and Dean's Drag City LP as well as in the pages of Hot Rod, Popular Hot Rodding and Popular Customs.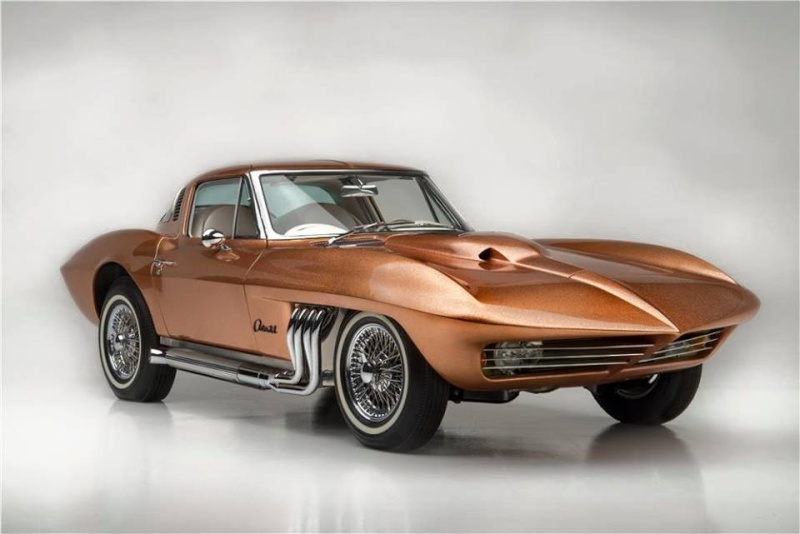 Currently co-owned by Lance Miller (owner of Carlisle Events) and Randy Koettel (owner of Desert Autosport, which just completed the car's restoration), the restored Asteroid made its public debut at this summer's Corvettes at Carlisle. As Miller explains it, reaction to the George Barris creation was generally positive, but the car's "obnoxiously bright" copper paint proved to be a bit polarizing. Though restoring the car for sale was always part of the business plan, Miller said that he's grown more appreciative of the car's exuberant design over time, though not enough to prevent him from consigning the Asteroid with Barrett-Jackson for the auction house's Scottsdale sale in January. -
See more at:
http://blog.hemmings.com/index.php/2013/10/31/george-barriss-asteroid-corvette-heads-to-auction/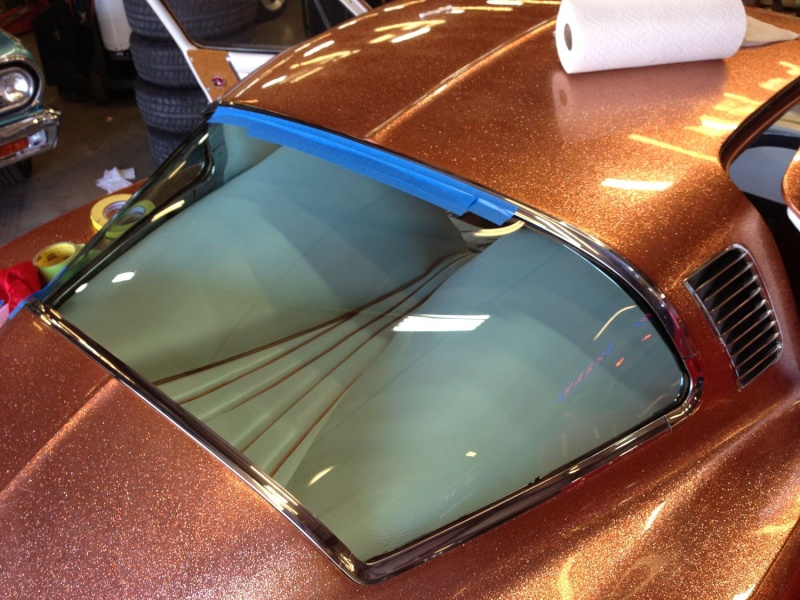 _________________
We don't care the People Says , Rock 'n' roll is here to stay - Danny & the Juniors - 1958

_________________
We don't care the People Says , Rock 'n' roll is here to stay - Danny & the Juniors - 1958

_________________
We don't care the People Says , Rock 'n' roll is here to stay - Danny & the Juniors - 1958

_________________
We don't care the People Says , Rock 'n' roll is here to stay - Danny & the Juniors - 1958

_________________
We don't care the People Says , Rock 'n' roll is here to stay - Danny & the Juniors - 1958

_________________
We don't care the People Says , Rock 'n' roll is here to stay - Danny & the Juniors - 1958
Each August Corvettes at Carlisle features some of the best Corvettes in the country. Thousands of patrons flock to eastern Pennsylvania to overdose on all things Corvette. One of the main attractions this year will be a rarely seen 1963 Corvette coupe which was modified by custom car guru, George Barris just after it was delivered new.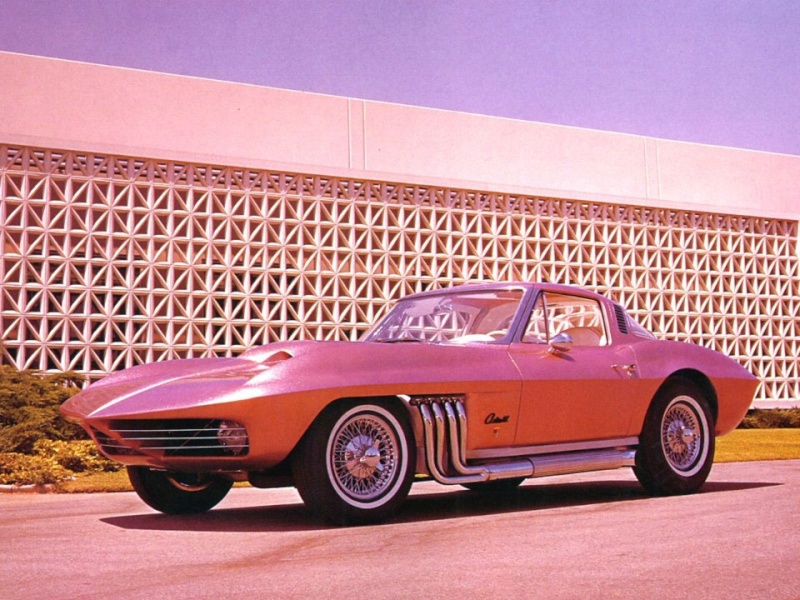 George Barris is widely considered to be the king of custom cars. His notable creations include the original Batmobile (which recently sold for $4.2 million), the Munsters' Koach, and Black Beauty from the original Green Hornet series among numerous other famous customs.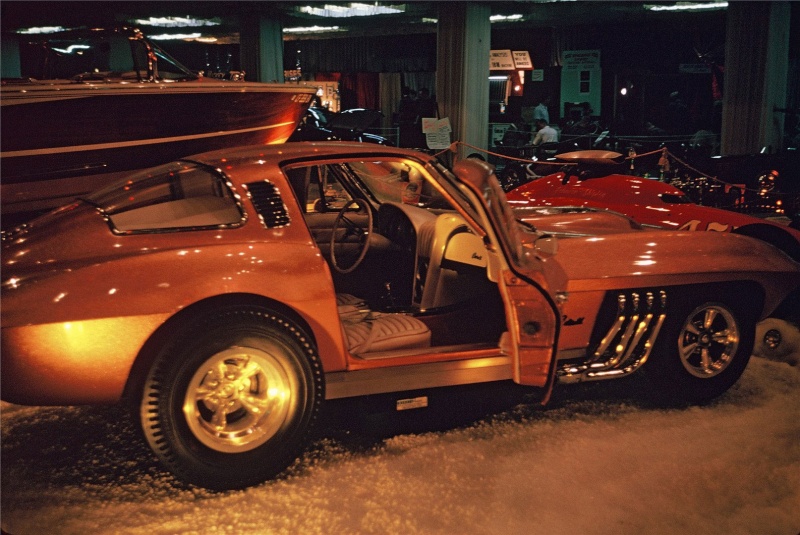 This C2 which would become known as "Asteroid" was special ordered by a speedboat racer named Bob Nordskog. Delivered initially as a paint delete car, it was sent straight to George Barris' Barris Kustoms in California. There the brand new Sting Ray underwent a nose job which added an extended proboscis incorporating headlights tucked behind the front grille. Custom chrome headers leave the body prominently aft of the front wheels and flow rearward. The famous split window was removed and the rear tail panel was filled. The rear wheel well were enlarged so as to incorporate some fat wheels and tires.
The exterior wore a dazzling metallic copper finish and inspired the Asteriod name. The interior was swathed pearl white Naughahyde with copper accents throughout to compliment the exterior paint.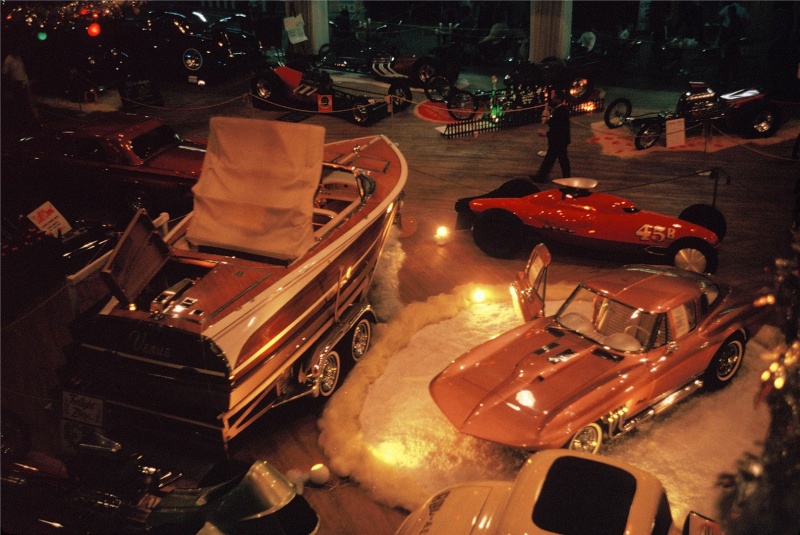 Motivation came via 352 cubic inch V8 sporting 13:1 compression which breathed through six chrome Stromburg 97 carburetors. Miles of matching gold and chrome filled the engine compartment.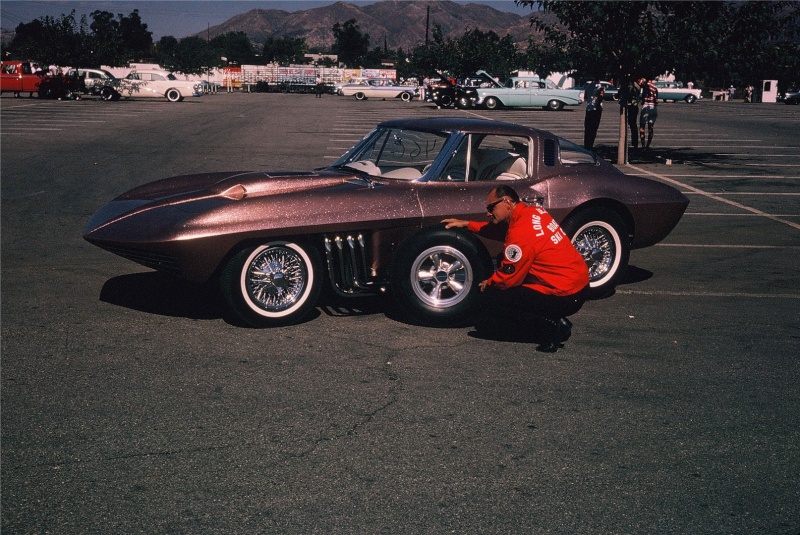 "The Asteroid was built by a true automotive icon and legend in George Barris." noted Corvettes at Carlisle event manager Lance Miller. "He made up some of the most creative automotive masterpieces in history and, fortunately for us, he restyled an amazingly vibrant and quite wild '63 Corvette for Bob Nordskog." Miller continued that "this Corvette is being carefully restored back to its original state as the Asteroid once was in '63 and we're excited to unveil it for the first time since the mid-'60s for our Corvettes at Carlisle attendees. This will be one custom Corvette that you won't want to miss, as a matter of fact you WON'T be able to miss it – be sure to come see what I'm talking about!"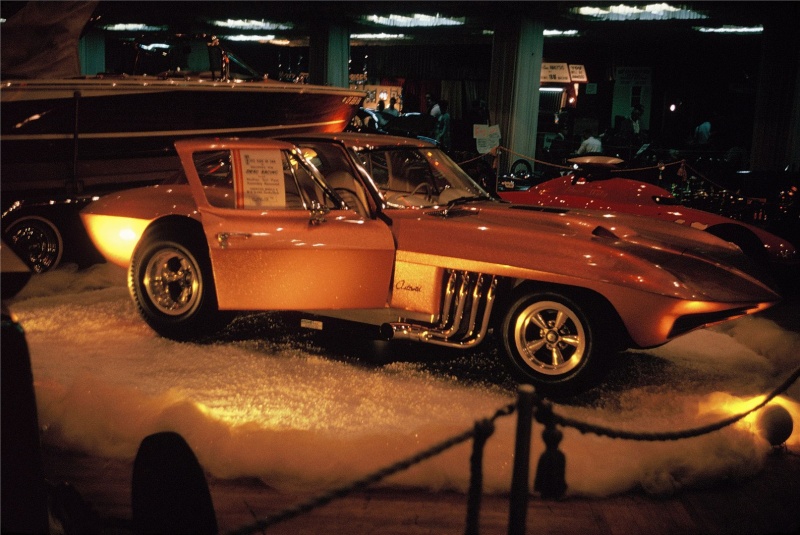 It went on to be featured in numerous publications and traveled the car show circuit in addition to travelling down various drag strips. Asteroid will be on display at Corvettes at Carlisle August 23-25, 2013 at the Carlisle Fairgrounds and we'll be there to check it out firsthand.
http://www.corvetteblogger.com/2013/02/15/1963-custom-corvette-built-by-george-barris-to-be-shown-at-carlisle/

_________________
We don't care the People Says , Rock 'n' roll is here to stay - Danny & the Juniors - 1958
Taking advantage of the current red hot vintage Corvette market, Barrett-Jackson will be offering George Barris' customized 1963 second generation Corvette known as "Asteroid" during their January auction extravaganza in Scottsdale, Arizona, January 12 -19, 2014.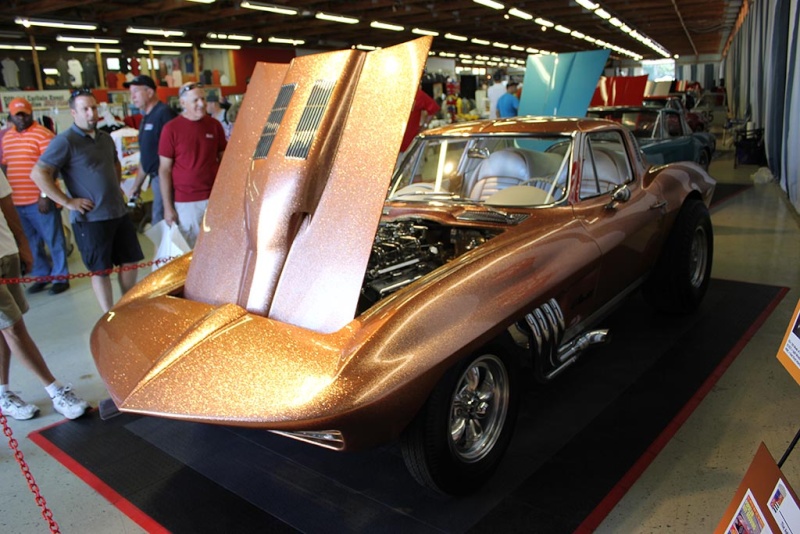 This year Barrett-Jackson will open the doors to a completely new auction facility at the same West World of Scottsdale location they have used in prior years.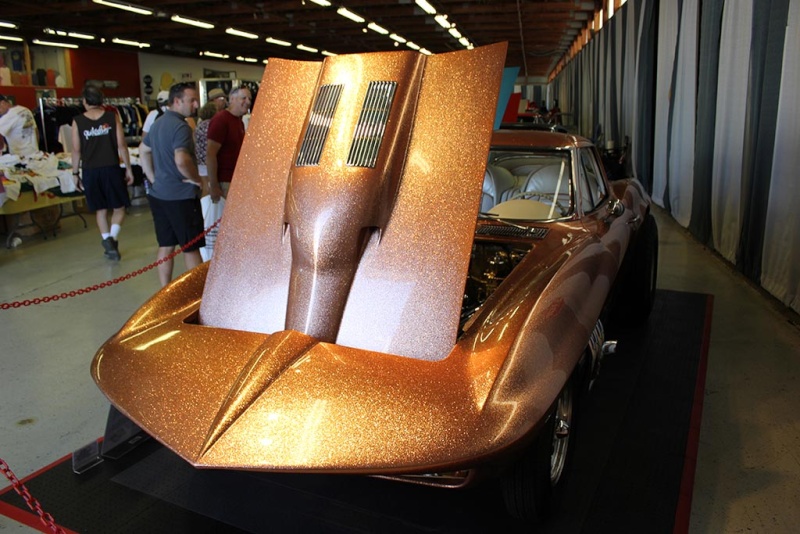 The dazzling metallic copper Corvette was fully restored earlier this year and is owned by Lance Miller of Corvettes at Carlisle fame and Randy Koettel owner of Desert Autosport . As Barris customized creations go, the Corvette would be considered "tame" and was built for the successful business entrepreneur and offshore powerboat champion Bob Nordskog to serve as a street car, a race car, and show car.
The Corvette has been well documented from the day it was originally ordered unpainted by Nordskog in 1963. Right from the start he intended to have Barris add his styling touch to the newly introduced split window coupe and have the 327 cubic inch engine modified. Nordskog had the engine reworked with a 350 camshaft which changed the cubic inches to 357 and upped the horsepower to 400. In addition to the engine performance modifications several of the engine components were chromed or painted gold for show.
The George Barris
George Barris is legendary and has created some of the most legendary show and movie cars in the country. He created the most iconic television cars such as The Munsters Koach, Knight Rider and Batmobile, which sold at last year's Barrett-Jackson auction for a staggering $4,620,000.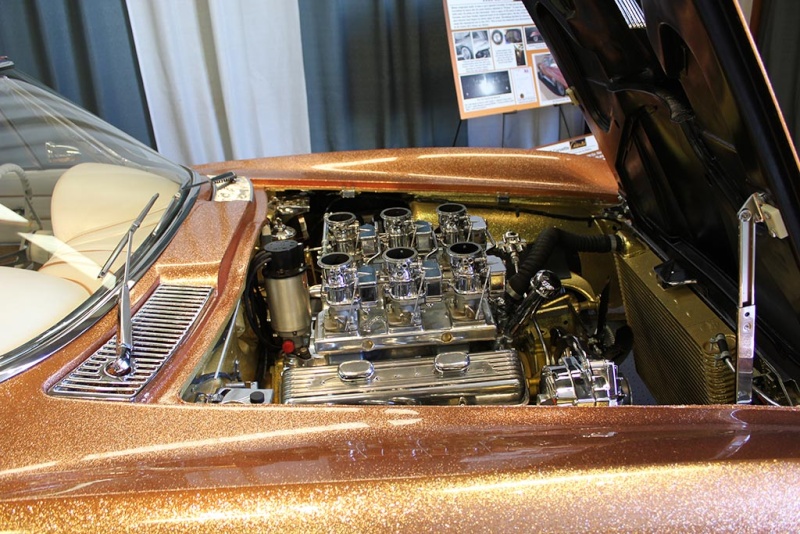 Known as the "King of the Kustomizers", he made several styling changes to Nordskog's second generation Corvette, including a restyled lengthened nose, hiding the headlights behind a custom grill, a reworked rear fascia and the removal of the center stile of the iconic split rear window. In addition he added chrome headers which exited through the side body panels, similar to Larry Shinoda's 1961 Mako Shark Corvette concept car. The interior was entirely reworked in pearl and cream.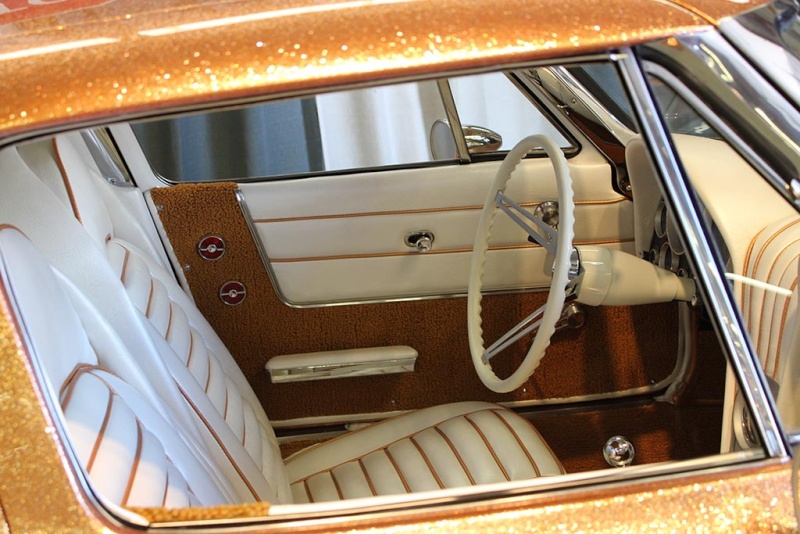 The George Barris Nordskog had two sets of wheels and tires for the ostentatious Corvette, chrome American Racing mags and oversized tires when he raced the car and chrome wire wheels when he used it on the street or for show. When Barris finished with the Asteroid it was a big hit, literally. It appeared on the cover of Jan and Dean's hit album Drag City, which was released in the fall of 1963. It also appeared in several magazines, such as Hot Rod.

_________________
We don't care the People Says , Rock 'n' roll is here to stay - Danny & the Juniors - 1958
Recently the Asteroid was unveiled after its restoration at Miller's Corvettes at Carlisle event this past August.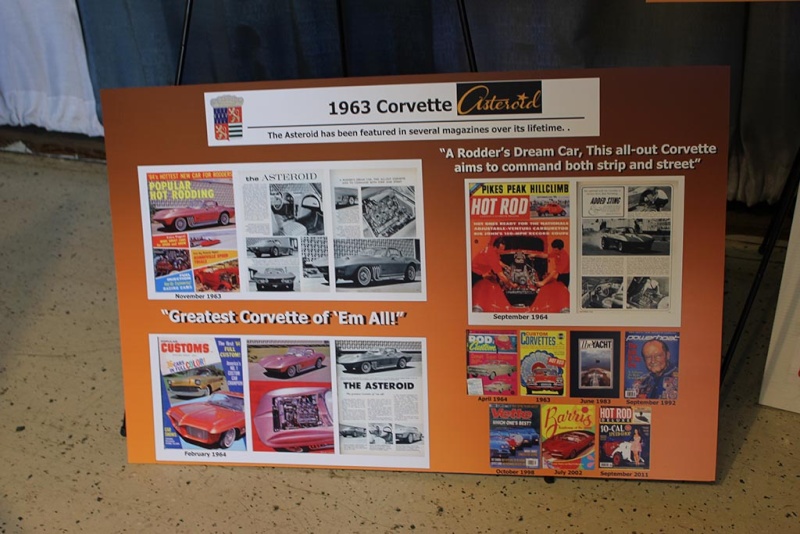 Just a few weeks ago a modified 1963 Corvette given to Harley Earl by GM honoring his contribution to the Corvette crossed Mecum's auction block. That car also was modified with chrome headers that exited through the side body panels and had a custom interior. Earl's car brought $1.5M.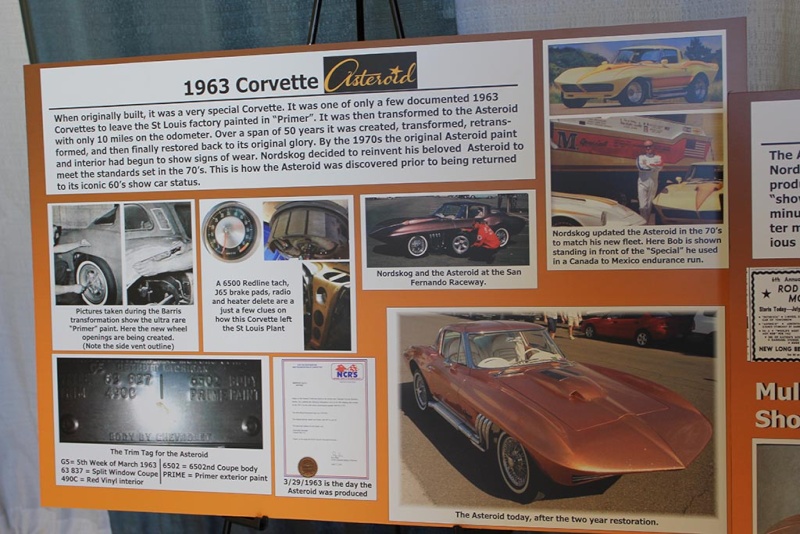 A decade ago "customized" Corvettes were often overlooked and sometimes scorned by the collector. But in recent times customized Corvettes in outstanding condition or fully restored have seen prices soar. No longer is it considered "heresy" to modify a Corvette as can be seen by the prices "restomod" Corvettes are bringing at auction. Based on the attention the Asteroid received at Carlisle coupled with its provenance, documentation, well known owner, famous builder, storied history and outstanding restoration, there is little doubt that it should attract a lot of attention when it crosses the block at Barrett-Jackson in January.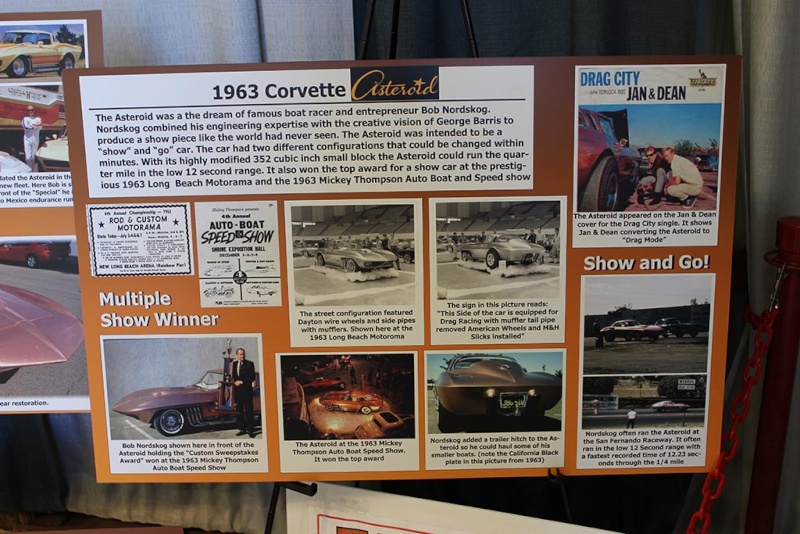 http://www.corvetteblogger.com/2013/11/04/the-george-barris-asteroid-corvette-to-cross-barrett-jacksons-scottsdale-auction-block/

_________________
We don't care the People Says , Rock 'n' roll is here to stay - Danny & the Juniors - 1958
The original owner, Bob Nordskog, was a well-known boat racer and an entrepreneur that loved speed. He built a dual purpose show/race car that was out of this world called "Asteroid." This car was delivered to Barris Kustoms in 1963 with 10 miles on the odometer. The body was radically transformed and finished off with an extreme metallic paint job. Bob Nordskog's boat competition center built the motor and Nordskog's brother-in-law, Don Ferrara, built the very trick custom interior. The car won the top award at several major car shows including the 1963 Long Beach Motorama and the 1963 Mickey Thompson Auto Boat Speed Show. It was just as fierce at the race track as well. Nordskog would drive the car to the track on street tires, switch it over to track mode with American Racing mags and uncork the side pipes on the custom multi-piece exhaust system. It ran 12.20 in the quarter mile at 118mph, which was pretty fast for a street car in 1963. At one track, it was photographed for the cover of the Jan & Dean single Drag City. Jan & Dean are pictured taking off the side pipe for track mode. It has only 12,000 actual miles from new. Bob Nordskog passed away in 1992 and the car sat for several more years in the possession of the Nordskog family. This vehicle has gone through a vigorous and extensive no-expense-spared restoration to take it back to exactly how it looked when legendary George Barris from Barris Kustoms originally made the vehicle. It is a one-of-a-kind.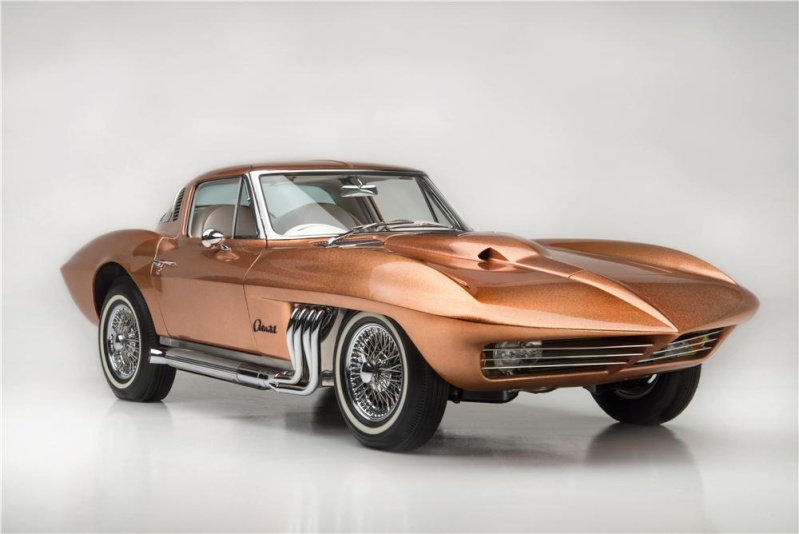 http://www.barrett-jackson.com/Archive/Event/Item/1963-CHEVROLET-CORVETTE-ASTEROID-160971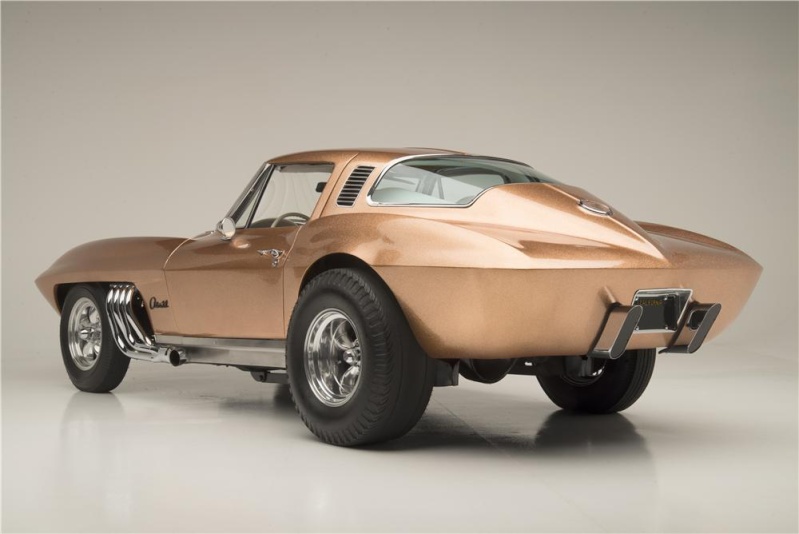 _________________
We don't care the People Says , Rock 'n' roll is here to stay - Danny & the Juniors - 1958
---
Permission de ce forum:
Vous
ne pouvez pas
répondre aux sujets dans ce forum