"It was an incredible idea. Although it started out small, it was still incredible. It came to me about one day after the '52 Chevy sedan was delivered to my driveway from a field at Joe Casto's place in Oklahoma back in September of 1997. There it sat, treadless tires incredibly still holding air, with all that broken glass and rusty floorboards. I, and probably I alone, could see into this derelict vehicle's future. This was the car I would be driving to California."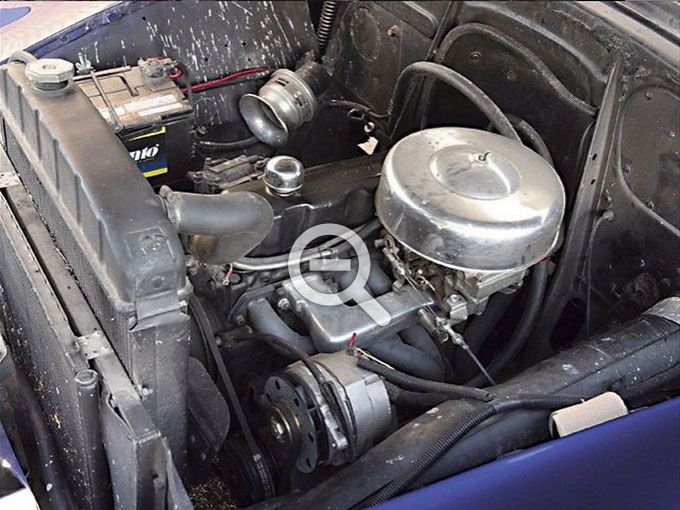 Artist Dennis McPhail penned those words for the November 1998 issue of Custom Rodder, in a story titled "From Kansas to Kalifornia in a Kustom." The tale recounted how, in just nine months, Dennis and his friends transformed the former field car into a roadworthy mild custom that Dennis drove from his Wellington, Kansas, home to the West Coast Kustoms Memorial Day show in Paso Robles, California. That alone was a notable feat, but it's Dennis' last sentence that has proven prophetic. He's driven the Chevy to California no less than nine times, and piloted it to several other corners of the country while racking up an estimated 80,000 miles. Along the way it evolved from a simple cruiser into a chopped, painted, radical custom.
For the car's first incarnation, Dennis enlisted Ronnie Dick to help swap in a '64-vintage 230ci six cylinder, TH350 tranny, POSIES leaf springs, and Fatman dropped front uprights. New wiring and Mooneyes gauges helped ready the car for its maiden road trip, and Dennis got it looking sharp with assistance from his kustom mentor, Elden Titus, and friends Jeff Myers and Ed Allwine. They shaved the trim, molded on '53 Merc headlight rings, sank two antennae, and frenched in '49 Ford taillights with "windsplits" on the fenders. Dressed in white primer, the Chevy made it to Paso in 1998 with nary a hitch.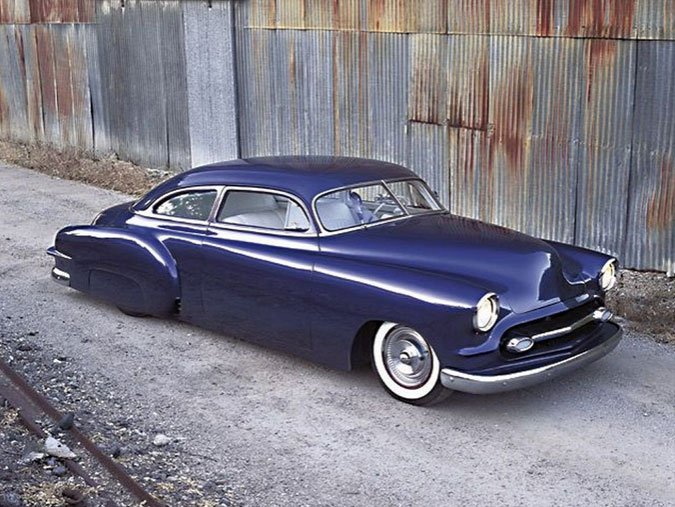 It has been driven to Paso nearly every year since, too, with regular updates. By '99 it wore purple suede and '55 Olds headlights, and soon after Frank Palmer molded in a '53 Chevy grille surround and V'd a '55 Olds grille bar to fit. He also flared the lower edges of the rockers, cut scoops in the rear fenders, and extended the skirts to match the fender line.
Mechanical updates also continued. Dennis upgraded to a Fatman Mustang II IFS with ECI disc brakes, and had front and rear air springs installed. The 230 eventually gave way to a rebuilt 250ci six with a Clifford intake, 390-cfm Holley carb, HEI distributor, and custom headers. Coker wide whitewalls and '56 Buick hubcaps remained constants through the years.
Dennis had always drawn inspiration from classic Chevy customs like Larry Watson's Grapevine, Harry Bradley's LaJolla, and the Larry Ernst car. Like the latter two, his eventually had its lid cut. "The top chop was kind of a last-minute deal," Dennis says. "I really wasn't planning on doing it." Yet when Marcos Garcia and John Aiello at Lucky 7 Customs presented the idea, Dennis couldn't resist. He knew they could pull it off. "That's the perfect chop on a Chevy sedan," Dennis says. He's not bragging; he's just delighted with the result.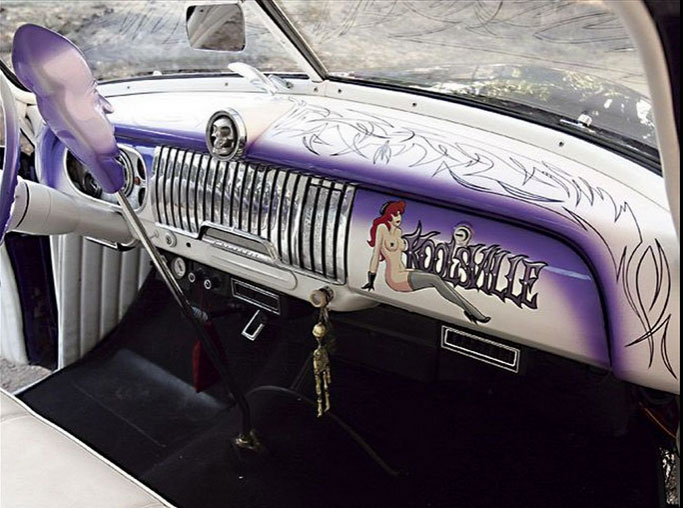 In fact, Dennis says everyone who performed bodywork on the car went the extra mile to make things fit and flow. "My talent was being able to communicate what I wanted," Dennis says. "Everything on that body was exactly what I wanted--whether I knew it or not."
That goes for the final bodywork and paint as well, expertly handled by Jeff Myers at Premier Body & Paint in Arkansas City, Kansas. Jeff custom-mixed the Sikkens purple pearl hue, and set the top off by covering the purple with House of Kolor silver mini 'flake followed by purple candy. With the body gleaming, Dennis finally had a full roll 'n' pleat interior stitched by Fat Lucky's in Austin, Texas.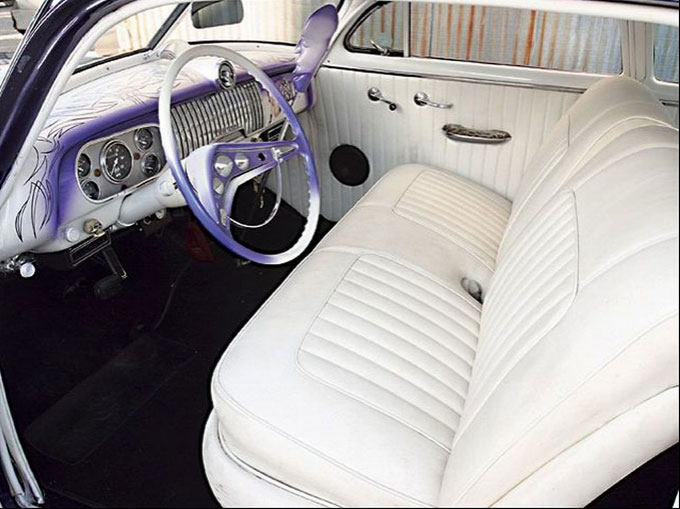 Dennis made another run to Paso in the Chevy last year, when we took these photos. Surprisingly, he sold the car soon after. Dennis says it was a matter of the right money and the right person (fellow Beatnik club member George Garza) at the right time. A new custom project was beckoning, and after eight years and countless miles, Dennis had gone as far with the '52 as he'd wanted. "The vision I had for it was what it was when I sold it," Dennis says. "I think it was the perfect custom '52 Chevy." Still, he's a little wistful. "I learned a lot on that car, and made a lot of good friends with it. I think everybody I've known has helped me work on that car. Without [it], I wouldn't have been able to go to the places I did."
"I kinda feel naked without it," Dennis continues. "Now it's goin' places without me. But I'm glad [George] is using it instead of letting it sit in a garage."
Read more:
http://www.customrodder.com/features/0603cr_1952_chevy_sedan/

_________________
We don't care the People Says , Rock 'n' roll is here to stay - Danny & the Juniors - 1958
---
Permission de ce forum:
Vous
ne pouvez pas
répondre aux sujets dans ce forum