The 1950s was probably the decade that saw the most changes ever in the automotive industry. Think about the '50 Chevy or Ford and what each manufacturer was offering by 1959. The introduction of overhead V-8s, wraparound windshields-even curved windshields, come to think of it-power steering, reliable automatic transmissions, improved safety features, not to mention bigger, wider, longer jet-age styling. In addition to these improvements, during the last two years of the decade Chevrolet had to overcome the iconic Tri-Five years, with the '55-57 models sharing a common body structure and chassis.
1958 Chevrolet Impala Green And White Paint Job
The '58 Del Ray, Biscayne, Bel Air, and Impala models were the result, an all-new body on a brand-new chassis dubbed the Safety Girder frame. This one-year body style, with its semi-gullwing rear fins, bridged the gap between the vertical fins of the '57 and the full gullwing excess of the '59. The sheer size of the '58, and especially the sleek styling of the two-door Impala hardtop, with its roof-mounted dummy air scoop and triple taillights, lent itself perfectly to the mild custom treatment so popular by the end of the '50s. Mild lowering, shaved of some trim and handles, and with wild paint, the '58 Chevy, along with the similar full-size models from Buick and Oldsmobile, made custom cars accessible to those who otherwise wouldn't have been able to afford, or even desire, the radical full customs of just a few years previously.
1958 Chevrolet Impala Light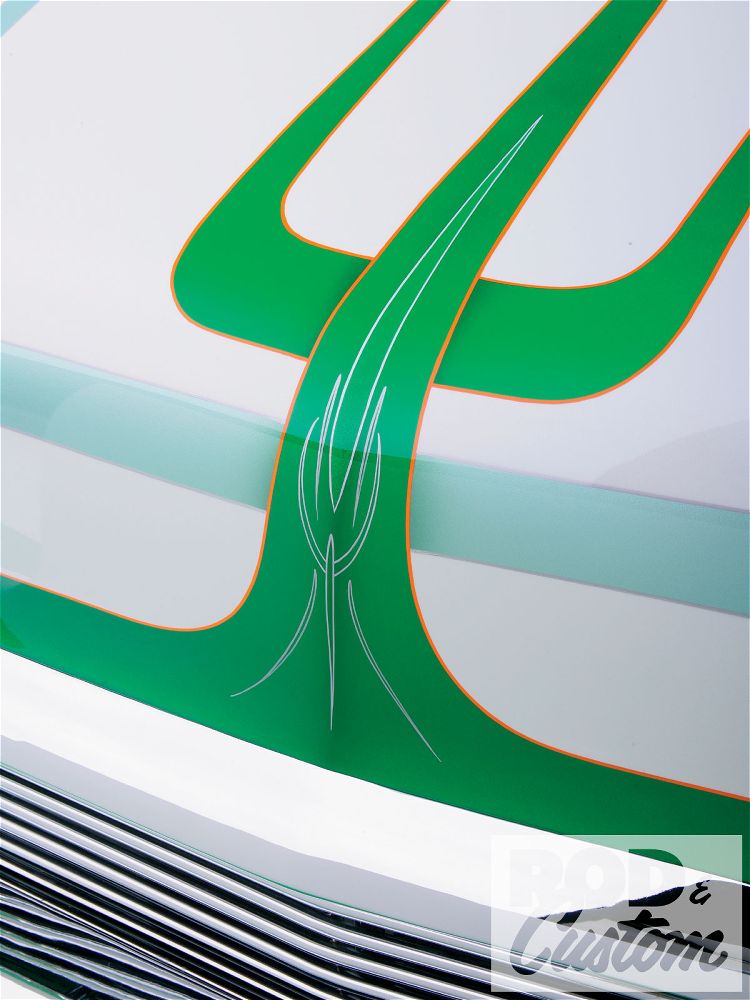 Sam Dekruyf, now a dairy owner in Palm Desert, California, was 17 when he owned a '58 Impala very similar to the one seen here, in the '60s. But this isn't that car, nor did Sam build it as a clone. In fact, not only did he not build it, he didn't even know it was being built! For two-and-a-half years his son-in-law, Peter Bouma, worked with Steve Stanford, RD Performance, C&S Auto & Truck, Burton's Classics, Corona Customs, Pete Santini, and others to re-create Sam's old cruiser, while bringing it up to date with four-wheel disc brakes, an alternator, air conditioning, modern stereo, and electronic ignition, yet retaining the original 348 and two-speed, cast-iron Powerglide. Both of course were rebuilt, the engine now bored to 409 ci, filled with performance parts, and topped with a Tri-power induction setup under a stock but chromed, air cleaner.
According to the painter of the '58, Pete Santini, "The original request to Steve Stanford from Bouma was for a retro-looking car that would be user-friendly for Sam, and it was intended to be Candy Green with white "Watson-ish" panels, but after Danny at Corona Customs did the bodywork and painted the jambs Pearl White, I made the call to change it to a Pearl White body, with Candy Green panels and Pearl Mint Green accents, and a green 'flake roof."
1958 Chevrolet Impala Santini And Stanford Signature
Sam not only didn't know the '58 was being built, but didn't know it was to be his when he first saw it. "I was with my family at a country club, enjoying a glass of wine, when the valet pulled the car around within our sight. I was amazed to see a '58 in such fantastic condition, and called Peter [Bouma] over to come look at this car that was so similar to, and brought back memories of, my first one." Stunned at the level of detail that took the car he'd owned 40 years previously to another level, he continued, "After pointing out all the features on it, as well as the personalized license plate, Peter told me it was his gift to me. It was such a special gift, not just because it resembled my original '58, but because of the time and effort that he'd put into rebuilding it."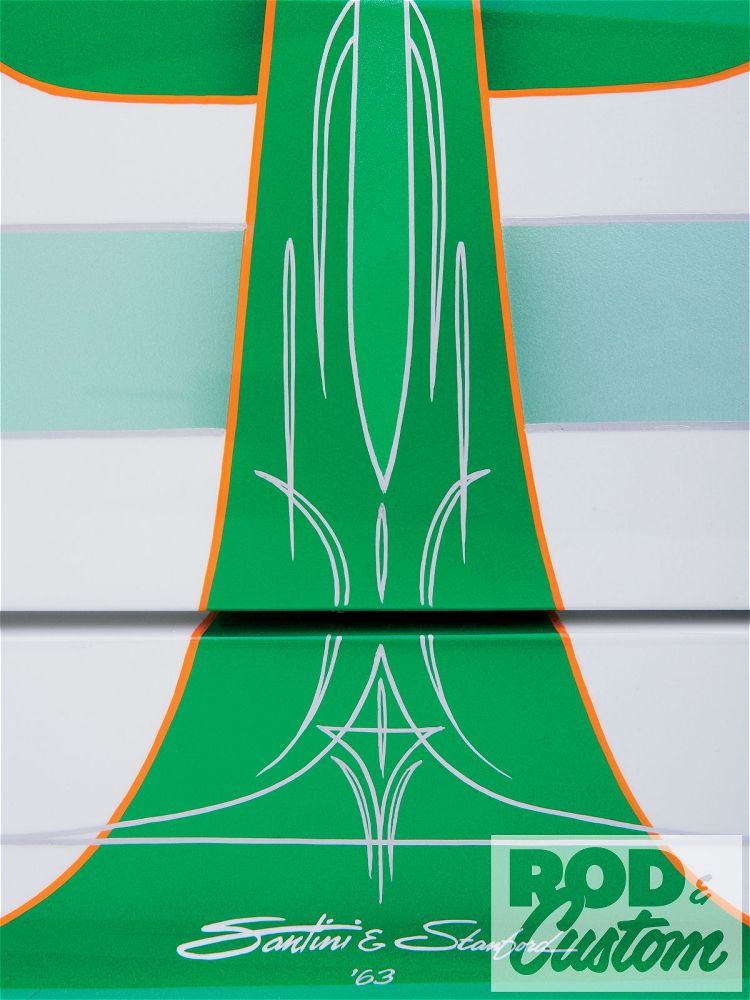 article original:
http://www.rodandcustommagazine.com/featuredvehicles/1102rc_1958_chevrolet_impala/viewall.html

_________________
We don't care the People Says , Rock 'n' roll is here to stay - Danny & the Juniors - 1958
Rod & Custom Feature Car
Sam Dekruyf
Palm Desert, California
1958 Chevrolet Impala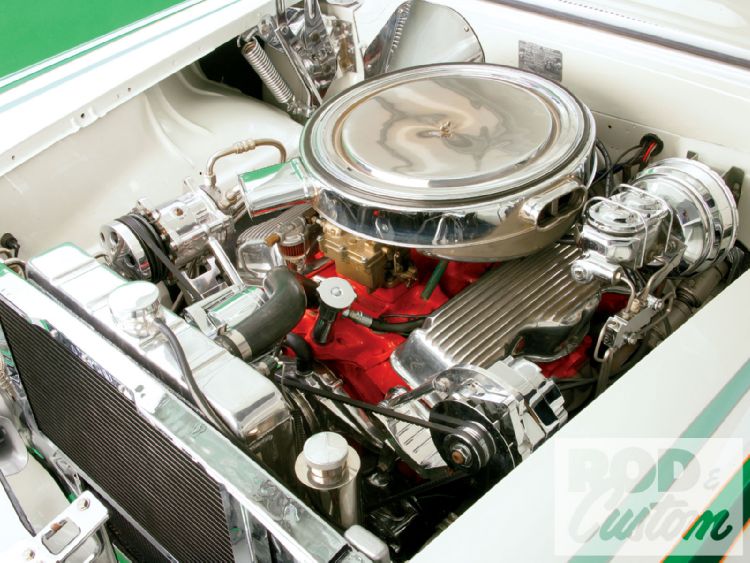 Chassis
The Impala retains its stock chassis, albeit slightly lowered, with C&S Auto and Truck in Mira Loma, CA, performing the suspension and rear axle work. The full-size Chevy now benefits from disc brakes at each corner, actuated by a chromed power booster and master cylinder on the firewall.
1958 Chevrolet Impala Interior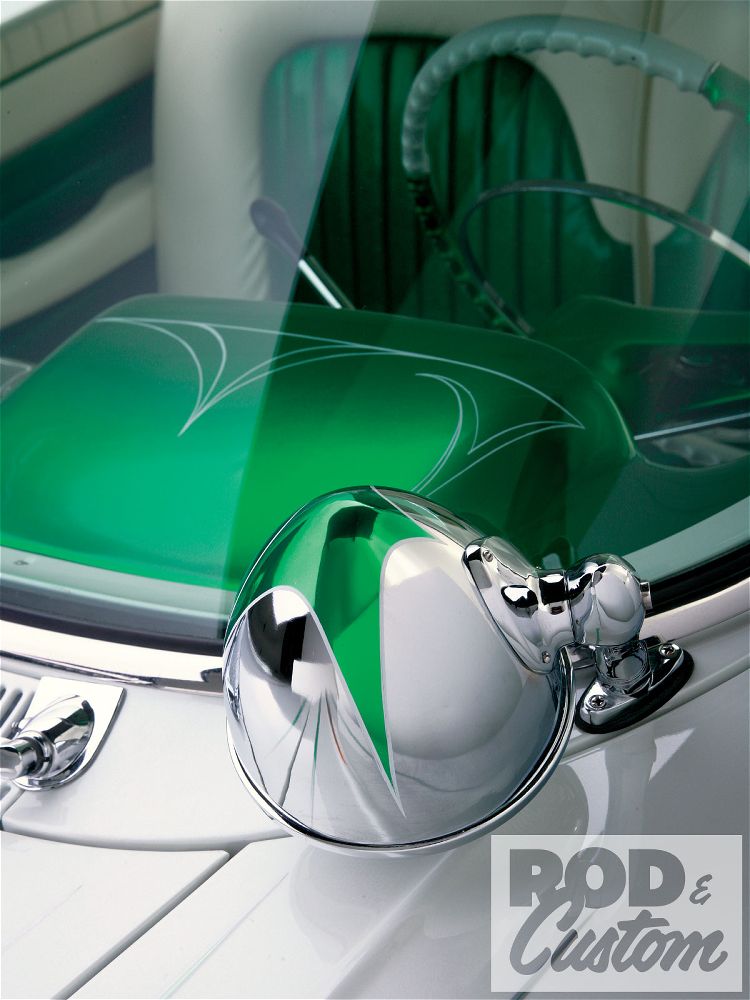 Drivetrain
The original 348ci engine was bored and stroked to 409ci displacement, and the main bearings and snout machined to accept a forged steel 427 crank. Ross pistons were machined to give a 9.5:1 compression ratio, and hooked to big-block Chevy con rods. COMP Cams supplied a Nostalgia cam, as well as the rocker arms, pushrods, and valvesprings. A trio of Rochester two-barrels were bolted to the 348 intake, with a progressive linkage, while MSD electronic ignition and plug wires fire the beast. Paul Pfaff Racing Engines performed the machine work, while RD Performance in Hemet, CA, assembled and installed the motor, along with the original Powerglide, rebuilt by Mogi Transmission (Riverside, CA) with a 2,200 stall-speed converter. Billet aluminum pulleys were sourced from Zoops, while Randy Davidson fabricated custom brackets for the power steering pump and alternator.
1958 Chevrolet Impala Front Left
Wheels & Tires
Those Candy Green 15-inch steel wheels were sourced from Mooneyes, who also supplied the Lancer hubcaps, while the rubber comprises same-size-all-round whitewall radials from the Whitewall Candy Store.
1958 Chevrolet Impala Rear Seats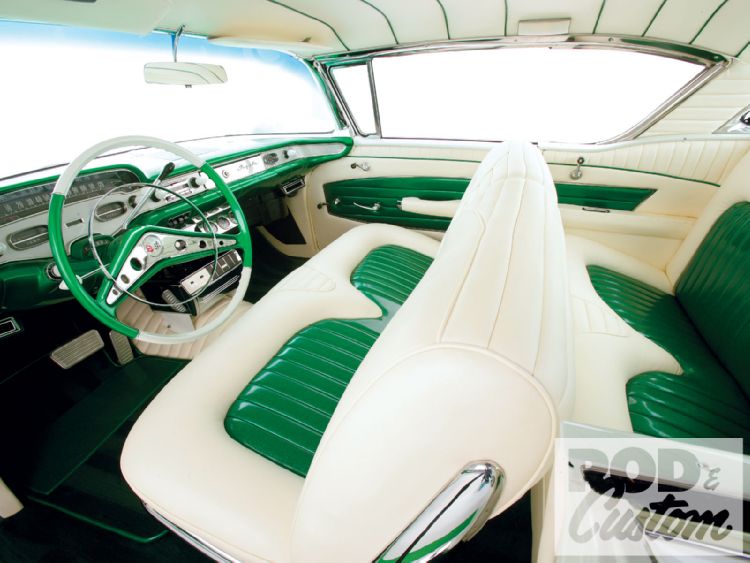 Body & Paint
Danny at Corona Customs was responsible for the bodywork and panel alignment, in the process shaving the door handles, rear quarter-panels, and decklid. Glory Grilles supplied the tube grille, behind which live the stock parking lamps and turn signals. The Chevy was then turned over to Pete Santini who applied green 'flake to the roof, and Candy Green and Pearl Mint Green accents, scallops, and panel paint over a Pearl Vanilla White base, using House of Kolor hues, all to a Steve Stanford design. The dash, package tray, and steering wheel received a few coats of Candy Green too. Bellflower tips were installed behind the rear wheel arches, with lakes pipes under the rocker panels.
1958 Chevrolet Impala Chrome Bumper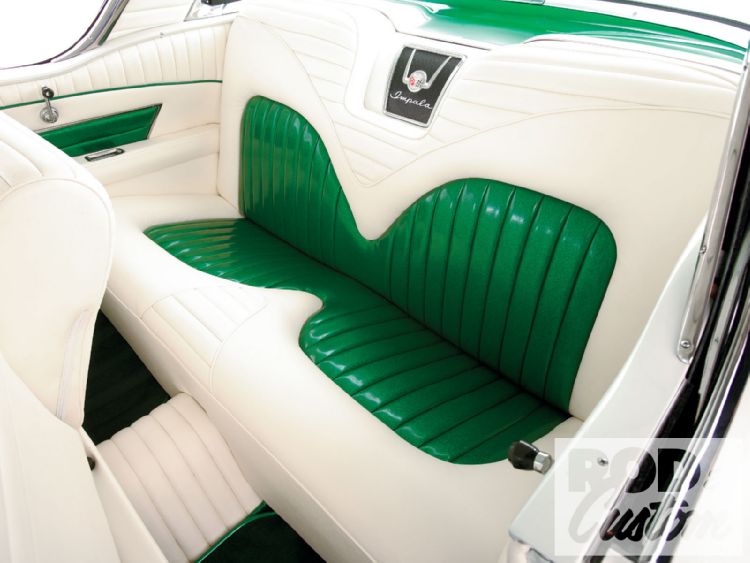 Interior
Eric Thornsen Custom Interiors in Agoura Hills, CA, got the nod to duplicate the exterior colors on the interior, selecting white leather and green 'flake vinyl in a sculptured and pleated pattern on the stock seats, as well as the door and rear quarter-panels. The trans tunnel was also covered in pleated white leather, the remainder of the floor covered in green carpet. The white headliner received green piping. Hidden around the interior is a Secretaudio (Custom Autosound) system installed by Transonic, along with a 45-rpm record player from Burton's Classics.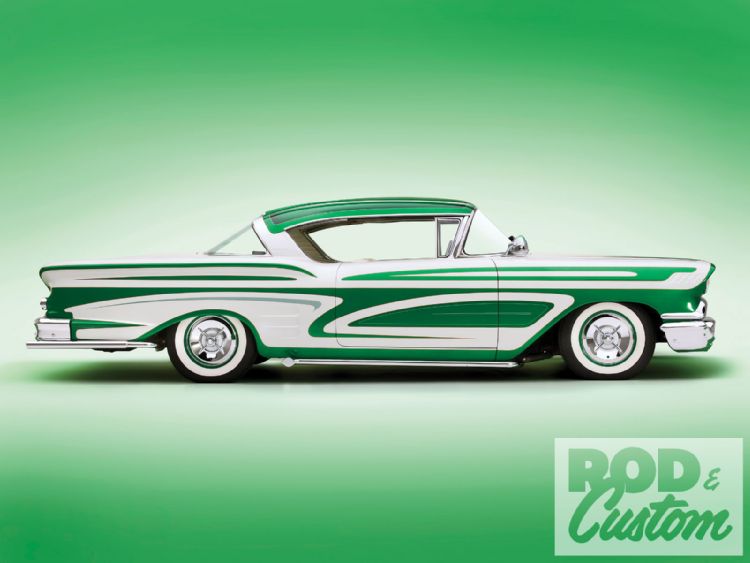 article original:
http://www.rodandcustommagazine.com/featuredvehicles/1102rc_1958_chevrolet_impala/viewall.html

_________________
We don't care the People Says , Rock 'n' roll is here to stay - Danny & the Juniors - 1958

_________________
We don't care the People Says , Rock 'n' roll is here to stay - Danny & the Juniors - 1958
Sujets similaires
---
Permission de ce forum:
Vous
ne pouvez pas
répondre aux sujets dans ce forum