Like modern-day fables, once in a blue moon we read about a car enthusiast who stumbles upon an untouched original Jaguar
Lightweight
E-Type, an entombed '54 Corvette, or--like Jay Leno--the missing Duesenberg, peacefully hibernating for decades in a Manhattan parking garage. It does not happen very often, but when it does, it's an event of a lifetime, just like winning the lottery.
That's how we felt upon discovering the magical FoMoCo Freighter, the much-admired cover car of Rod & Custom Magazine's August 1962 issue.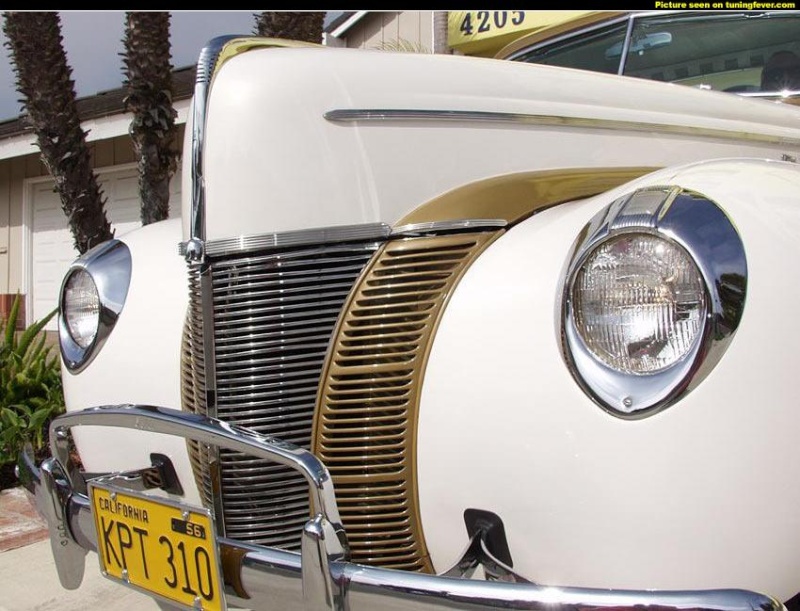 Due to a very lucky constellation of circumstances, this Full Kustom survived 44 years as if preserved inside a vacuum bubble, unharmed, unaltered, unbelievably beautiful. For various reasons, immaculately preserved, unrestored custom cars from the early days of the hobby are virtually extinct; the emergence of the FoMoCo Freighter after nearly five decades of gentle storage is a singularly important event. Not even Bruce Meyer, custodian of one of the most distinguished Hot Rod collections on the planet, can boast of owning a truly original, untouched early car.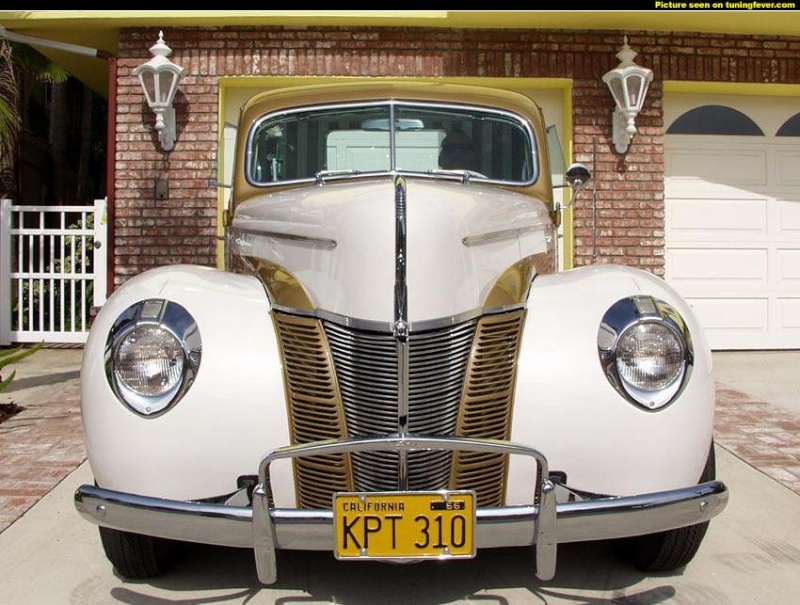 Never been exposed to a drop of rain in its life, and having traveled a mere 6,219 miles in almost half a Century, this super-low-mileage California survivor is in such amazing
time warp
condition, it's instantly ready for another glossy photo spread in
Rod & Custom
or
The Rodder's Journal
!
A copy of the original August 1962 Rod & Custom Magazine accompanies the FoMoCo Freighter, nicely outlining the truck's history.
Ray Nish, service manager for an Oakland, Calif. Lincoln-Mercury dealer, transformed a 1937 Ford sedan into the FoMoCo Freighter over a period of 13 years, exclusively using FoMoCo parts (hence the truck's moniker).
In February of 1962, Mr. Nish's just finished state-of-the-art Kustom was shown at the Oakland
Grand National
Roadster Show
During the early 1960s, Ray Nish and his wife Sally occasionally drove the FoMoCo Freighter to Central California shows, accumulating less than 5,000 miles on the odometer. Always properly cared for, the Freighter eventually spent a number of years as part of the private Robert J. Pond collection in Palm Springs, California.
Miraculously, the Freighter's caretakers resisted the urge to "update" or "modify" anything, presenting you with the unheard-of opportunity to obtain a virginal specimen hailing from the Golden Age of Kustomizing!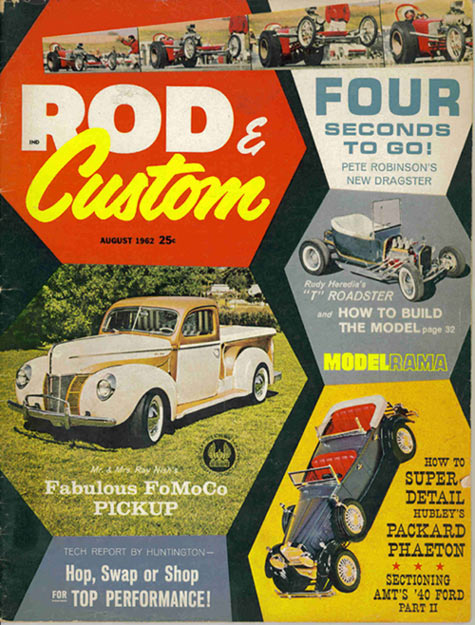 State-of-the-art, circa 1962. The FoMoCo Freighter rests on a narrowed and shortened '56 Mercury frame and suspension. It is powered by a monstrous, fully chromed and aseptically clean '57 Lincoln 368 cubic inch
Turnpike Cruiser
V-8 engine, backed by a '57 Ford Thunderbird C-6 Cruise-O-Matic transmission and a '57 Lincoln
Powr-Lok
rear end with 3.31 gears. Firewall and radiator cover were hand-formed from sheet steel, then triple chrome plated.
To make Ray and Sally's driving chores easier, the pickup was equipped with '61 Merc power steering and power brakes, power windows, power vents (!), and a power antenna.
Dernière édition par Predicta le Lun 4 Mai - 20:37, édité 1 fois

_________________
We don't care the People Says , Rock 'n' roll is here to stay - Danny & the Juniors - 1958
Truck retains its amazingly well-preserved, reversed chrome wheels with
baby moon
hubcaps. FIRESTONE
Deluxe Champion
wide whitewall tires of the dimension 7.50x14 helped achieve a low profile; we've just installed a fresh set, obtained from COKER Tires. 
Words and pictures can't begin to describe the quality of workmanship found on this custom. Literally,
thousands of hours
went into creating this masterpiece. The original sedan body was completely re-worked, including a 2-inch top chop. '40 Ford Deluxe hood and fenders were fitted, an entirely custom-made bed and rear fenders added. Even the--removable--running boards are hand-made from heavy gauge steel.
All the subtle body mods have withstood the test of time admirably. There are no bubbles; there's no rust anywhere. The two-tone Pearl and Byzantine Gold paint--done at Bob Philippi's Lincoln-Mercury shop--still looks fabulous, with just a few negligible signs of age. Plentiful chrome trim is shiny and pit-free. We've had well-known striper "Itchy" freshen the original Tommy the Greek pinstriping.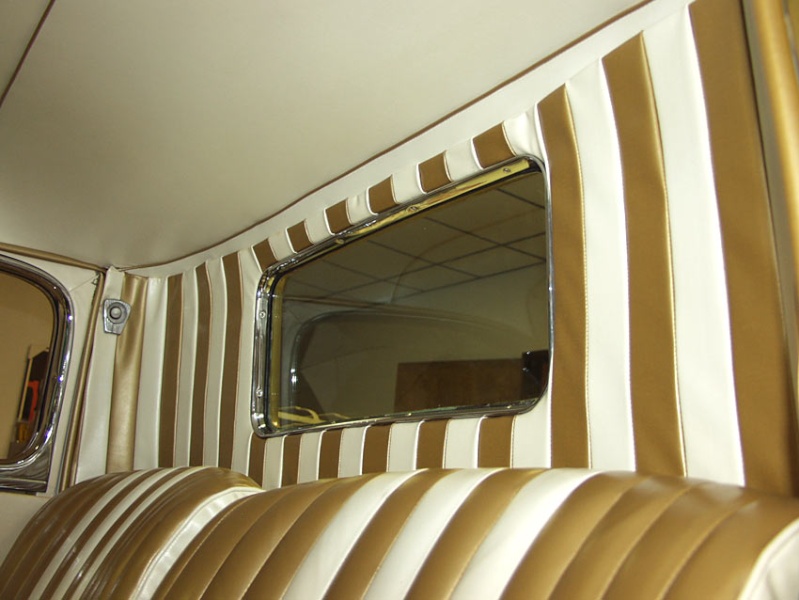 Having unlimited access to late-model parts, Ray Nish installed brand new 1961 Thunderbird gauges, radio, and switches in the Ford's much-modified, chromed dash. Immaculate steering wheel is from a '61 Comet. Everything works, even the AM radio.
Note '57 T-Bird floor shifter and neat pedal layout. Yes, the emergency brake is functional, too! 
Details, from left to right:


Lincoln window lift switches.

Thunderbird Gauge Cluster. Odometer shows original mileage of 6,219.5.

Traditional 1-inch rolled pleats, duplicating exterior's gold-and-pearl color scheme.

Supremely comfortable bucket seats originally served duty in a 1953 Mercedes-Benz 220 Cabriolet. 
Just like body and engine bay, the interior, fashioned in 1961 at Oakland's Mission Upholstery shop, is completely intact and original, including carpet and headliner. Note the fully finished, chromed window frames. Tinted safety glass was used all around.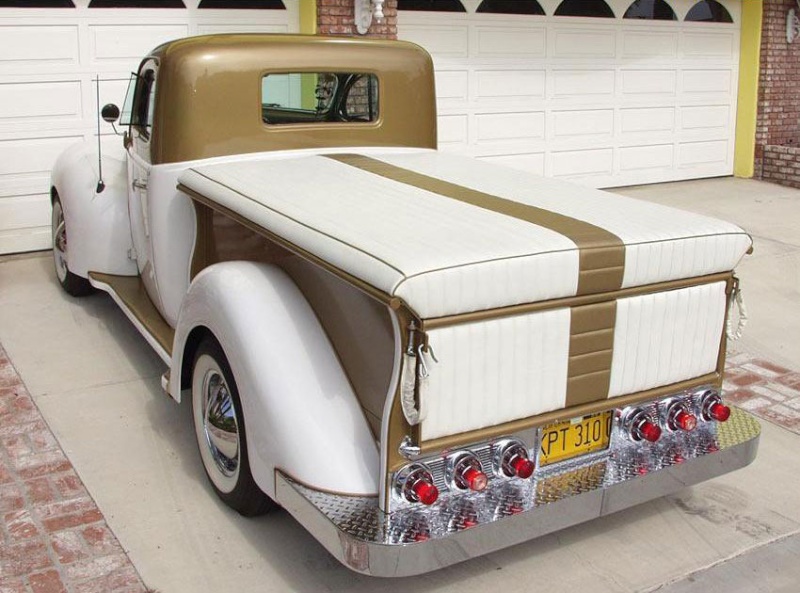 A half dozen '61 Comet tail lamps. Note working back up lights. Rear step bumper and truck bed liner were fabricated by hand, using diamond-plate steel, then fully chromed. 
Another very special, period Kustom touch, setting the FoMoCo Freighter apart from the rest: Carson-style, rolled and pleated naugahyde tonneau and tailgate covers.

_________________
We don't care the People Says , Rock 'n' roll is here to stay - Danny & the Juniors - 1958
Small, but important details: chromed jacking equipment, usually stored behind the seats.
Truck was shown locally in 2005, returned with a trophy every time! To call the FoMoCo Freighter a crowd pleaser would be quite an understatement.
Trophies are included with the pickup. 
The all-steel FoMoCo Freighter certainly is one of the most important period custom cars in existence.
At the 2006 Barrett-Jackson auction, Don Tognotti's sympathetically restored Ford "Avenger," another early Sixties Oakland Roadster Show Star, sold for $216,000.00. You may be able to build another Kustom of this caliber for that kind of money, however, you will never be able to duplicate the
pedigree
of vehicles like the Avenger or the FoMoCo Freighter. These unique, historically significant automobiles are finally receiving the recognition they deserve, being proudly displayed in their own class at the Pebble Beach Concours d'Elegance.
In today's realm of ultra-collectible classics, authenticity and provenance are everything, and the Freighter features plenty of both. 
Rarely, if ever, will the opportunity arise to acquire a genuine, unaltered, pristinely original, early Custom, shown at the Oakland Roadster Show, featured on the cover of Rod & Custom, then properly stored for almost five decades. The fabulous FoMoCo Freighter has an illustrious past and is now ready for a celebrated future in the hands of a caring collector.
We are willing to bet the farm on it: within the next decade, this fantastic truck will be worth a quarter million Dollars!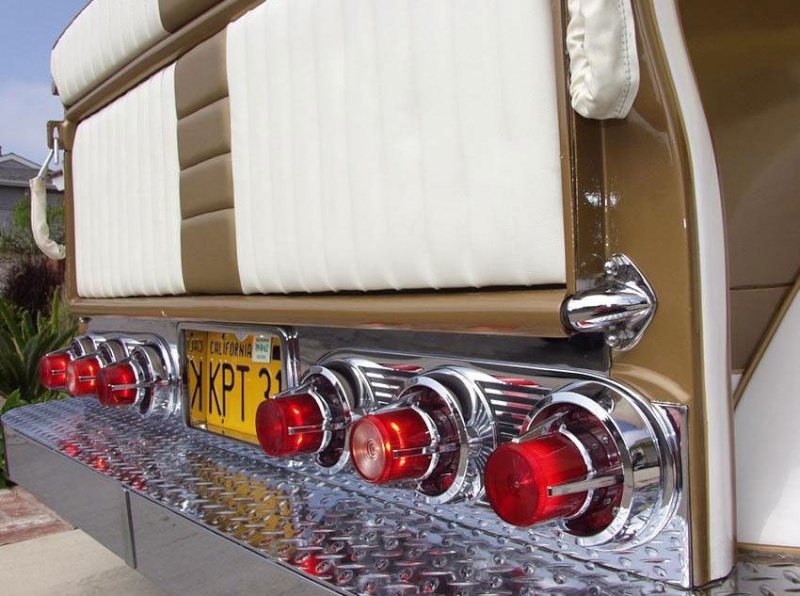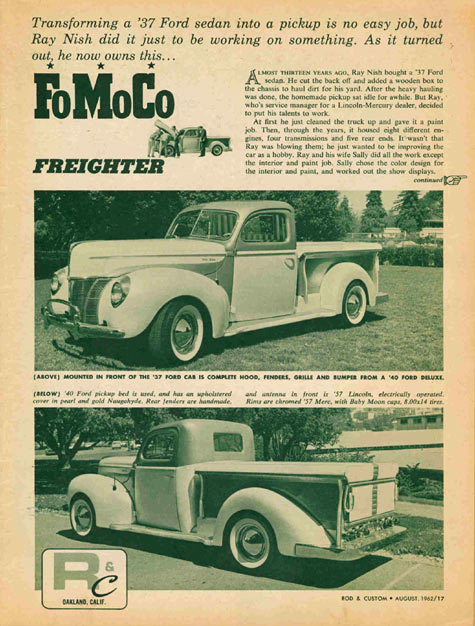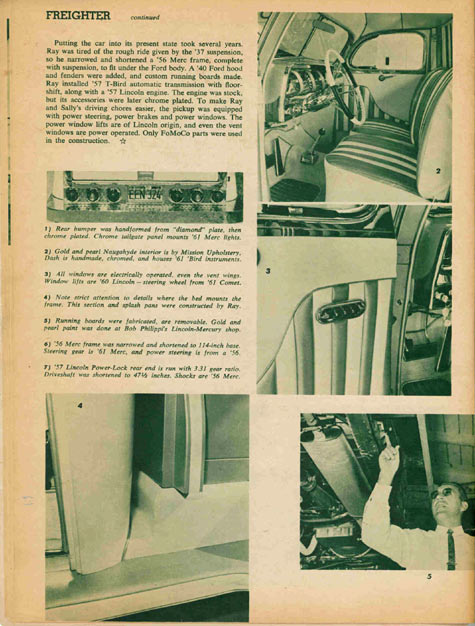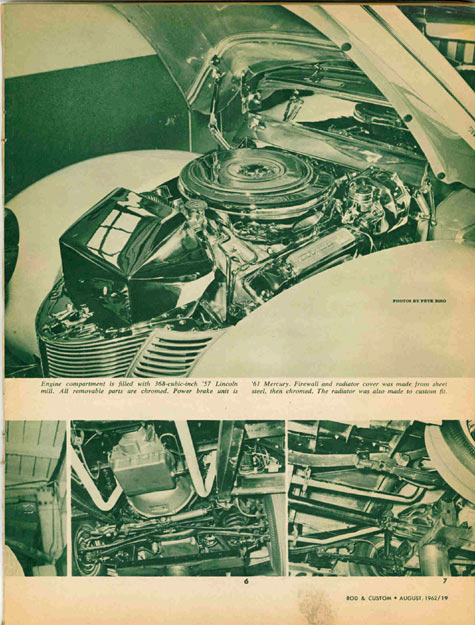 Addendum:
This show truck sold in November 2006 to a collection in Texas.
lien original:
http://www.californiaclassix.com/archive/40_FoMoCo_c367.html

_________________
We don't care the People Says , Rock 'n' roll is here to stay - Danny & the Juniors - 1958
Sujets similaires
---
Permission de ce forum:
Vous
ne pouvez pas
répondre aux sujets dans ce forum