Jimmy Castle est un chanteur allemand qui enregistre à la fin des 1990', 24 Faces pour Castle Records dans un style teddy boys rock n' roll bien carré et sans bavures. Faces toutes présente sur le cd The complete Jimmy Castle qui sort en 2004 sur Tombstone records.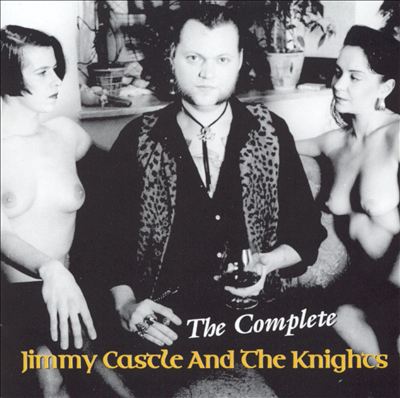 Les 12  premieres faces de 1996 proviennent de son album It's not so bad to be a ted à la pochette délirante mettant en scène Caslte sur un canapé entouré de deux belle filles simplement habillées de bas, débute par My baby's gone un rockabilly teddy boy medium,  Tribute to Tony Vincent est une ballade nostalgique en mémoire de Tony Vincent leadeur du groupe de Rock n' roll des 1970's the CSA, Devil's bop est un Rockabilly medium absolument génial et diabolique, Lovely bernadine est un rock n' roll teddy boy medium avec vocaux, I sure miss Gene est un titre hommage à Gene Vincent débutant par des extraits de classique de ses classiques et dont les paroles sont réalisées à partir de titres de ces chansons,  The teddyboys are back again est un petit classique sorte d'hymne à la mouvance Teddy Boy, I could cry est un medium rock avec chœurs à la mélodie proche de certains titre de Crazy Cavan, Toto's bar est un rockabilly rapide, Schuld daran bist du est un medium rockabilly medium chanté en allemand, The cat from tennessee est un rockabilly rapide à la bonne mélodie. Pour terminé sur cet album, j'avais copié mon vinyl en cassette audio afin de l'écouter en voiture, et je doit avouer qu'il était très efficace pour donner la pêche, un disque aussi bon que les premiers Cavan, ou les albums des  TeenCats (de Scandinavie).
Les titres suivants datent de 1996 et 1999 nous trouvons  Lonely man est un rock n' roll medium, The angel's listen in très originale cover rockabilly du doo wop des Crests , Sometimes est un  rock n' roll medium dans le style ted des 1970's, I wish you were here est une ballade un peu monotone, Pig headed fool est un néo rockabilly au son 1980's avec une rythmique proche de celle de C'est Lundi de Jesse Garon, Modern romance cover de Sanford Clark, Rebel man est un medium rock avec quelques riffs à la Buddy Holly, Voran est un rockabilly rapide en allemand,  Your picture est une ballade doo wop à la Dion,  One girl is too much est un rock medium, On the road in scandinavia est un rockabilly medium,  I never stop thinkin about you est un rock medium, She's alright est un rockabilly medium, I wanna say est un country rock rapide. Les 14 titres suivant ceux du premier album, sont bien fait mais n'atteignent pas la qualité mélodioques de ces derniers si ce n'est Your Picture, On the road in scandinavia, She's alright et I wanna say.

_________________
We don't care the People Says , Rock 'n' roll is here to stay - Danny & the Juniors - 1958

_________________
We don't care the People Says , Rock 'n' roll is here to stay - Danny & the Juniors - 1958

_________________
We don't care the People Says , Rock 'n' roll is here to stay - Danny & the Juniors - 1958

_________________
We don't care the People Says , Rock 'n' roll is here to stay - Danny & the Juniors - 1958

_________________
We don't care the People Says , Rock 'n' roll is here to stay - Danny & the Juniors - 1958
---
Permission de ce forum:
Vous
ne pouvez pas
répondre aux sujets dans ce forum