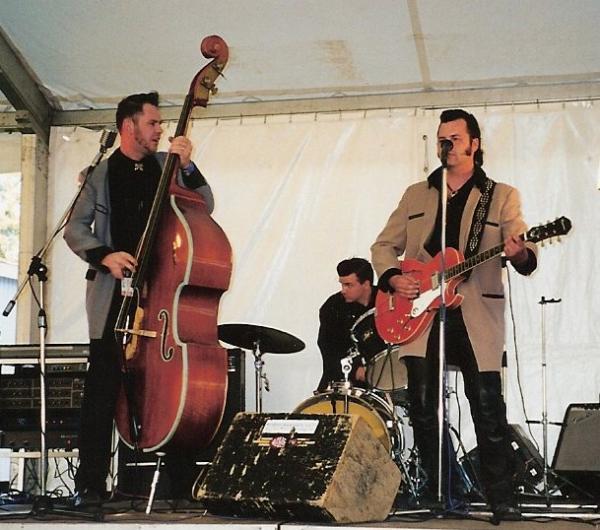 En 1981 à Hälsingland (Suède), jeunes fans de rock 'n' roll Jesse James (16 ans, à la contrebasse, chant et harmonica), Dickie Dirtwater (16 ans, batterie et washborad) et Tom Powder (14 ans, au chant à la guitare et au piano) décide de former un groupe. Ce trio devient The Steelcramphs, puis Sneaky Pete & his Hamtrank Home Brewers puis The Black Knights.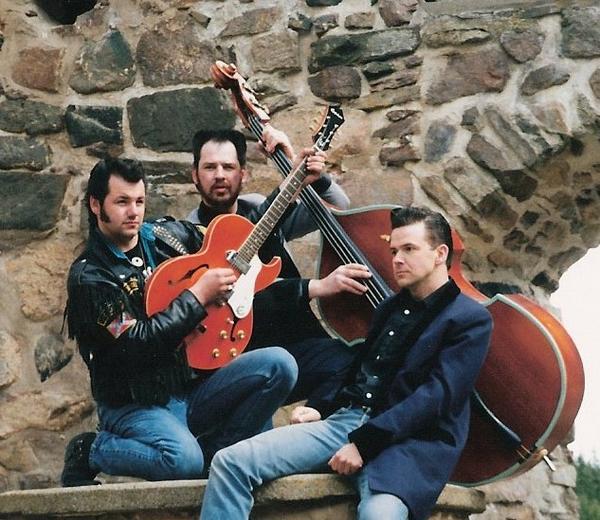 Il faut attendre 1988 pour qu'ils réalisent leur premier album sous le nom des Black Knights
Sweet Spirit of Dixie
sur Booze Records. Comme pour les Teen Cats le succès est assez immédiats et leur rockabilly aux sonorités Teddy Boys séduit le public, l'album est très rapidement épuisé.
L'album se compose d'une majorité de compositions originales particulièrement réussies et de 3 covers nous trouvons
Stood up
(un des meilleur rockabilly des Débuts de Ricky Nelson),
South's gonna rise again
de Lee Denson et
Light Out
de Jerry Byrne. Au niveau des compositions nous trouvons
My Grandma´s A Teddy Girl
un excellent rockabilly teddy boys un petit classique quoi!,
Worried Mind
un rockabilly dans le style de Crazy Cavan,
Watch Out
(Mr. Springsteen) un medium rockabilly aux sonorités country ,
Sweet Spirit Of Dixie
un fantastique medium rockabilly teddy boy avec une belle mélodie proche de
Sea of Heartbreack
de Don Gibson,
Here By My Lonesome
un medium rockabilly dans le style ted fin 1970's,
Henhouse Boogie
un rockabilly rapide plus classique mais à la sonorité teddy boys,
My Baby´s Gone
un medium rockabilly,
Dream Of Love
un rock 'n' roll à la belle mélodie,
Goodbye Baby Doll
un rockabilly teddy boy à la mélodie white rock,
Walk Like You Talk
un rockabilly teddy boy medium d'inspiration Crazy Cavan,
Rock Your Baby To Sleep
un rockabilly à la mélodie inventive et
Will It Be You
une ballade rock n' roll de toute beauté.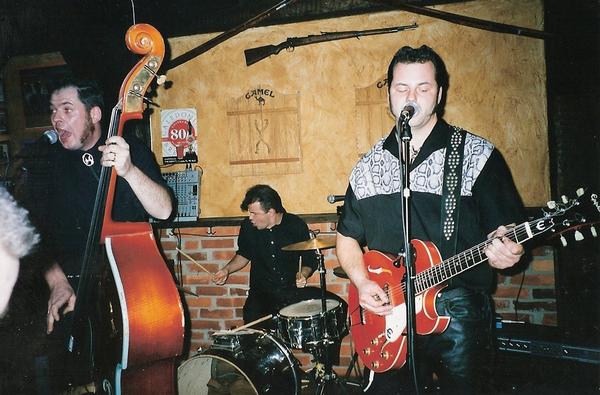 _________________
We don't care the People Says , Rock 'n' roll is here to stay - Danny & the Juniors - 1958

_________________
We don't care the People Says , Rock 'n' roll is here to stay - Danny & the Juniors - 1958

_________________
We don't care the People Says , Rock 'n' roll is here to stay - Danny & the Juniors - 1958

_________________
We don't care the People Says , Rock 'n' roll is here to stay - Danny & the Juniors - 1958

_________________
We don't care the People Says , Rock 'n' roll is here to stay - Danny & the Juniors - 1958

_________________
We don't care the People Says , Rock 'n' roll is here to stay - Danny & the Juniors - 1958

_________________
We don't care the People Says , Rock 'n' roll is here to stay - Danny & the Juniors - 1958

_________________
We don't care the People Says , Rock 'n' roll is here to stay - Danny & the Juniors - 1958
---
Permission de ce forum:
Vous
ne pouvez pas
répondre aux sujets dans ce forum