Vince Taylor représente pour moi un monument et sa mort en 91 (j'avais 21 ans, m'a touché) en effet il tronait dans ma chambre de 13 à 17 ans tandis que les jeunes de mon age avait plutôt des posters de AcDc ou Iron Maiden. J'ai offert se poster à un de mes meilleurs ami qui avait appellé son fils Vince (en hommage). Vince est né en Grande Bretagne en 1939, mais sa famille part aux USA, c'est labas qu'il découvre le rock 'n' roll grâce en particulier à Elvis Presley et Gene Vincent. A 18 ans retour en Angleterre décidé à devenir le Elvis Européen.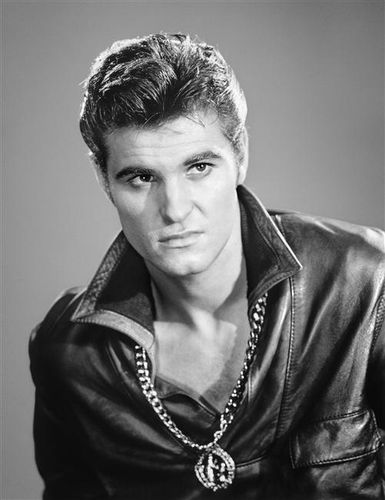 Il enregistre pour Parlophone 4 titres splendides
I Like Love
,
Right Behind You Baby
,
Pledgin' My Love
et surtout le génial
Brand new Cadillac
, suivi d'un simple pour Palette records
I'll Be Your Hero
et
Jet Black Machine
. Mais c'est Cliff Richard qui prend la place de leader dans le monde du rock 'n' roll outre atlantique, et en 1961 il part pour la France, il signe pour Barclay avec ses Playboys (avec l'excellent batteur Bobby Clarke) et enregistre de fabuleuses faces de rock 'n' roll sans conscessions jusqu'en 1964.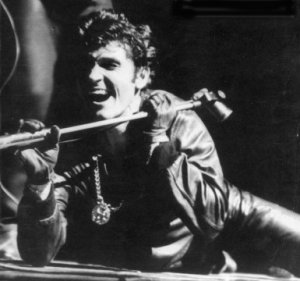 On peut citer
Sweet little Sixteen, C'mon everybody, Twenty flight rock, Love me, Long tall sally, So glad your mine, Baby let's play house, trouble, Shakin' all over, Lovin' up a storm
et
Shot of rhythm and blues.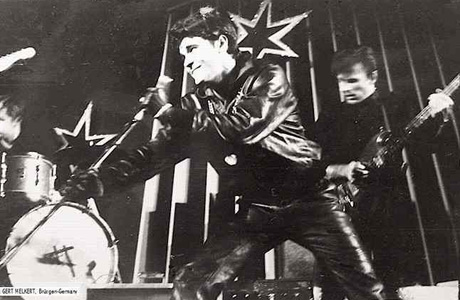 _________________
We don't care the People Says , Rock 'n' roll is here to stay - Danny & the Juniors - 1958
Vince est probablement le rocker anglais le plus  violent de son temps (1958-1964) à la fois par sa musique, son look et surtout son jeu de scène. Brian Maurice Holden est né dans la banlieue de Londres, après guerre (1946) lui est sa famille partent pour les Etats Unis. Ils habitent dans un premier temps dans le New Jersey, puis en Californie. Passionné d'aviation Vince passe un brevet de pilotage, puis sous l'influence du succés d'Elvis Presley au milieu des fifties, il se lance dans la musique, participe à des show amateur avec succès. Doucement il passe au statut de professionnel faisant des concerts dans des bars et night clubs locaux. Accompagné par son beau frère devenu son manager Joe Singer ils partent pour Londres. Au
2 I's Coffee bar
de Old Campton Street dans lequel se réunissent tout les fans de rock 'n' roll de Londres et sa région, il fait la connaissance de la première star de rock 'n' roll en Grande Bretagne le talentueux Tommy Steele.
Rapidement il met en place sa première formation des Play boys (avec le batteur Tony Mehan qui fera partie par la suite des Shadows) et le bassiste Tex Makins.Joe Singer décide de rebaptiser Brian Holden en Vince Taylor (hommage à l'acteur Robert Taylor).
Les Playboys définitifs seront Bobbie Clarke à la batterie, John Vance à la basse, Alain Le Claire au piano,  et Tony Harvey à la guitare. Vince Taylor devient alors une des figures du Rock n'roll outre manche, passant trés souvent sur la scène du 2 I's , faisant de nombreux concerts et des passages télévisées aux émissions tv du producteur Jack Good comme
Oh Boy
.
En Novembre 1958 sort le premier simple de Vince
I like love / Right behind a baby
dans un style particulièrement hargneux par rapport aux enregistrements de son ami Tommy Steele. Rapidement sort son second simple l'incontournable composition de Vince
Brand new cadillac
(un des chef d'œuvre du rock 'n' roll violent des fifties, qui sera même repris par les Clash!!) avec en face A une reprise de la ballade
Pledding my love
de Johnny Ace.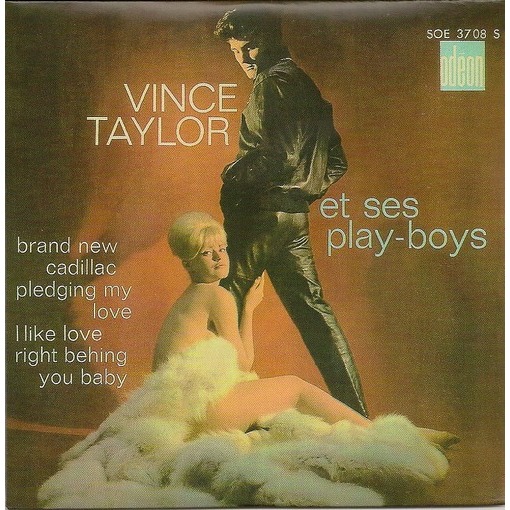 Brand new Cadillac est un tube nationale pour Vince, mais pas assez pour son label Odéon Parlophone qui rompt le contrat.
Il change alors de label pour Palette et sort en Aout 1960 l'excellent simple
I'll be your hero / Jet black machine
ce disque sera le plus gros tube de Vince en Grande Bretagne. Mais le haut des charts est pris par le moins déjanté Cliff Richard et ses Drifters (futur Shadows). Il sort également pour palette un second single
Whatcha gonna do / Move over your tiger
.
Lors d'un concert en France à l'Olympia consacré au rock anglais avec Wee Willie Harris en vedette et d'autres chanteurs comme Duffy Power, Dave Sampson et Vince Eager entre autres, Vince Taylor décide de suivre son groupe les Play boys qui accompagnent alors Duffy Powers.
Mais Vince remplace le premier soir Duffy Powers qui à du retard, son look de cuir avec chaine et son jeu de scène sauvage font un tel effet que Vince devient la tête d'affiche du second soir.
Bruno Coquatrix alors propriétaire de l'Olympia prévient Eddie Barclay le producteur des disques Barclay de la performance de Vince. Eddie Barclay propose alors à Vince un contrat d'exclusivité,  Sont alors faite des séances de photos pour les futurs pochettes de disques, et carte postales promotionnelles sous la direction d'Herman Léonard.Il s'en suivra évidement les premiers enregistrements avec Bob Steel à la guitare et non Tony Harvey qui pourtant parait sur les photos.
Entre Septembre et Décembre 1961 sort 3 eps contenant des étonnantes reprises de rock violent américains de Eddie Cochran, Little Richard,Chuck Berry et Elvis Presley et un 25 cm de 10 titres.
Le 1 er contient
Sweet little sixteen
de Chuck Berry,
Love Me
, et deux Cochrans
Twenty flight rock
et
C'mon everybody
.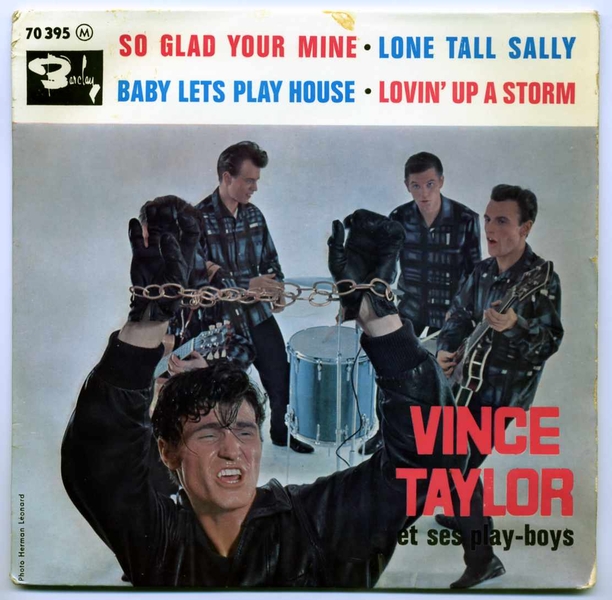 Le second contient deux succès d'Elvis comme
So glad you're mine
, et
Baby let's play house
associé à
Lovin up a storm
et le
Long Tall Sally
de little Richard, le 3 eme Eps contient de son côté une trés bonne reprise du génial succès de son compatriote Johnny Kidd
Shakin' all over
, associé à
Don't ever let me go
, à
Endless sleep
de jody Reynolds et
Don't leave me know
chanté par Elvis Presley.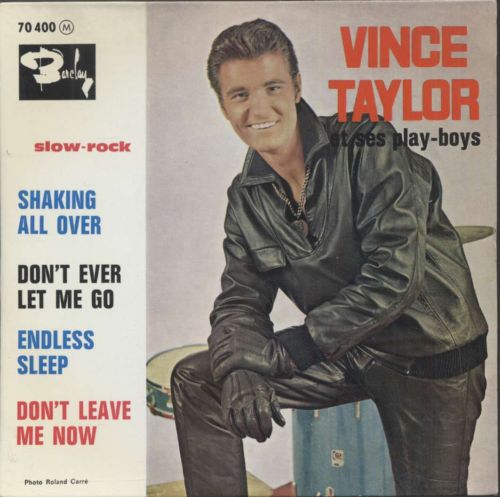 Son 25 cm le bien nommé
Le rock c'est ça
compile ces eps sauf
Endless sleep
et
Shakin' all over
.
En même temps que son 25 cm sort un eps contenant
There's a lot of twistin going on
(version du
whole lotta shakin' goin'
on succés de Jerry Lee Lewis),
Reddy Teddy
de Little Richard et
Dance to the Bop
de Gene Vincent.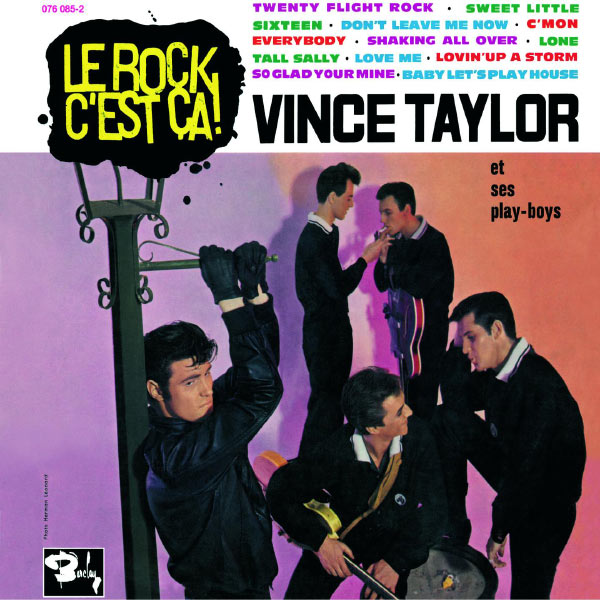 En Janvier 1962 sort un eps contenant une reprise en 2 partie du succès de Joey Dee
Peppermint twist
, une version du
Rip it up
de Little Richard et du
Mean women blue
s chanté par Elvis Presley.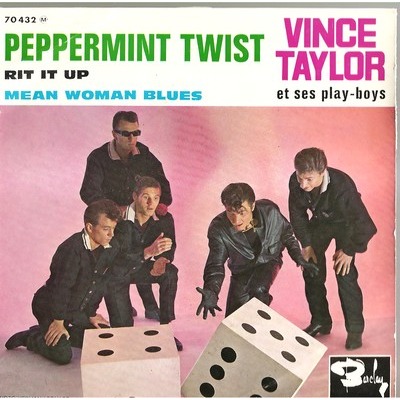 En Mars 1962, sort un nouveau eps avec son premier rock en français
Mimi
(en fait un teen rock),
Have i told you lately that i love you, My babe
(un blues repris aux usa par Gene Vincent) et
Big Blon Baby
(popularisé par Jerry Lee Lewis).
Cette année Parlophone ressort avec succès ses 2 simples de la fin des fifties dans un magnifique eps.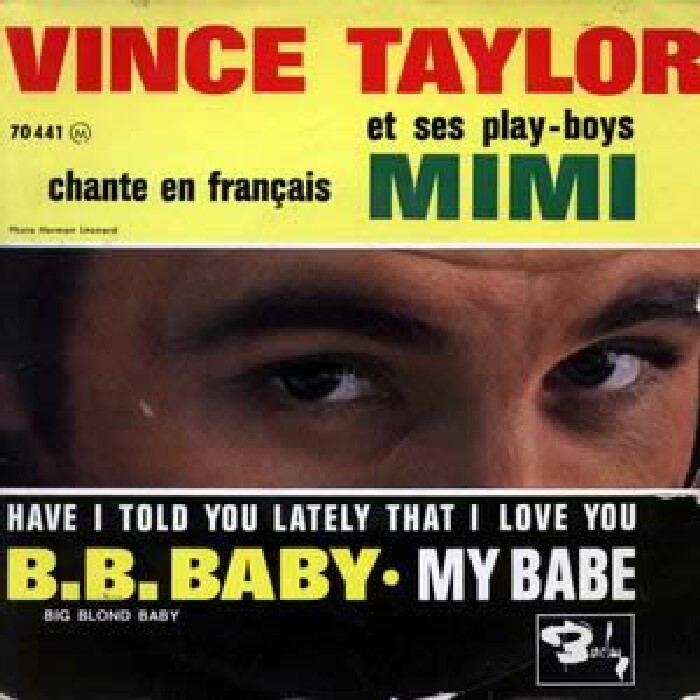 En Février 1964, (soit deux ans plus tard) que sous l'influence des lecteurs des revues Disco revue et Bonjour les amis Vince fait un comeback avec le eps avec
Memphis Tennessee
(reprise de chuck Berry)
 , A Shot Of Rhythm And Blues
de Johnny Kidd, le titre en français
Jour Après Jour
(reprise du
It's all in the game
de Nat king cole
) Tu Changeras D'Avis
(aussi en français titre écrit par Billy J Kramer). Vince est accompagné par the New Play Boys soit le groupe de Johnny Halliday les Showmen.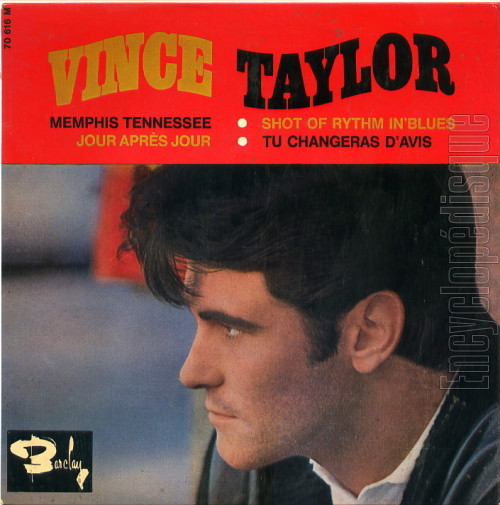 On peut noter que Vince fit à cette période une tournée française et une première partie triomphale des Rolling Stones à l'Olympia. En 1965 Vince enregistre un lp du même nom
Vince..!


Il contient que des reprises particulièrement variées, dans un style plus moderne, il y est accompagné par Bobbie Clarke à la batterie, Johnny Taylor à la guitare rythmique,  Ralph Danks à la guitare solo, Alan Bugsby à la basse et Bob Garcia à la trompette et aux cuivres.  On y trouve une reprise extraordinaire du
Trouble
qu'Elvis Presley interprette dans le film King Créole,
Clank
(instrumental trés imaginatif avec un solo de batterie légendaire),
High hell sneakers
(avec un vocal déjanté et un style presque Psychobilly),
My baby left me
(classique d'Elvis Presley chanté dans un style tout aussi déjanté),
My Babe
(classique du blues, repris en rock n'roll et rockabilly par Gene Vincent par exemple durant les fifties)
Jezebel
(le même titre que celui chanté par Gene Vincent mais dans une version assez surprenante il faut écouter!!)
Summertime
de Gershwin (repris aussi durant les fifties par Gene Vincent, mais ici une interprétation d'une originalité et une qualité remarquable)
The men from el paso
(un titre mexicano country ), et une reprise rockabilly du
Long tall Sally
de Little Richard.
Il sortira une première fois avec un faux public, mais ensuite réédité en 1972 sans ce dernier sous le nom
Vince is alive, well'n rockin' in Paris.
Ce lp aura un véritable succès. Mais lors d'un concert de Mai 1965 à la locomotive Vince Taylor pète les plombs sur scène cassant tout ce qui s'y trouve.
Après une véritable descente aux enfers entre asiles psychiatriques et concerts minables, il est sauvé par ses fans encore très nombreux, il remonte la pente et fait la première partie du film
Le
Roman d'Elvis
au Palace accompagnée par le groupe de Rockabilly anglais Matchbox.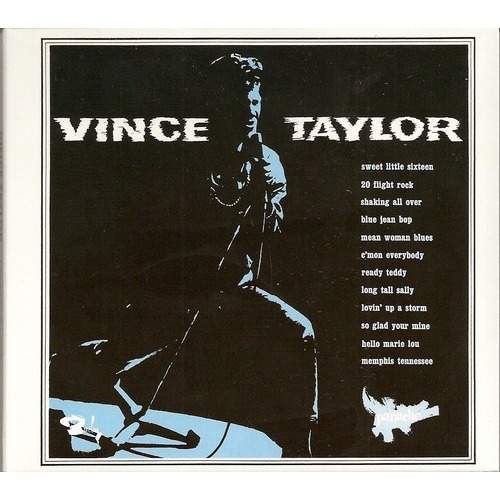 Parallèlement Barclay ressort une compilation des eps début sixties sur le lp L'épopée du Rock avec un inédit de l'époque une bonne version du
Hello Mary lou
popularisé par Ricky Nelson durant le début des sixties.
On peut noter en 1974 le lp
Rock revival Vince Taylor and Donna Hightower
les titres de Vince sont tous des inédits enregistrés lors de répétitions aux studios de l'Aquarium en 1973:
Brand new Cadillac 73
(un style vocal et musical proche d'Alan Vega vant l'heure)
, Say Mama
(de Gene Vincent et interprété vocalement dans son style ),
Kansas city, Blueberry hill
(de Fats domino),
Please don't leave me
(titre de Fats popularisé aussi par Johnny Burnette en Rockabilly)
 , Good Golley Miss Molly
(de Little Richard) sur ces titres l'accompagnement est plus hard avec un son de guitare saturé.
On peut noter le single Labrador avec de 1974 avec
l'Homme à la moto
(version française d'Edith Piaf du
Black leather jacket and Motorcycle boots
gros succès des Cheers chez Capitol durant les fifties) et
Dancin' in a midnight sun
.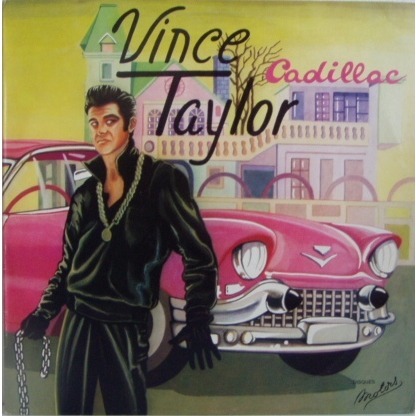 L'année suivante sort le lp Motors Cadillac avec des titres comme
Guess-gess, Good golley Miss Molly, l'homme à la moto
(du single précédent),
It's a lonely night, D'you wanna rock n'roll, Mean women blues, Cadillac, Dancin' in the midnight sun, Move it, Superstar
les enregistrements datent de 1973 à l'Aquarium avec le Larry Martin Factory en backing group.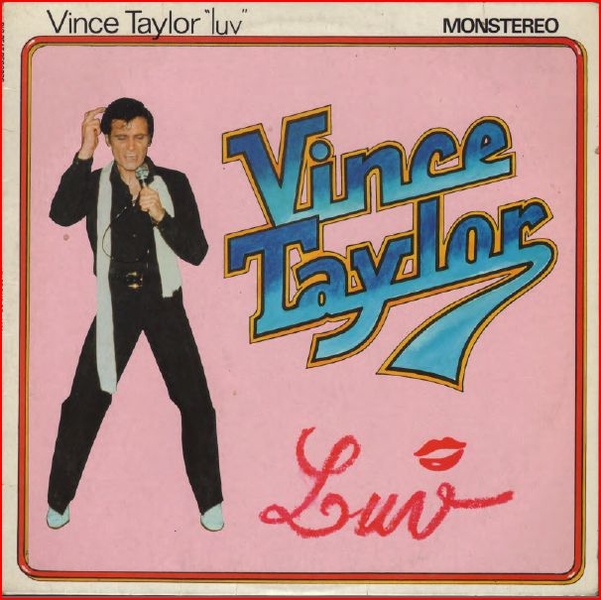 On doit ensuite noter le 25 cm
Luv 
qui parait 4 ans après un live de 1977, contient un ensemble de reprise de rock 'n' roll comme
Money Honey
(énorme tube fifties des Drifters de Clyde Mc Phatter),
That's all right Mama
( blues d'Arthur Cruddup qui fut le premier single d'elvis),
You'll never walk alone
(de Gerry and the Pacemakers),
Fever
(de Peggy Lee repris aussi par Elvis )
Danny
(classique du rock fin cinquante souvent repris notons entre autres Marty Wilde),
I'm movin on
(classique du country rock),
Crawfish
(chanté par Elvis dans la BO du film
King Creole
) et
Milck cow blues
(un des nombreux chef d'oeuvre d'Eddie Cochran). Ici la voix de Vince est fatiguée mais possède une telle émotion qu'elle ne peut laisser indifférent, il est accompagné entre autres par par Jackie Chalard à la basse, Jean Jacques Milteau à l'Harmonica, Patrick Verbeke à la guitare solo.

_________________
We don't care the People Says , Rock 'n' roll is here to stay - Danny & the Juniors - 1958

_________________
We don't care the People Says , Rock 'n' roll is here to stay - Danny & the Juniors - 1958
Le 25 Big Beat "Luv", je l'ai, signé de sa main...
... enfin, il paraît ...

ChevyDave




Messages

: 3921


Date d'inscription

: 11/11/2012




_________________
We don't care the People Says , Rock 'n' roll is here to stay - Danny & the Juniors - 1958

_________________
We don't care the People Says , Rock 'n' roll is here to stay - Danny & the Juniors - 1958

_________________
We don't care the People Says , Rock 'n' roll is here to stay - Danny & the Juniors - 1958

_________________
We don't care the People Says , Rock 'n' roll is here to stay - Danny & the Juniors - 1958

_________________
We don't care the People Says , Rock 'n' roll is here to stay - Danny & the Juniors - 1958
Sujets similaires
---
Permission de ce forum:
Vous
ne pouvez pas
répondre aux sujets dans ce forum