Francis Coppola avait toujours dit qu'il ne cèderait pas à la mode, et qu'il ne ferait jamais de films sur l'adolescence. Jusqu'à ce qu'on lui fasse parvenir une pétition faite par des lycéens de Fresno, CA, lui demandant de filmer les angoisses de l'adolescence par le biais d'une guerre des gangs rétro. Adapté d'un roman écrit par Susan E. Hinton, qui l'avait écrit à 17 ans seulement, l'histoire retrace le parcours d'une poignée d'adolescents des bas quartiers d'une bourgade sudiste dans les années 50.
Ponyboy Curtis (C. Thomas Howell), Johnny Cade (Ralph Macchio) et Dallas Winston (Matt Dillon) sont des Greasers, les mauvais garçons qui ont grandi dans les quartiers pauvres de Tulsa, Oklahoma. Ils ont les cheveux gominés, portent des jeans et glandent au drive-in du coin, avec leurs potes, Sodapop et Darrel Curtis (les frères de Pony), ?Two-Bit' Matthews et Steve Randle.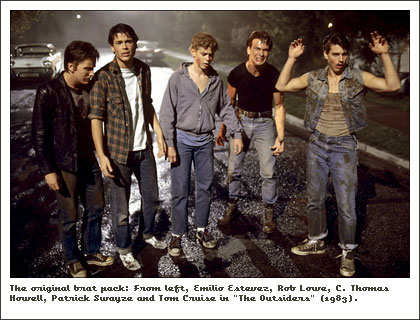 Ils sont régulièrement aux prises avec le gang rival des Socs (pour Socials), des types plus riches, plus forts qu'eux, mieux habillés (et qui en plus raflent les jolies filles). Un soir, au drive-in Ponyboy et Johnny Cade (Ralph Macchio) sympathisent avec la belle « Cherry » Valance (Diane Lane), une Soc', s'attirant ainsi les foudres du petit ami de cette dernière, bien décidé à les persécuter. Au cours d'un affrontement, et dans un mouvement de panique, Johnny Cade tue Bob Sheldon, le chef des Socs, en voulant défendre Ponyboy. Les voici contraints à la fuite, à renoncer à la protection de leurs proches et de leur milieu, et à se cacher loin de la ville. S'ensuit toute une série de péripéties qui vont conduire Ponyboy, Johnny et Dally sur des sentiers différents et à comprendre différemment le sens de leur jeunesse et de ce qu'ils doivent en faire.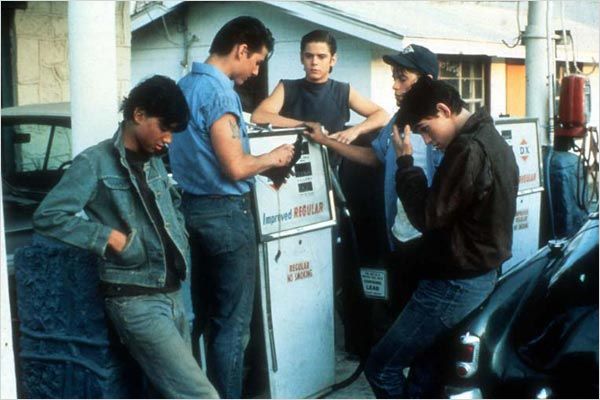 « J'ai essayé de filmer The Outsiders comme j'imaginais que des gamins de 15-16 ans souhaiteraient qu'il soit ». Ecrit par une adolescente, filmé pour des adolescents, le film est un hommage à la jeunesse, et à l'adolescence comme ce moment charnière où la pureté de l'enfance est mise en danger et s'autodétruit. L'utilisation symbolique de l'aube et du crépuscule par Coppola est très représentative de ce discours sur l'adolescence. « Quand on regarde un coucher de soleil, on se rend compte qu'il est déjà un peu mort. C'est la même chose pour la jeunesse. Quand la jeunesse atteint son plus beau degré de perfection, on sent déjà venir les forces qui vont la détruire. » Le film est très stylisé, ce qui peut agacer certains. A travers cette guerre des gangs old school, Coppola montre la peur, la colère et le désoeuvrement. Le tout est filmé avec une grande tendresse, qu'il s'agisse des gags gentiment inoffensifs de Two-Bit Mathews (Emilio Estevez) et de Steve Randle (Tom Cruise, qui a dû passer tout le film à essayer de réussir un backflip), ou les scènes d'affection fraternelle entre Ponyboy et Sodapop (Rob Lowe), ou Ponyboy et Johnny. Ses gamins sont beaux et touchants.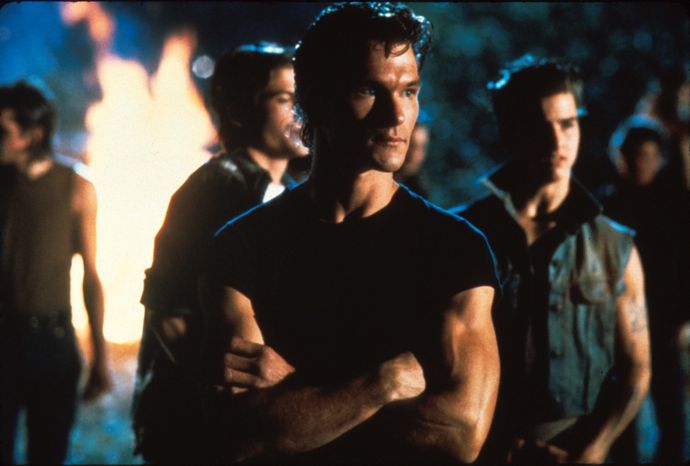 _________________
We don't care the People Says , Rock 'n' roll is here to stay - Danny & the Juniors - 1958
Plot
In mid-1960s Tulsa, Oklahoma, the Greasers are a gang of tough, low-income teens. They include Ponyboy Curtis (Howell) and his two older brothers, Sodapop (Lowe) and Darrel (Swayze), as well as Johnny Cade (Macchio), Dallas Winston (Dillon), Two-Bit Matthews (Estevez), and Steve Randle (Cruise). Their rivalry is with the Socs ("socials"), a gang of wealthier kids. Five of the Socs jump Ponyboy and cut his neck with a switchblade; Johnny had been similarly attacked the month before. Two Socs, Bob Sheldon (Garrett) and Randy Adderson (Dalton), confront Johnny, Ponyboy, and Two-Bit, who are talking to the Socs' girlfriends, Cherry (Lane) and Marcia (Meyrink), at the drive-in. The girls defuse the situation by going home with the Socs. Later that night, Ponyboy and Johnny are attacked in a park by Bob, Randy, and two other Socs. They begin dunking Ponyboy in a fountain, but Johnny pulls out his switchblade and stabs Bob, killing him.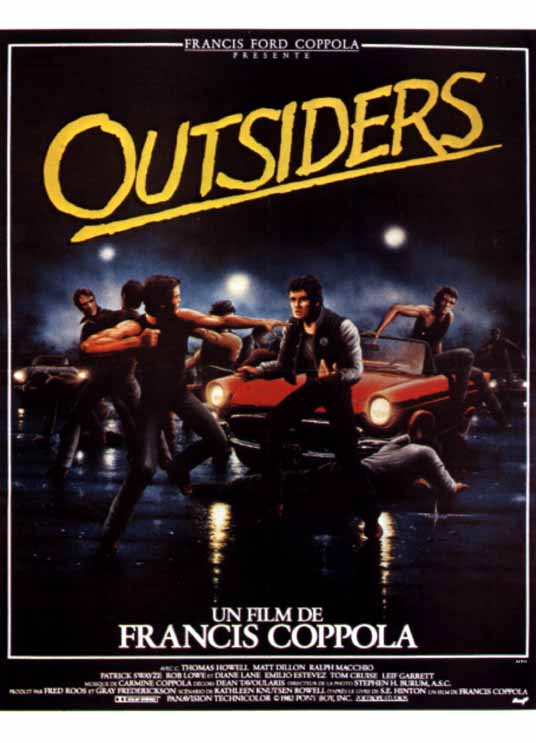 On the advice of Dallas, Ponyboy and Johnny leave town, and hide out in an abandoned church in Windrixville. Ponyboy dyes his hair blonde with peroxide in case anybody spots him. He reads Gone with the Wind and quotes the Robert Frost poem "Nothing Gold Can Stay". Dally arrives with news that Cherry has offered to support the boys in court. They go out for food, then return to find the church on fire with children trapped inside. Johnny is hospitalized with severe burns and a broken back after he, Ponyboy, and Dally rescue the children. The boys are praised for their heroism, but Johnny is charged with manslaughter for killing Bob, while Ponyboy may be sent to a boys' home.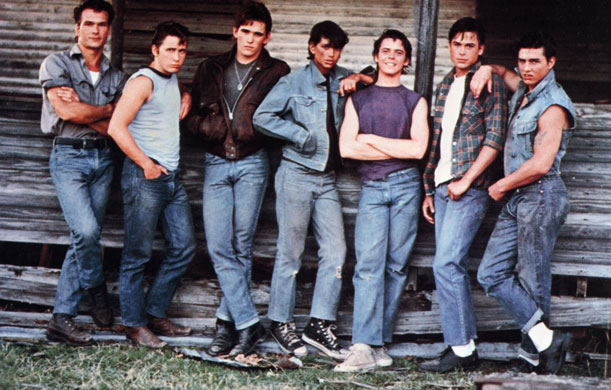 Bob's death has sparked calls from the Socs for "a rumble," which the Greasers win. Dally then drives Ponyboy to the hospital to visit Johnny. Johnny is unimpressed by the victory, and dies after telling Ponyboy to "stay gold," referring to the Frost poem. Unable to bear Johnny's death, Dally robs a grocery store at gunpoint and is killed by police. Ponyboy is eventually cleared of wrongdoing in Bob's death and allowed to stay with his brothers. Turning the pages of Johnny's copy of Gone with the Wind, Ponyboy finds a letter from Johnny saying that saving the children was worth sacrificing his own life. The story ends as it began, with Ponyboy writing a school report about his experiences.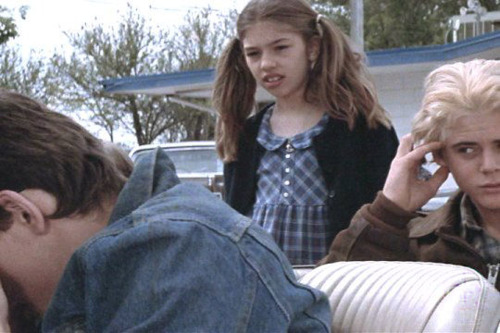 Cast

Greasers
C. Thomas Howell as Ponyboy Curtis
Ralph Macchio as Johnny Cade
Matt Dillon as Dallas "Dally" Winston
Rob Lowe as Sodapop "Soda" Curtis
Patrick Swayze as Darrel "Darry" Curtis
Emilio Estevez as Keith "Two-Bit" Mathews
Tom Cruise as Steve Randle
Glenn Withrow as Tim Shepard
Socs
Diane Lane as Sherri "Cherry" Valance
Leif Garrett as Bob Sheldon
Darren Dalton as Randy Adderson
Michelle Meyrink as Marcia
Others
Tom Waits as Buck Merrill
Gailard Sartain as Jerry Wood
S. E. Hinton as nurse in Dallas's hospital room.
William Smith as store clerk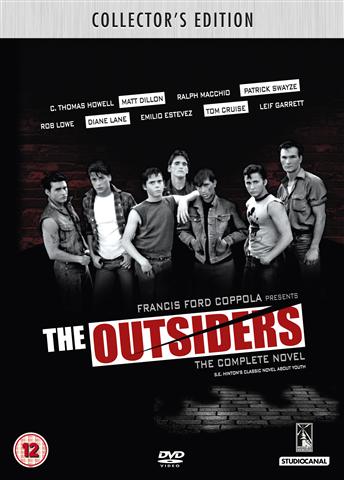 Production
Francis Ford Coppola had not intended to make a film about teen angst until middle-school students from Lone Star Elementary School in Fresno, California wrote to him about adapting The Outsiders. When Coppola read the book, he was moved not only to adapt and direct it, but to follow it the next year by adapting Hinton's novel Rumble Fish. The latter film's cast also included Matt Dillon, Diane Lane, and Glenn Withrow.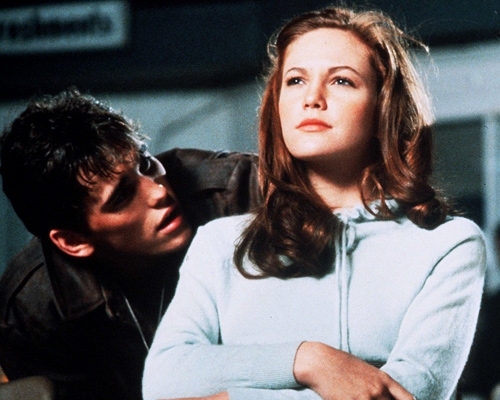 The film was shot on location in Tulsa, Oklahoma. Coppola filmed The Outsiders and Rumble Fish back-to-back in 1982. He wrote the screenplay for the latter while on days off from shooting the former. Many of the same locations were used in both films, as were many of the same cast and crew members. The credits are shown at the beginning of the film in the style normally found in a published play.
Coppola's craving for realism almost led to disaster during the church-burning scene. He pressed for "more fire", and the small, controlled blaze accidentally triggered a much larger, uncontrolled, fire, which a downpour fortunately doused.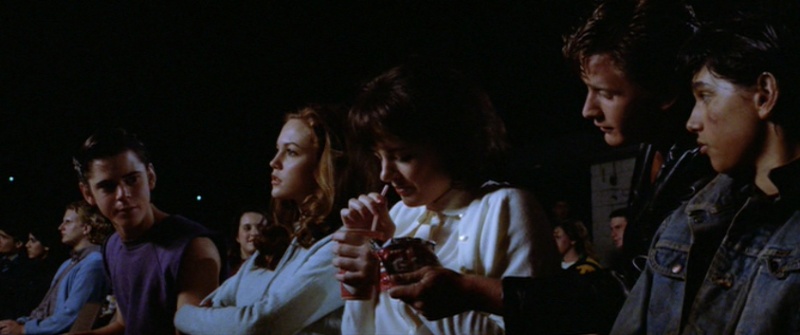 Critical reception
The film was met with generally mixed to positive reviews from critics and audiences. Rotten Tomatoes gives The Outsiders a 64% "Fresh" rating on its site. One recent book said that the film's realistic portrayal of poor teenagers from the wrong side of the tracks "created a new kind of filmmaking".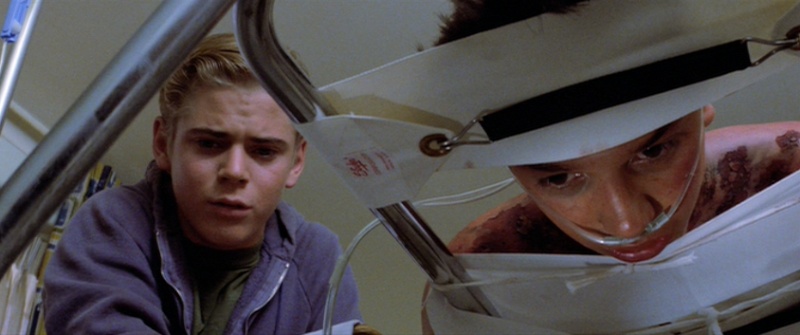 Awards and nominations
The Outsiders was nominated for four Young Artist Awards, given annually since 1978 by the Young Artist Foundation. C. Thomas Howell won for "Best Young Motion Picture Actor in a Feature Film". Diane Lane was nominated for "Best Young Supporting Actress in a Motion Picture". The film was nominated for "Best Family Feature Motion Picture". Francis Ford Coppola was nominated for a Golden prize.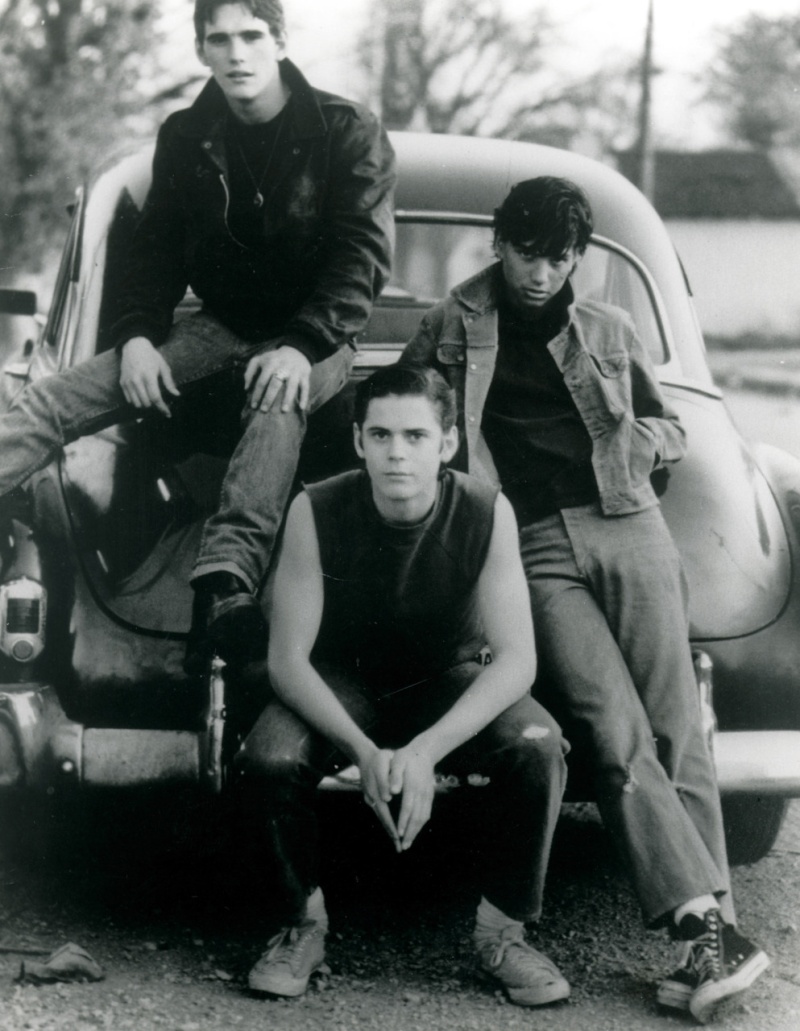 "The Complete Novel" re-release
In September 2005, Coppola re-released the film on DVD, including 22 minutes of additional footage and new music, as The Outsiders: The Complete Novel. Coppola re-inserted some deleted scenes to make the film more faithful to the book. In the beginning of the film, he added scenes where Ponyboy gets jumped, the gang talks about going to the movies, and Dally, Pony and Johnny bum around before going to the movies. In the end, Coppola added the scenes taking place in court, Mr. Syme talking to Ponyboy, and Sodapop, Ponyboy and Darry in the park. Also, much of the original score was replaced with music popular in the 1960s. The film was re-rated by the MPAA as PG-13 for "violence, teen drinking and smoking, and some sexual references".
The director also removed several scenes in order to improve pacing, but they could be found on the second disc as additional scenes. In addition, Swayze, Macchio, Lane, and Howell gathered at Coppola's estate to watch the re-release, and their commentary is included on the DVD. Dillon and Lowe provided separate commentary.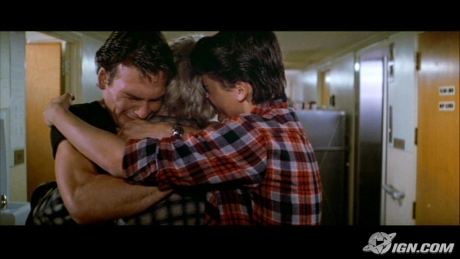 Music
The original film score was composed by the director's father, Carmine Coppola; the main theme, "Stay Gold", was sung by Stevie Wonder. The original soundtrack included one rock song, Them's "Gloria".
The re-release removed much of Coppola's score, replacing it with songs from the 1950s and 1960s, including:
"Real Wild Child" - Jerry Lee Lewis
"Out of Limits" - The Marketts
"Tomorrow is a Long Time" - Elvis Presley
"Mystery Train" - Elvis Presley
"We're Gonna Move" - Elvis Presley
"Lend Me Your Comb" - Carl Perkins
"Milky White Way" - Elvis Presley
"Teen Beat" - The Ventures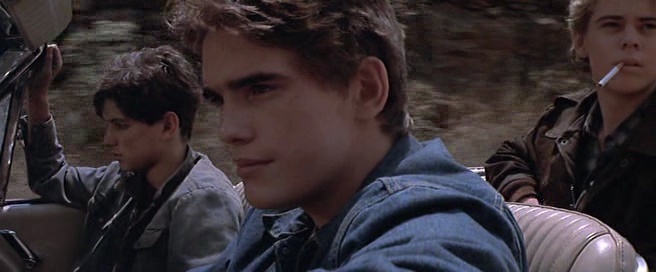 _________________
We don't care the People Says , Rock 'n' roll is here to stay - Danny & the Juniors - 1958
---
Permission de ce forum:
Vous
ne pouvez pas
répondre aux sujets dans ce forum