Heureusement, il existe plusieurs maisons de disques qui sont encore très actives en ce moment dans la promotion des nouveaux groupes de Rock and Roll, Rockabilly, Jumpin'Jive…. Et en rééditant des artistes et des chansons des années 40, 50 et du début des années 60, grâce à ces labels, les artistes et les chansons ne sont pas morts dans l'oubli, merci beaucoup à tous.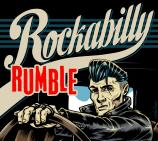 Sur
www.rockabillyrecords.de,
vous pouvez acheter des références de disques très intéressantes, honnêtement Rebel Music Records a publié et édité de très bons albums de groupes de pays tels que: l'Espagne, la Suède, l'Angleterre, la Finlande, le Japon, la France…. Sur le Cd Rockabilly Rumble «RM5027», vous pouvez écouter la chanson fantastique «Blood O n M y Drape» du groupe espagnol Rockin´Hellfire, dans le plus pur style Rock and Roll britannique, super, mais aussi Cliff and the Town Rebels avec la version "I Want That", tout le monde connaît, ou devrait connaître, la version de Johnny Kid and the Pirates, ici, les Anglais accompagnés par les Allemands le clouent, une version fantastique, sur ce CD on peut aussi écouter Cosh Boys , Rockin´Aldo et les Gold Seachers, Snakebite…. Sur ce CD, les Français The Roughboys rendent hommage à Crazy Cavan et aux Rhythm Rockers en interprétant la chanson «Teddy Jive»…. On peut aussi écouter deux groupes animés par des femmes, Miss Lauren Marie nous chanter "Kiss My Baby" et Wild Deuces "Rock-a-Beatin'Boogie", de très bonnes versions, je ne doute pas que ce CD sera très apprécié par Teds, Rockers, Bikers…. En termes simples, les fans de Rock and Roll / Rockabilly en général.
Je vous recommande d'entrer sur la page
www.rockabillyrecords.de
et de jeter un œil au catalogue, prenez bien soin de vous, salutations d'amis de Catalogne.
Dj Rockin´Badalona "Eddie-Cesc"

Dj Eddie-Cesc




Messages

: 493


Date d'inscription

: 03/07/2015



---
Permission de ce forum:
Vous
ne pouvez pas
répondre aux sujets dans ce forum