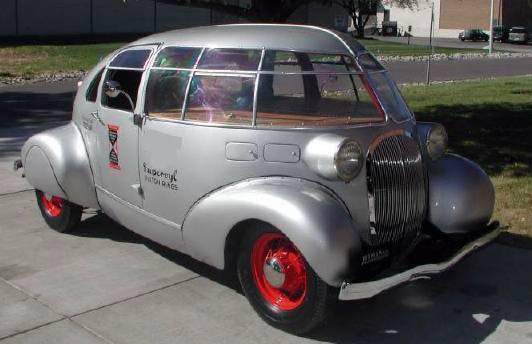 McQuay-Norris Streamliner- 1934
This vehicle was created as a promotional vehicle for the McQuay-Norris Company of St. Louis, Missouri, which manufactured replacement pistons, rings, bearings, and other parts used to rebuild engines. Six cars were built for promotional purposes but more importantly they were also used as test cars. As such, they were equipped with a multitude of gauges mounted on the dash to monitor the performance of various components. The highly advanced, streamlined body design was constructed by the Hill Auto Body Metal Company of Cincinnati, OH of steel and aluminum over a wood framework. The curved plexiglass windshield offers a panoramic view – except to the rear. These vehicles traveled extensively across the U.S. and Canada from 1934 to 1940. The driver sits well back, near the middle of the body, and there is room behind the seats for a suitcase, a blowby meter (used to measure how well the piston rings and valves are sealing – now missing), and a viscometer to monitor oil viscosity – also lost.
Specifications:
Manufacturer: Hill Auto Body Metal Company for McQuay-Norris
Country of Origin: U.S.A.
Drivetrain Configuration: Front engine, rear wheel drive
Engine: Ford Flathead V8, 221 cubic inches, 85 horsepower
Transmission: 3 speed manual
Top Speed: 80 mph
Years of Production: 1933-34
Number Produced: 6
Original Cost: Unknown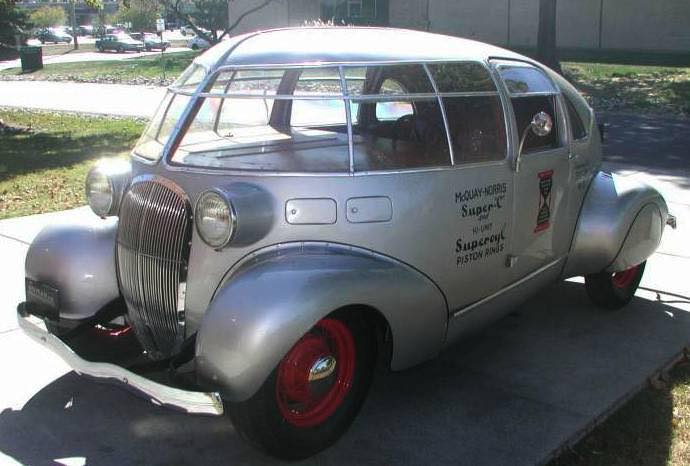 https://www.lanemotormuseum.org/collection/cars/item/mcquay-norris-streamliner-1934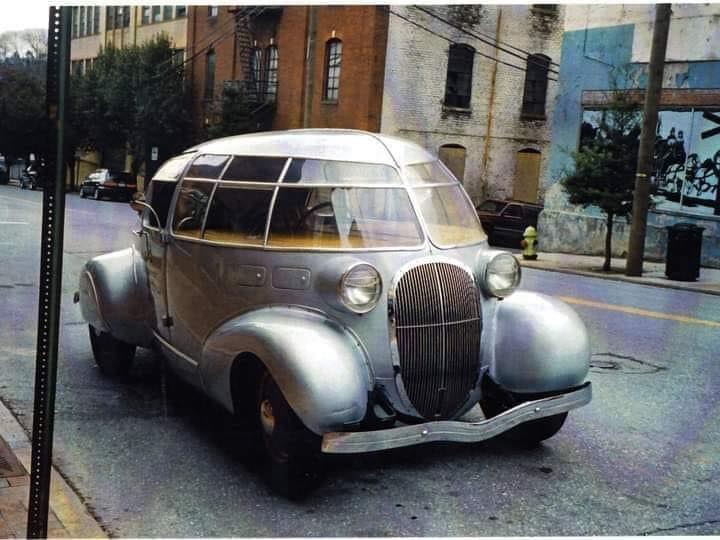 Dernière édition par Predicta le Lun 16 Nov - 6:59, édité 2 fois

_________________
We don't care the People Says , Rock 'n' roll is here to stay - Danny & the Juniors - 1958

_________________
We don't care the People Says , Rock 'n' roll is here to stay - Danny & the Juniors - 1958

_________________
We don't care the People Says , Rock 'n' roll is here to stay - Danny & the Juniors - 1958
Sujets similaires
---
Permission de ce forum:
Vous
ne pouvez pas
répondre aux sujets dans ce forum