Darrell est la révélation guitaristique du rock 'n' roll des années 1990's, depuis 1980 le titre de meilleur guitariste de rock 'n' roll est souvent attribué à l'américain Brian Setzer, mais à mon avis Darrel a su à son tour renouveller le genre dans un style complètement différent. Chose amusante à noter Setzer comme Higham sont tout deux des fans inconditionnel d'un autre guitariste de légende Eddie Cochran, et joue comme ce dernier sur Guitare Gretsch.
Par contre il est évident que la popularité de Brian Setzer à largement dépasser le monde des fans de Rock 'n'roll tandis que Higham est essentiellement reconnu dans ce dernier.
On peut également noter que comme Setzer, Higham fait la promotion  de guitares Gretsch (mais aussi des amplis à lampes  Peavey).
C'est à Bedford (en Angleterre) que Darrel voit le jour,  cet article va faire le tour de ses albums des années 1990's, le premier qu'il enregistre 
Let's Rock Tonight
date de 1995, est enregistré pour Fury records et reprend le design de la pochette d'un 33 tours d'Eddie Cochran. Il rassemble des covers
Strollin' Guitar
(instrumental d'Eddie Cochran),
Turnip Greens
de Gene Summers,
I'm Not Crazy
de Johnny Watson,
Baby If We Touch
de Shakin' Stevens,
Nobody
de Wayne Carson  et enregistré en 1968 par Bruce Channel,
Mumbles
de Johnny Bachelor,
I Wonder If You Wonder
de Johnny Kirckland,
Somebody To Love
de Bobby Darin et
Lets Rock Tonight
de Jimmy Grubbs.  Ces covers toutes absolument parfaite font ressortir un style tout à la fois moderne et personnel tout en restant fidèle aux sonorités vintages, les compositions originales sont elle aussi parfaite dans un style plus white rock que rockabilly comme le rapide et bluesy
Lucky Lou
,
Mean Blue Saturday Night
est un medium rock qui aurait pu être écrit par Cochran ou Setzer et
Goin To Albert Lee
est un white rock assez génial plein de riffs décapants.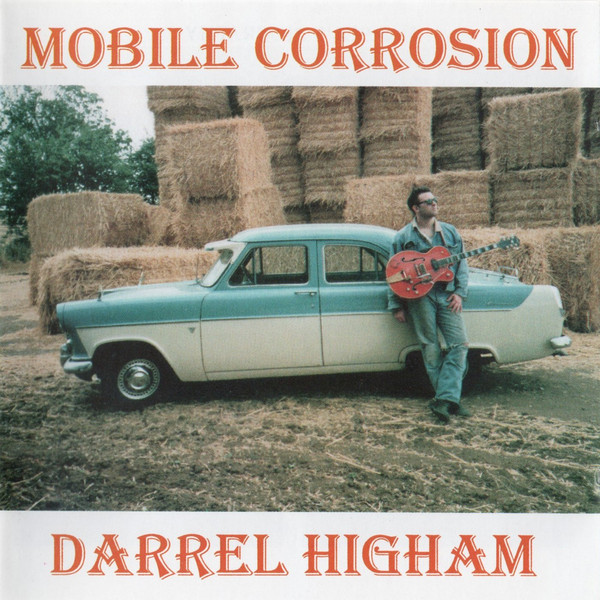 Toujours en 1995 Higham sort l'album
Mobile Corrosion
 sur Nervous Records sur lequel il est accompagné de Mick Wigfall à la contrebasse, Dave Brown à la batterie, Dave Brown au piano et Rusty Steel à la Steel guitar. faisant cette fois ci la part belle aux compositions originales si ce n'est
Deep In The Heart Of Texas
de Geraint Watkins, 
Second Hand Information
de Genteleman Jim Mealey et
Revenue Man
titre rendu célèbre par George Jones.
. Les compositions sont donc nombreuses 
Like A Brand New Man
est un white rock avec une mélodie excellente,
If You Can Live With It
est une ballade country western swing allant vers le medium rockabilly, 
Long Lonely Road
est un white rock au style moderne, 
I Like Me Just Fine
est un rock 'n'roll moderne au son moderne,
In My Heart
est une ballade dans l'esprit d'Elvis Presley,
No One Will Grieve
un rockin' blues assez moderne,
Country Lila Rhue
est un néo rockabilly rapide aux sonorités roots,
You Were Right, I Was Rong
est un medium rockabilly,
I've Been Gone A Long Time
est un bon rock 'n'roll,  
Don't Bug Me Baby
est un rockabilly déchainé qui est à mon goût le meilleur titre de l'album,
Amanda's Song
est un medium rock dans le style de Ricky Nelson,
Travis Pickin'
est comme son nom l'indique un instrumental country dans le style de Merle Travis, Life Goes On est un medium rock aux sonorité jazzy et
Rockin' Band Blues
un superbe rock n'roll rapide dans le style du Summertime Blues d'Eddie Cochran.
Sur cet album même si la guitare et le chant sont semblables au précédent le style des titres est toujours personnel plus proche du white rock avec des influences blues mais l'ajout de la steel guitare sur quasiment tout les titres donne d'une manière étonnante une sonorité  Rockabilly voir même western swing.
En 1996 il enregistre l'album
Rockin' At The Coconut Top
pour Crazy Love Records avec son groupe The Enforcers nous trouvons des covers d'instrumentaux de  son maître sprirituel Eddie Cochran comme
Scratchin'
et
Fourth man theme
(en qui est une  version rock du théme célèbre du film
le 4eme Homme
), des versions de
Rockin' At The Coconut Top
de Hop Wilson avec Steel guitare rappellant l'album précédent, de
Mean Evil Daddy
de Danny Wild and the Wildcats, de
Hold Me
un excellent rockabilly, de
I'm Ready
de Hank Mizzell, de
Sweet Love
de Orange Ray Hubbard,  de
Wondrous Place
de Billy Fury, de
Let's Go Baby
de Billy Elridge et de
Dearest Darling
de Bo Diddley. Au niveau des compositions originales nous trouvons
The Lone Spaceman
un white rock moderne à la mélodie originale qui n'est opas sans rappeller le style sauvage des Hi Winders,
The Ghosts Are Screaming Tonight
est un néo rockabilly superbe débutant avec des amusants "faux départs" et 
Sweet 16 Loves Rock 'n' Roll
est encore un bon rockabilly medium. 
Cet album est à mon goût supérieur aux deux précédents en mettant encore plus en évidence le talent et la singularité de Higham.
En 1998 il sort sur Goofin' records l'album
High Class Baby
accompagné par les Barnshakers. Il se compose du bon rockabilly
I Want It All
, d'un trés original cover rockabilly du
High Class Baby
de Cliff Richard, du rockin' blues
C'mon And Call Me
,
Connie Lou
de Ray Taylor,
Rocket Trip
de Jackie Lowell and the Astronauts,
Bless My Soul
est un rhythm and blues avec chanteuse et instrumentation rockabilly,
Gimme That Drink
un bon néo rockabilly au style moderne,
The Roker Stroll
un instrumental white rock dans le style de Cochran,
You Can Persuade Me
un rockin' blues medium avec vocal féminin,
Fancy Dan
de Gene Summers,
Time To Stomp
un trés bon white rock,
Bonaparte's Retreat
de Onie Weeler,  
Evil And Mean
un rockabilly bluesy medium, Honey, Did You Tell Me Your Name un rock 'n' roll rapide et
Boogie In The Barn
un western swing allant vers le rockabilly.  Cet album est encore une réussite, Higham y compile des style différents allant du rockin blues au western swing mais toujours en gardant une cohérence artistique et un jeu de guitare et chant reconnaissable.  
Toujours en 1998 Higham enregistre l'album
Howlin' At My Baby
pour Vampirella Music, essentiellement composé de covers, il permet de nous montrer comment Higham arrive à s'approprier des titres de styles musicaux différents pour en faire du Higham. Nous trouvons
Her Love Rubbed Off
de Carl Perkins dans une version white rock sauvage, incroyable version rock 'n' roll de
These Boots Are Made For Walkin'
de Nancy Sinatra,
Putting It Together
est un rockabilly medium,
Big Boss Man
du répertoire d'Elvis Presley,
Moaning The Blues
de Hank Williams, 
Honey Cause I Love You
de Carl Perkins chez Columbia records,
Midnight shift
un des rockabilly légendaire des débuts de Buddy Holly,
Thunder & lightning
de Tooter Boatman,
Sugar sweet
de David Houston, 
All I Needed Was The Rain
chanté par Elvis Presley,
Country jam
un instrumental d'Eddie Cochran,
Marie Marie
superbe version du tube des Blasters,
Jump cats jump
de Jesse Rodgers et
Crazy Mama
de Benny Cliff.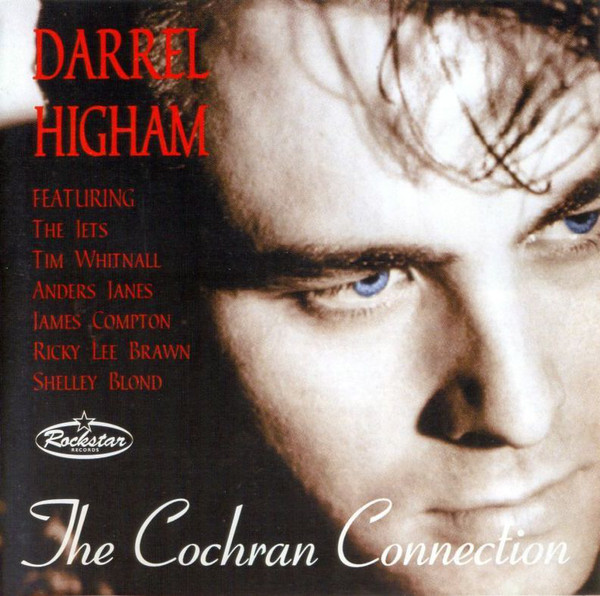 Higham termine la decennie avec un album hommage à Eddie Cochran 
The Cochran Connection
qui sera éditer sur le label Rockstar qui s'est fait connaître par la sortie de titres inédits de Cochran. Ils se compose de 21 titres interpretté par Cochran dont certains de ses incontournables classiques comme
Completely Sweet
,
Twenty-Flight Rock
,
Sittin' In The Balcony
,
Teenage Cuttie
,
Sweetie Pie
,
Lovin' Time
,
Am I Blue
,
Have I Told You Lately That I Love You
,
Closer, Closer, Closer,  I' M Ready
,
Jeannie, Jeannie, Jeannie,
l'instrumental
Pushin'
associé à d'autres moins connus enregistrés souvent  enregistré dans sa pèriode des Cochran Brothers comme
Slow Down
,
Rockin' & Flyin'
et
Mighty Mean
,
Closer, Closer, Closer 
et des titres ou Cochran tient la guitare lors des sessions d'enregistrements comme
Drowning All My Sorrows
de Bo Davis et
You Oughta See Grandma Rock
de Skeet Mac Donald. On peut noter la présence des Jets sur de nombreux titres.
Cet album est une belle réussite Higham arrivant comme toujours à personnalisé chaque covers.

_________________
We don't care the People Says , Rock 'n' roll is here to stay - Danny & the Juniors - 1958

_________________
We don't care the People Says , Rock 'n' roll is here to stay - Danny & the Juniors - 1958

_________________
We don't care the People Says , Rock 'n' roll is here to stay - Danny & the Juniors - 1958

_________________
We don't care the People Says , Rock 'n' roll is here to stay - Danny & the Juniors - 1958

_________________
We don't care the People Says , Rock 'n' roll is here to stay - Danny & the Juniors - 1958

_________________
We don't care the People Says , Rock 'n' roll is here to stay - Danny & the Juniors - 1958

_________________
We don't care the People Says , Rock 'n' roll is here to stay - Danny & the Juniors - 1958
---
Permission de ce forum:
Vous
ne pouvez pas
répondre aux sujets dans ce forum