les photos que je partage avec un watermark "P" cela n'a rien à voir avec "Predicta"  Donc ce "P" veux dire Petersen soit Petersen Publishing société d'édition créée par Robert E. Petersen qui comprenait durant les 1950s et 1960s de nombreuses publications orientées principalement sur l'automobile avec une préférence sur le hot rodding et le custom soit Motor Trend, Car Craft, 4-Wheel & Off-Road, Sport Truck, Circle Track, Rod & Custom, Chevy High Performance et évidemment Hot Rod qui est la premier de ces magazines qui date de 1943 il y a également d'autres publications traitant d'autres sujets comme les motos enfin voila ce qu'est Petersen Publishing. Ils ont eut l'idée de partager leur immense base photographique gratuitement au public mais avec leur Watermark soit le "P" Si on désire avoir une photo en qualité optimale il suffit de la commander sur le site.
https://archive.petersen.org/pages/home.php

_________________
We don't care the People Says , Rock 'n' roll is here to stay - Danny & the Juniors - 1958
https://en.wikipedia.org/wiki/Robert_E._Petersen
Robert Einar "Pete" Petersen (September 10, 1926 – March 23, 2007) was an American publisher who founded the Petersen Automotive Museum in 1994.[1]
Biography
Early life
Robert Einar "Pete" Petersen was born on September 10, 1926 in East Los Angeles, California. He learned about cars from helping his father, a truck mechanic.[1][2] After graduating from Barstow High School,[3] he served in the Army Air Corps in World War II.[1]
Career
After the war, Petersen left Barstow, California for Los Angeles and found work at Metro-Goldwyn-Mayer (MGM), becoming a publicist there within a year.[4]
After being laid off during staff cuts, Petersen and other ex-MGM staff started Hollywood Publicity Associates, a consulting firm. In the summer of 1947, the company was commissioned to publicize an exhibition of hot rods held the following winter. While working to promote the exhibition, Petersen realized that there were no media specific to hot rods or hot-rodding. Seeing an opportunity, Petersen and Robert Lindsay, another member of the promotion team for the exhibition, left Hollywood Publicity Associates that autumn and began development of Hot Rod magazine. The first issue of the magazine, with a run of 5,000 copies, was released to coincide with the Los Angeles Hot Rod Exhibition, the show Petersen and Lindsay were initially contracted to publicize. The founders sold the copies of the magazine at the steps of the exhibition. After a successful debut, the magazine continued to sell out and grow in readership. By mid-1949, monthly sales exceeded 50,000 copies.[4]
Starting from this, Petersen built his publishing empire on automotive-themed publications, including Car Craft, Rod & Custom, Sports Car Graphic, and Motor Trend.[2] He also published CARtoons, Guns & Ammo, SPORT, Motorcyclist, Motor Life, Hunting, Mountain Biker, Photographic, Teen, Tiger Beat, and Sassy Magazine, 4 Wheel and Off Road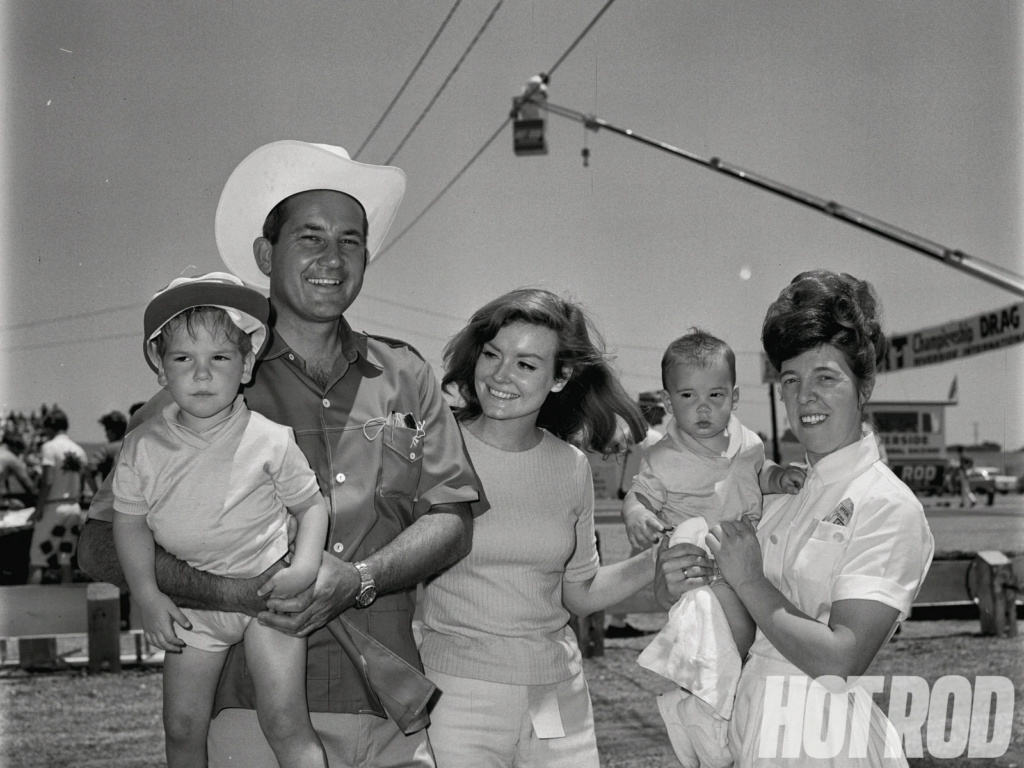 In 1996, Petersen sold his company Petersen Publishing Company to a private equity fund for $450 million which, in 1999, sold it for $2 billion to publisher EMAP. In 2001 it was sold to Primedia. In 2007 Primedia's enthusiast publications, including all the once-Petersen titles, were again sold to Source Interlink, controlled by Ron Burkle. In 1999 Petersen bought Sports Afield from Hearst Corporation and he sold it in 2002 to the owners of Safari Press.
Death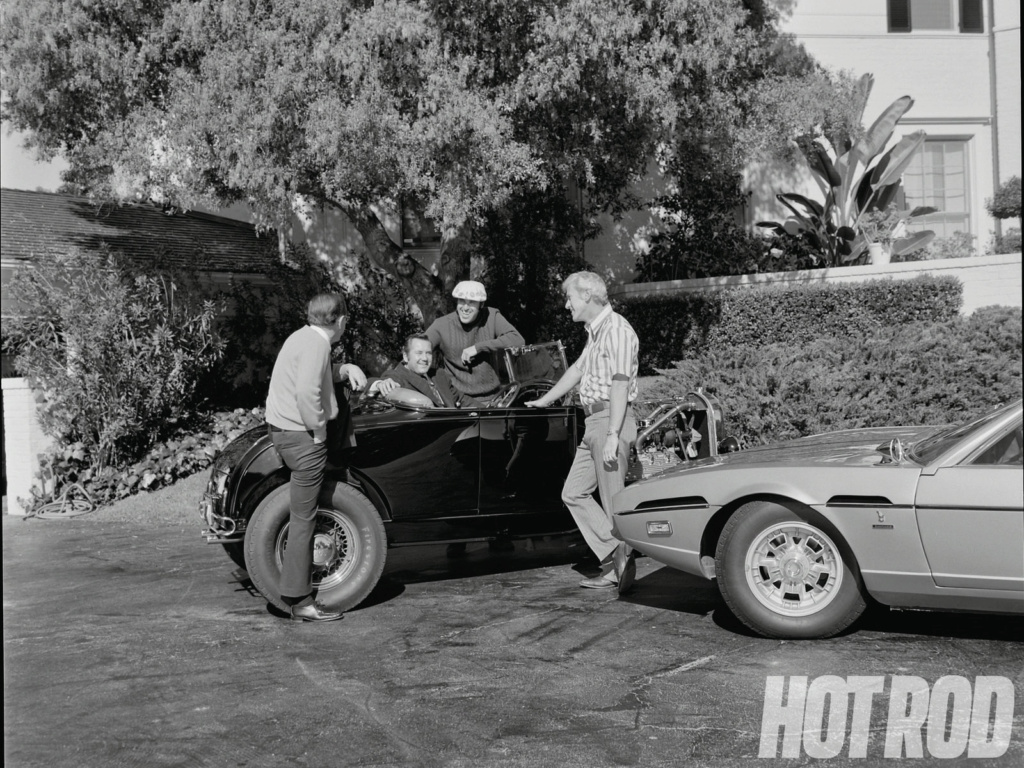 He died on March 23, 2007 at St. John's Health Center in Santa Monica, California of complications from neuroendocrine cancer.[3] Margie Petersen died on November 25, 2011.[5]
Collections
An avid hunter and collector, Petersen had amassed a sizable collection featuring hundreds of unique and historically significant antique and modern firearms. Following Petersen's death, in following with his wishes, Petersen's widow donated a 400-piece portion of his extensive collection to the National Rifle Association's National Firearms Museum in Fairfax, VA.[6] Among his collection the work of firearm engraver Richard Roy of Connecticut Shotgun are displayed.[7]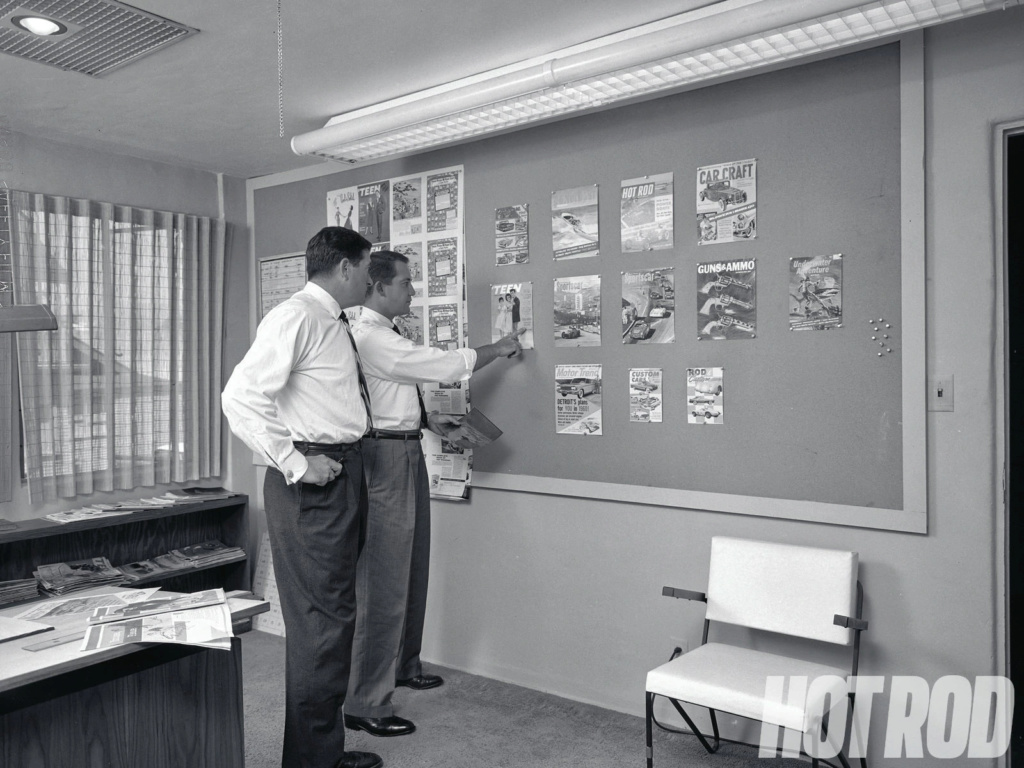 https://www.hotrod.com/articles/hrdp-1301-pete-and-margie-the-lost-interview/

_________________
We don't care the People Says , Rock 'n' roll is here to stay - Danny & the Juniors - 1958
http://www.fundinguniverse.com/company-histories/petersen-publishing-company-history/
Company History:
A rising force in the publishing industry, Petersen Publishing Company publishes a host of monthly, bimonthly, quarterly, and annual magazines that each focus on special-interest subjects. In a half-century of business, Petersen Publishing established a lasting, viable position in the publishing industry by publishing titles such as Hot Rod, Guns & Ammo, Teen, and Dirt Rider. In 1996, the company fell under new ownership when its founder, Robert Petersen, retired. The new owners were intent on greatly increasing the company's size, resolving to develop Petersen Publishing into a $1 billion, special-interest, publishing conglomerate. During the late 1990s, the company published roughly 80 different magazines and generated approximately $250 million in revenues from offices in New York and Los Angeles.
Hot Rod Debuts in 1943
Of the dozens and dozens of hobby-oriented magazines composing the publishing empire built by Robert E. Petersen, Hot Rod was the first. Hot Rod, like all Petersen Publishing's annual, quarterly, bimonthly, and monthly magazines, catered to a distinct market niche, targeting young, southern Californian, male car enthusiasts. Like the scores of titles to follow in its wake, Hot Rod covered a subject matter that Petersen, son of a southern California auto mechanic and a car aficionado himself, was interested in and knew something about. Finally, the magazine was produced as inexpensively as possible. The creation of Hot Rod represented a formula for success that was used as a pattern for the development of Petersen Publishing: identify a specific target audience, keep costs to a minimum, and employ writers who were experts in their field first and writers second. These were the three key tenets of success for Petersen Publishing, principles that guided the development of one of the country's largest magazine publishers.
Hot Rod made its debut when Petersen was 16 years old. The year was 1943, and Petersen devoted much of his spare time during the year acting as publisher, editor, writer, layout artist, printer, and salesman for his new magazine. Days and evenings were spent putting together Hot Rod magazine in the living room of his Los Angeles apartment. Petersen took his finished versions of the magazine to local car races, where he sold the initial issues of Hot Rod for $.25 per copy. Hot Rod proved to be enough of a success to encourage Petersen to launch additional titles, each addressing specific audiences and each focusing on a hobby Petersen enjoyed. Motor Trend was Petersen's second magazine, debuting in 1949, and its arrival provided yet another glimpse into the future, representing the first use of what would become Petersen Publishing's underlying strategy for building a magazine empire. This strategy was borne out by Motor Trend. Motor Trend, in the decades to follow, drew much of its readership from aging Hot Rod readers, who outgrew the appeal of Hot Rod by the time they reached their mid-30s and developed a passion for sport and luxury cars, the subject matter of Motor Trend.
One magazine begat another, creating a publishing house that could boast of entertaining its readers from adolescence to adulthood. Whatever the changing interests of hobby and sports enthusiasts, there was soon a Petersen Publishing periodical on the newsstand that covered the subject. The successful segmentation of strong niche magazine titles around an established title proved to be the distinctive mark of Petersen Publishing's success in the magazine world. The success of Hot Rod gave rise to a slew of other narrowly focused, tangential publications. Motor Trend, Car Craft, 4-Wheel & Off-Road, Sport Truck, Circle Track, Rod & Custom, Chevy High Performance, and Hot Rod Jr. all followed from the proven success of Hot Rod, and from the esoteric Hot Rod retinue developed similar families of magazines addressing other topics. Guns & Ammo debuted in 1958, spawning Hunting and Handgun. Dirt Rider, Sport Rider, Motorcycle Cruiser, and Motorcyclist were created to tap into the variegated niches of interests surrounding motorcycling, creating layer upon layer of subject-specific publications that constituted what soon became a publishing giant.
As Petersen Publishing extended its reach throughout a gamut of hobby interests, other identifying marks of the company's mode of operation revealed themselves. Unlike many other magazine publishers who relied on subscription sales for the bulk of their business, Petersen Publishing eschewed the high cost of maintaining subscription lists, deeming the strategy too costly in view of the company's high turnover of readership. Instead, Petersen Publishing relied mainly on newsstand sales. "For the kind of magazine I publish," Petersen once declared, "the newsstand is king." Although the reliance on newsstand sales suggested a somewhat transitory bond with its readership, Petersen Publishing's cradle-to-grave approach to identifying and addressing a bevy of special interest topics compensated for any readership loyalty lost by regarding the newsstand as "king." "If we see one of our magazines becoming too general," the company's long-time president remarked, "we start a new magazine rather than add pages and dilute the magazine for our hard-core readers. We want to make a guy a lifetime reader of Petersen publications, not just a reader of one of our magazines."
1970s: Failures and Expansion
The approach worked wonders, as the proliferation of Petersen Publishing titles on the racks of newsstands throughout the country testified. The company's prolific display of publishing did not always meet with success, however, perhaps the inevitable result of trying to identify myriad special-interest subjects and hoping there was enough of an interested audience in the country to warrant the publication of yet another magazine. There were notable Petersen Publishing flops over the course of the company's evolution into an industry stalwart, but their failure was regarded, at least by Petersen, as inescapable, part of the price Petersen Publishing paid for being the type of publishing company it was. In 1975, Petersen Publishing suffered from its ill-timed decision to launch Wheels Afield, a recreational vehicle magazine started before gasoline shortages during the decade forced consumers to spend hours waiting in line at service stations. In 1977, the company overestimated the staying power of the CB radio craze by publishing CB Life. The following year, Inspiration, a mass-market religious magazine, was folded after Petersen conceded he became too "emotionally involved" with it. There were other failures, Go Cart, True Magazine, and Slot Car Racing among them, but Petersen was quick to realize his errors and abandon misbegotten projects. "The trick in business," he once noted, "is not to hang on when it's gone." CB Life, for instance, was folded in ten months, for a relatively small loss of $100,000.
When the successes and failures were weighed against each other, Petersen Publishing emerged as an overwhelming success, having secured viable toeholds in a wide spectrum of market niches. By the early 1980s, the company was publishing 17 monthly titles that sold three million issues each month and generated $130 million in annual advertising revenues and newsstand sales. Of the largest 25 publishing companies in Los Angeles County during the 1980s, Petersen Publishing was by far the largest, publishing nearly twice as many pages as its closest competitor and dwarfing the revenues collected by all of its rivals. Although generally unknown outside the coterie of magazine publishing houses in the Los Angeles area, Petersen Publishing reigned supreme in its field, swelled in stature by the tightly knit collection of magazines published under its corporate banner.
1990s: New Owners and Big Plans
Petersen, who had embarked on his life-long career when he was a teenager, presided over a privately owned publishing fortune by the time he was in his mid-50s. Together with his wife Margie, Robert Petersen owned all of the equity in Petersen Publishing, reigning over a business that industry observers valued at $175 million during the early 1980s. The value of the company increased as time went on and as the number of Petersen Publishing magazines grew, their presence extending into an ever-widening range of interests. Among the significant titles that were added to the Petersen Publishing fold was Sport, a magazine targeted to the thoughtful adult sports fan. Acquired in 1988 for between $8 million and $10 million, Sport was supported by a circulation base of 900,000, giving the company another arrow in its expanding quiver. During the 1990s, Petersen Publishing made further moves on the acquisition front, acquiring Bicycle Guide in August 1993 from Brussels-based Winning International. Bicycle Guide was organized in the company's motorcycle publishing group, joining Dirt Rider, Sport Rider, and Motorcyclist, and provided Petersen another opportunity to display his penchant for segmenting market niches. One year after acquiring Bicycle Guide, Petersen Publishing announced its plan to launch MTB, a title designed for the hard-core mountain bike enthusiasts, in October 1994.
Against the backdrop of these additions to Petersen Publishing's catalog of titles, rumors and speculation persisted concerning who would control the company once Petersen decided to retire. In his late 60s midway through the 1990s, Petersen had no heirs (his sons had died in an airplane accident) to which to hand the family enterprise, which sparked the interest of many investors who viewed the company in a covetous manner. In 1995, the company published 23 monthly magazines, nine bimonthly issues, and 45 annual publications, all produced in Petersen Publishing's 20-story tower in Los Angeles where the fruits of the company's efforts yielded more than $250 million in gross revenues and an appealing $40 million in pretax income. Petersen Publishing was a valued prize for those in the publishing industry, and as the company entered 1996, the winner of the prize emerged.
Speculation about the company's future owner reached a conclusive end in August 1996, when Petersen Publishing was put on the auction block. Four bidders emerged: K-III Communications Corp., owner of Seventeen, Automobile, and Soap Opera Digest; Times Mirror Co., publisher of Field & Stream and Golf; Mort Zuckerman, owner of U.S. News and The Atlantic; and D. Claeys Bahrenburg, a former president of Hearst Magazine. The competition subsequently was whittled down to K-III Communications and Bahrenburg and resolved before the end of August. D. Claeys Bahrenburg, a group of partners and their financial supporters, a Chicago leveraged buyout firm named Willis Stein & Partners, emerged victorious, winning the fiercely contested bidding war with an offer that reportedly hovered in the $450 million range.
Bahrenburg was ebullient. For six years, he had headed Hearst Magazine's renowned portfolio of magazine titles, controlling the esteemed and widely read Cosmopolitan and Harper's Bazaar, among other titles, before being ousted from Hearst Magazine's ranks in 1995. With the acquisition of Petersen Publishing, Bahrenburg was back, although his return to the publishing scene placed him in a decidedly different peer group. The former steward of Cosmopolitan did not seem to mind the less glamorous prospect of leading an organization built on Hot Rod, however, and took to his new duties with relish. After Petersen Publishing's reins of command were passed to Bahrenburg, he remarked, "I've made a thorough analysis of the magazine publishing industry at large. I've found that special-interest publishing is the brightest and most robust part of the industry by far. I feel very strongly that it will continue to be a healthy, growing part of the industry." Bahrenburg's words said as much about the level of his conviction as they did about the bright prospects in Petersen Publishing's future, auguring the continued proliferation of magazines under the Petersen Publishing banner.
Bahrenburg got to work immediately. In September, he announced he was setting out to build an even bigger empire of special-interest publications. "The scenario is one of growth, not of scaling back and tightening," the company's president averred, setting the stage for the ambitious announcement that would follow six months later. In the interim, Bahrenburg began strengthening the company's organizational structure in September, articulated plans for developing a presence in the market for specialized fitness magazines, and revealed intentions to expand into television and the Internet. In October 1996, the company announced the relocation of some operations from their long-time home in Los Angeles to New York, where Bahrenburg hoped Petersen Publishing could develop a higher profile among advertisers.
Petersen Publishing's entire circulation department, Sport, and the company's three youth-oriented publications, Teen, Sassy, and All About You, were shifted to New York as 1996 drew to a close and the new year began. In March 1997, the company's multimedia diversification strategy began to take shape with the arrival of a veteran promotions and licensing executive from Marvel Entertainment Group who invigorated efforts to expose Petersen Publishing's magazine titles outside of print, particularly television. By far the biggest news during Bahrenburg's first year of control occurred later in March, when Bahrenburg flatly and confidently declared, "We plan to be the world's largest special-interest publisher." Fulfilling that lofty goal gave everyone at Petersen Publishing their marching orders for the remainder of the 1990s and into the next century.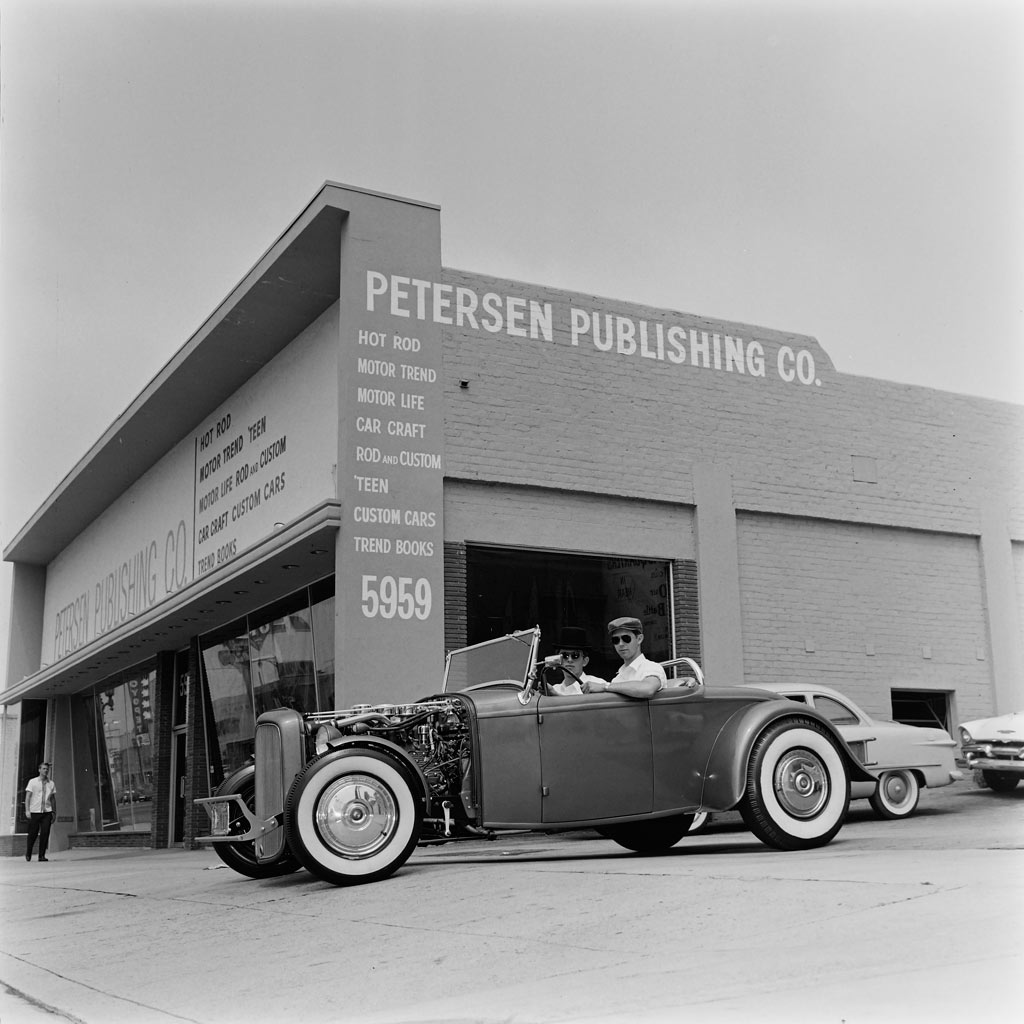 As Bahrenburg scanned the horizon and planned for the company's future, he was determined to develop Petersen Publishing into a $1 billion magazine conglomerate. In 1997, Petersen Publishing took the first steps toward its chairman's objective. Roughly $10 million was set aside in 1997 to revamp some of the company's biggest magazines and to finance the introduction of several international editions. The money was also used to launch three new titles and acquire others, as the expansion program aimed at increasing the company's revenue volume four-fold began. Bahrenburg also was considering taking the company public by the end of 1997. With $1 billion in revenues as his target, Bahrenburg moved forward from the ambitious pronouncement he made in March 1997, striving to make Petersen Publishing the premier global force in special-interest magazines.

_________________
We don't care the People Says , Rock 'n' roll is here to stay - Danny & the Juniors - 1958
---
Permission de ce forum:
Vous
ne pouvez pas
répondre aux sujets dans ce forum