A simple vu se nom de dois pas vous dire grand chose, et pourtant l´homme qui le porte a beaucoup avoir avec n´autre monde.

Johannes-Sebastian Strauss este née en 1965 a Berlin (Allemagne) issu d´une famille chrétienne, mais qui est t´il?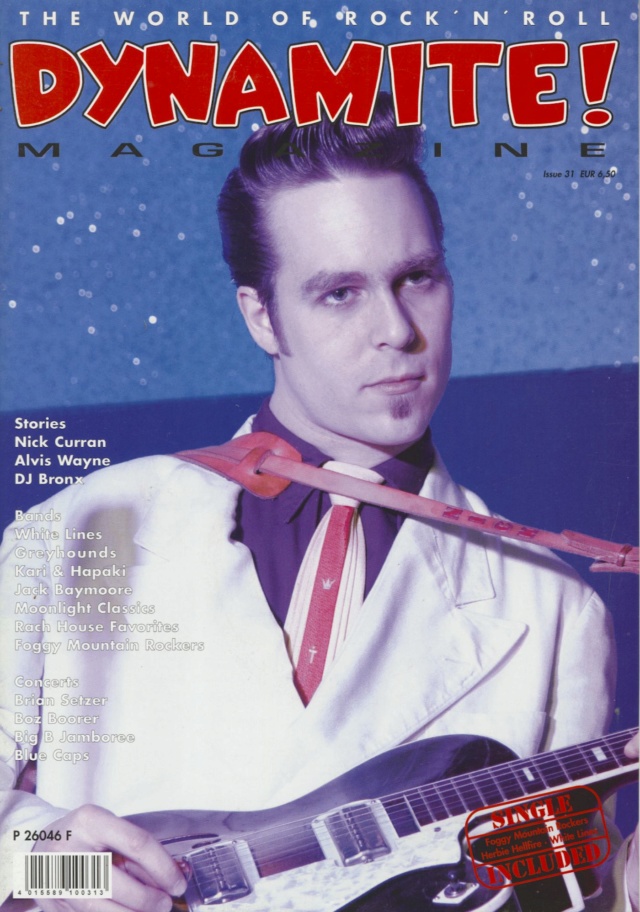 Pendant 20 an il participe et travaille dans et pour la revue Allemande DYNAMITE, années 90, il tourne régulièrement avec des légendes du Rock and Roll/Rockabilly : Carl Perkins, Wanda Jackson, Ray Campi, Marvin Rainwater, Huelyn Duvall, Johnny Legend, Al Pacino « Rolf « Zacher.
Johannes-Sebastian Strauss assiste a des cours de musique en 1977 a l´école Musikschule Wilmersdorf, deux ans plus tard il joue avec son premier groupe, en 1986 les Sundowners se forme et Johannes-Sebastian Strauss deviens de chanteurs, en Juin de 1992, il fond une tournée avec Carl Perkins.
Les Sundowners se sépare et Strauss décide de former un autre groupe, cette fois si avec un touche plus Country et Western Swing, Doc Thomas and the Honky Tonkin´Music Lovers (1993-1997).
En 1997 voie le jour les Big Bad Shakin´, ils tournent en Finlande…. Et aussi en Allemagne, l´ex manager de Shakin´Stevens leurs trouve des dates en Angleterre, on peut lire le nom de Johannes-Sebastian Strauss sur pas mal de disques, voir sa
http://hannes-vinylfreaks.de/
il fond une tournée au USA en 2006 et 2007, c´est dernier, Hannes and the Vinyl Freaks, on jouer au prêt de Chuck Berry devant plus de 3000 invité a Berlin (Allemagne), en 2005 et 2008 Strauss fait une tournée avec Wanda Jackson….
Actuellement on le retrouve comme
https://www.ballroomkings.de/
un excellent groupe qui devrai pouvoir se voir plus souvent dans les festivals, je ne peux que recommande l´achat de tous c´est disques, ils sont formidables.
Donc comme vous pouvez voir Johannes-Sebastian Strauss a une très longue carrière musical, un homme admirable, sens des personnes comme lui le Rock and Roll de nos jours ne serait pas se qu´il est, merci a lui et a tous ceux et celles qui d´une manière où d´une autre font que nos musiques se conserve en si bonne bonne forme.
Dj Eddie-Cesc

Dj Eddie-Cesc




Messages

: 529


Date d'inscription

: 03/07/2015



DISCOGRAPHY (online listed on Wikipedia):
https://de.wikipedia.org/wiki/Johannes-Sebastian_Strauss
• 1989 The Sundowners-Berlin, "Uranium Rock", vinyl compilation: Best of Neo Rockabilly Vol.7, Rockhouse Rec. Netherland, 12" vinyl VÖ1989, CD compilation pub1992
• 1994 Johnny Legend & the Sundowners, "Are You Hep To It", live im Knust Hamburg, Part Rec. GER/Dynamite Magazine 7" Vinyl, (flip side: "High Noon", USA)
• 1994 Doc Thomas & his Honky Tonkin' Music Lovers, "John Henry", Part Rec. GER/Dynamite Magazine 7" vinyl single (flip side: Rose Maddox, USA)
• 1995 The Sundowners-Berlin, "Wrong Side Of The Tracks", compilation: Guitar Riot, Apecall009, Jungle Noise Rec. GER, 12" vinyl compilation
• 1995 Doc Thomas & his Honky Tonkin' Music Lovers, "Jimmy's Diner", Part Rec. GER, 7" vinyl EP
• 1995 Doc Thomas & his Honky Tonkin' Music Lovers, "Hillbilly Passion" feat. Ray Campi (USA), ARCD001, Armadillo Rec. Switzerland, CD
• 1996 Doc Thomas & his Honky Tonkin' Music Lovers, "Ich kam aus Alabama", Das Beste des Deutschen Rockabilly '96, Part Rec. GER, 10" vinyl compilation
• 2002 Big Bad Shakin' "Oh Babe", compilation: Best of Fury R'n'R, Fury Rec. UK, CD compilation
• 2003 Big Bad Shakin' "Bad At Being Good", 17 Songs, RAUCD150, Raucous Rec. UK, CD
• 2006 Hannes & the (Blue) Vinyl Freaks "R'n'R All Night", Part Rec. GER/Dynamite Magazine Nr. 47, CD compilation
• 2007 Hombre Hannez & the Pink Shots, "Jeanny Got Lost", Part Rec. GER/Dynamite Magazine Nr. 50, CD compilation
• 2007 Hannes & the (Blue) Vinyl Freaks, "Dance Baby Dance", Demo version 2006, Part Rec. GER/Dynamite Magazine Nr. 50, CD compilation
• 2007 Hannes & the (Blue) Vinyl Freaks, "Dance Baby Dance", Cajun version rbb Radio 1, Part Rec. GER/Dynamite Magazine Nr. 55, CD compilation
• 2008 Hannes & the (Blue) Vinyl Freaks, "The SUN recordings and more", TCY Rec. Switzerland, LC18609/IRSC 18609, CD
• 2009 Hannes & the (Blue) Vinyl Freaks, "Dance Baby Dance", SUN, Memphis USA, compilation: Country Music Messe 2009, Bluebird Café Berlin Rec. GER, CD 09-0036, LC11845, CD compilation
• 2010 Long John & his Ballroom Kings, "Rip It Up", compilation: Walldorf R'n'R Weekender Soundtrack, Part Rec. GER, CD compilation
• 2012 Long John & his Ballroom Kings, "Hep Cat Baby"/"Dragnet", 7" vinyl, Mirgraine Rec. GER
• 2015 Long John & his Ballroom Kings, "Blue Suede Shoes" (feat. Huelyn Duvall, USA)/"Is It True … About Dixie", 7" vinyl, Rydell's Rec. France
• 2016 Long John & his Ballroom Kings, "Blue Suede Shoes", "60 Minute Man", compilation: Zum Schwarzen Raben – die Musik, Zerberus Music GER, LC13470, CD compilation
• 2017 Long John & his Ballroom Kings, "Pucker Paint" (feat. Huelyn Duvall, USA)/"Marty The Duke's Blues", 7" vinyl, CJRO Rec. England
Dj Eddie-Cesc

Dj Eddie-Cesc




Messages

: 529


Date d'inscription

: 03/07/2015



[youtube]av0At5CD-r4[/youtube



Dj Eddie-Cesc




Messages

: 529


Date d'inscription

: 03/07/2015




Dj Eddie-Cesc




Messages

: 529


Date d'inscription

: 03/07/2015



Sujets similaires
---
Permission de ce forum:
Vous
ne pouvez pas
répondre aux sujets dans ce forum