https://www.whichcar.com.au/features/mario-colalillos-cadillac-coupe-de-ville-king-cad-flashback
CAN one man have too many cars? Not according to prolific constructor Mario Colalillo. His latest creation, King Cad, joins his '34 coupe and roadster, '40 Ford pick-up, '63 Pontiac and of course his nasty, alcohol-snorting, 1000hp '39 Plymouth – all of which (except the two '34s) have been in Street Machine.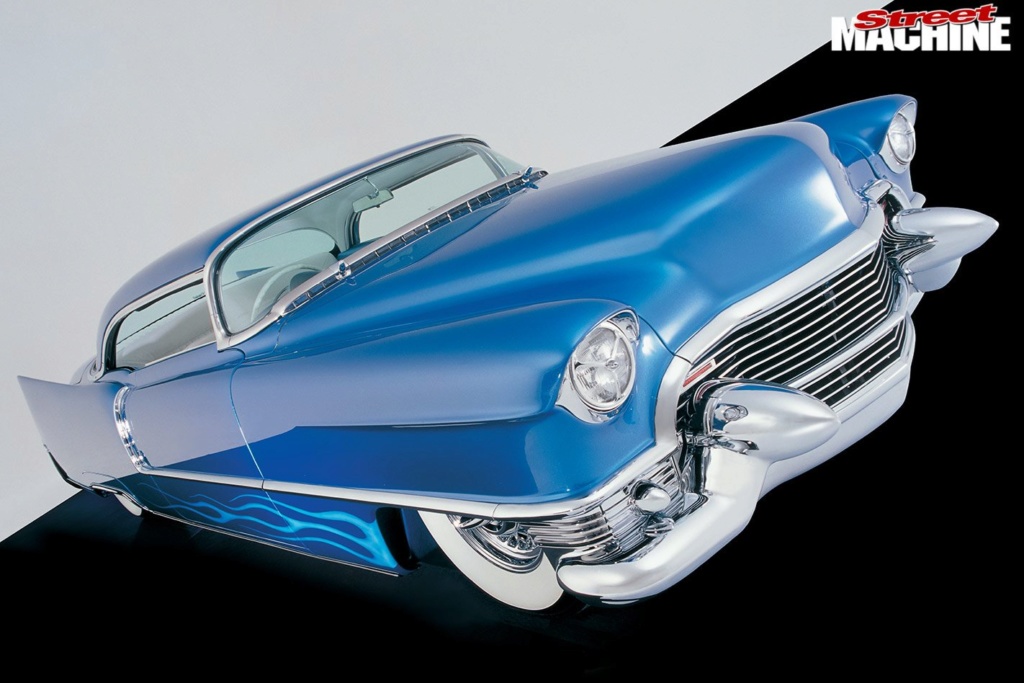 You may notice a hot rod theme here and you'd be right, so when it came time for a change, Mario took his cues from US customising legends John D'Agostino, Richard Zocchi and Rick Dore. They inspired him to build a hard-core custom Cadillac unlike anything ever before attempted here in Australia.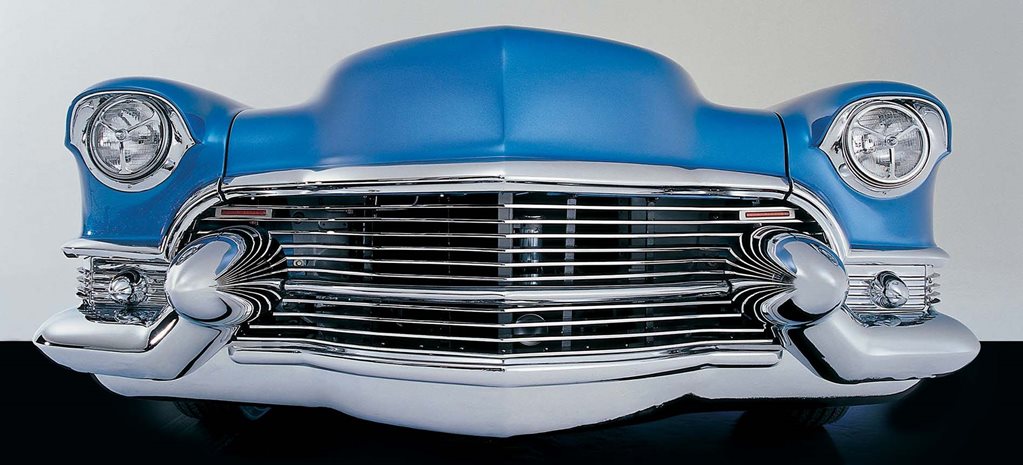 "The '63 Pontiac (SM, Nov '01) was a trial run to prove to myself I could get things right," says Mario. That achieved, he set about fettling this '55 Coupe DeVille his mate Colin Newel had sitting in his back yard for several years.
Dernière édition par Predicta le Jeu 13 Juin - 21:42, édité 1 fois

_________________
We don't care the People Says , Rock 'n' roll is here to stay - Danny & the Juniors - 1958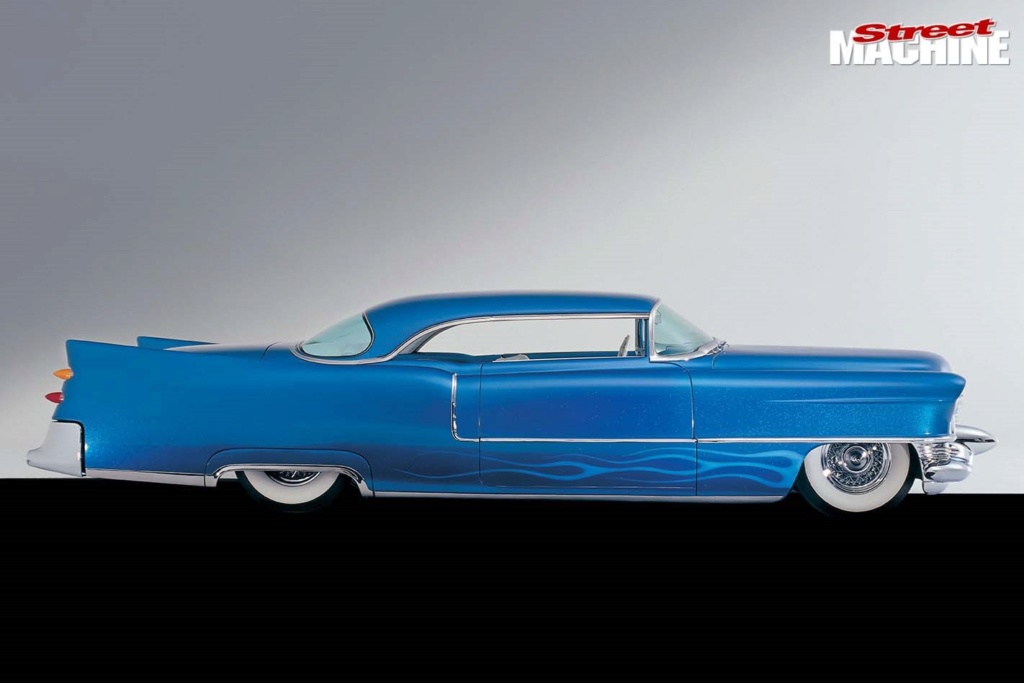 It takes a fair degree of confidence to gas axe such a revered car – roof chops look either trick or shit. However, Orange, NSW-based hot rodder Ron Zelukovic, the metal master behind the preliminary work on Daryl McBeth's two-door Magna, made the four-inch chop look a treat. To do this Ron carefully pie-cut, relieved and added countless pieces before hammer-welding it all back together to create its new flowing line. Following this was the equally difficult task of recontouring all the interior and exterior moulds before Allan McCoy gave them a mirror finish.
Making the shortened front screen was a huge job. Firstly Daryl from Windscreens on the Move (NSW) used the original screen to make a buck of the required shape, from this Stuart Jamieson from Perfect Glass (Qld) then made a stainless steel mould – such work costs around $3000.
"It was the biggest headache of the car, but they did a perfect job," Mario says. The rear window is actually stock but has been laid forward and sunken down into the rear parcel shelf and is urethaned in.
With the chop successfully completed, the '55 was shipped to Zelukovic Smash Repairs (another Orange-based business run by Ron's brother John along with John's son Ben) where the prominent tail fins and bullet taillights from the later '59 Caddy were added. The fins were formed by rolling sheet metal over a fabricated skeleton. Super-fussy Mario wasn't 100 per cent satisfied with the shape of the first set, so had the boys knock up a second set – lots of work but well worth the effort.
Ben tells us the rats had done so much damage to the floor while it was sitting in Colin's yard, they nicknamed it Rat Cad.
"The floor was two inches thick with apricot seeds, leaves and rat shit and was completely rusted out," he laughs. "We fabricated a complete new floor pan."
That done, the bonnet was then shaved to give it a lower, flatter appearance, and gas struts were installed to prop it open. Underneath a one-off apron panel extends from the top of the grille back to the radiator. "We stripped all the junky stuff like the heater box and wiper motor off the firewall and basically threw it over our shoulder," Ben says.
Although it was a huge job, removing the flipper or quarter-vent window gives the Caddy's profile a much cleaner look. Mario, son Andy and Silvano Agazzi spent six months modifying the bailey channels and factory power mechanisms to accept the one-piece glass – supplied by John from Liverpool Glass.

_________________
We don't care the People Says , Rock 'n' roll is here to stay - Danny & the Juniors - 1958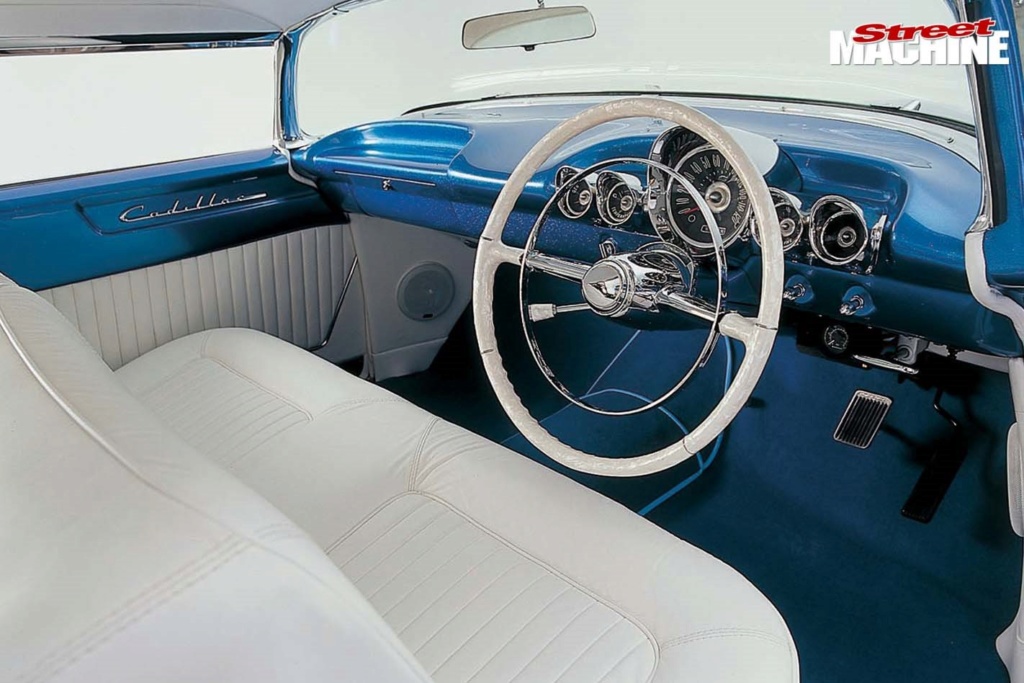 "There're no door handles, I wanted to keep it totally smooth.
Same goes for the side rear-vision mirrors," Mario says, although there's a set of custom bullet mirrors on the way.
Bonnyrigg Smash helped with the bodywork and gave Mario use of their workshop. Mike from Bonnyrigg then applied that custom mix of blue and extra-coarse flake.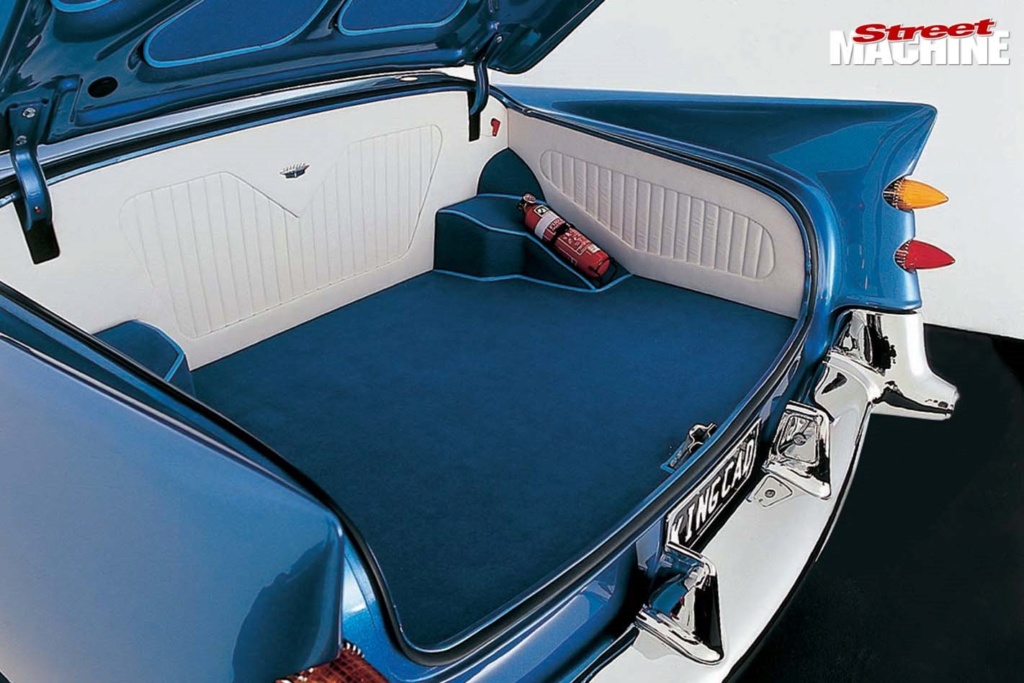 Low is cool and there was never any doubt King Cad was going to be bagged. In preparation John Agazzi rebuilt the chassis before C-notching the rear and raising the driveshaft tunnel to gain adequate diff and tailshaft clearance to sit the car on the deck. Fitting the AirRide bags and shortening the bump stops was enough to adequately drop the front, while Terry Cartwright added Commodore power rack and pinion steering to give the Caddy improved road manners. Finishing off the chassis are those period perfect, 29-inch tall L78/15 Corker Classics supplied by Antique Tyres in Melbourne.
Those huge grille bullets are the '55's trademark and to further accentuate them the horizontal centre bar was pulled back an inch. At either side, the original blinkers have been replaced with Moon bullets with LED blinkers now located at the upper corners of the laser-cut billet grille.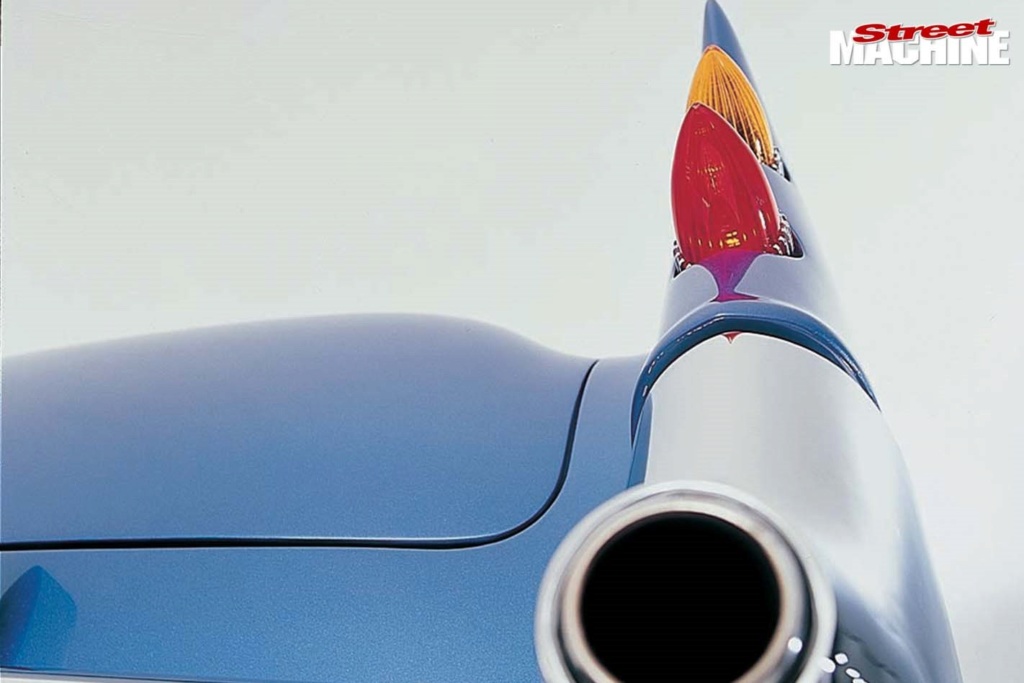 In its day, few small-blocks outgrunted the '55 Caddy's original 331 cuber. Seeing that it was always intended to be a fun custom driver, Mario saw no reason to change things with John Agazzi bringing the factory mill back up to as-new condition – right down to its signature Cadillac rocker covers. Similar story with the rest of the driveline with John giving the factory four-speed auto the same good tart up as the LSD.
Mario loved the bullet gauges from the '59 Chevy and its RHD configuration meant Wayne Colquhoun, who did the right-hook conversion, had less drama. The dash was heavily massaged and rechromed before being grafted into place.

_________________
We don't care the People Says , Rock 'n' roll is here to stay - Danny & the Juniors - 1958
"There's so much chrome and polish in this car, I've lost count of how much money I spent with Swift Electroplaters and Mirror Finish," Mario says. Geoff Low fitted up the Painless wiring loom, while All Trim swathed every soft surface in sumptuous white tuck 'n' roll leather. As a finishing touch, the Cadillac scripts that once adorned the front guards were restored and incorporated into the tops of doors.
"For me the true satisfaction is the appreciation I get when people say, 'Wow, look at this, that's unbelievable'," Mario says. "I'll take it to a couple of shows while it's fresh, but then I want to start cruising it to all the rod runs."
Without the help and understanding of partner Gina and son Andy, King Cad would never have joined Mario's collection of other killer rides. And he ain't finished yet.
"I'm really dreaming about doing an identical '55 Buick," Mario says. See? You just can't have enough cars.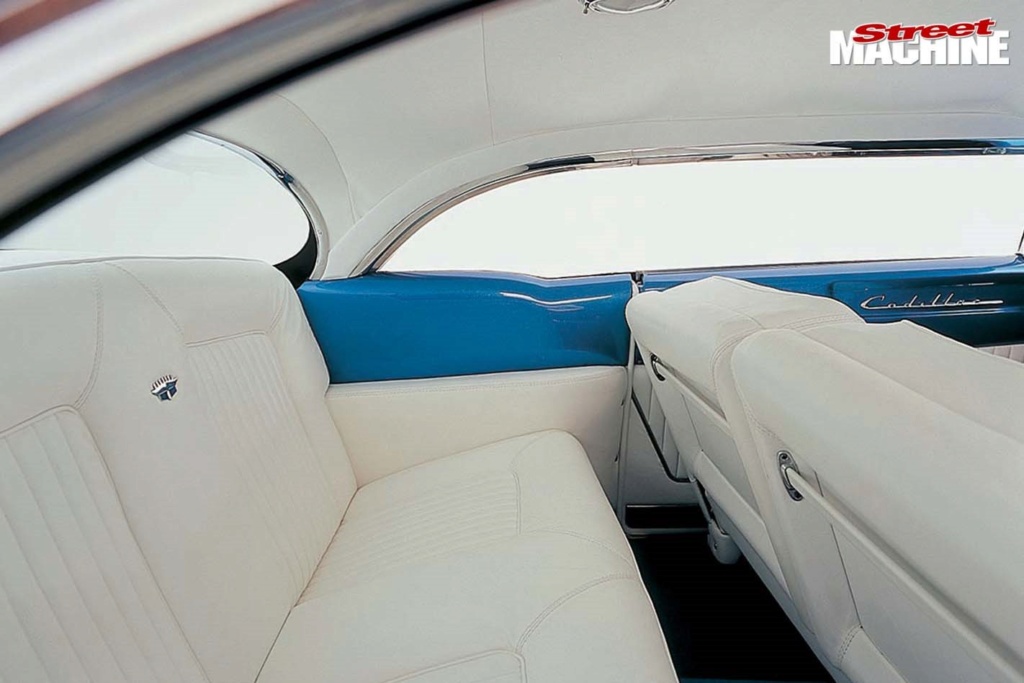 BODY BEAUTIFUL
Four-inch roof chop
Reshaped stainless moulds
Shaved door handles
Custom front windscreen
Laid forward and sunken rear glass
Custom side glass
Side flipper (quarter-vent) windows deleted
Remote solenoid door locks
Custom billet grille
LED front blinkers
Moon bullets under headlights
Shaved bonnet
Fabricated bonnet frame with gas struts
Flattened boot lid
Two-inch rear bumper extensions
Exhaust tips moulded into rear bumper
Custom rear tails fins
Frenched 1959 Cadillac bullet taillights
Four-wheel AirRide suspension system
C-notched chassis
Raised drive shaft tunnel
Custom blue flake paint
Chris Palazzo flame job
Boot mounted fuel filler

_________________
We don't care the People Says , Rock 'n' roll is here to stay - Danny & the Juniors - 1958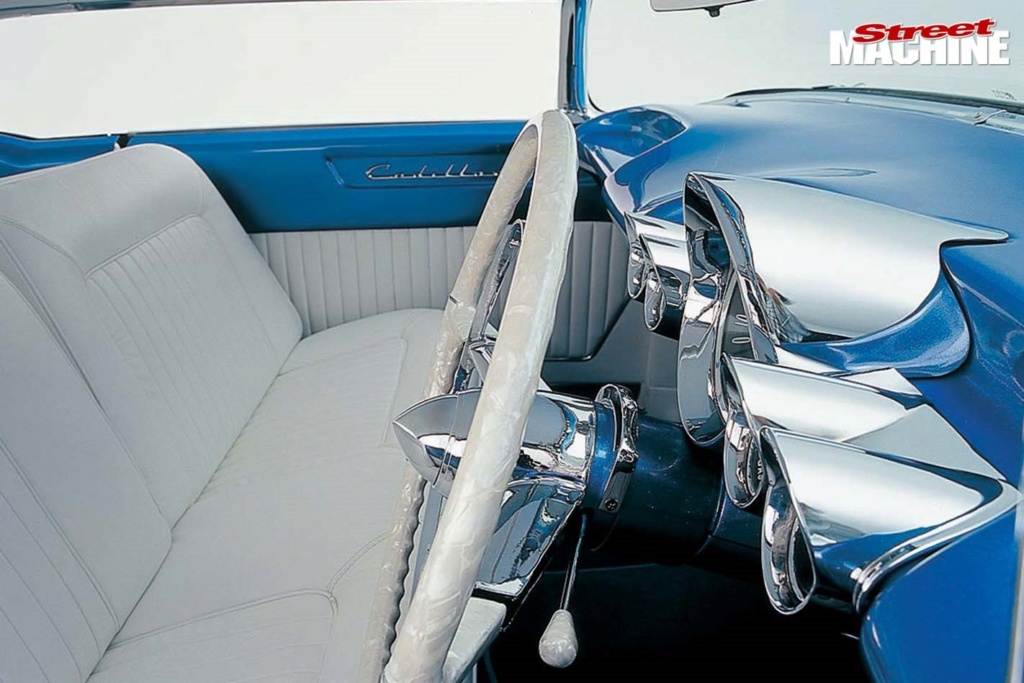 UNDER THE HOOD
Rebuilt and detailed 331 Caddy V8
Shaved heater box
Power steering
Smooth, fabricated firewall
HPC-coated custom extractors
Commodore power rack-and-pinion steering
Relocated electric wiper to under dash
Custom front apron panel (from grille to radiator)
INTERIOR
Smoothed over 1959 RHD Chevy dash
Full custom tuck 'n' roll trim in white leather
Pearl grip steering wheel with moon bullet
Power windows
Hidden A/C and power window switches
Shaved door handles
Remote solenoid door opening mechanisms
Shortened steering column
Hidden Morse cable for auto column shift
MARIO COLALILLO
1955 CADILLAC COUPE DeVILLE
Colour: Custom Blue Flake
DRIVELINE
Engine: 331ci Caddy
Gearbox: Four-speed auto
Diff: Slippery
Suspension: AirRide Technologies
INTERIOR
Seats: Leather covered stock
Wheel: Pearlcraft
Gauges: 1959 Chevy
ROLLING STOCK
Rims: 15x7 Kelsey Hayes
Rubber: L78 15 Coker Classic all 'round
BUILD TIME: Three years

_________________
We don't care the People Says , Rock 'n' roll is here to stay - Danny & the Juniors - 1958
---
Permission de ce forum:
Vous
ne pouvez pas
répondre aux sujets dans ce forum