Custom 1955 Cadillac Coupe Deville built by Brandon Penserini of Altissimo Restoration. I'll let Brandon describe it as he's does so well.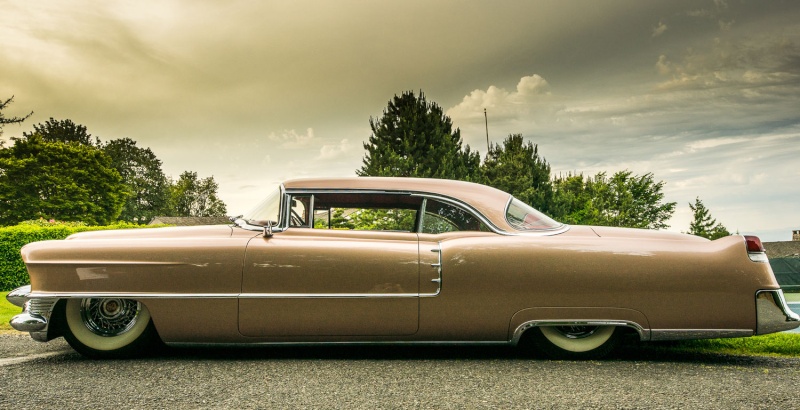 I've been in the restoration and custom paint business for the last decade and a half. During this time , we've won national titles and have had the privilege of showing and winning some of the highest honors in the industry. I have noticed during this time that the quality of custom cars is improving but the art has never quite reached near a restoration quality. So a few years ago I decided to buy a Cadillac and attempt to rattle the custom world and break its barriers of mediocre build standards.
    After six months of looking around the state I found a Cadillac in my hometown of Napa Ca. The car was in fairly good condition, matching numbers, fully documented and belonged to a fellow who collects and restores Cadillacs. We made a a deal and I started replacing inferior parts with even better factory parts. I bought a second car with perfect trim and a better roof for the chopped top. So now we had two cars to work with, both of which had completely original parts.
    Cadillac in the 1950's almost got it right. It was a challenge to improve on a design that was in nearly perfect form. After a year of the finest craftsman in the industry (namely- John Aiello, Raymond Gonzalez and I) working the tedious details of customizing an already gorgeous car, we ended up with a 55 Cadillac that still very much resembled its original form but was completely restyled from bumper to bumper in a very traditional 1950's style custom. All of this work was executed to the the highest standard resulting in a Coupe DeVille that Cadillac wishes they had done.

_________________
We don't care the People Says , Rock 'n' roll is here to stay - Danny & the Juniors - 1958
This 1955 Coupe DeVille is featured in a 1958 Cadillac color called Desert Bronze, hence the name the "Bronze God". All metal, body, paint restoration and customization was done by Altissimo Restoration in American Canyon, Ca.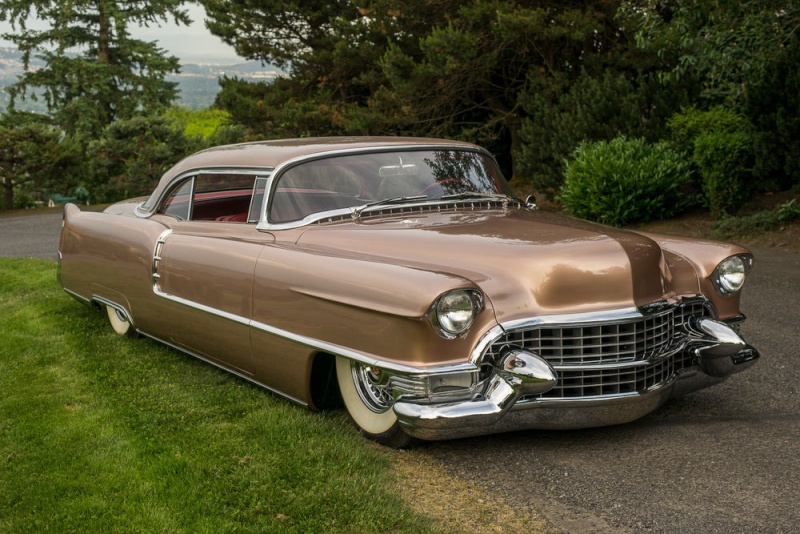 The interior features Italian leather with a 1950's tinsel brocade fabric insert, wool headliner and Italian wool carpet. All the interior was done by Chris Plante at Chris Plante Interiors in Santa Rosa, Ca. 
    The plating was done by Sherms Custom Plating in Sacramento, Ca. 
    The Bronze God competed in 2014 for the Worlds Most Beautiful Custom and has won many awards for paint and best of show. It was photographed by Tim Sutton for Street Rodder Magazine and is expected to be featured in other magazines next year. Please see the build sheet below for all the details in this amazing car.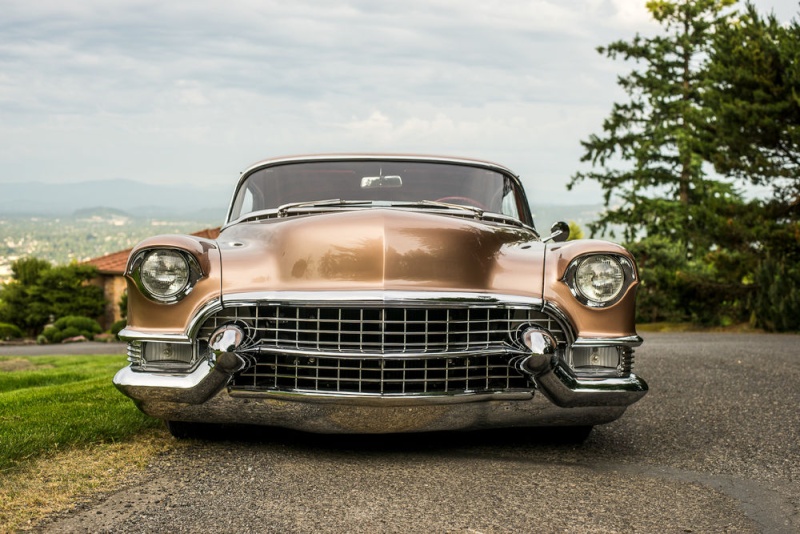 Build Sheet
Body:
- All steel body, using original factory sheetmetal
- 3" chopped top
- Taillights lowered 1 1/2 "
- Custom window stainless and side moldings
- Custom quarter upright moldings using 54 Mercury spears
- Shaved nose
- Shaved decklid
- Shaved bumpers
- Shaved doors
- Bumpers fitted to body reducing the gap
- Rounded hood corners
- Rounded door corners
- Tightened and re- gapped all body panels
- Quartes lengthened 3/4"
- Peaked Quarters
- Peaked Taillight surround
- Lengthened lower quarter moldings
- Custom rear bumper exhaust ports
- All glass cut for chopped top- except rear window
- Vintique 15"wire wheels with Cadillac center caps
- BFG Silvertowns with wide white walls
- All Sherms Custom Plating
- PPG base/clear in Desert Bronze
- All body/paint /build completed by Altissimo Restoration

Interior:
- Italian Leather with 1950's tinsel brocade fabric insert
- Italian wool carpet bound in leather
- Wool headliner
- Trunk upholstered and finished in matching Italian wool carpet and leather
- All interior upholstery done by Plante Interiors
- Insert on dash and door panels in curly maple finished and faded in candy by Altissimo Restoration

_________________
We don't care the People Says , Rock 'n' roll is here to stay - Danny & the Juniors - 1958
Suspension:
- 2" front drop spindles from Fat Man
- Ride Tech (Fox) adjustable shock waves in front
- 3" lowering blocks in rear
- Ride Tech Air over leaf air bags in rear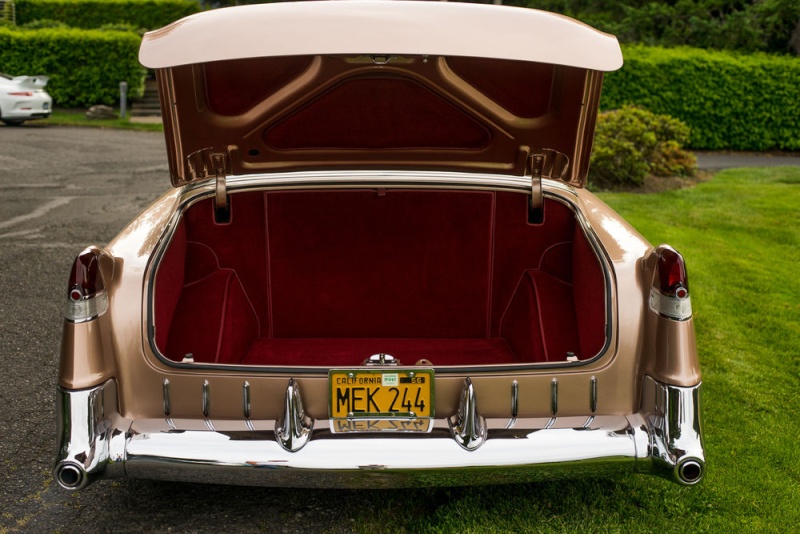 Mechanical:
- Stock motor - rebuilt and balanced by LJ's Machine Shop 
- All mechanicals (starter, fuel pump, brake booster, master cylinder, power steering pump, etc) rebuilt by Mark Karlsson
- Stock layout and configuration to retain period look
- Firewall shaved and all electrical rerouted
- Ignition wires in black cloth
- All fuel and vacuum lines in polished copper
- All hardware, clamps, brackets finished in yellow zinc
- Motor, radiator and peripherals painted in black, ice pearl and cleared
- Lettering on valve covers and air cleaner in copper gold leaf

Sound System:
- Ipod direct hookup into Rockford Fosgate amplifier located in glove box
- 6 x 9 in front dash and center rear ( Rockford Fosgate)
- Matching pair of 6" component on right and left of package tray ( Rockford Fosgate)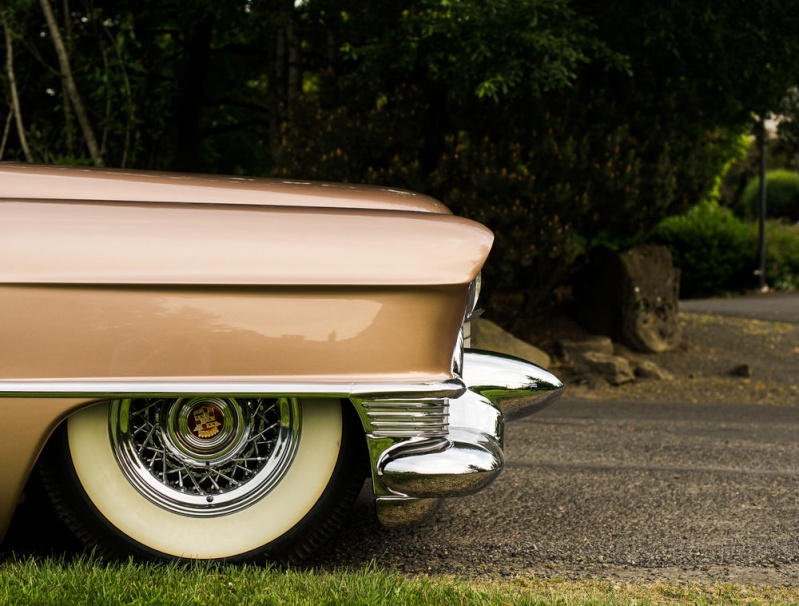 _________________
We don't care the People Says , Rock 'n' roll is here to stay - Danny & the Juniors - 1958

_________________
We don't care the People Says , Rock 'n' roll is here to stay - Danny & the Juniors - 1958

_________________
We don't care the People Says , Rock 'n' roll is here to stay - Danny & the Juniors - 1958

_________________
We don't care the People Says , Rock 'n' roll is here to stay - Danny & the Juniors - 1958
---
Permission de ce forum:
Vous
ne pouvez pas
répondre aux sujets dans ce forum