https://www.whichcar.com.au/features/adam-kylie-perry-wild-custom-fb-holden-tailspin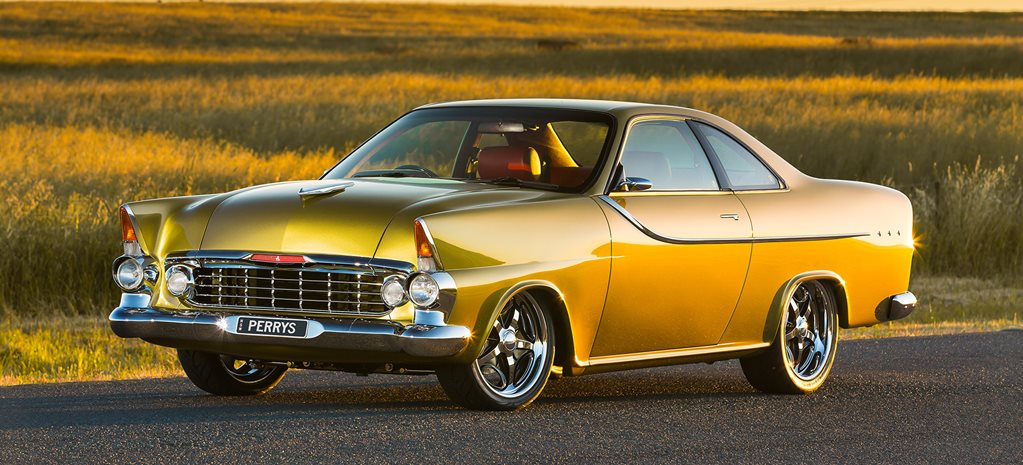 Adam and Kylie Perry's plan for their Tailspin FB was to turn people's perception of custom car building upside down - or should that be back to front?
This article on Adam & Kylie's Tailspin FB was originally published in the January 2017 issue of Street Machine
BORN from a conceptual rendering by Linda Vesperman (the artist formerly known as Steve) way back in the Jan-Feb '94 issue of Street Machine, this incredible back-to-front FB Holden – dubbed Tailspin – was given life by a couple of young street machiners who could barely read when that issue of the mag came out.
Adam and Kylie Perry, from Kambah in the ACT, are in their late 20s, and when they came across Vespo's two-decade-old concept they thought it looked like the perfect candidate for their first full-custom build. They were about to tackle a job that many people with a lifetime of custom car-building experience wouldn't take on.
"A mate of ours had been collecting Street Machine from day one, since Van Wheels," Adam explains. "He was doing some extensions on his house in the room where they were all stored. His wife wanted to extend the kitchen and told him he had to get rid of the magazines."

_________________
We don't care the People Says , Rock 'n' roll is here to stay - Danny & the Juniors - 1958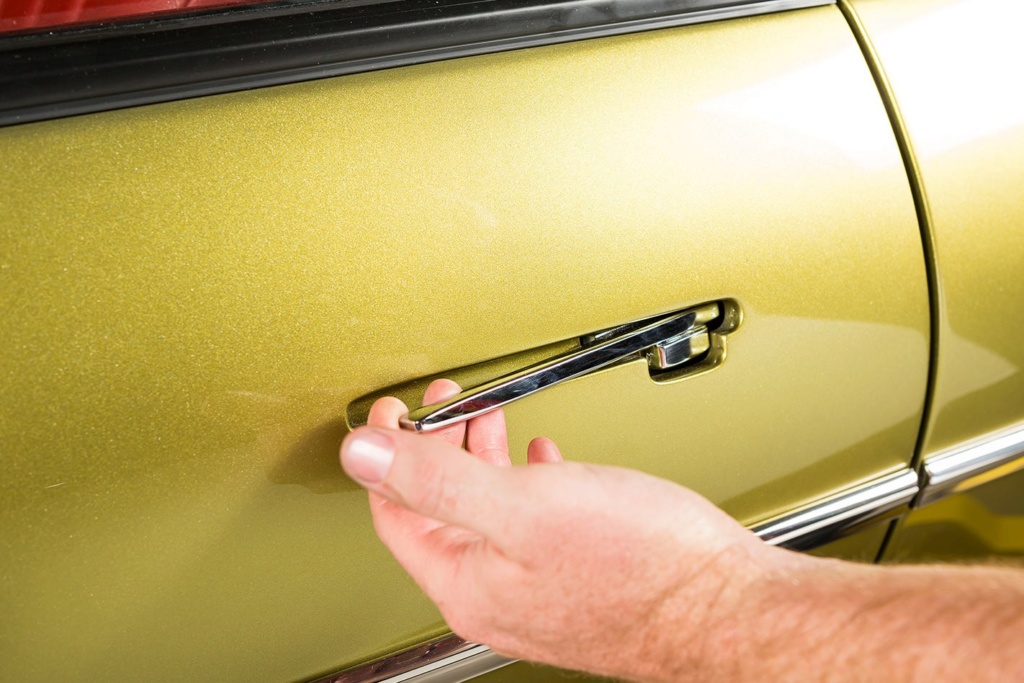 Kylie adds: "We went looking through every Expression Session in those Street Machine mags. We wanted to build something; we didn't really know what, so we were looking for some inspiration. As soon as we came across [Vespo's concept] it was pretty much decided from that point."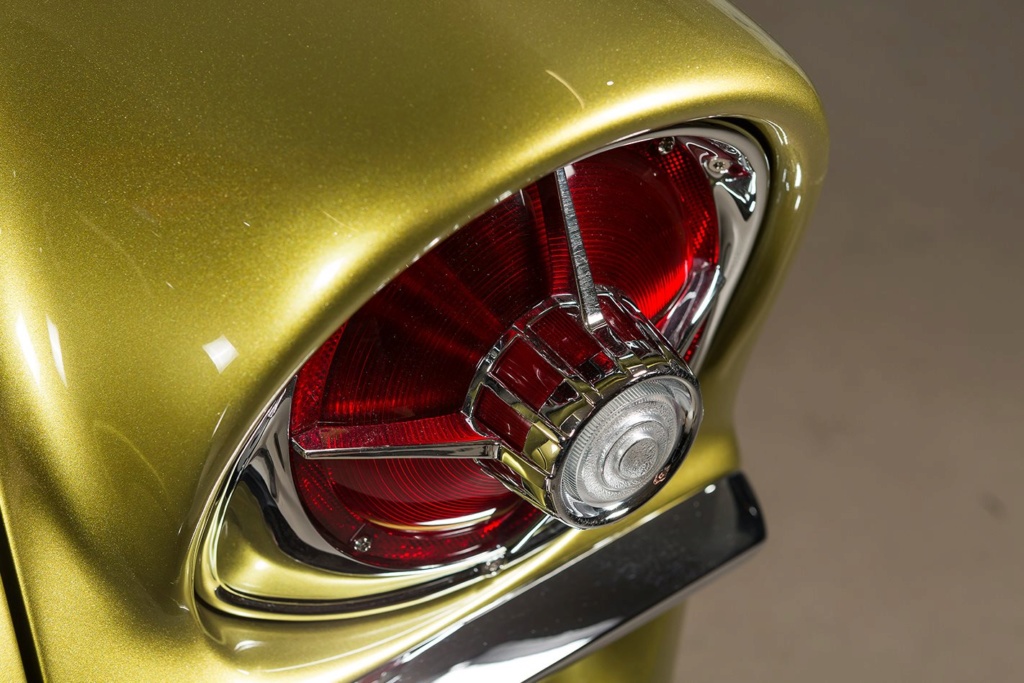 When you say it quickly, it doesn't sound that hard to do: Take an FB Holden, flip it around, put a late-model sports car roof on it and turn it into a two-door coupe. Piece of piss, really.
No, not really. The clever thing about how Adam and Kylie tackled this job was that they didn't just jump in headfirst and then get to a point where they couldn't go any further and had to ask for help. It turns out – unlike many people starting a project – that they knew what they didn't know, so they got the experts involved right from the beginning.

_________________
We don't care the People Says , Rock 'n' roll is here to stay - Danny & the Juniors - 1958
Adam and Kylie spent 18 months planning the build – I mean seriously, who does that? "We bought the shells, then bought a house, built the garage, then got to the point – while we were building the garage – where we approached Howard Astill to do that initial planning before we got started on the tools.
"I think we knew how big an undertaking it was going to be, but we didn't have a huge amount of experience. Ditch Jones used to be in our car club and he recommended that we talk to Howard, and I guess that's what it all started from. Howard just asked us a few questions and probed into what we wanted to do and what we wanted to achieve, and it made us realise how much we weren't prepared. We knew we really had to sit down and think about it before we started."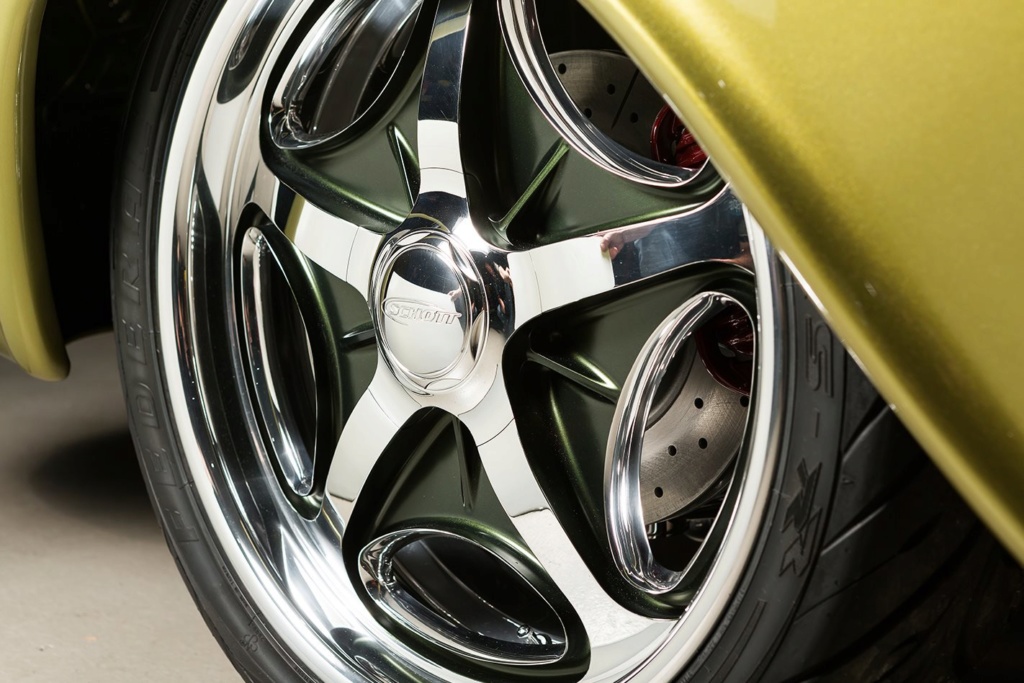 It's clean and simple in the boot, but even the bits you can't see have been trimmed and finished off nicely, including the spare tyre well (see below). The panel on the left hides the battery, while on the right is the inverter so that the car can be plugged into mains power for car-show lighting
The benefit of using someone like Howard, who has decades of experience building award-winning cars, is that he can see the problems you might run into during the build. "He's always 20 steps ahead of you," Kylie says. "I'll never forget some of the first planning sessions where he's asking us questions that were so far down the track I hadn't even considered it. Howard told us: 'You have to at least be thinking about it in the back of your mind, because if you don't have that plan for 20 steps ahead it will really catch you out later.'"

_________________
We don't care the People Says , Rock 'n' roll is here to stay - Danny & the Juniors - 1958
I'd hate to think how many steps there were in creating this car, but I can guarantee it was a lot more than 20. They probably went through the first 20 steps just cutting up the FB, a process that took a lot more thinking than simply figuring out where to plug in the nine-inch grinder! Dissecting the FB down to the bare essentials involved removing the roof, guards and rear quarters so that the donor car's roof could be mocked into place.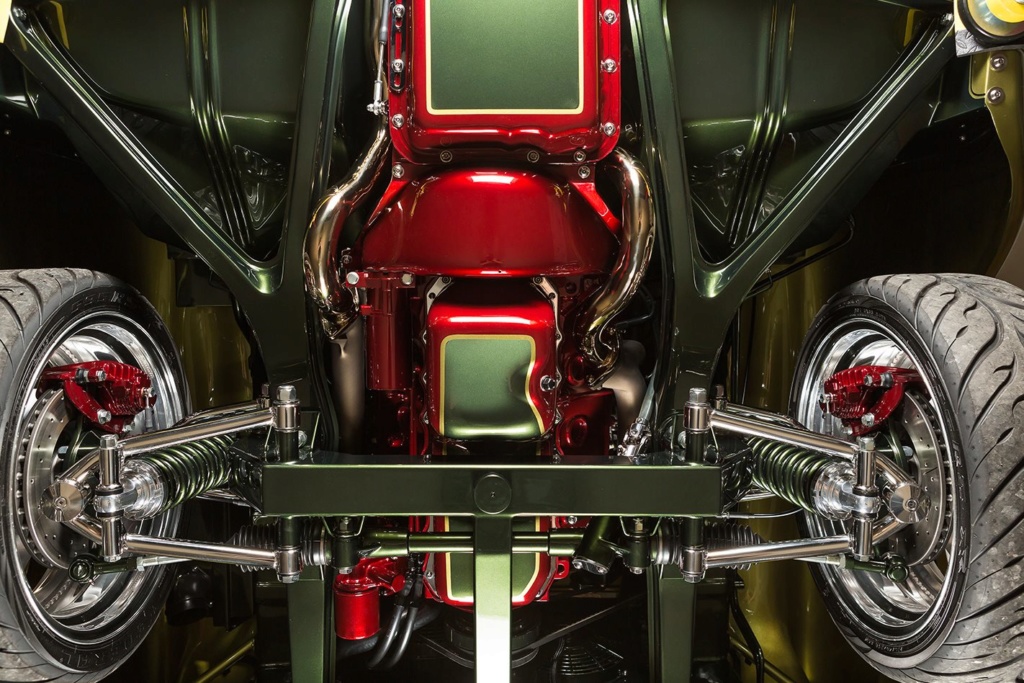 Just selecting a suitable donor was a job in itself, with many hours spent in car parks with tape measure in hand trying to figure out what would fit within the confines of the FB's basic dimensions. In the end, an R33 Skyline was deemed the best choice, and Adam didn't have to look too far to find one: "That was one of my labourer's cars. He'd had the car for a few years and kept driving it to work, so I'd go out at lunchtime and get the tape measure out and make sure it was going to fit the FB. I kept saying to him: 'One day you're going to crash that car and I'm going to buy it off you.' Then he rang in sick one morning and said: 'Ah, I crashed my car last night.' I said: 'Beautiful, take as much time as you need.'"
It's safe to say the FB stops, steers and handles a lot better than a stocker thanks to the Rod-Tech front end, Torana rack and DBA cross-drilled brakes. The three-colour combo has been carried through underneath, with that cheap-and-cheerful tin sump looking a million bucks these days. You'll also notice the pipes have a slight golden hue, a sure sign the car runs
A lot of thought also went into which parts of the Nissan to use. "With the roof, we've kept the pillars and the rear parcel shelf out of the Skyline as much as we could, because from an engineering perspective, we could use all the original seatbelt mounts," Adam explains. "The door seals are all brand new Skyline; it just makes that kind of stuff a lot easier. It did mean when we did things like the bonnet, we had to extend the back of it to match the Skyline glass. Then transitioning from the height of the rear window down to the boot, we used the FB front plenum because we needed to step it somehow."

_________________
We don't care the People Says , Rock 'n' roll is here to stay - Danny & the Juniors - 1958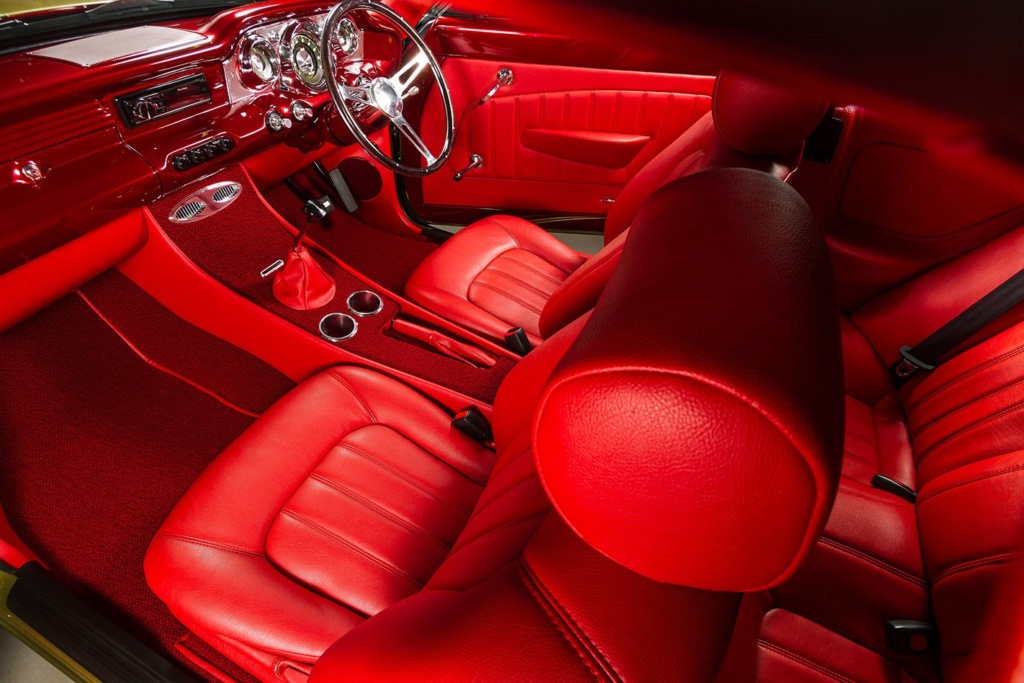 It's quite amazing how much Adam and Kylie learned during this process. Prior to starting they had no real fabrication skills or trade backgrounds; they just gave it a good old Aussie crack. "You've just got to jump in and give it a go, tackle it bit by bit and not get overwhelmed by the whole job," Adam says.
At first glance it might look like an injected 5.0-litre that's been given a nice coat of paint, but there has been a ton of work put into it to bring it up to an elite show car standard. Adam and Kylie were also adamant that the car would have an injected Holden – none of that LS stuff!
Howard's influence came to the fore once again in that regard: "That was something he was really good at – getting us over that initial fear factor, with working the steel particularly: 'Give it a try, what's the worst that could happen? Steel is either going to shrink or it's going to stretch.' You just do the opposite if you need to," Kylie says. "There was plenty of trial and error; we made quite a few pieces more often than once just to get them right. It's having the confidence to just give it a go, and that obviously grows throughout the build as you get more practice."
While the car might not look quite as wild as Vespo first imagined it, there were a few contributing factors that dictated how it had to be built. Keep in mind that the only drawing they had to work off initially was the front three-quarter view that appeared in the magazine. Adam and Kylie contacted Vespo early in the design process with the intention of getting more detailed drawings, but as wild as that initial line drawing looked, it didn't quite meet a few of Adam and Kylie's requirements.

_________________
We don't care the People Says , Rock 'n' roll is here to stay - Danny & the Juniors - 1958
Adam explains the dilemma: "Vespo did the line drawing for us, but it just wasn't practical for us to build that car as it was drawn. The track, the wheelbase, the head clearances, it just wasn't going to meet the rulebook. We were building it off an FB base, whereas the drawing was based off a 300ZX with EK panels grafted to it. We're Holden people; we didn't want to drive a Nissan!"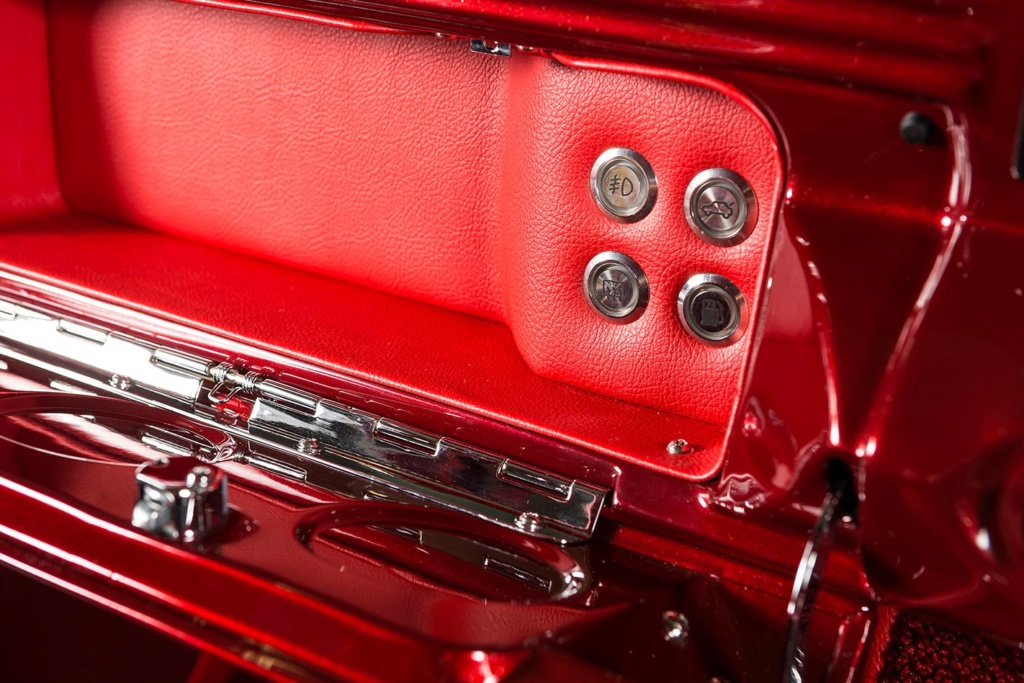 While it's a very modern-looking interior, Adam and Kylie did a great job of integrating the EK dash and door panels into the cabin space. There's a really neat Vintage Air a/c installation, while a Pioneer stereo cranks the tunes. The plan was always to have a red interior, and they stuck to their guns
While it would have been possible to build the car using a custom chassis – as was suggested in Vespo's original drawing – Adam and Kylie wanted to keep it as a modified FB, so they were limited to how much they could change the car and that's why it still runs a leaf-spring rear end. It goes without saying that an engineer was involved throughout the process, and Adam and Kylie found a great one in the form of Athol Mullen.
The other major change from the original drawing was the colour. Back in the 90s there weren't too many people painting their car metalflake purple, but you couldn't say that about the past few years in the custom car scene. Picking a colour is one of the toughest jobs of any build, and Adam and Kylie deliberated long and hard, wanting something modern but timeless.
"We pretty much picked the colours about two years ago, but when it came time to paint the car we looked at the spray-outs again and, while they were very similar colours to what we have now, they just didn't pop," Adam says.

_________________
We don't care the People Says , Rock 'n' roll is here to stay - Danny & the Juniors - 1958
Kylie adds: "We had the theme for the colours but the products that we ended up using weren't around back then, so John Hristias [from PPG] sort of jazzed it up and came up with something that really popped. All the different coloured glasses and pearls, it brings out so many different colours in different light – it's incredible."
One thing they were set on was a red interior for the car, so the colour they picked had to work with that. The colours chosen are custom mixes from PPG and use new pigment technologies and Crystallance glass-flake custom colours from the Vibrance Collection, as well as coloured aluminiums from the Deltron system. Each colour includes glass-flake pigments, which means all three hues used on the car reflect in the same way. All of the driveline-painting duties were handled by Howard, who also went along to the PPG training headquarters to help out John when it was time to lay the colour on the body.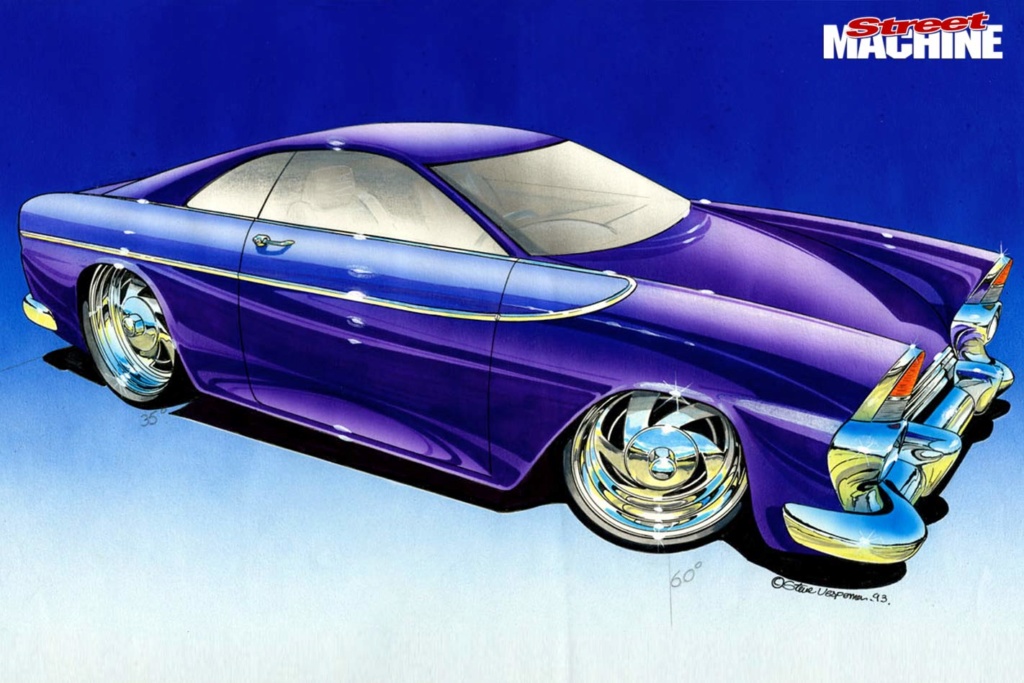 All up, the car was three-and-a-half years in the making and is an amazing feat of engineering, design and bodywork, which has been highly rewarded, picking up a bunch of silverware at MotorEx Melbourne 2016. With a few more shows to get under their belts yet – including Summernats, where they'll definitely be having a crack at Grand Champ – Adam and Kylie are itching to get Tailspin out and cruising. That surely will make some heads spin – which was the plan all along.

_________________
We don't care the People Says , Rock 'n' roll is here to stay - Danny & the Juniors - 1958
SPECIFICATIONS
ADAM & KYLIE PERRY
FB HOLDEN SPECIAL
Paint: PPG Vibrance Green Gold, Dark Olive Green, TSP Red Pearl Glass
DONK
Type: Holden red 308
Inlet: VN
Heads: VN
Valves: VN
Cam: Crow Cams
Pistons: Mahle
Crank: 308
Conrods: 304
Radiator: Modified VN V8 radiator, twin 10in thermos
Exhaust: Cast-iron headers, 2.5in single stainless exhaust
Ignition: VN
SHIFT
'Box: Turbo 700, Stage 2 shift kit
Converter: TCE 2500rpm stall
Diff: BorgWarner LSD
BENEATH
Front end: Rod-Tech tubular IFS
Shocks: Rod-Tech coil-overs (f), Monroe Gas Risers (r)
Steering: Torana rack, Ididit tilt column
Brakes: DBA cross-drilled and slotted discs (f & r)
ROLLING STOCK
Rims: Schott Velocity; 18x7 (f), 18x8 (r)
Rubber: Federal; 215/40R18 (f), 245/40R18 (r)

_________________
We don't care the People Says , Rock 'n' roll is here to stay - Danny & the Juniors - 1958
Sujets similaires
---
Permission de ce forum:
Vous
ne pouvez pas
répondre aux sujets dans ce forum