Dernière édition par Predicta le Ven 14 Déc - 20:36, édité 1 fois

_________________
We don't care the People Says , Rock 'n' roll is here to stay - Danny & the Juniors - 1958
1965 Mercury Comet Cyclone Race Car
This 1965 Mercury Comet Cyclone was purchased by the current seller when it was featured as a BaT Exclusive in August 2010 (see listing and Success Story). The car has since had the drivetrain, suspension, brakes, and steering rebuilt. It retains the 13″ Baer brakes, 347-inch small block, toploader, and TCP coil-overs that set it apart from most of the Falcons and Mustangs it runs against. All fluids are new and the car is ready to go. It is displayed below with all current photos, and is available near Laguna Seca raceway outside Monterey, California for $30k.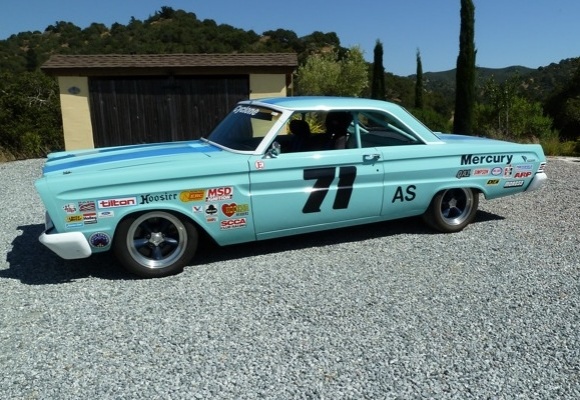 The full build sheet speaks for itself, and makes the car an impressive performer. Here is the list of what has been refreshed by the owner:
■New rotors and pads (bedding time only)
■New rear shoes (not yet installed)
■Front wheel bearings and seals replaced
■Steering box rebuilt, idler arm and track rod replaced
■New rod ends and bump-steer kit installed
■Rear springs re-arched
■All braided fuel lines replaced
The car retains all the quality features from when purchased two years ago, including:
■Custom subframe connectors
■Crites fiberglass AFX Ram Air hood
■Lightweight fiberglass bumpers
■12 Gallon Fuel Safe cell
■Simpson 5-Point safety harnesses for driver and passenger
■Ford 9" Rear w/ 4.11 and Detroit Locker
■Summers Brothers 28-spline axles
■3" aluminum driveshaft with safety loop
■4-leaf rear springs with bronze bushings
■QA1 Double adjustable rear shocks
■7/8" Addco rear sway bar with poly bushings
■1-1/4" Front sway bar with poly bushings
■Total Control Products front coil-overs, control arms and struts with poly bushings
■Aldan Eagle double-adjustable front shocks
■Vintage 45 8×16 Aluminum wheels (plus two spares)
■245X45X16 BFGoodrich G-Force R-1 Tires
■Ford Motorsport brake proportioning control
■Baer 13" Track System front disc brakes with Hawk pads
■3" Cobra Automotive front brake ducts
■11" X 2-1/2" rear drum brakes with Porterfield R-4 compound shoes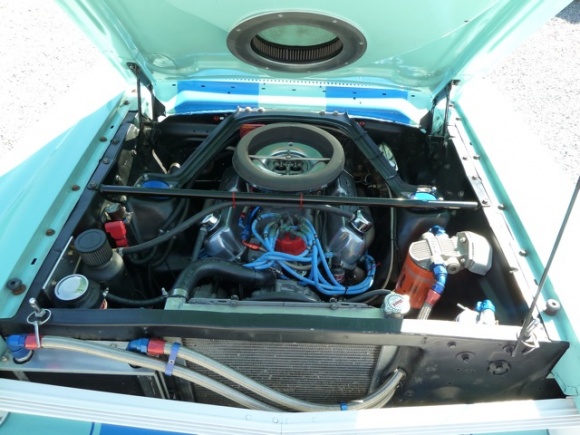 The interior features a Kirkey aluminum race seat and retains a passenger seat. Autometer gauges with an adjustable shift light reside beind the 13″ Grant GT steering wheel, and a wink mirror resides overhead. The 10-point roll-cage is color-matched to the body, and both a 10 lb. on-board fire system and a 5 lb. hand-held bottle, both from Safecraft, have been installed.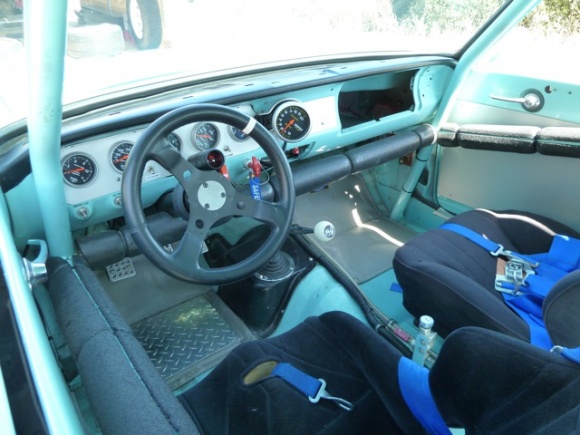 The 347-inch engine is based on a 302R block, and is proven to 7000 rpm producing over 500 horsepower. The build sheet is as long as your arm, so here are the basics, and the seller is open to any questions:
■Professionally rebuilt with pistons and roller-rockers also replaced
■750 CFM Holley 4150 carb
■MSD Distributor and 6AL electronic ignition with Blaster coil
■Holley Electric fuel pump and regulator
■New McLeod clutch disk and pressure plate
■Aluminum flywheel
■McLeod scattershield
■McLeod high-torque starter
■Griffin aluminum 2-row cross-flow radiator
■Twin electric fans
■Setrab 25-row remote oil cooler and fan
■Braided stainless steel lines with AN fittings
■Remote mount Fram HP-6 full-flow oil filter
■Accusump 3-Quart pre-oiling system
■Hooker headers and 3″ dual exhaust
■Quad muffler exhaust meets Laguna Seca 92DB requirement
■Open exhaust pipes also included
The transmission is a David Kee race prepared 4-speed toploader with a Hurst Competition shifter that has been re-bushed, serviced, and adjusted.

_________________
We don't care the People Says , Rock 'n' roll is here to stay - Danny & the Juniors - 1958
This 1967 Chevrolet Camaro was raced in the Northeast ever since its build was completed in 1971. It has been closely patterned after the Penske Sunoco team cars. Find it here on eBay out of Santa Clarita, California.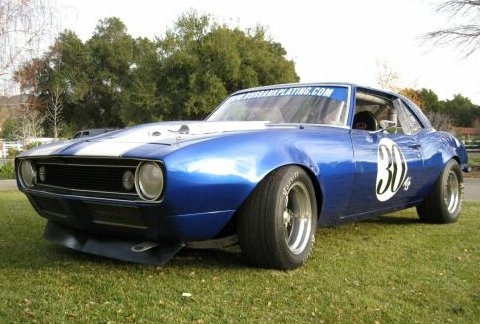 We love Camaros that have been set-up for road racing. The mild fender flares allow room for some serious Hoosier rubber on this car, and this Dodge Viper GTS blue is slightly lighter than the Sunoco cars. All the exterior modifications on this car are very tasteful.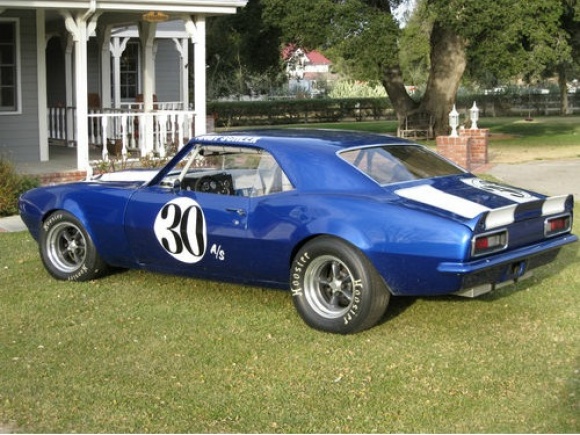 We like the simplicity of the cars we see in vintage photos. The shot above shows this car in its early 70′s trim, apparently ready to race in Canada with several maple leaf logos. The look of the front of this car with covered lights and deleted front bumper is very similar to the original set-up above.
The interior if this car is impeccable, and we love the clean white finish. The cage is very complicated but is claimed to be the exact design of the Penske cars. The onboard fire system, brake adjustment, and inboard stainless braided lines are all nicely executed.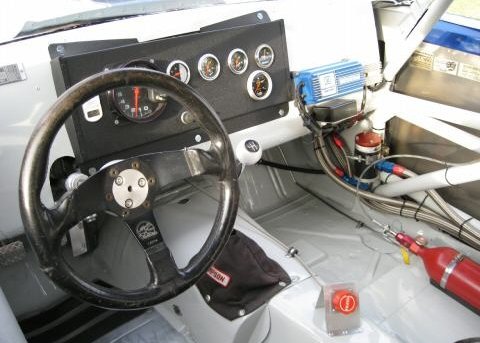 The engine is an SVRA-legal 302 with 4-bolt mains and a spectacular 580 horsepower. It is backed by a trick Jericho transmission with a Hurst shifter. The cowl induction is custom fabricated and looks very nice.
This car has all the right parts and is very well built. The only thing it is missing as actual Trans-Am race history from pre-1971, but the SCCA history does make it nearly as legitimate. This would be a great Group 6 car, but should not be purchased by a beginner.

_________________
We don't care the People Says , Rock 'n' roll is here to stay - Danny & the Juniors - 1958
This 1968 AMC Rambler has been given a thorough restoration in the style of the Hurst SC/Rambler cars, but might be even better given its fuel-injection and 5-speed transmission upgrades. We like the real Hurst cars, but nobody drives them, and this one can likely be had much cheaper and will be a better performer. All that plus a hot 390 AMC V8?
Okay, so the patriotic colors and hood snorkle are a bit garish, but we think they are great because when painted all white or pale yellow these cars can be forgettable. This one looks strong over 5-spoke wheels, and we would enjoy telling people that we drive a Scrambler instead of a Rambler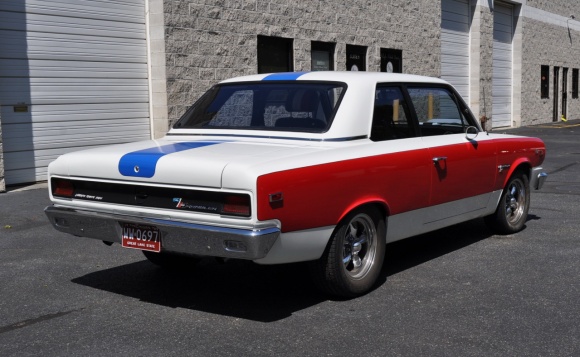 The interior is really well done with nice bucket seats and a clean dash. We'd lose the Grant wheel in favor of something more low-key, or maybe even the stock wheel. The Edelbrock fuel injection programmers are a selling point, and we suspect that they can be detached or hidden when not in active use.
The 390 V8 is nicely warned over with large exhaust and a mild cam, but our favorite upgrade is the electronic fuel injection. This system still hides beneath the stock looking air cleaner but gives far better fuel control and tuning than a carburetor. Just this addition also gives us more faith in the build, as it isn't something a cheapskate would add.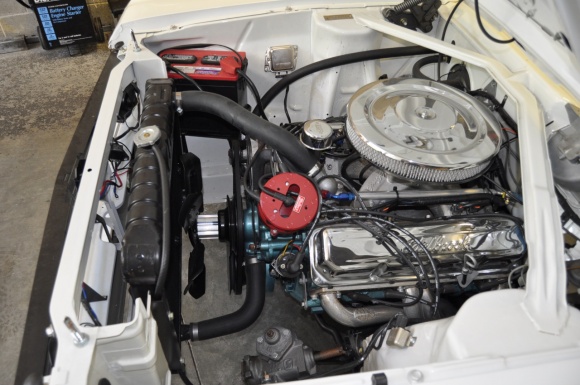 This is a cool little car, and the V8, 5-speed, and 3.70 positraction axle more than back-up the flashy paint scheme. Drive it to work all week and take it to grudge night on Friday!

_________________
We don't care the People Says , Rock 'n' roll is here to stay - Danny & the Juniors - 1958
This 1964 Chevy Corvair coupe looks terrific and has was built into the current vintage race configuration in 2001. According to the owner it has since run at Lime Rock, Pocono, VIR, Summit Point, BeaveRun, Blackhawk Farms, and Monticello Motor Park. He says that it is never the fastest at the track but is never the slowest, and we really like seeing one of the early body Corvairs prepped for performance instead of the more commonly modified later cars.
The car has the nickname the "Plain Brown Wrapper." It was painted 1964 Desert Beige, and the seller says that the 1964 coupes were the lightest of all the Corvairs. This one weighs 2314 lbs.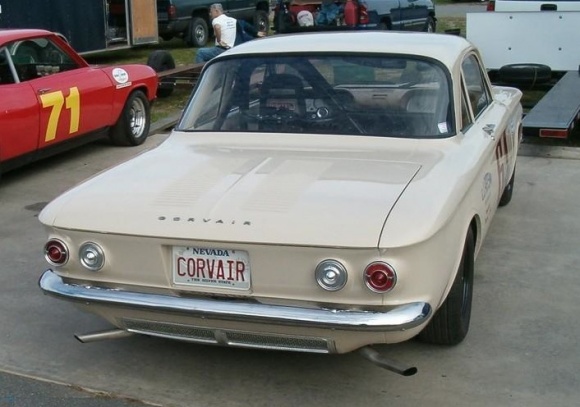 The interior has a clean vintage look thanks to custom carpeting and a vintage wood wheel. The stock seats are included but have been swapped out for a single Kirkey race seat. We've always dug the round dials of this dash design.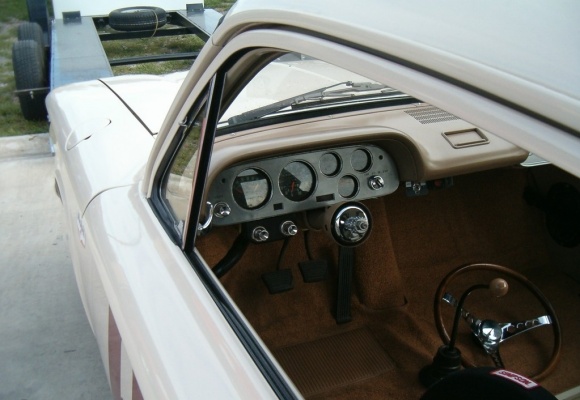 The engine bay looks far too clean for a car at this price point. We love the look of open K&N's on these flat-six engines. The stock low-spec engine was swapped out for a four-carb model, and the 3-speed transmission was also swapped for a 4-speed.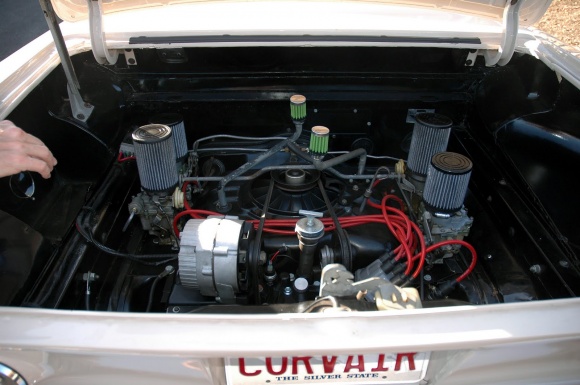 This is a great looking car that has the right privateer look, as if it might have shown up at a track looking like this in late 1964.

_________________
We don't care the People Says , Rock 'n' roll is here to stay - Danny & the Juniors - 1958
The 1st Fuel Injected Corvette Factory Race Car built by Chevrolet Corvette Engineering!
In Storage since 1958 and not started since 1967.
Ordered up from the St.Louis Corvette plant in mid November 1956 under Chevrolet Workorder #17792 and shipped to Engineering in Warren, Michigan to be prepped for the December 7th 1956 Nassau, Bahamas Governors Trophy Race. The final FIA sanctioned race of the calender year and social event of the racing season...to introduce the new Rochester Fuel Injection so important to Ed Cole head of Chevrolet.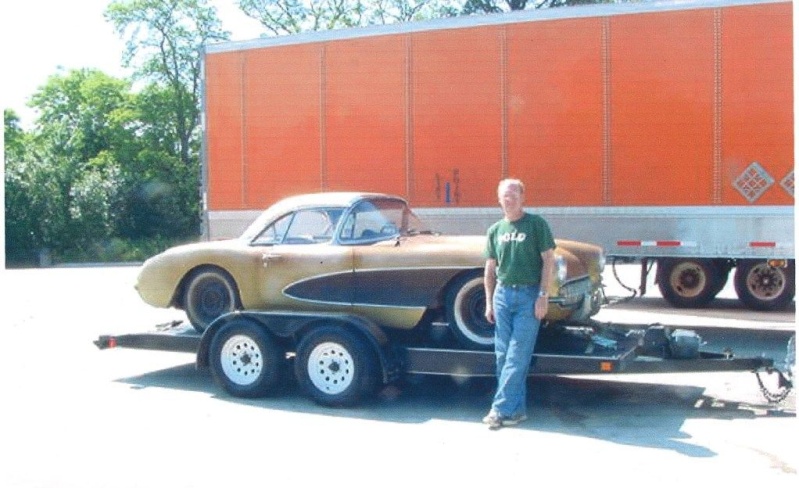 Featured in major Corvette magazines, Ken Kayser's History of Rochester Fuel Injection, NCRS Restorer, Racing in the Bahama's by Terry Oneil, barn find book by Tom Cotter etc..and Corvette News Volume 1 #1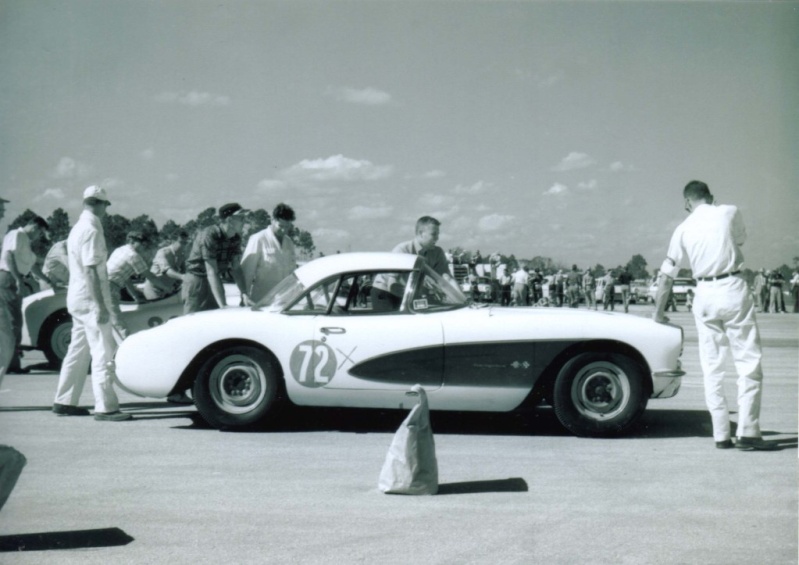 Two time Bloomington Gold Special Collection!
The only known unrestored 1956/1957 Corvette factory racecar retaining its original drivetrain...to include the original prototype Fuel Injection unit, Engineering engine, only known existing prototype Air Box air meter extension, original interior, special engineering short steering column, pre production big brakes, GM part # Sun tach, original screen to keep sand out of the radiator, roll bar and more.

_________________
We don't care the People Says , Rock 'n' roll is here to stay - Danny & the Juniors - 1958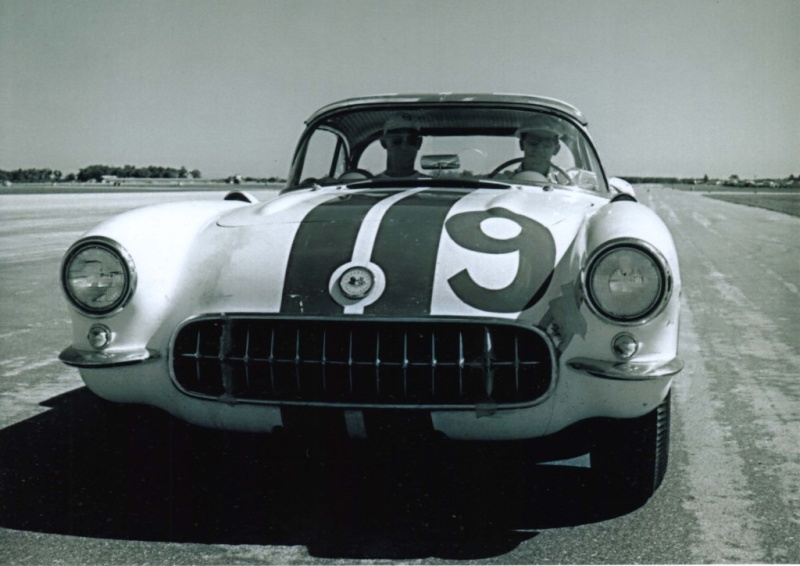 I have resisted restoring the car over the past 10 years.. the new owner can keep as is or restore and enjoy all the attention that goes with owning this very special car.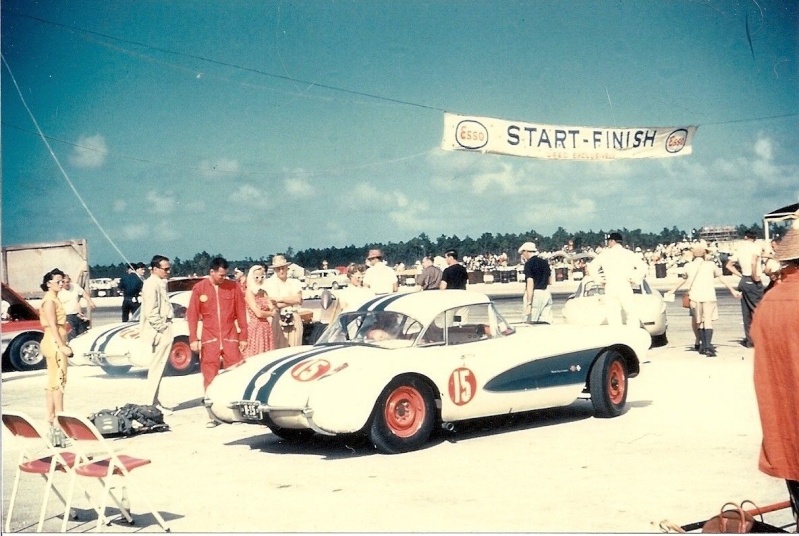 It took me almost 10 years but I now have film of the car at Nassau, at New Smyrna ( middle weeked of the Feb. 57 Daytona Speed Trials 1st ever NASCAR Sports Car race ) , at Daytona on the beach and at Sebring. Shortly after buying the car and showing it at the Bloomington Gold Special Collection..I was contacted by GM. Over a period of a few months they provided me hundreds of Vintage Photo's. It is time for me to retire andlet someone be the new owner/custodian.
I will post a few pictures and later add the film links. Purchaser will get everything that goes with the car. If you like a Special Bonus feature..the hardtop retains it original headliner. I was advised years ago that in 1956/1957 Corvette Hard Tops had the last 4 digits of their VIN # handwritten on the underside manufacturer label prior to installation of the head liner. If by chance the hard top got swapped with one of the other two sister Nassau cars..it could identify one of those two cars still missing after all these years.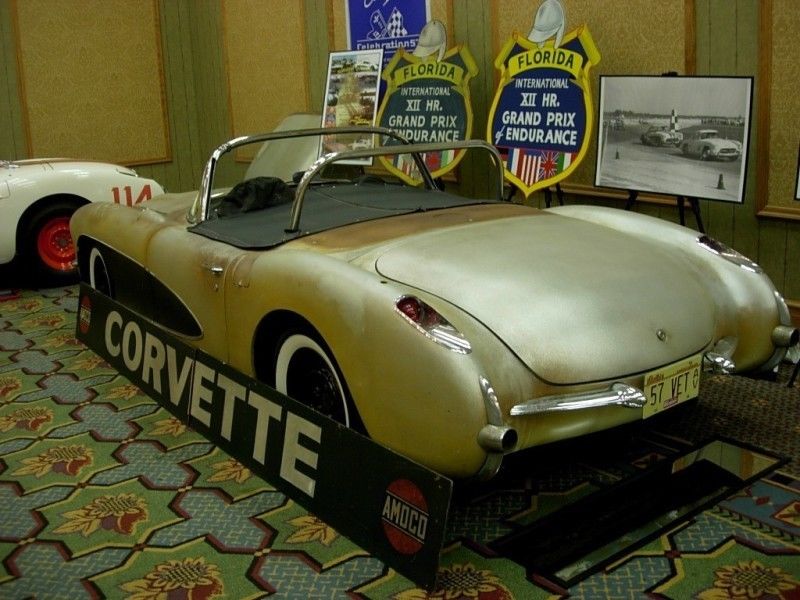 _________________
We don't care the People Says , Rock 'n' roll is here to stay - Danny & the Juniors - 1958
---
Permission de ce forum:
Vous
ne pouvez pas
répondre aux sujets dans ce forum