Je viens d´apprendre la mort de Johnny Hallyday, il avait 74 ans, même si certain le renie maintenant les Rockers de banlieue qui sont sur les 50 ans ont tous écouté, chanté et dansé avec Johnny Hallyday, moi le premier, même si j´ai toujours été plus branché par Eddy Mitchell et ses chaussettes noires, a la TV3 (Télévision de Catalogne) ils viennent de donné la nouvelle, comme toujours quand t´il parle sur le Rock and Roll avec des erreurs, dire que Johnny Hallyday fue le pionniers en France du R&R est faut, au milieux des années 50s des artistes Français jouait déjà du très bon Rock and Roll, mais bon, c´est une autre histoire, aujourd´huit 6 décembre 2017 plusieurs génération Française de fans de Rock and Roll pleure et sens aucun problème je le dit et je n´est pas honte pour, sens être Français je fait partie d´une de c´est génération.
Dj Eddie-Cesc

Dj Eddie-Cesc




Messages

: 490


Date d'inscription

: 03/07/2015



Noir c'est Noawr...



Y'ya pu d'espwar...



=> Le jour de la mort de Johnny...
_________________
Si vis pacem, para bellum !....................................................

Magic-Tonio




Messages

: 191


Date d'inscription

: 27/02/2013



Tu as bien fait de lui rendre hommage par ce post c'est le représentant international de ce que fut le début du rock 'n' roll en France.

_________________
We don't care the People Says , Rock 'n' roll is here to stay - Danny & the Juniors - 1958
Pour ceux qui ont quelques interrogations sur le déroulement de la carrière de Johnny, voici la
Saga hommage Johnny
concoctée par son ami
Georges Lang
qui officie sur RTL depuis bon nombre d'années en tant que grand
spécialiste de la musique Américaine. Cette saga est basée sur un coffret spécial remasterisé par le Club Dial
à l'occasion de la sortie des coffrets Luxe sur l'histoire de Johnny. L'histoire dure plus de 6 heures et fait le point précis
sur la carrière de l'artiste. Discographie, biographie, anecdotes interviews de Johnny et de nombreuses personnes
qui l'ont côtoyé.
(6H30 d'écoute - 370Mo d'espace disque.)
Have fun !  

Podcast à écouter OKLM !
=> LA_SAGA_INTEGRALE <=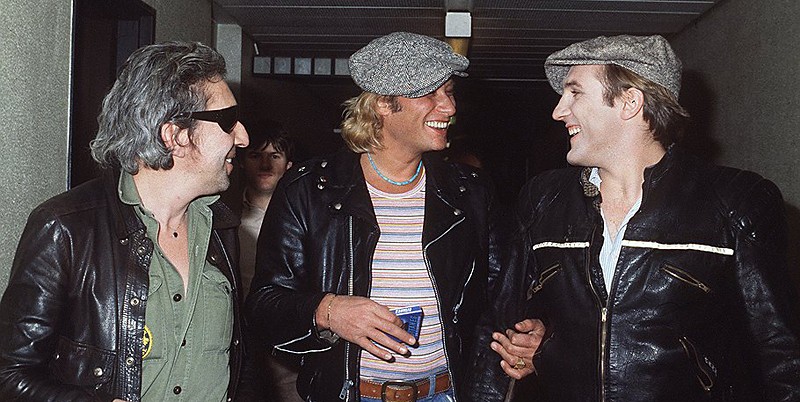 _________________
Si vis pacem, para bellum !....................................................

Magic-Tonio




Messages

: 191


Date d'inscription

: 27/02/2013



Salut , j'ai rencontré Johnny a plusieurs reprises , deux fois lors d'apéros sans oser lui parler malgré ma proximité avec Adeline, Sophie favier ( amie du couple)et des mebres de son club motos , et lors de l'Iron Power Show ( course de dragster motos au circuit du castellet en 1992)j'ai discuté avec lui au moment ou son club partait ( les desperados) , il etait ennuyé car il ne se rappelait plus avec quelle moto il etait venu .Cela m'a intriguait et lui ais posé la question , en fait des membres de son club lui ont prété une moto pour rouler de l'aedrome ( d'ou il avait atterit)et le circuit , et etant d'origine il ne savait plus a quoi elle ressemblait .Je lui ais conseillé d'attendre que tout le monde monte sur sa bécane et de prendre celle qui restait .
Ca la fait rire mais il a suivi mon conseil .Tchao .


_________________
Je n'ai pas de 32 mais je suis heureux , je n'ai pas d'H D mais j'ai la santé ....................

christodaix




Messages

: 23


Date d'inscription

: 16/01/2018


Localisation

: vitrolles



Sujets similaires
---
Permission de ce forum:
Vous
ne pouvez pas
répondre aux sujets dans ce forum