Johnny Powers est probablement avec Ronnie Self et Benny Joy l'un des chanteurs de rockabilly et white rock les plus sauvage des fifties, son incroyable et fantastique titre
Long blond hair
est absolument incontournable et joué par toute les formations de rock 'n' roll digne de ce nom.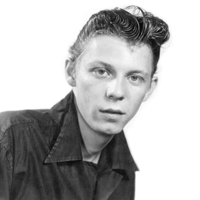 Johnny Powers de son vrais nom John Leon Joseph Pavlick est originaire de Detroit (Michigan) ou il nait en 1938. Ces premiers contacts avec la musique il les doit à la radio WDOG ou il écoute des chanteurs country. En 1954 il devient membre d'une formation country locale Jimmy Williams and the Drifters. Mais c'est aprés avoir écouter
Baby she's gone
de Jack Scott qu'il s'intéresse au rock 'n' roll, c'est avec la volonté de faire du rock n'roll qu'iml auditionne en 1957 auprès du Fortune records et qu'il enregistre pour leur label Hi-Q   et qu'il enregistre le simple
Honey Let's go (to a rock n'roll show)
/
Your love
, grâce à des prestations dans des télévisions locales et une bonne promotion il devient une vedette locale son groupe Johnny Powers and his Rockets est formé de Stan Getz ( qui a joué avec Jack Scott) à la guitare, Marvin MLaynard à la basse et Clark Locker à la batterie.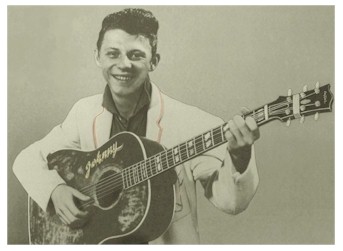 C'est en 1958 pour le label Fox qu'il enregistre le fameux simple
Rock rock
/
Long blond hair and rosy red lips
qui devient un tube régional dans différentes parties des USA (atteignant à Seattle la troisième place des charts!!)
Et au début de l'année 1959, il enregistre pour Sun records des titres comme
With your love, with your kiss
et
Be Mine
.
Et de retour à Detroit, il partage l'affiche de show au côté d'artiste comme Jack Scott, Jackie Wilson, Fats Domino ou Duane Eddy. Au début des sixties il quitte Sun records. Il continu sa carrière durant la décennie suivante sur différents labels Catalina music, Sound inc .... il cotoie alors Bery Gordy, Marvin Gaye et Stevie Wonder, dans les années 1970's il devient producteur avant d'être redécouvert en tant que chanteur de rockabilly à la fin de la décennie grâce aux rééditions sun de Charly records mais aussi grâce au livre de Colin Escott
Sun records: The brief history of the legendary records label
.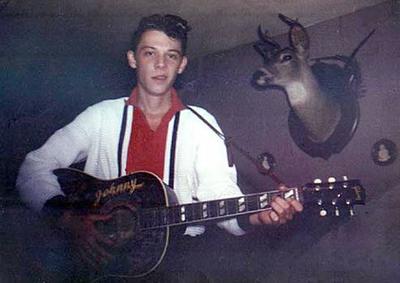 A partir des 1980's il se produit dans le monde entier dans des festivals et revient en studios pour enregistrer de nouveau du rock n'roll mais cela est une autre histoire.
Même si durant les fifties ses enregistrements édité sont peu nombreux, il laisse d'excellentes faces non produites à l'époque qui sont rassemblées sur le lp
Rock! rock! rock! rock! rock! rock! Johnny Powers
de Roller coaster (ROLL 2010) qui contient les titres
Long blond hair, Rock rock, Honey let's go (to a rock n'roll show), Your love, I'm walkin', Traet me right, Be-bop-a-lula, Mean mistreater, I'm avil, With your love with your kiss, Be mine all mine, me and my rythm guitar, Waiting for you, Oh so far away, Kiss-a-me baby, Falling star, The bigger they are (the harder they fall in love), Please return my love, Someone's gonna hurt you
et
Seventeen
.
Enregistrements également compilé sur le cd Norton record
s
Johnny Powers Long blond hair
(CED-229) avec des titres supplémentaires comme
Don't go away, Indeed i do, Trouble, Don't lie to me
et différentes versions de
Waitin' for you
.
On peut noter également qu'en 1959 il signe pour Sun records.
De ses faces rockabilly et white rock on peut noter
Long Blond Hair
,
Rock rock
,
Me And
My Rhythm Guitar
,
Mama Rock
,
With Your Love
,
With Your Kiss,  Your Love
,  
I'm Walkin'
et une version psychotique de
Be bop a lula
.
Dernière édition par Predicta le Mar 26 Aoû - 18:59, édité 1 fois

_________________
We don't care the People Says , Rock 'n' roll is here to stay - Danny & the Juniors - 1958

_________________
We don't care the People Says , Rock 'n' roll is here to stay - Danny & the Juniors - 1958
---
Permission de ce forum:
Vous
ne pouvez pas
répondre aux sujets dans ce forum