Dernière édition par Predicta le Mar 13 Juin - 5:44, édité 2 fois

_________________
We don't care the People Says , Rock 'n' roll is here to stay - Danny & the Juniors - 1958

_________________
We don't care the People Says , Rock 'n' roll is here to stay - Danny & the Juniors - 1958

_________________
We don't care the People Says , Rock 'n' roll is here to stay - Danny & the Juniors - 1958
1950 Ford Convertible restyled by Barris Kustoms for Chuck DeWitt in 1953. The front end was restyled by creating a new grille opening. The hood was extended down to where the original grille lip bar was positioned. Roll effect was added to lower edge of the hood and carried through to each lower fender panel. This accentuated the peaked hood and also gave the grille an contoured frame. The grille was created from a 1952 Kaiser center bar fit with 1953 Mercury grille teeth. The small parking light frames were from a 1951 Henry J, and the lights were from a 1950 Studebaker. A 1953 Kaiser bumper guard was grafted onto a 1951 Ford front bumper as license plate protection and as a visual "center piece". The headlights were frenched and kept flush to accent the stock fender contours. The top was chopped 3 and 3/4 inches and replaced by a white padded top by Carson Top Shop. The windshield was tilted back 1 inch for more rake[1]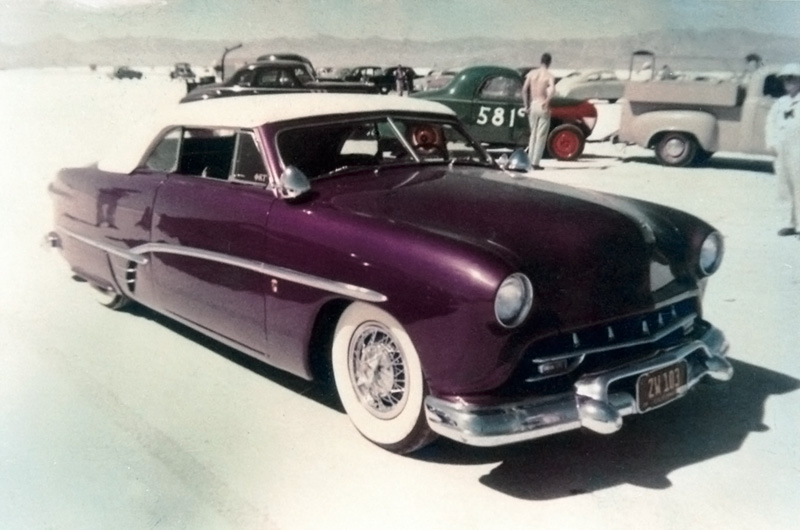 In the rear, 1953 Pontiac lenses were frenched and installed in the flares of the original taillights instead of the oval lenses. The taillights were constructed by using 1952 Ford taillight rims that were welded solid and molded to stock housings. This gave the extension that was desired and then the Pontiac taillight lenses were installed in the new housings. A 1951 Ford bumper and 1953 Kaiser bumper guard combination was also used in the rear. The exhaust outlets were routed through the bumper guard bullets. Trunk handle and license plate bracket were removed from the deck lid before the lid was smoothed off. Hood, trunk and all doors were operated electrically by push buttons.[1]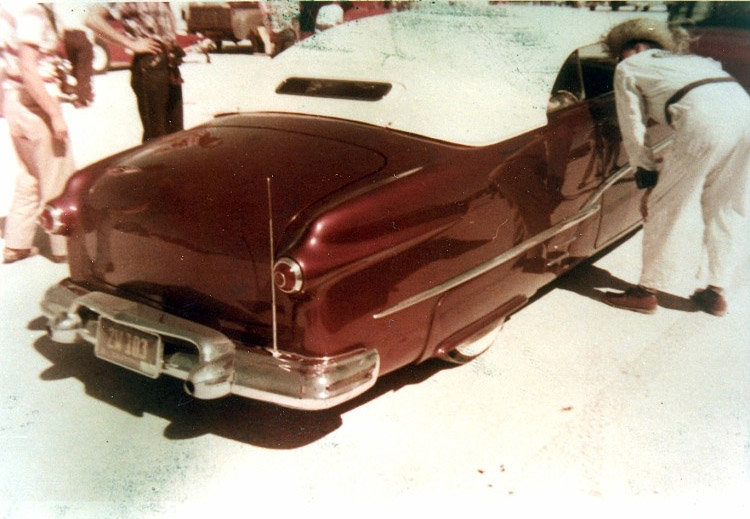 The side trim was made from the large chrome strip from a 1952 Buick Special and a piece from a 1952 Oldsmobile 98 side trim. Air scoops and 1951 Mercury[2] fender skirts were grafted onto the rear fenders. The air scoops incorporated 2 chromed teeth on each side from a 1953 Mercury. The air scoop were functional and used as cooling system for the rear brakes. The Mercury skirts were re-contoured to fit more snugly to the lower contour of the body. The car's ground clearance was approximately 5 1/2 inches in the front and rear. The springs were de-arched, and the front A-arm springs had 1 & 1/2 coils removed..[1]
Inside the car featured a black and white rolled and pleated leatherette upholstering. The dashboard had a full set of Stewart-Warner gauges, four of which were installed in the chromed annex dash within view of the driver. Once completed the car's total cost was $5,000 USD. $2,600 of this was bodywork. [1]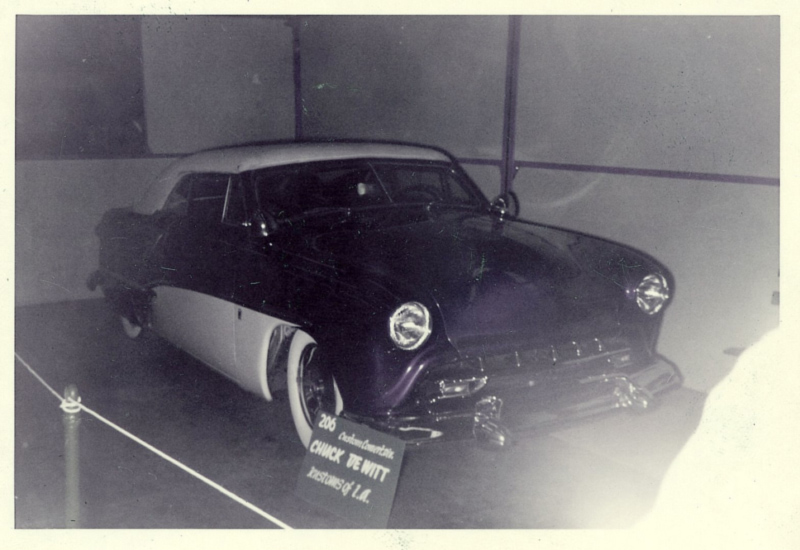 October 26 to November 1, 1953 Chuck's Ford was shown at the 4th annual Motorama in Los Angeles, California.[3]
A later photo of the car from the Jim Rotten Collection shows the car with a two tone paint job
http://www.kustomrama.com/index.php?title=Chuck_DeWitt%27s_1950_Ford

_________________
We don't care the People Says , Rock 'n' roll is here to stay - Danny & the Juniors - 1958

_________________
We don't care the People Says , Rock 'n' roll is here to stay - Danny & the Juniors - 1958

_________________
We don't care the People Says , Rock 'n' roll is here to stay - Danny & the Juniors - 1958

_________________
We don't care the People Says , Rock 'n' roll is here to stay - Danny & the Juniors - 1958
---
Permission de ce forum:
Vous
ne pouvez pas
répondre aux sujets dans ce forum