The moment you lay eyes on this 1932 Chevrolet 5-window coupe, you know this hot rod was actually one of the most difficult builds you're ever seen? When the paint is fully coordinated everywhere from the undercarriage, to the performance-built small block, to even on the six-speed transmission in the retro interior you realize that it takes more than just a huge investment to pull off a fully coordinated package like this.
No expense was spared and no compromises were taken to create the coolest pre-war street rod Chevy around. The Quaker State Green is a bold choice, yet it doesn't betray the 1930s attitude. The same goes for the Vanilla Shake frame and accents. Everywhere you look on this custom built these two colors are merging in harmony. Even under the car it is a sea of green and white. Building a vehicle to look like this means spending some serious money and taking the time to plan the painting of every detail. And this kind of thoughtfulness rarely leaves its creator. Getting this coupe impossibly low to the ground means channeling the body over the frame and running the rear suspension into the trunk for a very cool reveal you can save for the car show judges. The whole body has been lowered, so even the grille has a more aggressive stance within the frame. The body has been streamlined so it looks like it is an old-school attempt at cheating the wind. The finishing touch is a cool set of Rallye America chrome wheels with the old-school Firestone Gum Dipped racing tires that were the choice at the Indy 500 back in the day.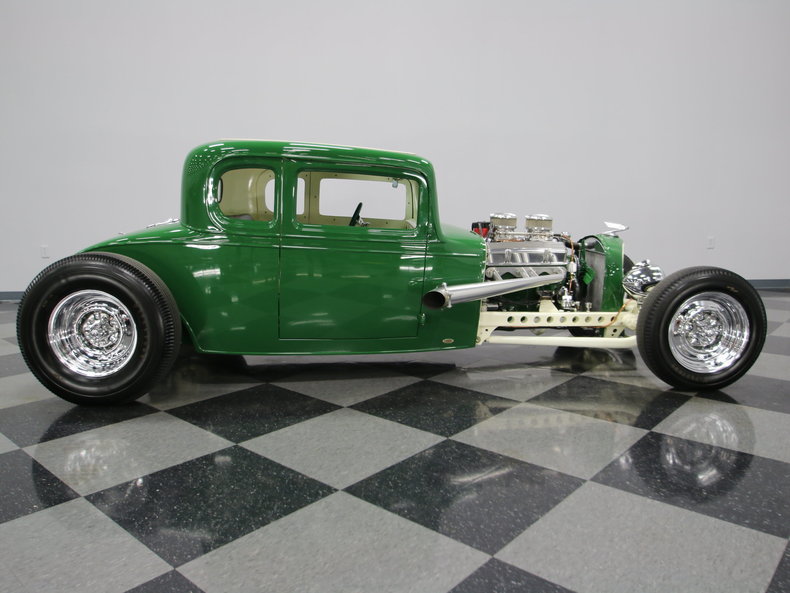 The interior has been just as carefully crafted to be comfortable without betraying the minimalist attitude. It starts with the custom green and white seating that looks like the old-style bench, but the lowered body means splitting the bottom cushion for a more individual space. The metal flake embossed steering wheel gives a hint at the flash that this custom creation brings to the road. Plus, the pinstriping up the center and the 8-ball shifter are just great old-school fun. But you take one look at the large full gauge package, including center-mounted tach, and you know this is a serious driving machine.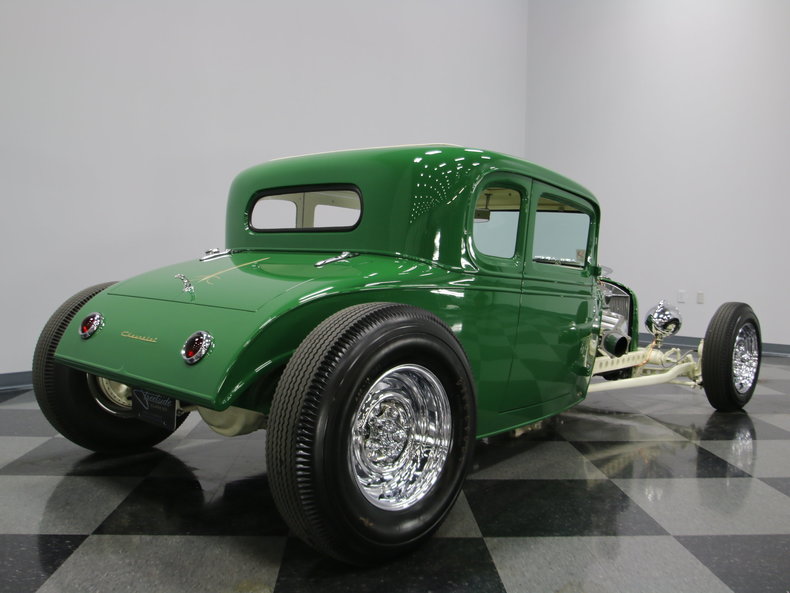 We know you've been staring at that motor this whole time, and so will everyone else. It's a 1965 Chevy 327 cubic-inch V8 thats been bored .030" over, given forged internals and balanced rotating assembly. But the upgrades don't end there. The go-fast goodies include a Comp Cams custom ground solid lift cam, ported powerpak heads with 1.94/1.60 stainless valves, roller rockers with poly locks, MSD pro billet distributor, Offenhauser aluminum intake, and dual Edelbrock 500 CFM four-barrel carburetors. There's more to this build, so call for all the details. It even stays cool thanks to the PRC aluminum radiator with Spal electric fan. This enhanced power package has a fantastic presentation in nothing but chrome and coordinating green. So you might not be able to unleash the full force of this motor, because of the huge crowd it instantly attracts. Then again, everyone will back away the moment you fire up the motor, and people hear the thunderous sound. Those straight pipes are actually part of a Gear Drive headers kit that feed the Flowmaster dual exhaust with rear exit. Once you do clear a path, you'll really get to enjoy this one on the road. The T-56 six-speed transmission (yes, six speed!) is fortified with a billet aluminum flywheel and Dynotech Engineering custom made and balanced driveshaft for great control and durability. This feeds the 9-inch rear end with Moser 31 spline axles, and Currie Positraction rear end with 4.56 ratio for power takeoffs. The suspension has Posies reverse eye spring, split wishbones, and disc brakes. In the rear, there's triangulated 4 link with QA1 coilovers,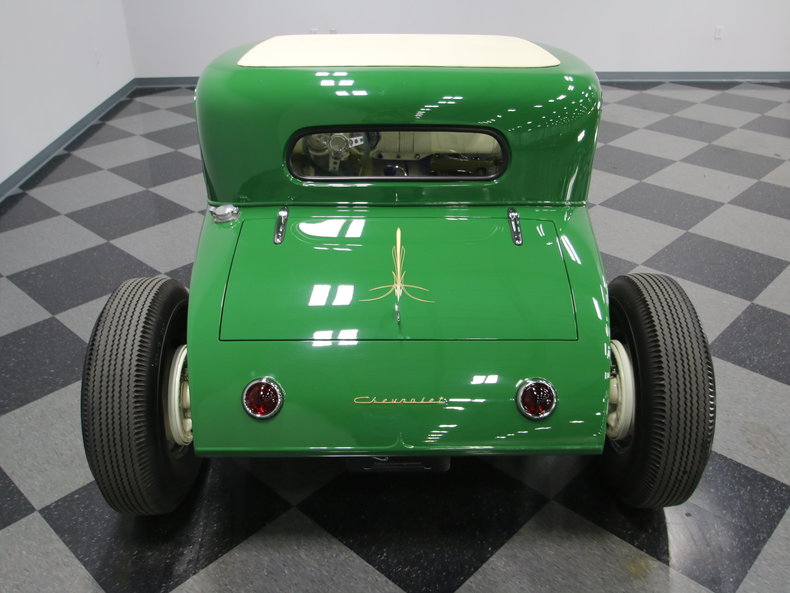 So yes, this is an award-worthy package. That's why this custom build already has taken home plenty of trophies and even features in magazines such as Speedway Motors and Rod & Custom. It is a complete custom that comes with the build receipts and photos so everyone can re-live the creation journey with you

_________________
We don't care the People Says , Rock 'n' roll is here to stay - Danny & the Juniors - 1958

_________________
We don't care the People Says , Rock 'n' roll is here to stay - Danny & the Juniors - 1958

_________________
We don't care the People Says , Rock 'n' roll is here to stay - Danny & the Juniors - 1958

_________________
We don't care the People Says , Rock 'n' roll is here to stay - Danny & the Juniors - 1958

_________________
We don't care the People Says , Rock 'n' roll is here to stay - Danny & the Juniors - 1958

_________________
We don't care the People Says , Rock 'n' roll is here to stay - Danny & the Juniors - 1958

_________________
We don't care the People Says , Rock 'n' roll is here to stay - Danny & the Juniors - 1958

_________________
We don't care the People Says , Rock 'n' roll is here to stay - Danny & the Juniors - 1958

_________________
We don't care the People Says , Rock 'n' roll is here to stay - Danny & the Juniors - 1958
---
Permission de ce forum:
Vous
ne pouvez pas
répondre aux sujets dans ce forum