1942-vintage 274 cu. in. Mercury flathead V8 engine with triple carburetors, 1939 Lincoln-Zephyr three-speed manual transmission, dropped tubular front axle with transverse leaf spring, 1934 Ford rear end housing with Halibrand quick-change center section and transverse leaf spring, and 1939 Ford four-wheel hydraulic drum brakes. Wheelbase: 100"
- Best Early Altered T Roadster, 2008 Grand National Roadster Show
- A multiple award winner in period shows, beginning in 1957
- First built in 1952 and featured in Hot Rod in 1954
- Featured in many more period and recent magazine articles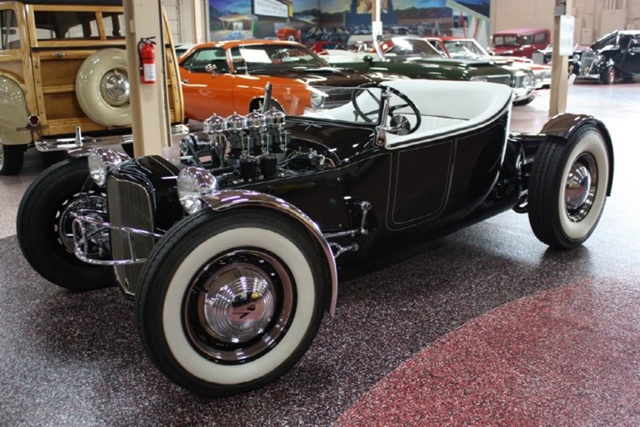 Wally Olson first transformed this 1927 T-Roadster into a show-stopping hot rod in 1952, intended as a family project with his sons. In September 1954, it made its magazine debut in a Hot Rod article entitled "Lil' Beau T."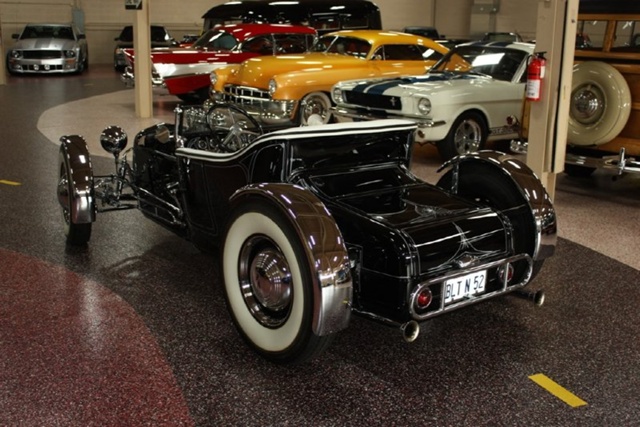 Bill Scott purchased the car in 1954-1955, adding the fenders, headlights, windshield and other items required for street legality. The first evidence of its "Black Widow" moniker dates to the August 1957 issue of Rodding and Re-styling, with an inventory of Bill Scott's mods, including a new "full house" flathead V8 and front suspension modifications including a tubular axle and shocks. Dean Jeffries applied the pinstriping and graphics. At the 1957 Sacramento Automata, the T won the award for Best Roadster, and by the time the 1959 Hot Rod Annual was published, the name Black Widow stuck.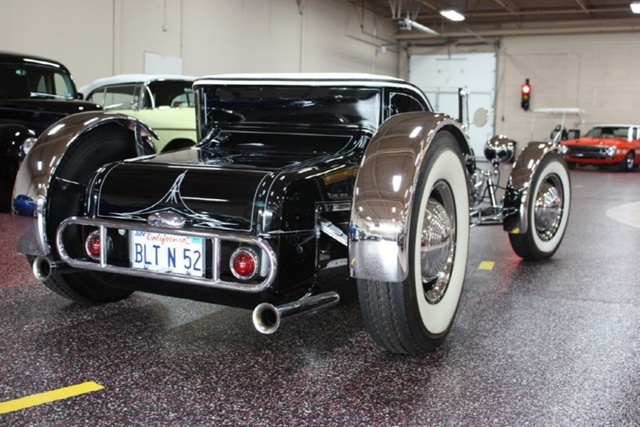 Bill Scott passed away around 1987, and for several years, his Black Widow deteriorated. In 2005, Richard Riddell, who bravely commenced its complete restoration, found the car. Riddell's work was extensive, with careful attention paid to reliability and safety of operation.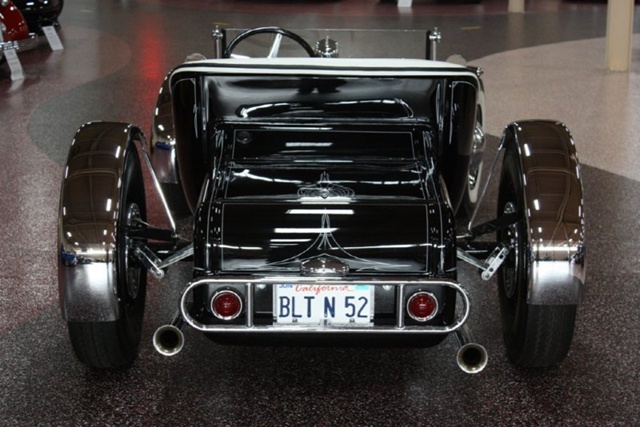 The doors of the original steel body were welded shut, with the body and paint by Showtime Customs, the frame restored and powder-coated by Capps Powder Coat, the upholstery fitted by Brent's and brightwork handled by Ace Plating. The hot V8 engine, a circa-1942 Mercury 274-cubic inch "flathead," was built by RPM Machine and equipped with Edelbrock finned aluminum heads and triple carburetors. The drivetrain comprises a 1939 Lincoln-Zephyr tranny, a 1934 Ford rear end, a Halibrand quick-change center, an enclosed drive shaft and a 1937 Ford tube axle. Braking is by 1939 Ford hydraulic drums all around, while 16-inch wheels and "V8" hubcaps form the rolling stock.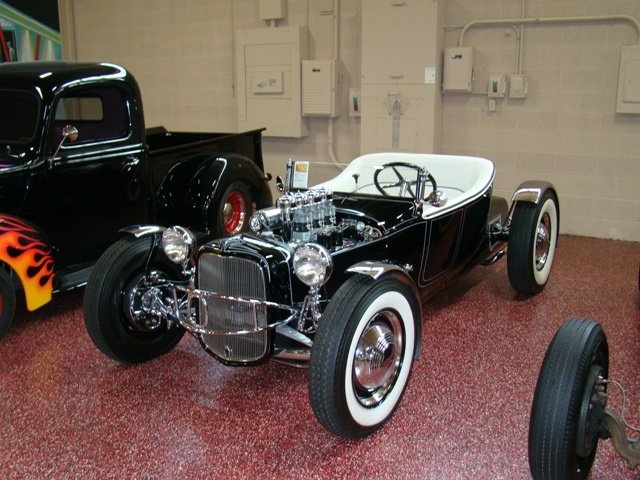 In July 2008, the Hot Rod Deluxe article entitled "Tangled Web" described how Richard Riddell discovered and restored the Black Widow over 3,400 hours to its 1950s glory. In 2008, it won "Best Early Altered T Roadster" at the Grand National Roadster Show. Sadly, Richard passed away shortly after finishing the project, but happily, he was able to see the car's return to prominence. Now, according to his wife Pat, who literally grew up at the drag-strip, the time has come for another deserving hot rodder to carry on the legacy.

_________________
We don't care the People Says , Rock 'n' roll is here to stay - Danny & the Juniors - 1958

_________________
We don't care the People Says , Rock 'n' roll is here to stay - Danny & the Juniors - 1958

_________________
We don't care the People Says , Rock 'n' roll is here to stay - Danny & the Juniors - 1958

_________________
We don't care the People Says , Rock 'n' roll is here to stay - Danny & the Juniors - 1958

_________________
We don't care the People Says , Rock 'n' roll is here to stay - Danny & the Juniors - 1958

_________________
We don't care the People Says , Rock 'n' roll is here to stay - Danny & the Juniors - 1958

_________________
We don't care the People Says , Rock 'n' roll is here to stay - Danny & the Juniors - 1958

_________________
We don't care the People Says , Rock 'n' roll is here to stay - Danny & the Juniors - 1958
---
Permission de ce forum:
Vous
ne pouvez pas
répondre aux sujets dans ce forum