The Barberettes (Hangul: 바버렛츠), is a South Korean retro, doo-wop female trio, which debuted in 2012, and is based in Seoul. With their covers and original music, they reproduce the sound of the 50s-60s music,[1]and are referred to as a time slip girl group[2] who travel back to the times of barbershop music[3] and harmonizing girl groups.[4] The group is composed of Shinae An Wheeler (Hangul: 안신애), Seon (or Sunnie) Lee Kyeong (Hangul: 이경선)[5] and So Hee Park (Hangul: 박소희).[6][7][8]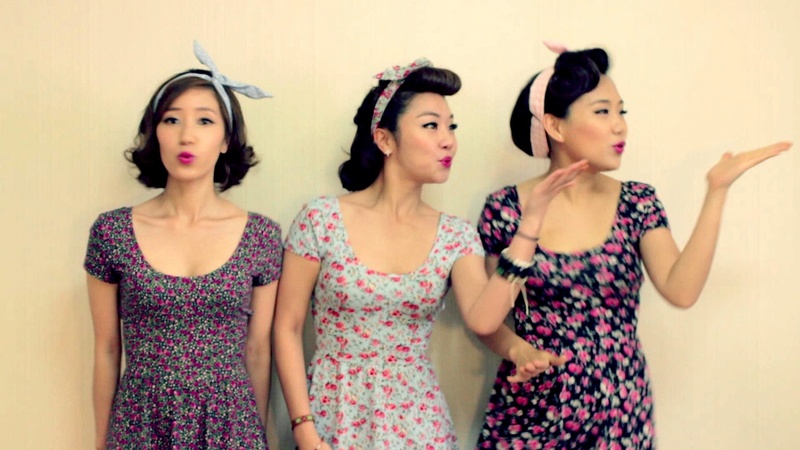 The group started singing, as a trio, for fun in October 2012,[9][6]when Wheeler had the idea of creating a retro-inspired girl group. Wheeler and Kim were already singing solo for the same jazz band, and Park began taking vocal lessons from Wheeler.[10]They performed at a number of places, including the indie music venues in the Hongdae area near Hongik University in Seoul,[11] and for audiences of the older Korean generation,[12][13] releasing their first album on May 27, 2014.[14][15]
The name "Barberettes" was chosen because they wanted to name themselves after the a cappella barbershop music style, hoping to use a name like "Barbershop Quartet", but lacking a fourth member, they added the suffix "ettes", like many girl groups of the 50's and 60's.[16]
They often use one microphone for performances,[3] initially to imitate that era's girl groups, but later realizing the advantage when they found they could hear each other better, which helped them control the harmony balance.[16] They also use costumes, make-up and choreography to re-create the effect.[13]
Musical style
They described their music as "Korean doo-wop done in the 21st century".[12]They were inspired by doo-wop, Motown, barbershop, and pop music that was created prior to the 1960s, and also by groups like The Andrews Sisters, The Chordettes, and The Ronettes,[10] to whom they have been compared.[2]
They gave credit to the 60's Korean girl group Korean Kittens, and especially The Kim Sisters,[1][17] whom they discovered on YouTube, as having a large effect on them, and call them their "biggest idols". They said they were stunned by the performances of the Kim Sisters, who did not receive a lot of recognition in Korea until recently, but were signed with Motown, and performed on The Ed Sullivan Show many times.[10]
Because of the group's performances in indie venues they are often referred to as an indie pop group.[13][18] Their musical style has been described as "giving a glimpse into what K-pop might have been like in the 1950s with their styling and song choice".[19]
Dernière édition par Predicta le Lun 31 Oct - 21:34, édité 1 fois

_________________
We don't care the People Says , Rock 'n' roll is here to stay - Danny & the Juniors - 1958

_________________
We don't care the People Says , Rock 'n' roll is here to stay - Danny & the Juniors - 1958

_________________
We don't care the People Says , Rock 'n' roll is here to stay - Danny & the Juniors - 1958

_________________
We don't care the People Says , Rock 'n' roll is here to stay - Danny & the Juniors - 1958

_________________
We don't care the People Says , Rock 'n' roll is here to stay - Danny & the Juniors - 1958

_________________
We don't care the People Says , Rock 'n' roll is here to stay - Danny & the Juniors - 1958
Sujets similaires
---
Permission de ce forum:
Vous
ne pouvez pas
répondre aux sujets dans ce forum