If you want the full Johnie's experience, drive by it at night—its neon signage will be illuminated, making the structure look both garish and gorgeous. The restaurant closed for business in 2000 and is now used exclusively for shooting. HOLLYWEIRD FUN FACT: Y'know the scene in The Big Lebowski where Walter yells he's "finishing his fucking coffee"? That was filmed at Johnie's.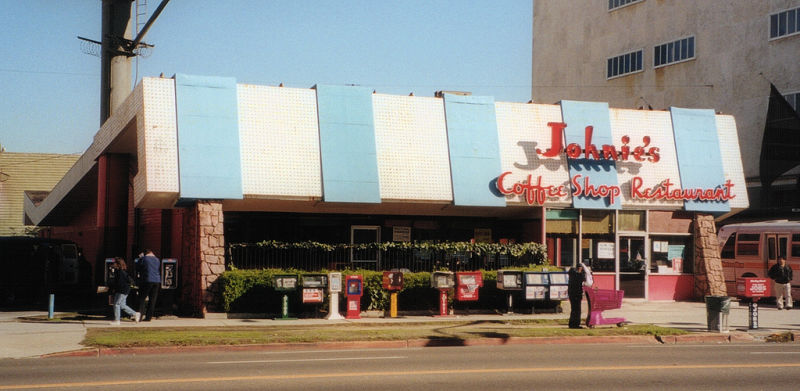 Johnie's opened in 1956 as Romeo's Times Square. Romeo's was in business a few years, becoming Ram's in the early 1960s, and Johnie's shortly thereafter.[1]
"Johnie's" is spelled in massive neon lights and flashing incandescent lightbulbs on the building's striped roof. The roof sits on rock columns, sloping down toward the back of the restaurant, ending in a sharp decline that gives the illusion of movement like a spaceship ready to take off. Alan Hess, author of two books on Googie architecture, said, "Johnie's, and the style it represents, tells us as much about that period in L.A. history as the bungalows of Pasadena told us about the 1900s or the missions told us about 19th century Southern California." He also noted that "The building embodies all of the changes in L.A.: becoming suburban, auto-oriented, also becoming a city of the future."[1]
The restaurant was purchased in 1994 by the Gold family, founders of the 99 Cents Only Stores, and closed in 2000. The family leases the Johnie's parking lot to the Wilshire Boulevard 99 Cents Only outlet two doors away.[1]
The restaurant is perhaps best known as the setting for the opening of the 1988 cult film Miracle Mile, in which a patron learns that a nuclear war is about to begin. The restaurant also appeared in a 1999 Tom Petty and the Heartbreakers music video, "Swingin';" in a 2003 Reba McEntire music video, "Somebody;" and extensively in Sean Kingston's music video "Beautiful Girls." The restaurant is seen in several movies, including Volcano, starring Tommy Lee Jones; The Big Lebowski, starring Jeff Bridges and John Goodman;[1] Reservoir Dogs starring Harvey Keitel and Tim Roth; and American History X, starring Edward Norton. Johnie's was also featured in the 2000 film Gone in 60 Seconds with Nicolas Cage.

_________________
We don't care the People Says , Rock 'n' roll is here to stay - Danny & the Juniors - 1958
Johnie's is located across from the May Co. department store, one of Los Angeles' best examples of Streamline Modern architecture, on the Miracle Mile. The May Co. building is now part of the Los Angeles County Museum of Art.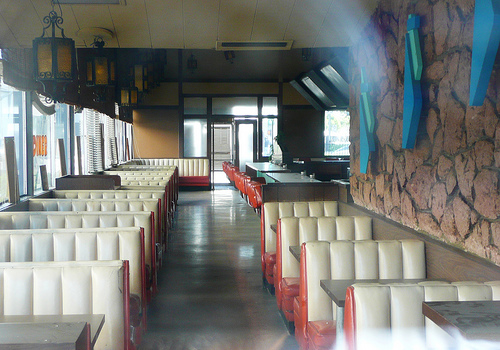 Johnie's was declared a historical landmark by the Los Angeles City Council on November 27, 2013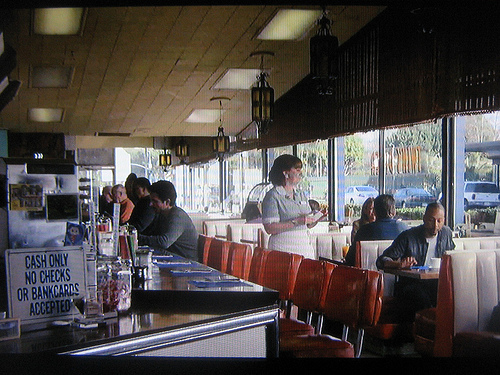 _________________
We don't care the People Says , Rock 'n' roll is here to stay - Danny & the Juniors - 1958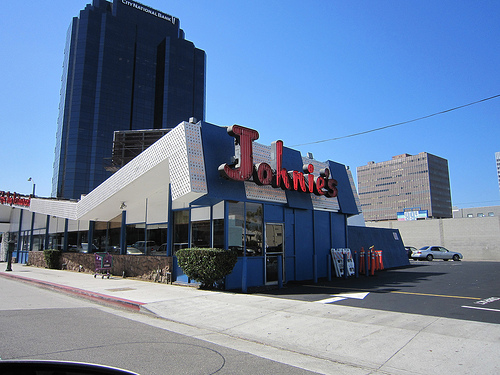 _________________
We don't care the People Says , Rock 'n' roll is here to stay - Danny & the Juniors - 1958

_________________
We don't care the People Says , Rock 'n' roll is here to stay - Danny & the Juniors - 1958

_________________
We don't care the People Says , Rock 'n' roll is here to stay - Danny & the Juniors - 1958

_________________
We don't care the People Says , Rock 'n' roll is here to stay - Danny & the Juniors - 1958
---
Permission de ce forum:
Vous
ne pouvez pas
répondre aux sujets dans ce forum