1951 Buick Special. The car has been driven to many shows, were it's gotten attention, recognition and awards. The car has also gotten mention and attention in some publications. IT IS A NICE SHOW/DRIVER. The car features a solid, rust free, straight steel, body. Many body modifications have taken place on this beautiful example of a 1950's styled Kustom. It has a clean and clear California Title in my name and is running, driving, registered and insured. This is a reliable Show driver. It has been driven ALL OVER the state of CALIFORNIA, with no mechanical issues.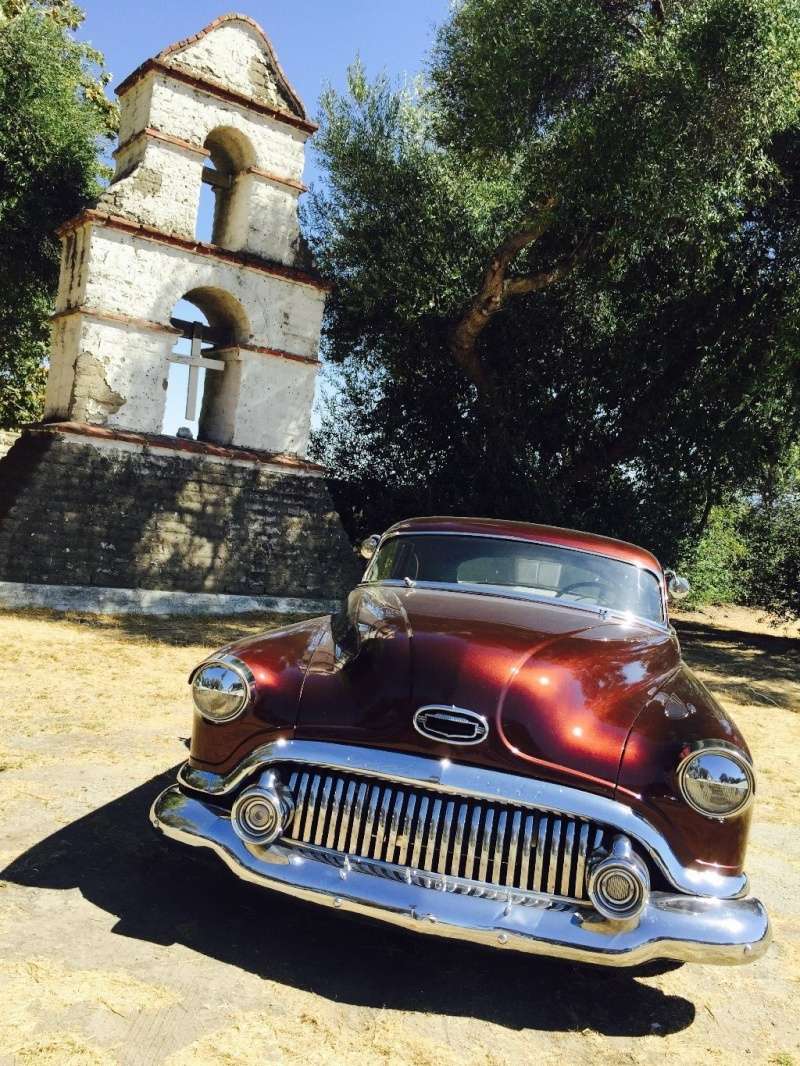 The car started as a stocker, the roof was chopped 5 inches in the front and 5 1/2 inches in the back. The "b" pillars were slanted forward to give it a more aggressive look, while the original 3 piece rear window was removed and a 1954 Chevy one piece window was grafted onto the roof. This gives the car a more unique, sleek body. The door handles were shaved as were the emblems in along the sides of the car and the trunk. The gas filler door was shaved and a mustang style gas tank was replaced with the filler inside the trunk. The battery (Optima redtop) is also located in the trunk, along with a new Accuair E-level air suspension system, with a 5 gallon air tank and Slam Specialty Bags on all four corners and two Viair compressors. The Stainless and chrome bumpers were re-chromed and polished a few years back but the shine still remains as you can see from the pictures.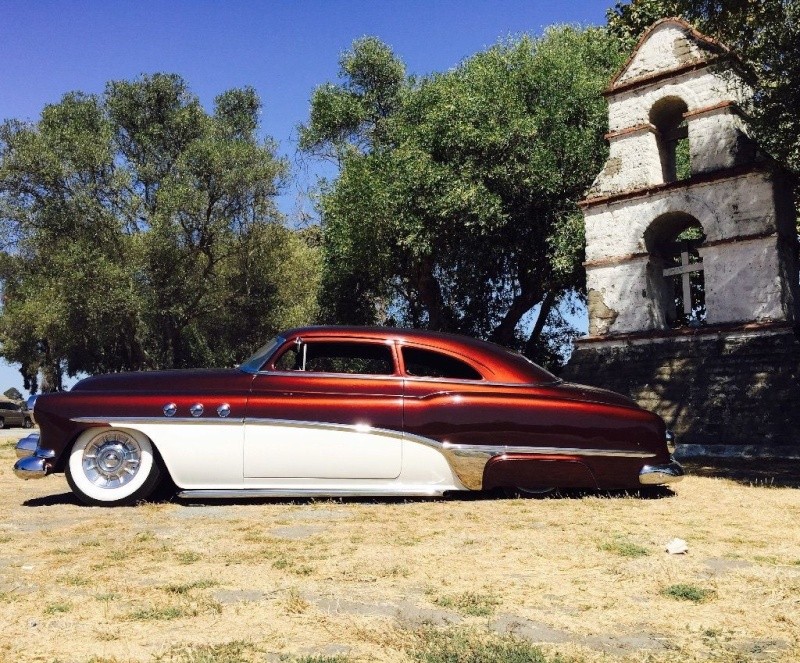 The Suspension was given new life by four linking the rear to a Ford 9 inch rear axle with good highway gears.The drive shaft was adapted to marry onto a 350 transmission, with a Lokar shifter, and the power is now produced by a rebuilt 350 which give push to the Coker Wide White Wall Tires in front and BF Goodrich in the rear.
A 350 V8 is cooled by an aluminum radiator and electric fan. The V8 comes with a mild "Thumper Cam", MSD wires, Copper sparkplugs, HEI distributor, a chrome Edelbrock water pump, Chrome 110 amp alternator for power and a 600 cfm Edelbrock carburetor which sits on an Edelbrock Performance Series intake manifold. All the power is able to be heard by a set of Heddman Shortie Headers, which come to a collector with electronic cutoffs which go onto a pair of Lake Style pipes and split onto straight pipes with cherry bombs underneath the car. A new set of gauges provide the driver the crucial information regarding temperature and oil pressure on the engine, along with gas level.
The original Speedometer and 5 in 1 gauge are still present but do not work. All that power is stopped by an all drum brake system which works fine, but it's something the new owner can consider replacing if desired. The interior features a front seat and door panels done in Silver and Black vinyl, I normally have a brown toned Mexican blanket to cover the seat. The interior needs finishing, as the rear seat was removed for work around the four link and drive shaft clearance was being done on the floor, and seat and brackets were not reinstalled. I would recommend this is done when you decide what you'll do about the interior, leave it as is or get it custom done to your specs, when you own it. My intention was to have a removable cover in the back and just have a front seat. There is a piece of vinyl currently covering the back, as seen in pictures.
The front and rear windows are all done, along with their stainless. however it does need side glass. The window regulators are there but no glass is present. It has newer black carpet from the firewall to about halfway behind the car. The Dash has the original grill and new wiring was done in the car from front to back. ALL WIRING IS NEW. A custom fuse box and harness were made and easy access provided to get any fuses replaced when needed. The starter button is hidden for security reasons, and a high torque starter is providing turn for the engine and also contains a security cutoff switch. it has a CD player with two speakers which provide awesome sound while driving on those awesome cruises, anywhere you go.

_________________
We don't care the People Says , Rock 'n' roll is here to stay - Danny & the Juniors - 1958

_________________
We don't care the People Says , Rock 'n' roll is here to stay - Danny & the Juniors - 1958

_________________
We don't care the People Says , Rock 'n' roll is here to stay - Danny & the Juniors - 1958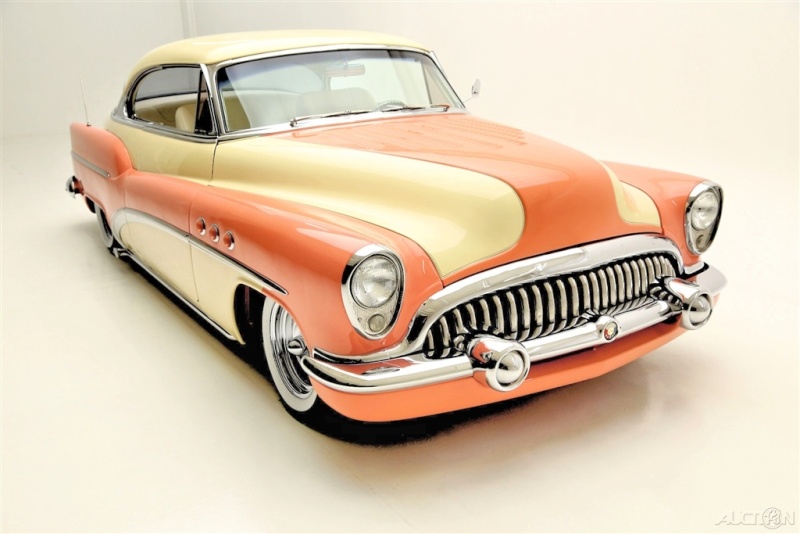 1953 Buick Special Hardtop "PEACHES & CREAM" AMAZING CAR!!! With a very high end restoration, including newer show quality two tone peaches and cream paint. New chrome all the way around, electric windows and shaved door handles with secret passage opener. The interior is just as nice with rich and creamy leather seats, the trunk matches beautifully. This Special rolls on retro cool wide whites and chrome wheels.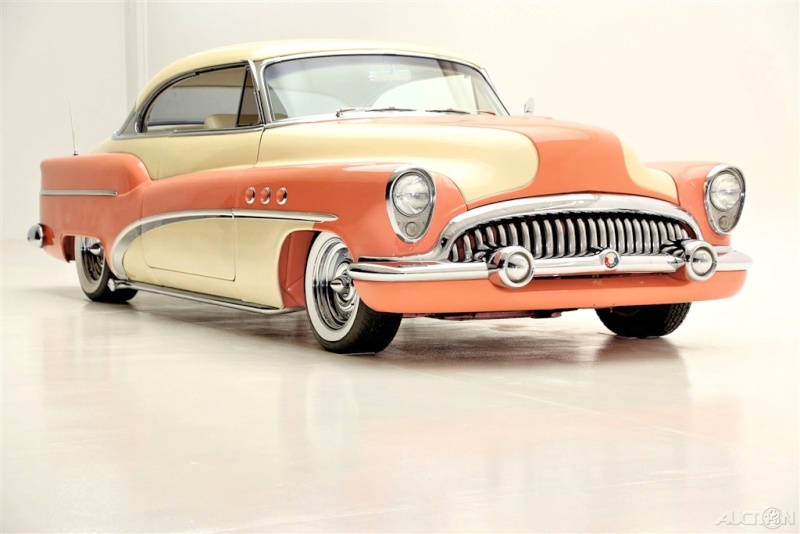 EXTERIORBeautiful paint scheme of peaches and cream makes this custom showcar stand out in a crowd. Custom touches include shaved door handles, louvered hood and chrome lake pipes. All chrome and stainlees are in excellent condition. Chrome wheels and caps are wrapped in wide whitewall tires for a great stanced look.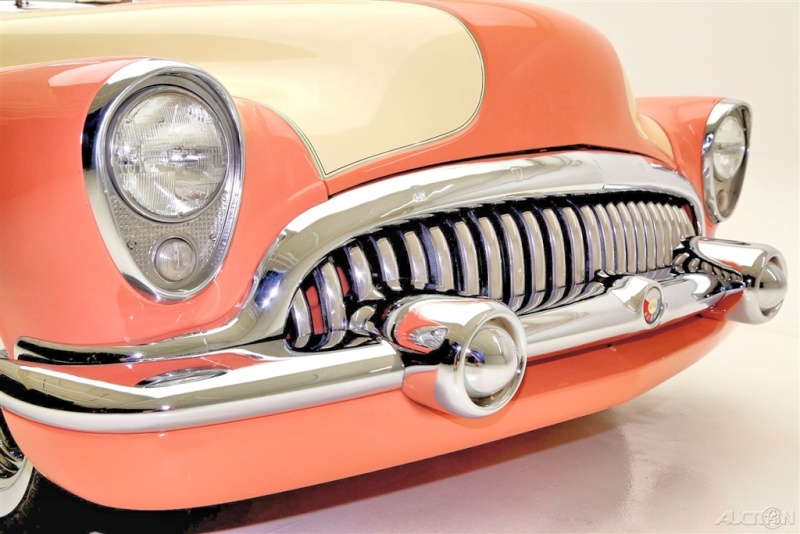 INTERIORThe bucket seat and console interior has been custom stitched in leather. Classic Instuments gauges keeps an eye on things. Power windows and Leather wrappped billet steering wheel. AM-FM CD player is console mounted with speakers in the rear package tray.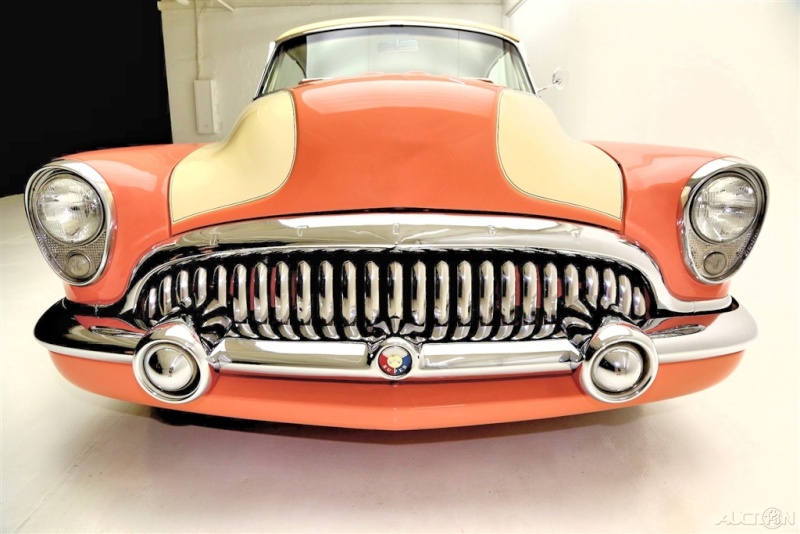 MECHANICSWith power steering and power brakes, this cruiser is propelled by a nicely detailed and strong running 455 c.i. V8 that runs through a TH350 automatic transmission and shifts power to the wheels via a 9" rear.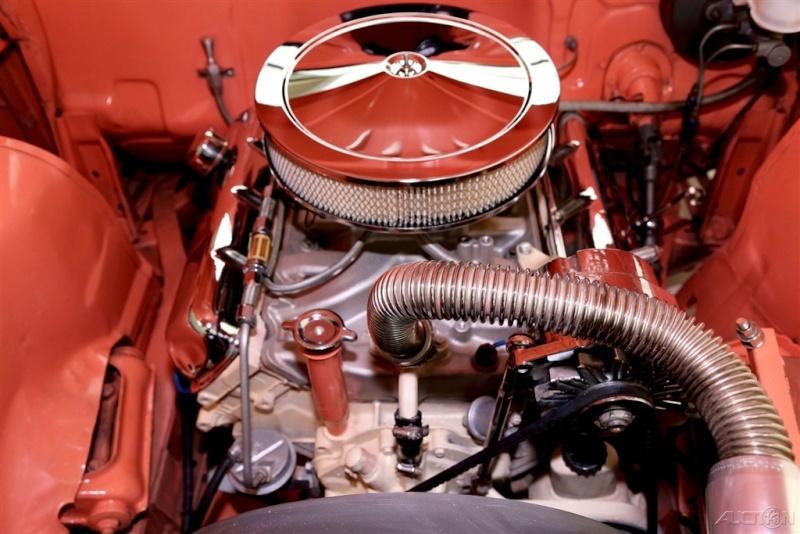 _________________
We don't care the People Says , Rock 'n' roll is here to stay - Danny & the Juniors - 1958

_________________
We don't care the People Says , Rock 'n' roll is here to stay - Danny & the Juniors - 1958

_________________
We don't care the People Says , Rock 'n' roll is here to stay - Danny & the Juniors - 1958

_________________
We don't care the People Says , Rock 'n' roll is here to stay - Danny & the Juniors - 1958

_________________
We don't care the People Says , Rock 'n' roll is here to stay - Danny & the Juniors - 1958
---
Permission de ce forum:
Vous
ne pouvez pas
répondre aux sujets dans ce forum