The 1937 Lincoln Zephyre taillights are the perfect units for Billy's Art Deco Coupe. They echo the shape of the Packard headlights beautiful, and the low mounting position makes the rear of the car look even lower. Notice the perfect reflections!
Billy Powell from Texas owned this 3 window since 2007. The plan always was to create an beautiful 1940's style Art Deco styled custom from it. From a distance the car looked pretty decent, but upon close inspection Billy saw that the car might need some extra care to get up to his standards. When he started to take the body to bare metal he quickly noticed that the car must have had a pretty rough life. A lot of bad body work followed by heavy layers of plastic filler. Especially the top was in bad shaped and the chop needing so much work that Billy figured he needed to find a second '36 Ford to replace the top. Until he discussed the project with David Martinez, from Martinez Industries Co. in North Palm Springs, California. David assured Billy that he could save the top, as well as the rest of the body. Of course he would need to do a huge amount of metal reshaping, aftermarket and home made replacement panels… but it could be saved. In 2014 Billy send the '36 Ford to Martinez who would rework all previous bad body work, replace the rotten metal an perform more customizing.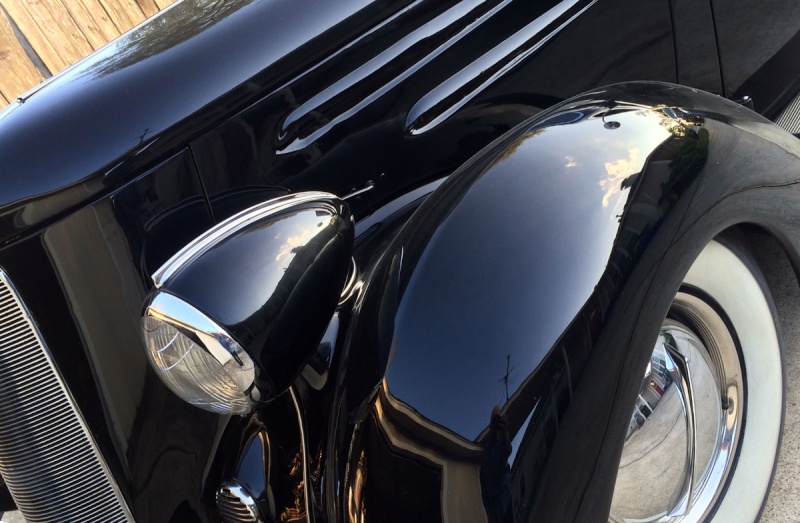 New hood sides were created to which two 1936 Chevy hood louvres per side were added. The original grille was replaced with a home made surround to with a 1939 LaSalle grille was added. The stock Packard trim piece on top of the headlights was kept since it fitted the Art Deco theme so well
Billy had been collecting parts for his dream Art Deco 1936 Ford Coupe for a long time. Hard to find parts like the 1939 LaSalle grille, 1937 Packard headlights, 1937 Lincoln Zephyr taillights, 1936 Chevy hood sides, Single Bar Flipper hubcaps, 1948 Lincoln steering wheel and a set of Foxcraft teardrop shape fender skirts. Inspiration for Billy's 1936 Ford came for the Jack Calori 1936 Ford, Westergard styled Fords in general, and the John Fisher 1936 Ford. But Billy's Ford was was going to have many unique details, all based on the rocket / teardrop shaped Art Deco theme. When Billy bought the car the original flathead engine had already been swapped for a 350, and it drove perfect, so there was no need to replace that.
Billy's 1936 Art Deco Ford Coupe looks fantastic from any angle, but this rear 3/4 view is perhaps my most favorite of them all. Everything seams to flow so well and the car looks like its going 100 miles an hour standing still.

_________________
We don't care the People Says , Rock 'n' roll is here to stay - Danny & the Juniors - 1958
The 1939 LaSalle grille, Packard headlights, and modified hood side give the Ford a much more exclusive look. The speedboat stance created instant speed. Everything visible gives the impression Billy's Ford just rolled out of the 1940's.


David Martinez did an great job saving as much as possible on Billy's 1936 Ford, every inch of the body was worked over till perfection. The already chopped top had a lot of bad things going on, which were all redone or replace with fresh sheet metal. When all the body work was done at Martinez Industries, the body was prepped for a super gloss, super smooth black paint-job applied by David. One of Davids other specialities is creating Art Deco interiors, and for Billy's Ford he created an hand made dash styled around and Oldsmobile gauge cluster and he added wonderful shaped storage compartments behind the folding seat backs. A detail you normally only see in high end coachbuild cars. The upholstery was also done by David in real leather and matching mohair and wool for the headliner and carpets.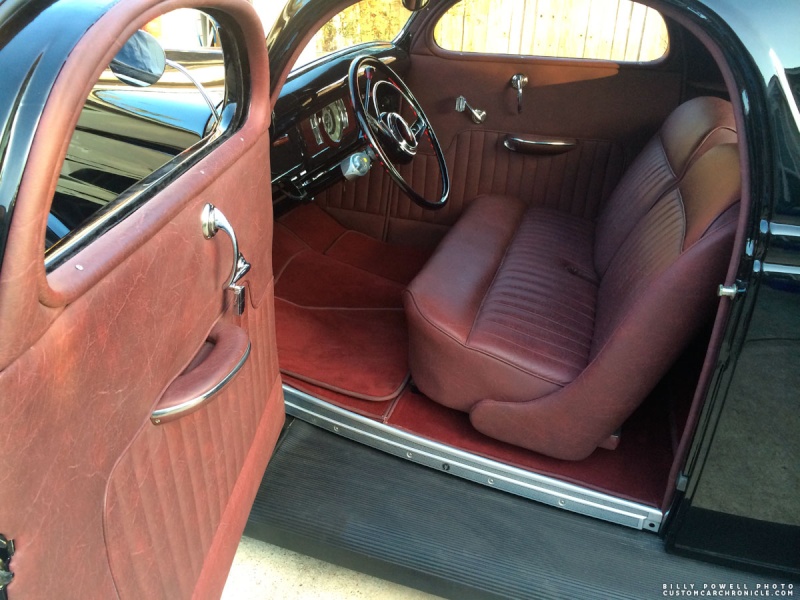 David Martinez created the wonderful styled interior in real leather. The dash was hand made with an Oldsmobile gauge cluster an the transparent red 1948 Lincoln steering wheel is the icing on the cake.




 3-1/2" chop

Rumble seat converted to a trunk

1939 Lasalle Grill

1937 Packard Jr headlights

1937 Zephyr taillights

1936 Chevy hoodsides

cut down 1940 Chevy bumpers.

New HOK black paint – work by Dave Martinez

New rubber on running boards, all new door seals and hinges

New glass all around

New wiring harness, all electrical works great, lights, blinkers, dome light, dash lights, etc- all have been gone through and redone with new wiring

Yankee 360 turn signal

Handmade dash with 1939 Oldsmobile gauge cluster and dual glove boxes

1948 Lincoln Wheel with knobs that match steering wheel made by Dennis Crooks at Quality Restorations

Leather interior by Dave Martinez- stunning!

Mohair headliner to match deep red wool carpet, oxblood

Close up of the restored Lincoln Steering wheel by Dennis Crooks at Quality Restorations, who also made the custom dash knobs to match the steering wheel.

_________________
We don't care the People Says , Rock 'n' roll is here to stay - Danny & the Juniors - 1958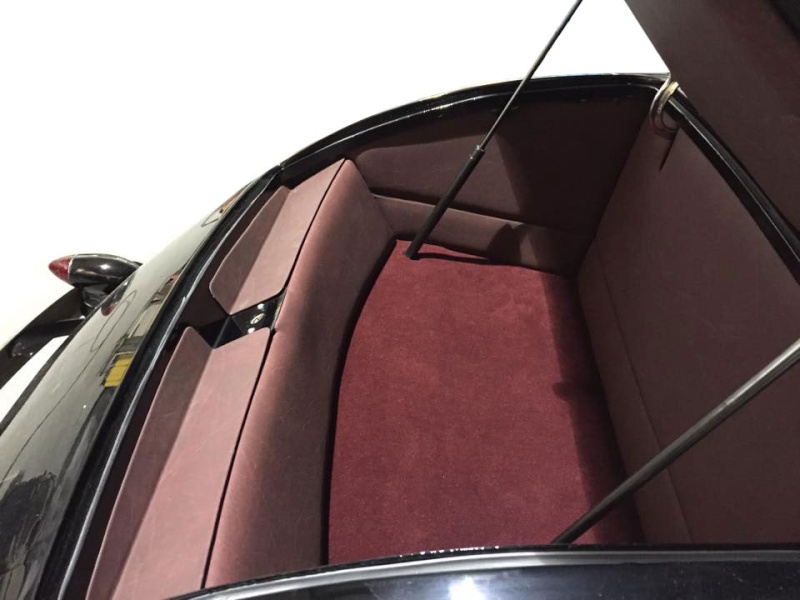 The trunk space was reduced a bit because of the modified frame, but it looks amazing completely upholstered. This used to be a rumble seat.


SB 350/350 tranny

3-1/2" Bell dropped front axle

Rear of the frame C-notched

Ford 9" rear

All new Posie springs, rides like a dream!

Great running and driving car with no mechanical issues


Behind the folding seat backs David Martinez created storage space with Art Deco styled doors giving the interior a very luxurious feeling.



Before David installed the seat he took this photo showing the perfectly styled upholstery.

_________________
We don't care the People Says , Rock 'n' roll is here to stay - Danny & the Juniors - 1958

_________________
We don't care the People Says , Rock 'n' roll is here to stay - Danny & the Juniors - 1958
---
Permission de ce forum:
Vous
ne pouvez pas
répondre aux sujets dans ce forum