'56 T
Bird
- Gene Winfield
What do you do when youve decided to restore a vintage Thunderbird, but want the finished product to be something very different from the rest of the crowd? How about handing it over to expert metalsmith and customizer Gene Winfield? The result is this jaw-dropping 1956 Thunderbird custom, a traditionally-styled full custom that screams Thunderbird in Winfields unique SoCal drawl.
The story goes that they sent this fairly good-looking
Bird
to the sandblasters shop and what they got back looked like a Thunderbird made of Swiss cheese. No matter, because the guys at Winfields shop know more about shaping, welding, and restoring metal than just about anyone on earth. So they scored some NOS rocker panels, fresh door panels, and a whole bunch of panels from the guys at
Bird
Brains, and proceeded to put the car back together with almost entirely new parts, and infinitely more care than any other Thunderbird in history. Up front, the headlights were modified to use outrageous stacked units from a 50s Lincoln Continental, the bumpers were fared into the body, and the hood got a custom scoop. In back, custom fender flares, rocker panel extensions, and a hand-made continental kit were added, then it was all block sanded to perfection by Genes team. Sizzling Electric Blue paint has a traditional look, and contrasting scallops, pinstripes, and other graphics in white, silver, and light blue make it look like the trick machines that cruised Hollywood in the early 60s.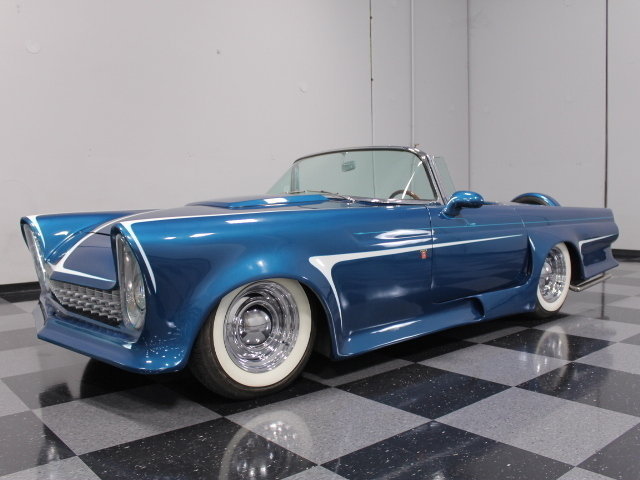 The interior makeover is just as dramatic, starting with a two-tone bench seat that looks appropriate in the vintage
Bird
. But then you notice the wrap-around dash that has been finished in simulated burled walnut. The main speedometer hood is gone, but the two flanking pods remain, and auxiliary gauges from VDO line the center of the dashs engine-turned trim. Theres a matching Grant GT steering wheel, a billet shifter for the automatic transmission, as well as a tilt column and oddly enough, cruise control. And yes, its signed by the man himself, which is a cool piece of documentation that remains with the car. The stock trunk was given a simple finish and holds both the full-sized spare and remote-mounted battery. Theres also a very trick white convertible top that fits snugly and looks remarkably like a Carson lift-off job, completing the vintage custom look.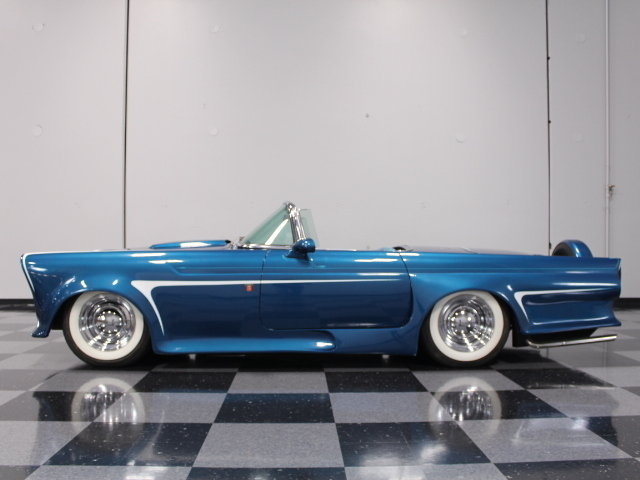 Power is simple, thanks to a reliable 5.0 liter Ford V8 from a mid-80s Mustang GT. Topped by a 4-barrel carburetor, this MGM Motoring engine belts out more horsepower and torque than the original 312, making this custom a legitimate party to drive on the street. It also includes power steering and brakes, as well as a sweet-sounding dual exhaust system with glasspacks for a traditional note. A custom front clip that includes tubular A-arms and rack-and-pinion steering gives it a modern feel on the road, while out back the stock 9-inch rear handles the power delivery. With a slammed stance, this custom looks right and handles beautifully. Even the chrome reverse wheels with baby moon hubcaps look right, especially with 205/75/15 whitewall radials filling the fenders.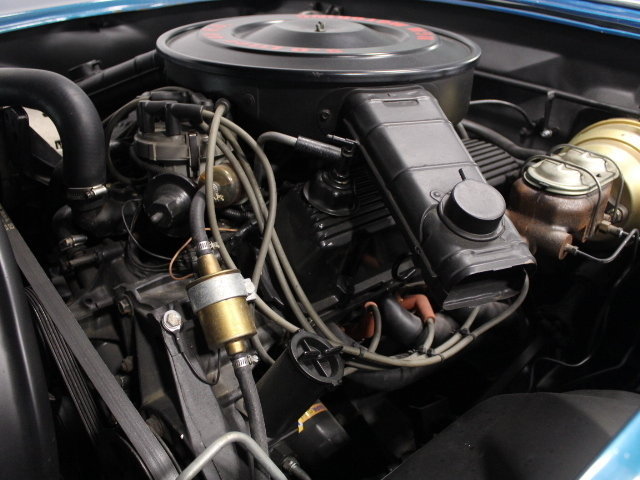 _________________
We don't care the People Says , Rock 'n' roll is here to stay - Danny & the Juniors - 1958

_________________
We don't care the People Says , Rock 'n' roll is here to stay - Danny & the Juniors - 1958

_________________
We don't care the People Says , Rock 'n' roll is here to stay - Danny & the Juniors - 1958

_________________
We don't care the People Says , Rock 'n' roll is here to stay - Danny & the Juniors - 1958
Re: 1955, '56 and '57 T-Bird custom & mild custom
Predicta
le Ven 19 Juil - 9:40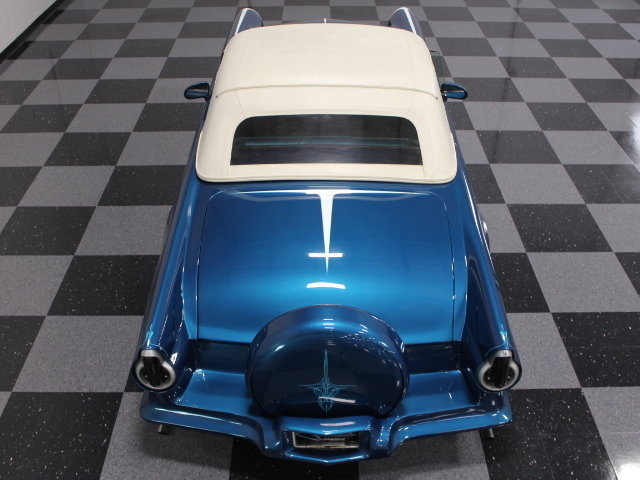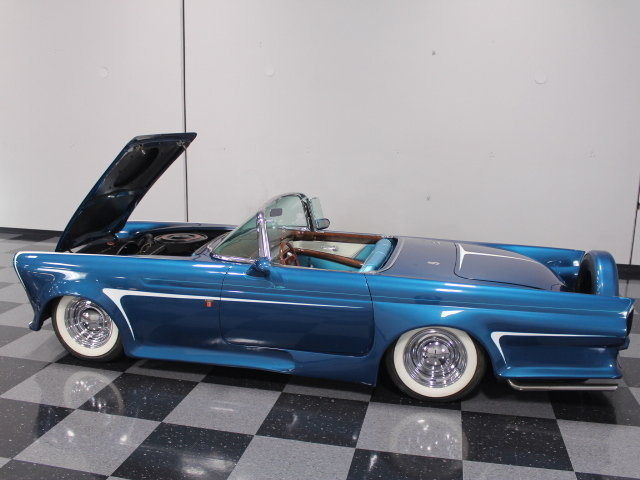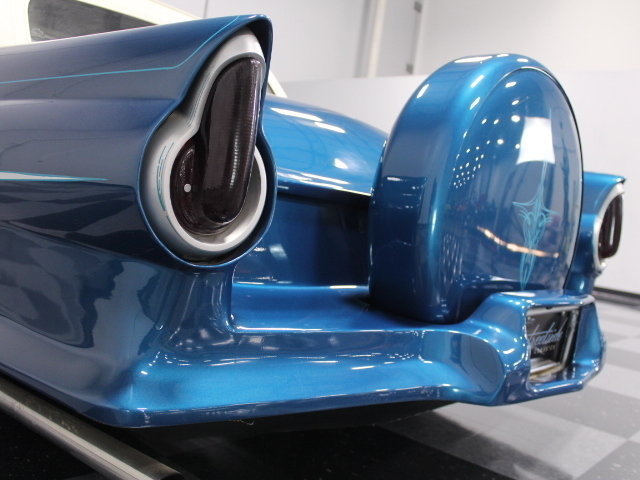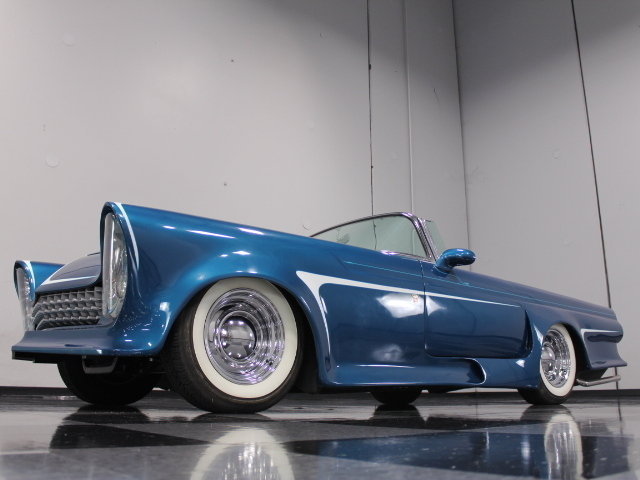 _________________
We don't care the People Says , Rock 'n' roll is here to stay - Danny & the Juniors - 1958

_________________
We don't care the People Says , Rock 'n' roll is here to stay - Danny & the Juniors - 1958
Sujets similaires
---
Permission de ce forum:
Vous
ne pouvez pas
répondre aux sujets dans ce forum