ome cars instantly earn fame, others take a little bit longer. This one took about half a century.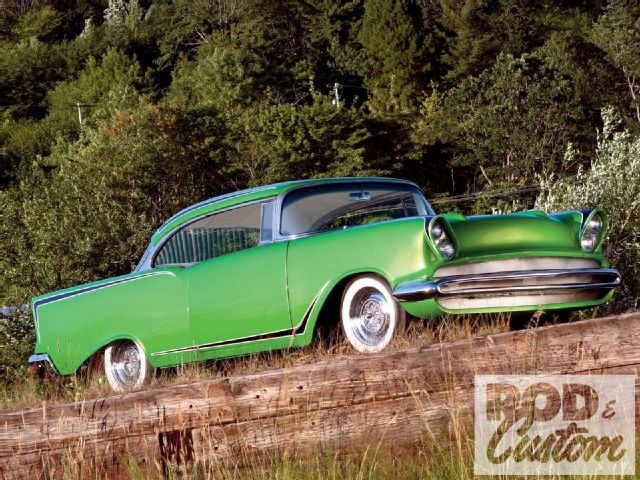 Jon Budda owns it now, but his '57 Chevrolet has quite the story to tell. Though it's been a custom job since it was nearly new, it was completely anonymous. It never appeared in any magazines, it hadn't showed up on any online forums, and, as far as we know, nobody copied it. In fact, other than the handful of people in the small towns where it lived, nobody ever saw it.
The fact that this unknown custom survived all these years intact isn't the most improbable thing about its story either. No, improbability found a new definition at a restaurant during a conversation about a '55 Chevy parked outside. A complete stranger approached its owner and spun a yarn about a '57 Chevy that he owned years earlier. With canted quads, Desoto bumper, and '59 taillights, it was quite the spectacle, the stranger mused.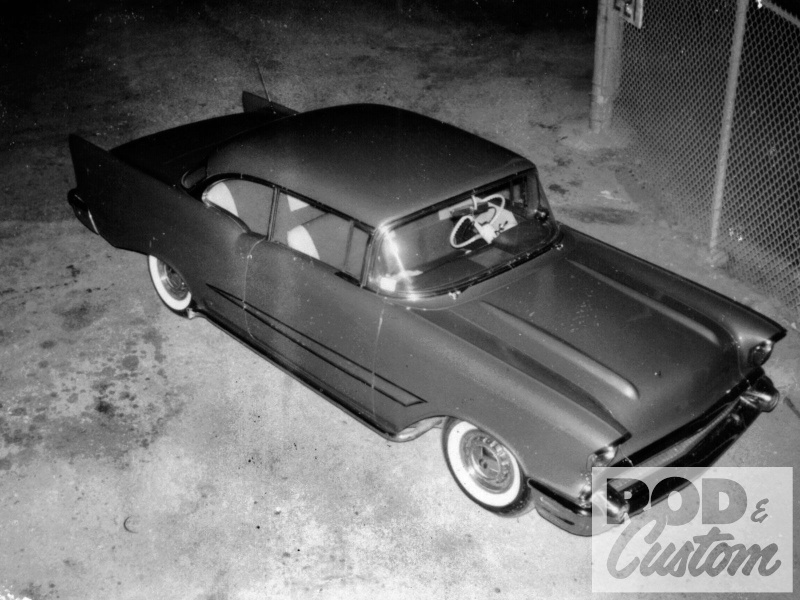 The '55 owner didn't just know the car; he'd just seen it. In fact, he had been to the very shop where it was, and at that it was only a few blocks away. Suddenly, the roles reversed. The '55 owner was the stranger now; the one who approached him with the tale of the outlandish '57 Chevy custom was Gary Schwank, the guy who built the car in that shop, the very car that had everybody scratching their heads for so many years.
"You're bringin' back a lot of memories that I'd forgotten," he said as he paused to reflect about the car he built half a century ago. "I was the original owner of it. We were living in Walla Walla but we went to Seattle to buy the car. My mother bought one, too, and we got a used Ford convertible for my sister. Not too long after I took off and went into the service," he continued. "I was stationed at Travis and there was a guy down there working in a body shop." Schwank described it as a single dirt-floor building in Fairfield, not too far down the parkway from the base's main entrance. "The (shop) owner was doing custom work for himself and others," he recalled. "He'd done this thing with the taillights on the Buick. I liked it. I had this idea, so he did my taillights."
The '59 Chevy taillights sort of sparked a friendship, albeit a slightly competitive one with the shop owner helping both guys with their cars. He explained that each upped the ante for the other with every modification. Nosed, decked, with chromed and reversed wheels, a custom grille, resplendent in a non-stock metallic blue, and streaked with inverted side trim from a '58 Ford, Schwank's car was pretty far from the 210 Sport coupe it started as.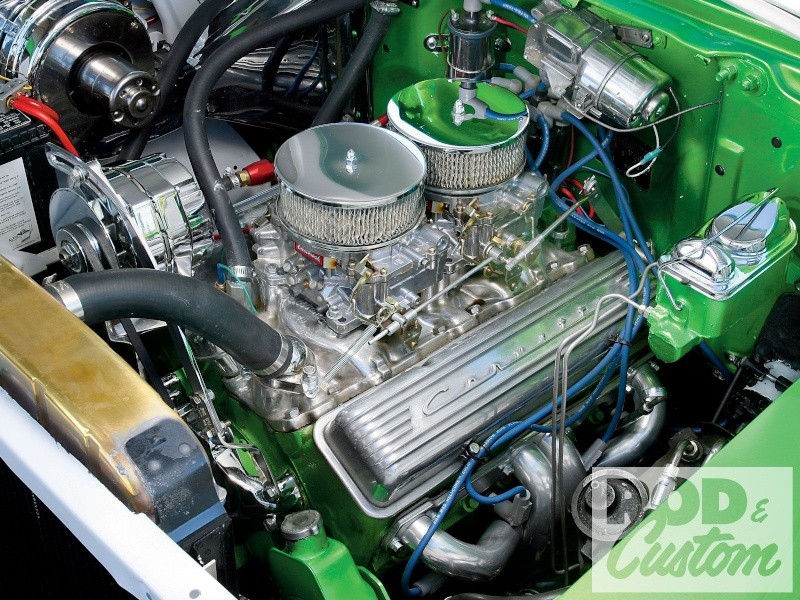 This succession of modifications culminated in the car's distinctive nose. "He was changing his Buick to quad headlights," Schwank recalled. I liked that, so we changed mine to a quad too," he said.
Dernière édition par Predicta le Ven 1 Mai - 7:19, édité 2 fois

_________________
We don't care the People Says , Rock 'n' roll is here to stay - Danny & the Juniors - 1958
He's being modest. Along with the quads, the duo swapped everything below the hood for a '57 Desoto bumper. If you've ever seen a '57 Desoto, you know the part Schwank used is the elegant blade locked in an ungainly combination bumper, grille, and roll pan. The two eliminated the lower section, filled the ends, narrowed it, and plugged it into the modified bumper recesses in the front fenders. They eliminated the grille opening trim, reshaped the opening above the bumper, and created a roll pan below it.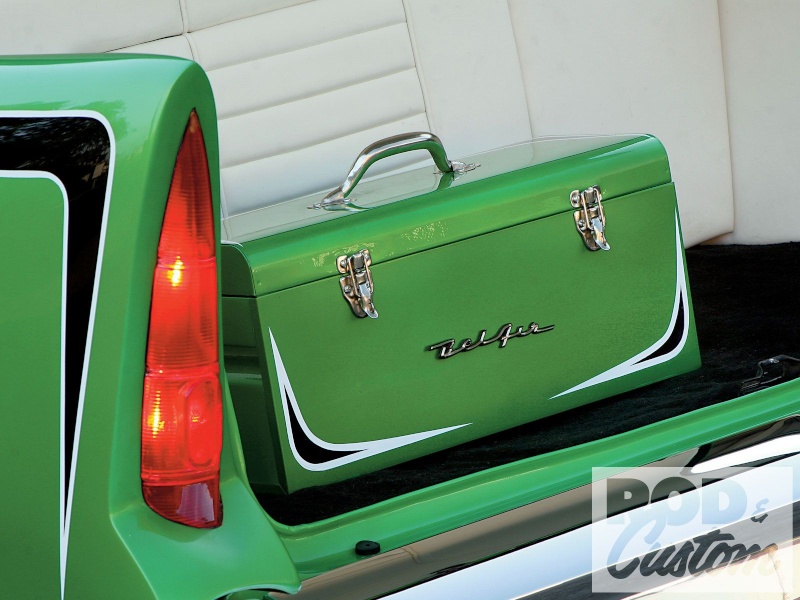 The modifications went deeper than the skin. Though the car came equipped with a 283 Power Pack and a Powerglide, he found someone who was at wits end with a fuel injection setup. "I had two four-barrels and I traded with a guy in Walla Walla," Schwank remembered. "He couldn't make it work and I kind of wanted that fuel injection. I put it on when I was on leave and thought, 'I'm not going to be able to get this thing running'. Then I made a critical mistake: I got pissed off and cut a wire. All of a sudden it ran! Well what he'd done was set up a normally closed microswitch where there should have been a normally open one," he said, laughing. "Once I figured that one out, man I was in fat city."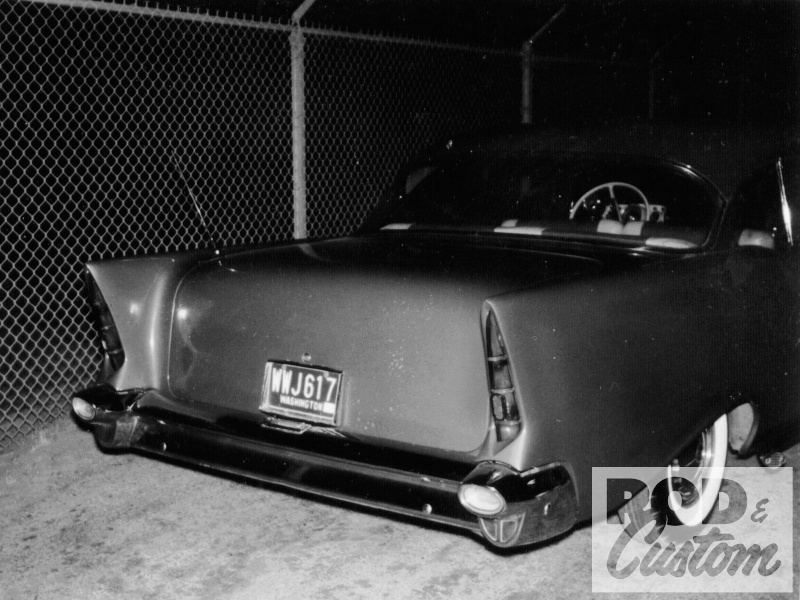 Then something happened that initiated a sort of downfall for the car. "Of course I was single and pretty free at that time, so I pulled the motor from it. I was going to bore and stroke it and had it in the back of my Model A pickup," he explained. "Well someone stole my pickup and took my motor. The only thing they didn't get was my fuel injection. I'd pulled that apart and had it in my room. But when the insurance company got done working me over I got a used 283 stuck in it because I was getting married too. I got married just before I got discharged, and the money I'd save up for it, ha-it just went away. After I was discharged I came back up here and bluffed my way onto a farm," he continued. According to Schwank, one of the hands, a kid named Royce Wolfe-who's still a family friend-wanted it. "So I sold it to him for wages. He kept it for a while but then sold it to somebody and then it ended up on a lot in Orofino (Idaho). I thought about going up and getting it, but by the time I got there, it was gone."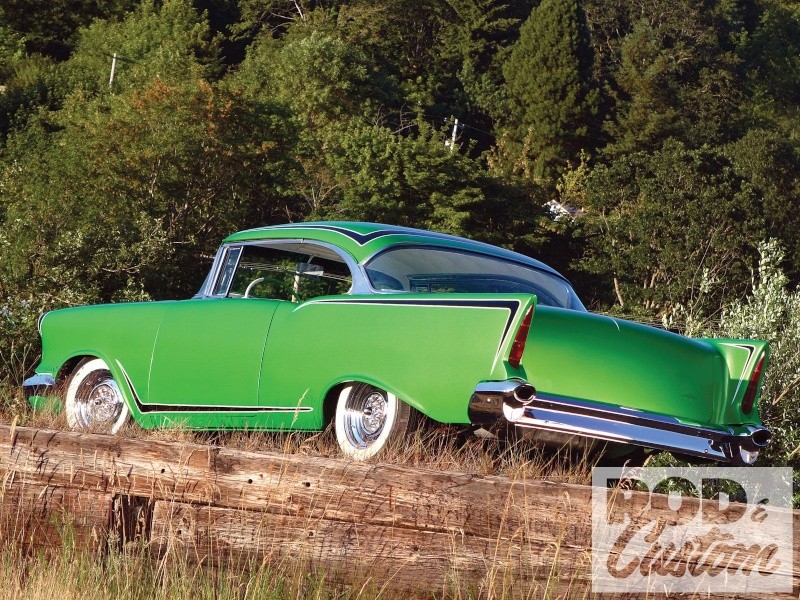 Fast forward a few years. The '57 wouldn't be gone for long. "My dad and I found the car at a swap meet in Hillyard," Russ Freund said. Freund is one of those born into this. His dad, Claude, always had a rod project or two going and Freund formed his earliest memories bouncing along in some old car.
He said he remembers his dad acquiring the car in the very early 2000s. Whatever the case, it sat until at least 2005. What Russ said his dad intended to do wasn't restore the car exactly the way it was as much as tune it up the way they felt it should've looked by 1960 standards. Given the solid condition of the body and the already-finished work on the car, though, they didn't have to do much.
They rebuilt the chassis basically stock except with a few modern concessions like disc-brake spindles, a power steering conversion, and air springs fore and aft. Motorworks machined the 283, and they put it back together basically stock except for the Edelbrock dual-quad setup. During this, artist Jeff Allison scratched up a rendering of the car; he used green instead of blue and white-outlined black scallops instead of Ford trim.
Once Freund and his dad put the new chrome wheels and cross-ply tires on the car, they rolled it to George Frank's shop in Clarkston, Washington, for trim. Incidentally, that's where Schwank struck up the conversation that served as the introduction of this whole story. Mind you, Clarkston is 100 miles east of Walla Walla, where Schwank lived when he bought it, and 100 miles south of Spokane, where the car lives now. Frank trimmed the early '60s GM buckets and the '64 Thunderbird rear seat in a combination of leather and vinyl.
Though deeply committed to the car's integrity, Freund admitted something: "We're hot rod people. We like the car, but it's a custom after all. We didn't know what to do with it once we finished it."
Jon Budda did, though. He is neighbors with Claude Freund, and since he and his son are fixtures at Freund's shop, they fell for the car as they watched it go back together. When he heard the car was on the market, he bit. "I wanted a project that I could share with my sons, Ryan, Josh, and Nate," he said.
But that's not the end of this car's story. When Jon debuted the car at the Auto Boat and Speed Show in Spokane, he invited Schwank and his wife to see it in its new finery. "I'm tickled to death that some of my ideas have gone on," he enthused. "Well, they weren't all my ideas," he added, humbly. "This one guy who helped us ... he was a real artist. He should've been in Hot Rod magazine."
In a sense he finally did make it big time. Only like Schwank's old car, it took a few years longer than most. Let's just hope he sees it.
Rod & Custom Feature Car
Jon Budda
Spokane, Washington
1957 Chevy 210 Sport Coupe
Chassis
Though it was slated for a later chassis swap, Jon's '57 is right where it belongs: on its original frame. Claude and Russ Freund basically cleaned it up and left it alone. To make the car ride and stop well, they replaced the front spindles with dropped, disc-brake units from CPP. They also replaced the manual steering box with a Saginaw 605 conversion. The front suspension rides on an air spring/dampers combo instead of coils. They retained a few of the rear leaf springs and suspended the car on a set of air springs. A traction bar mitigates axle wrap.
Drivetrain
Motorworks in Spokane bored the '59-vintage 283 0.080 over. The Freunds reassembled it with Federal Mogul Speed Pro forged pistons, a mild cam, and small-valve, fuel injection-style heads (aka Fuelies or Camel Humps). Between the Corvette-finned rocker covers and under the Cal Custom air filter are two 500-cfm Carter AFB-style Edelbrock carburetors on an Edelbrock dual-quad manifold. Shelly's Performance in Greenacres put a tune on the stock GM distributor. Sanderson mid-length 1 5/8-inch headers dump into 2 1/2-inch stainless pipes and Flowmaster 40-Series mufflers. The Muncie M20 wide-ratio, four-speed gearbox sports a time-tested Hurst shifter.
Wheels & Tires
Wheel Vintiques made the OE-style chrome wheels. The standard-offset rollers measure 15x5 and 15x7 and wear BFGoodrich Silvertown 5.90-15 and 6.70-15 bias-ply tires.
Body & Paint
Many think the only hardtops were Bel Airs, but Chevrolet made very few (22,000) 210 Sport coupes, and this is one of 'em. Gary Schwank and his pal replaced the front bumper with a cut-down '57 Desoto, made the roll pan, and crafted a new grille surround. They used Ford pickup headlight pods to make the canted inserts. They made the doors around them the old-fashioned way: with bar stock for shape and sheetmetal to fill the gaps. They also nosed the hood, filled the scoops, shaved the handles and trim, reshaped the fins to take '59 Chevy taillights, and opened the false outlets in the bumper and ran the pipes through them. A.J. Parker custom-mixed the DBC-series PPG base/clear combo, a formula Freund calls Money Green. Wildman Deluxe Jeff Allison dug into his archive of old custom cars, which he calls his brain, for the black scallops. When Mike Gortsma laid down the color, he painted the white "pinstripes" around the black scallops, although Allison striped the dash. Spokane Metal Finishing got the commission to refinish the brightwork.
Interior
The interior description reads like an early '60s show car: '61-65 GM bucket seats, '64-66 T-bird wraparound back seat, and a '59 Impala steering wheel, just to name a few. Clarkston, Washington's, George Frank trimmed the white cockpit in leather pleats with vinyl boxing. Allison pinstriped the dash, Freund roped the car with an American Autowire kit, and Graffiti Sound Solutions in Post Falls, Idaho, rewired an iPod-fed Pioneer head unit to turn off and on by the original AM radio volume knob.
Read more:
http://www.rodandcustommagazine.com/featuredvehicles/1002rc_1957_chevy_210_sport_coupe/viewall.html

_________________
We don't care the People Says , Rock 'n' roll is here to stay - Danny & the Juniors - 1958

_________________
We don't care the People Says , Rock 'n' roll is here to stay - Danny & the Juniors - 1958

_________________
We don't care the People Says , Rock 'n' roll is here to stay - Danny & the Juniors - 1958

_________________
We don't care the People Says , Rock 'n' roll is here to stay - Danny & the Juniors - 1958
Sujets similaires
---
Permission de ce forum:
Vous
ne pouvez pas
répondre aux sujets dans ce forum