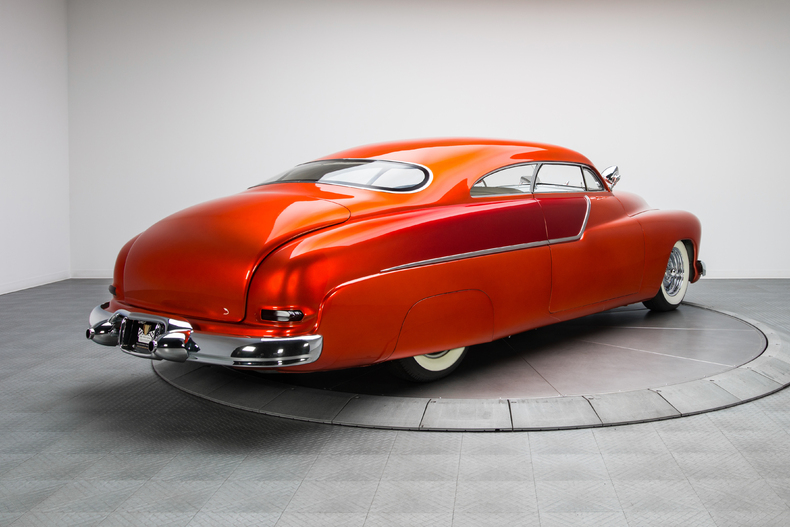 There's nothing like assuming the helm of a lights-out lead sled. Whether it's the fault of James Dean, Sam Barris or just stellar design, 49-51 Mercurys seem gifted with universal appeal that few classics possess. This world class Mercury Kustom is the recipient of a complete, frame-off restoration that combines unbelievable paint with epic metalwork, a potent Ford flathead and a clean custom interior. With a history of national awards, the car easily navigates the line between awesome weekend warrior and show-stopping crowd pleaser. And if you're the kind of buyer who's searching for a stunning, all-steel masterpiece that features a roster of top notch equipment, no hot rod offers more style for less money!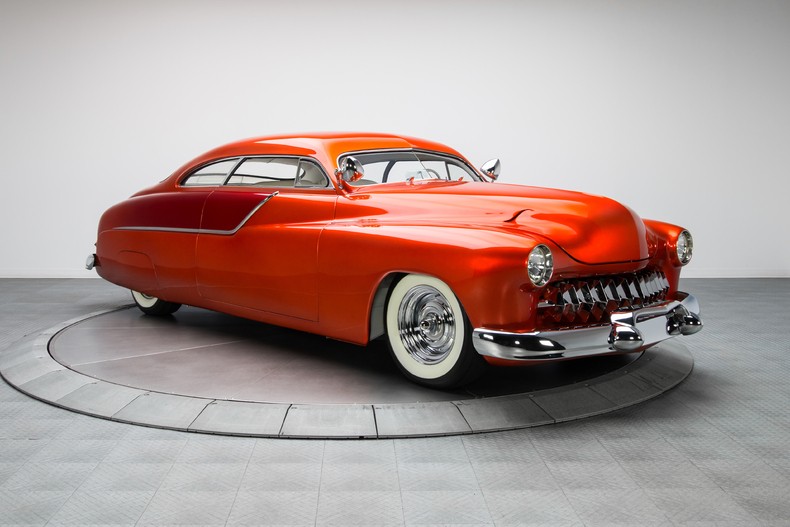 Initially completed in late 1996, 'Tradition' is the direct result of what happens when a seasoned gearhead has an uncompromised vision, major dedication and an army of very talented, very caring associates. The car's creator, famed tattoo artist and Beatnik Koolsville founder Brian Everett, wanted to debut a fresh sled that embodied the class and simplicity of a '50s hot rod build. In what seemed like divine coincidence, this solid coupe appeared in one of his neighbor's yards, and he quickly negotiated a sale price. It wasn't long before the car was headed to L'il John Harvey of L'il John's Kustom Studio in Las Lunas, New Mexico. And Everett announced plans to debut his creation at the 1997 Grand National Roadster Show. The project's work schedule was frantic, with everyone from Everett, his friends, his wife, L'il John Harvey's wife and even award-winning customizer Rick Dore putting hands on the build. But, thanks to a lot of passion and elbow grease, the Candy Red and Pearl White Kustom was locked, loaded and ready to go just in time for the 48th annual GNRS. Unfortunately, as is often the case, Mother Nature had the last laugh, unleashing a giant snow storm between Everett and the Pomona Fairplex. And, after the car claimed the Joe Bailon Candy Apple Award at the Sacramento Autorama, then placed First in Class at Blackie Gejeian's Fresno Autorama, it was officially mothballed in preparation for the 1998 Grand National Roadster Show.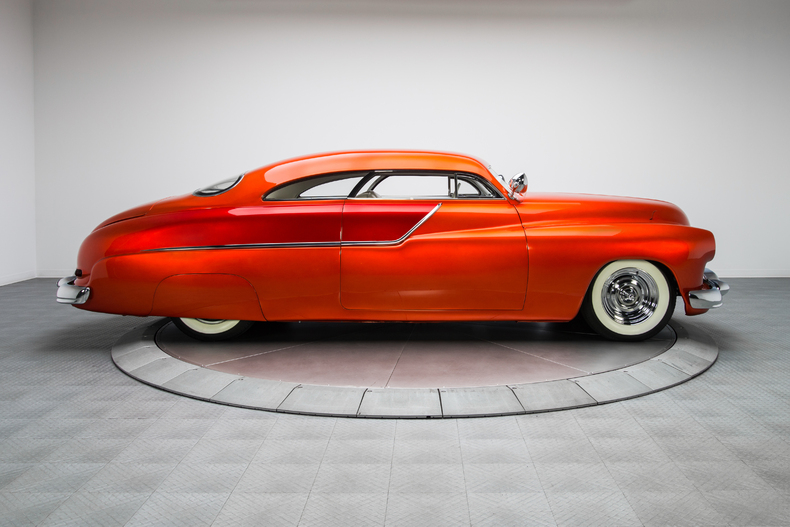 Fast Forward to January 1998 when, en route to the 49th annual GNRS, Everett found himself staring at a totaled Suburban, equally mangled trailer and substantially creased 'Tradition'. On the way to its big debut, something had gone awry with the Mercury's hauler, causing it to barrel roll down the highway and, once again, dash his hopes of headlining the Grand National. Now more determined than ever, Brian declared his intent to take the car to a third Grand National Roadster Show, and invited L'il John Harvey to his house for dinner and a discussion of the beloved Merc's rebirth. Both agreed that the recent mishap presented a unique opportunity to create something a bit different; and this diamond dusted, Candy Tangerine over Maroon and Silver Kustom became their ultimate resolution. Today, the car's striking House Of Kolor body still owns the show, wherever it goes. And overall, 'Tradition' stands as a timeless and exceptionally executed tribute to skilled customization and classic American hot rodding!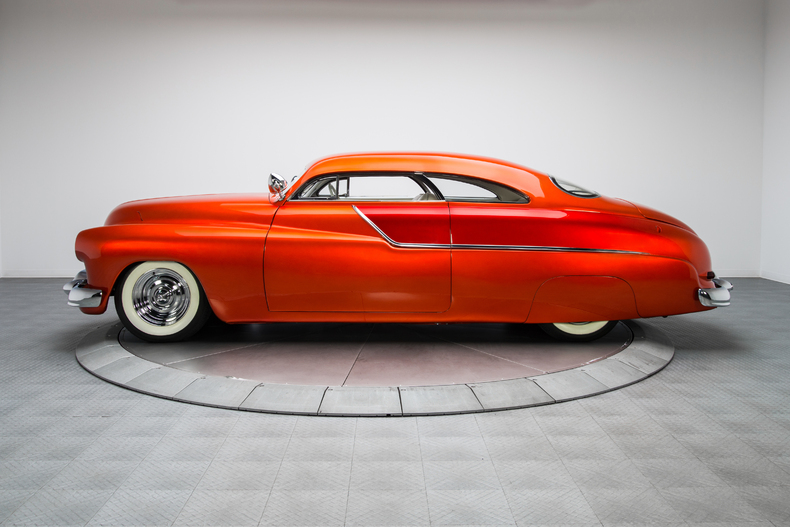 The styling of Mercury's second generation Eight was successful in both ending the monotony of warmed-over pre-war designs and differentiating the brand from its comparable Ford cousin: a trick that spelled BIG sales success. Those newfound sales made the car immensely popular with customizers, and in 1949 the first lead sled, built by Sam Barris, pioneered what would become hot rodding's definitive '50s custom. At the front of this seamed coupe, a wraparound bumper hangs a '52 Kaiser guard below frenched Lucas headlights, a custom, hand-fabricated grille, and a nosed, rounded and louvered hood. Behind that hood, flush, chrome-trimmed glass rides inside capped wipers, traditional spotlights and a chopped and filled roof. At the sides of that roof, a shaved profile floats '55 Pontiac stainless between a frenched antenna and flush-fit fender skirts. And behind those skirts, a second wraparound bumper centers a second Kaiser guard between small exhaust pipes, frenched tail lights, and a decked and rounded trunk.

_________________
We don't care the People Says , Rock 'n' roll is here to stay - Danny & the Juniors - 1958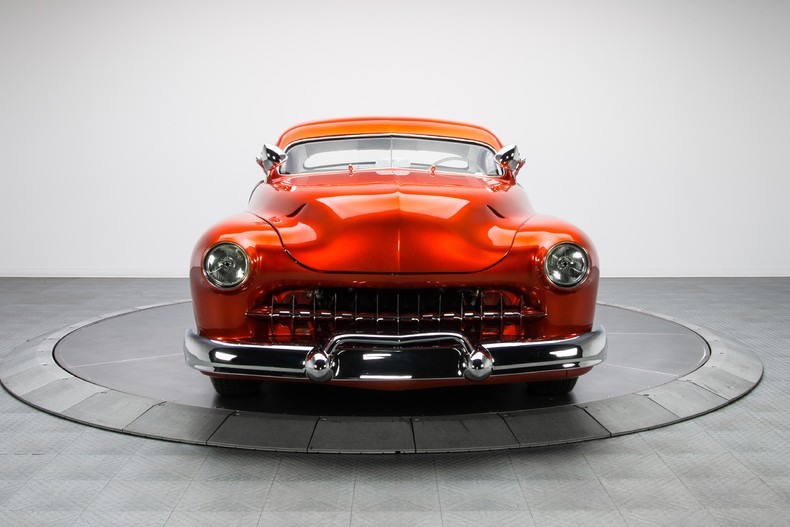 As Ford's final Henry Ford-fueled innovation, the Ford V8 remains a durable, torque-rich powerplant that, thanks to solid engineering, has established an unmatched reputation in the classic and custom car community. And, in keeping with tradition, this awesome Merc is powered by a modified, 221 cubic inch flathead which, in factory guise, twists 6.20 to 1 compression into roughly 85 horsepower. At the top of the sturdy iron mill, a trio of air cleaners funnel wind through a trio of Ford carburetors to a polished Offenhauser 3-pot. At the sides of that intake, aluminum Offenhauser heads seat 48 studs around red, stainless-sleeved Standard Motor Products plug wires. Below those heads, a Candy Maroon block centers a traditional points distributor between cast Fenton headers. Charge comes courtesy of pliable V-belts, which exchange an old school generator for a fresh chrome alternator. And cooling is provided by a custom U.S. Radiator, which is fitted with a big electric pusher fan, corrugated top hoses and traditional, albeit polished tanks. As with any expertly built Kustom, the car's Pearl White engine bay is fully sorted and ready to go. And the clean block looks right at home between a flamed hood, a gold Mercury badge and bright chrome hardware.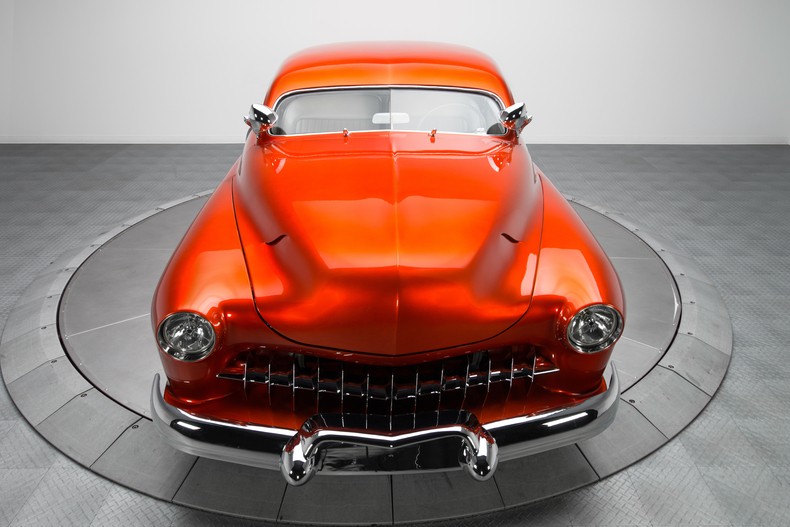 Take a look under this all-steel custom and you'll find a traditional Ford skeleton that, despite its road-ready mechanicals, displays very few signs of wear. While its body was off being refinished, this Mercury's old school bones were treated to an equally impressive, tri-tone makeover. At the front of those bones, a factory suspension makes excellent use of chopped coil springs and a Saginaw steering rack. At the back of those bones, a second factory suspension mixes KYB Gas-A-Just shocks with Unkl Al's Low Glide springs. At the center of that chassis, a stalwart Ford 3-speed spins a beefy Dana 60 around big, 4.27 gears. At the sides of that awesome driveline, the aforementioned headers roll spent gases through fresh stainless pipes and small, glasspack-style mufflers. At the corners of that exhaust system, traditional drum brakes provide solid, predictable stops. On the outside of those drums, custom smoothies spin 215/75R15 wide whitewall Cokers around a combination of chrome and painted surfaces. And naturally, pliable hoses, clean lines and a familiar stainless fuel tank complement the Pearl floor's form with fully sorted function.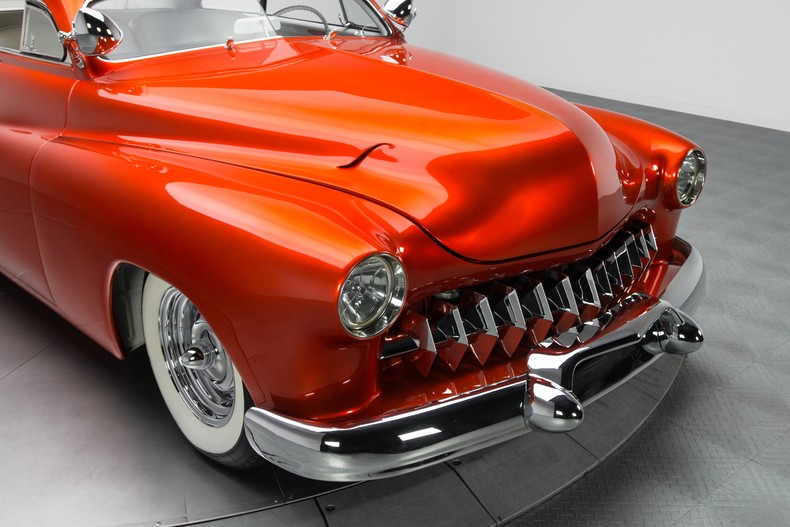 The pros at Scottsdale's Unique Upholstery fitted this Kustom's classic tuck 'n roll interior which, as 'Tradition' has already proven, is versatile enough to mesh with almost any upgrade. Pleated Pearl seats, which are both soft and supportive, ride on clean gray carpet that's protected by pleated, "Tradition" branded floor mats. In front of those seats, a Pearl dash anchors classic Stewart Warner gauges behind a small mirror, a standard traffic light viewer, two-tone bullet knobs and a vintage High Fidelity radio. At the sides of that dash, custom door panels hang correct hardware in front of body-matched emblems, Pearl frames and bright stainless accents that mimic the '55 Pontiac trim found on the outside of the car's body. Above those panels, a custom headliner flows to an intricately detailed package tray. In front of the driver, a '68 AMC steering column spins a '59 Oldsmobile wheel around a long B&M shifter and killer beatnik shift knob. And behind the passengers, a paneled and carpeted trunk hides a small fuel filler opposite a full-size spare.
Naturally, this incredible build drew the attention of more than just diehard car show groupies. Here's a chronological list of the coupe's major accomplishments:
Recipient of the Joe Bailon Candy Apple Award at the 1997 Sacramento Autorama
Recipient of First in Class at Blackie Gejeian's 1997 Fresno Autorama
Featured in the January 1998 edition of Custom Rodder Magazine
Featured in the February 1998 edition of American Rodder Magazine
Featured in the March 1999 edition of American Rodder Magazine
Chosen as one of Rod & Custom Magazine's 100 Best Rods & Customs for 1999
Featured in the January 2001 edition of Rod & Custom Magazine
In addition to those magazine features, this Merc's sale includes a small stack of restoration photos.
This razor-sharp sled is one of the coolest cruisers on the planet! And at only $79,900, it isn't just a fully restored classic that's attainable for a fraction of its build cost; it's a unique hot rod that sets itself apart from a virtual sea of chopped, diced, smothered and covered street rods. If you're ready to own the very definition of American cool, don't miss out on this incredible Mercury Kustom!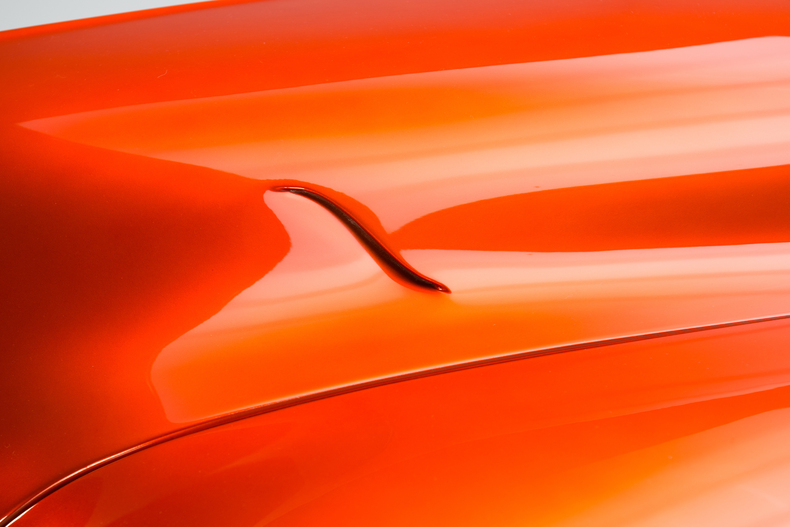 _________________
We don't care the People Says , Rock 'n' roll is here to stay - Danny & the Juniors - 1958

_________________
We don't care the People Says , Rock 'n' roll is here to stay - Danny & the Juniors - 1958

_________________
We don't care the People Says , Rock 'n' roll is here to stay - Danny & the Juniors - 1958
magnifique, et cette couleur ......

_________________
OLD KIT NEVER DIE
AUTOS-CAMIONS-WEBMAG
---
Permission de ce forum:
Vous
ne pouvez pas
répondre aux sujets dans ce forum