le Mer 29 Oct - 20:58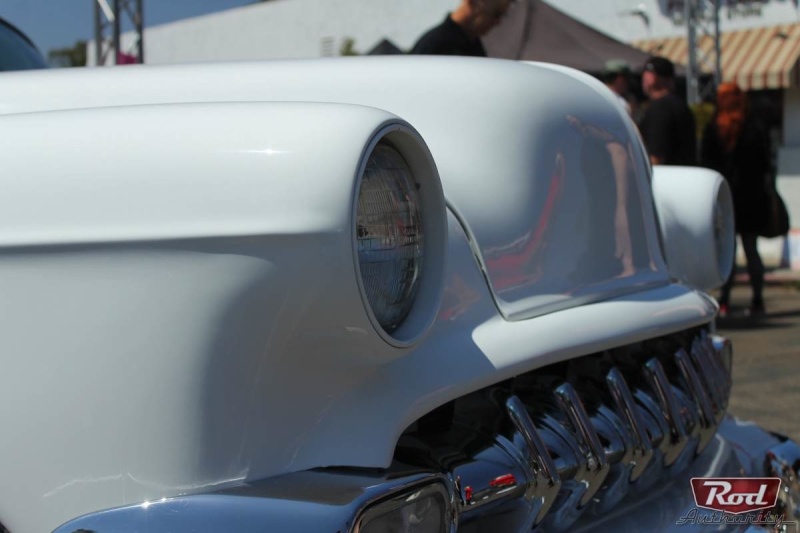 Andre's '54 took home Best In Show during this year's Fiesta De Kustom Kulture, and rightfully so. A clean build through and through, from the frost-white paint job and jaw dropping flaked and air brushed roof courtesy of Hot Dog Kustoms, to a unique diamond tuck interior–Rod Authority caught up with Andre to learn more about his stellar Delray.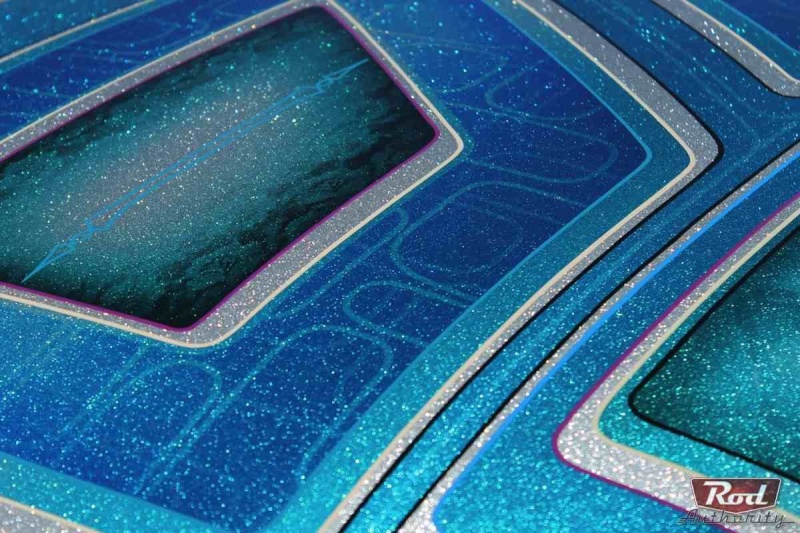 "I was at work and I was on hold over the phone. I decided that I'd wanted a Chevy car, I'd previously owned a truck. I stumbled on AutoTrader and saw the Delray. It definitely didn't look like how it does now. By the time I'd called the guy who'd listed it he'd already sold it. I basically asked the guy how much he wanted to unsell it," Andre explained. Needless to say, his persuasion paid off, and though Andre paid a little more to get the car in his possession, we're sure that if his Delray could talk it would be jumping for joy because of its slick restoration.
Andre has owned his'54 for the past five years and out of that five it took three years to complete the restoration. With all this flare that the car has we asked how many of his car buddies were a part of the process, "I actually have no friends who like this stuff and this is the first time for me to actually show it." Andre continued, "I did a lot of work on my own along with J&V Automotive in Chula Vista who was responsible for a lot of the bodywork and fabrication. I painted the body in my garage and Hot Dog did the roof."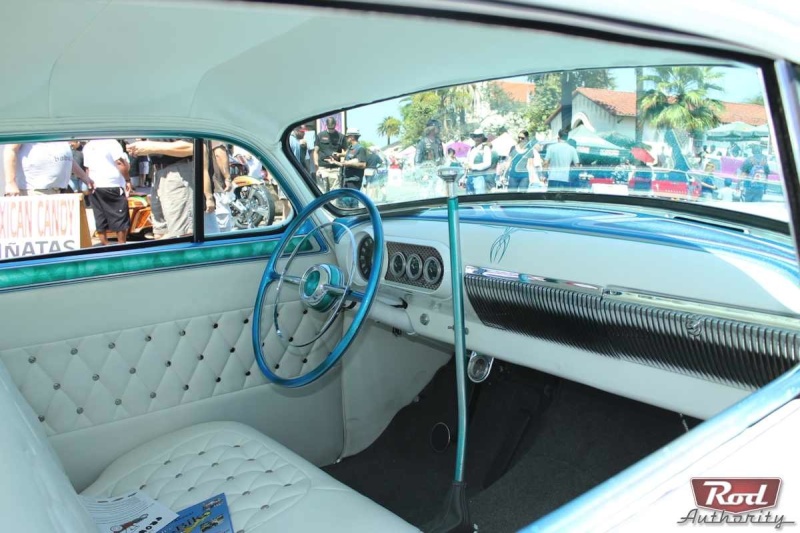 The upholstery buttons offered a unique touch that are commonplace on classic furniture, but surprisingly we don't see to much on classic cars. "I found this guy who had excess buttons out in Jersey. Hot Wheels Upholstery, also out in Chula Vista, handled all the fabrication of the interior. Subtle touches such as the dash and the steering wheel compliment the '54's bold roof.
As we wrapped up our interview with Andre we had to get the backstory on how the roof came to be, "I had kind of an idea of what I wanted, but the reality of it is, with Pete aka Hot Dog–you don't tell him what to do. He asked me one question, 'What colors don't you like?' From there I just let him do his thing. The roof was 100% Pete. I hired him for a reason, he had the style that I wanted and I also knew what I was looking for on the roof."
Dernière édition par Predicta le Jeu 30 Avr - 7:31, édité 1 fois

_________________
We don't care the People Says , Rock 'n' roll is here to stay - Danny & the Juniors - 1958

_________________
We don't care the People Says , Rock 'n' roll is here to stay - Danny & the Juniors - 1958

_________________
We don't care the People Says , Rock 'n' roll is here to stay - Danny & the Juniors - 1958
---
Permission de ce forum:
Vous
ne pouvez pas
répondre aux sujets dans ce forum