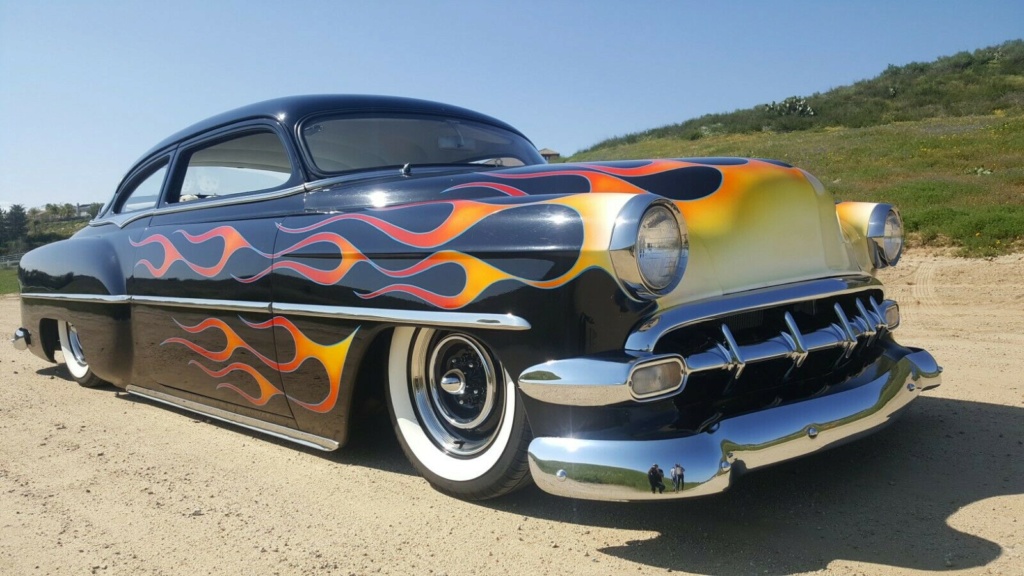 Chop: 4.5 in Front / 5.5 in Back
Other Body Modifications: Shaved and Peaked hood, Shaved trunk, 54 Pontiac side trim
Paint Color: Black with Traditional Flames
Engine : 350 CI Chevy, Cal Custom Finned Covers, Lokar Gas Pedal, Throttle Cable, Trans Dip Stick. Serpentine belt setup.
Tranny: 2004R Non Lockup
Intake & Carb: Weiand Manifold with Holley 670 Street Avenger Carb, Holley Adjustable Fuel Pressure Regulator
Ignition: Summit Racing HEI Distributor
Exhaust: Ceramic coated block hugger headers, Flowmaster 40 Series mufflers
Rear End: 2003 Blazer with 323 Posi
Suspension : Bagged with Accuair VU4 Valve Bolck and Accuair E-Level System with Viair compressors, Triangulated 4 Link.
Brakes Front: Disc
Brakes Rear: Disc
Wheels/Size: 15x5 Wheel Vintique's smoothies Powder coated black with spider rings and bullet lugs.
Tires/Size: Toyo Diamond Back Radials 2.5 inch Wide Whites 205/65/15
Seats: 64 Buick Riviera front buckets / Stock back
Steering Wheel: 1964 Impala
Interior Extras: Lokar Shifter , Dolphin Gauges

_________________
We don't care the People Says , Rock 'n' roll is here to stay - Danny & the Juniors - 1958

_________________
We don't care the People Says , Rock 'n' roll is here to stay - Danny & the Juniors - 1958

_________________
We don't care the People Says , Rock 'n' roll is here to stay - Danny & the Juniors - 1958

_________________
We don't care the People Says , Rock 'n' roll is here to stay - Danny & the Juniors - 1958

_________________
We don't care the People Says , Rock 'n' roll is here to stay - Danny & the Juniors - 1958

_________________
We don't care the People Says , Rock 'n' roll is here to stay - Danny & the Juniors - 1958
---
Permission de ce forum:
Vous
ne pouvez pas
répondre aux sujets dans ce forum