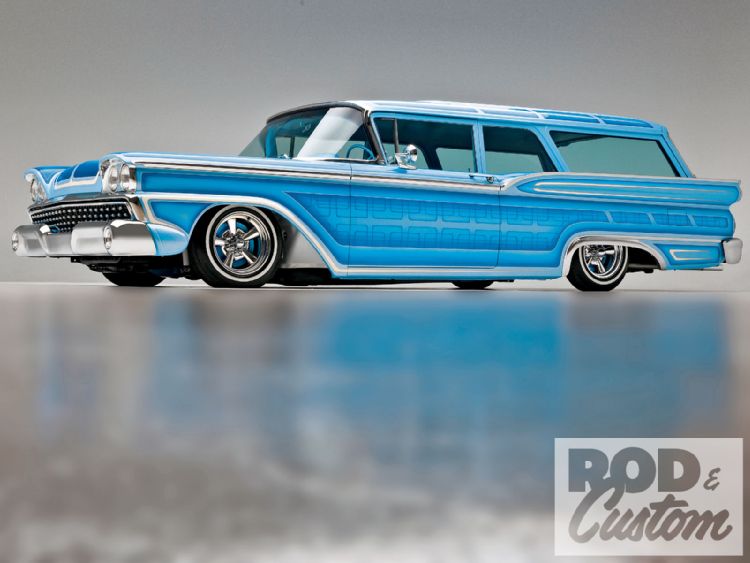 So 1959 maybe wasn't the most successful year in the history of American automobile design. Automobiles, however, like some wines and some people, can age gracefully and become more than what they once were. This is particularly true when a given car receives attention from a creative type who is willing to spend upwards of eight billion hours to enhance the appearance of a once dowdy, or at least mildly nondescript, car and reinvent it as a glamorous piece, too beautiful to put to the asphalt test. Unburdening the car of its excess trim and reconfiguring its stance have revealed the very attractive body lines inherent in the Ranch Wagon's design.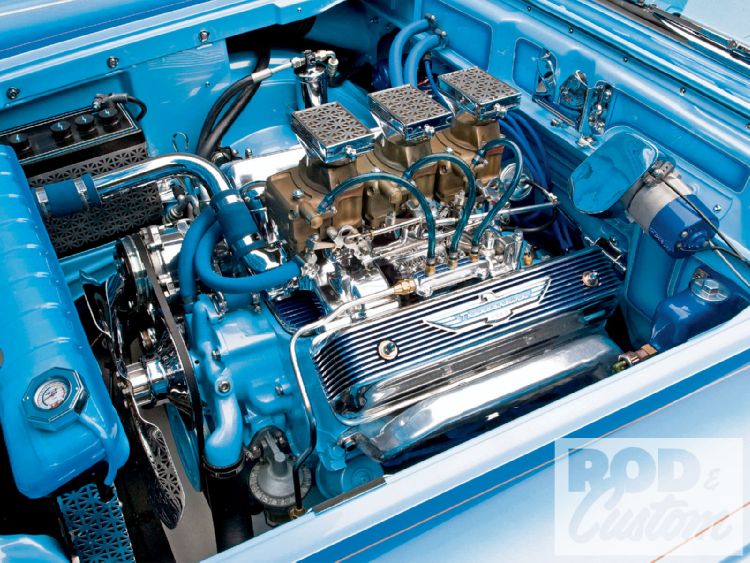 Norm Ricardo, a San Leandro, California, native, has been a car guy all of his life. Norm's youthful predilections were inclined toward muscle cars (he wisely eschewed the virtues of the other automotive option of his high school era: mini-trucks), but with maturity comes wisdom. Now his focus has shifted to traditional customs and hot rods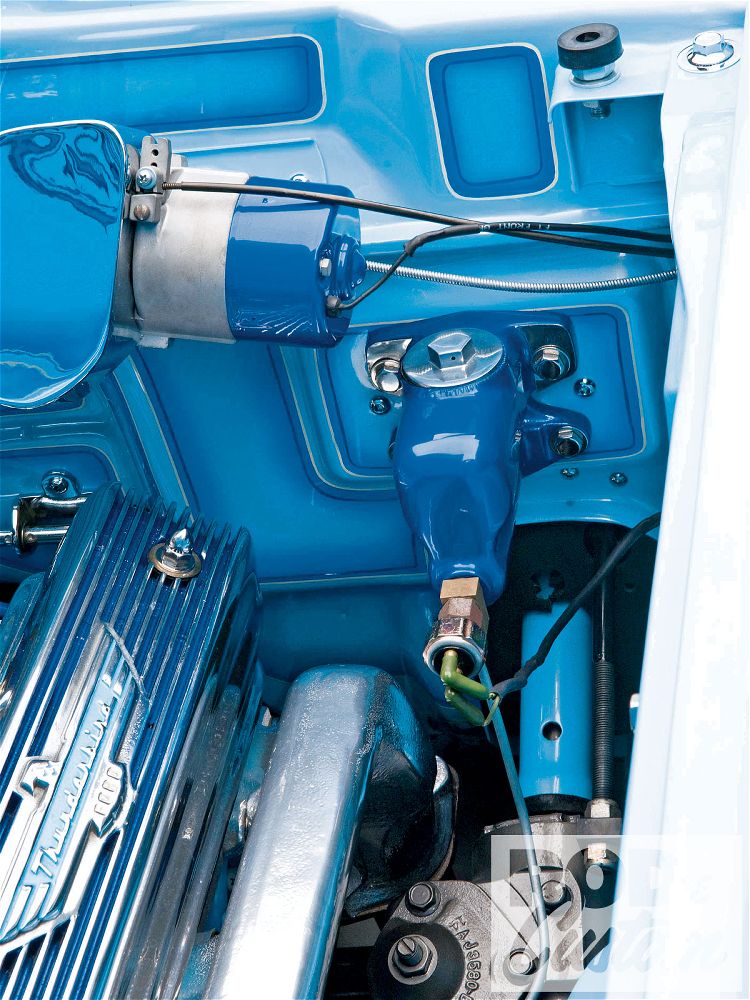 Dernière édition par Predicta le Ven 1 Mai - 8:41, édité 1 fois

_________________
We don't care the People Says , Rock 'n' roll is here to stay - Danny & the Juniors - 1958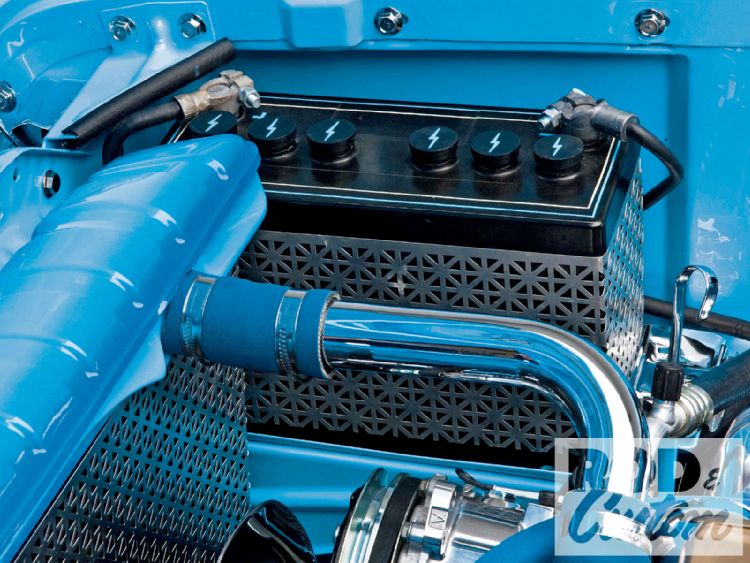 Norm located the wagon at a Goodguys event in Pleasanton, California, while searching for a '30s Model A for a project. Someone else had seen the potential in the car and adorned the rare two-door with Torq-Thrust wheels, a mild rake, and three-twos on the original Y-block engine. Love and inspiration struck simultaneously and Norm started going a little crazy. As he continued to walk the event, the idea of a Model A hot rod began to lose its luster and Norm's dreams turned to a panel-painted, slammed custom. The fabled hot rod is probably in Norm's future but the wagon has become an iconic contemporary example of the look known as "a mild '60s custom."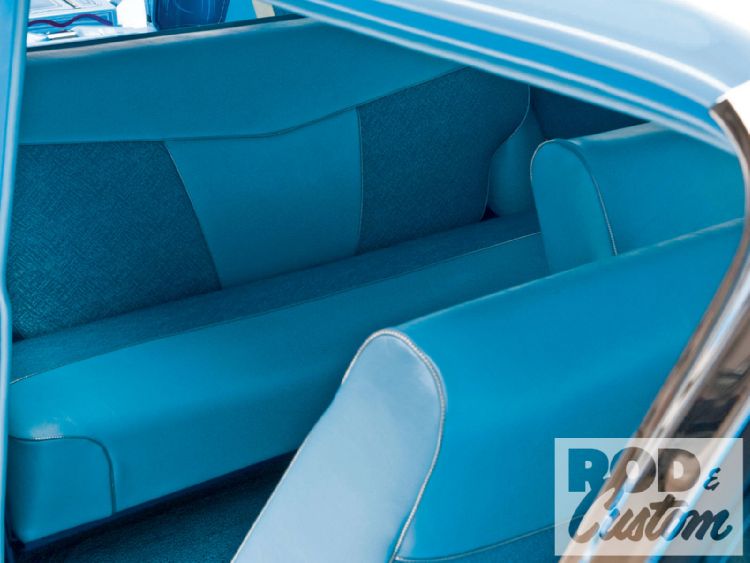 Norm wisely enlisted crafty and imaginative body and paint master Darryl Hollenbeck to help with the project. Although Hollenbeck's shop focuses primarily on body and paint, the car was constructed there, and for about seven months, the place was a full build facility. It goes without saying that the project became increasingly in-depth as it went along.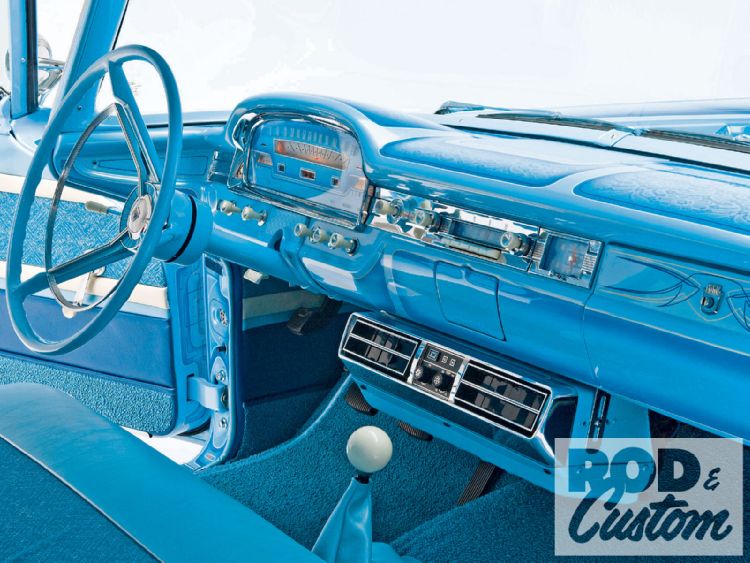 The wagon's body was never severed from the frame, although major dismantling did occur. The stock trim was removed, the engine taken out, and the mild rake eliminated by employing Grunion Manufacturing airbags. The chassis, chassis plumbing, and all of the major chassis components-A-arms, spindles, springs, steering, brakes, lines, and more-are plain ol' Henry. The rearend is a 9-inch setup with a very "station wagoney" 3.55 ratio, shocks are KYB fore and aft, and nothing else on the frame or suspension has varied from the factory choices.

_________________
We don't care the People Says , Rock 'n' roll is here to stay - Danny & the Juniors - 1958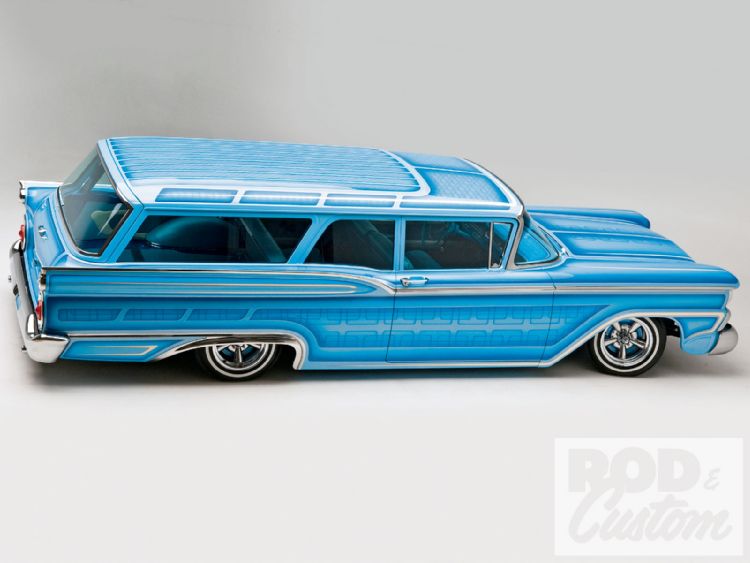 Selby and Sons Machine Shop in nearby Santa Rosa rebuilt the stock Y-block 292 engine with a slight nod to performance, using a 9:1 compression ratio and by providing an Edelbrock 357 manifold, sporting three 200-cfm Demon 98 carburetors. A stock 20-gallon gas tank maintains enough of a reservoir to quench the demonic thirst. Once compressed, an MSD Pro-Billet distributor ignites the air/fuel mixture. Lowly pedestrians are treated to a throaty rumble emanating from a 2 1/4-inch exhaust system that passes gas through Sutherland and Sutherland 12-inch glasspacks. The polished and chromed engine, T-bird valve covers, and Zenith spark arrestors from a '50s Chris Craft speedboat top it off. The engine is linked to the rearend with a BorgWarner T-5 tranny, and the two connect with a Centerforce clutch.
The paint is the thing on this wiggy wagon and master applicator Hollenbeck appears to have lost his ever lovin' mind with this blue-on-blue masterpiece. The unusual two-door wagon is drenched in PPG paint in a color listed on the tech sheet as "custom mix." No kiddin'? I thought it was stock. It is unnerving to realize that the masking tape budget would probably feed a third world nation for two or three years! Let's not even talk about the time it took to mask, unmask, and remask to achieve the complicated panel design and lace roof. Now what about all of that striping? Well-known Bay Area artist Eric Reyes did the line work on the exterior, and the interior and underhood artistry flowed out of the talented brush of Hollenbeck's in-house wizard Brandon Flaner. Don't even think about how long it took.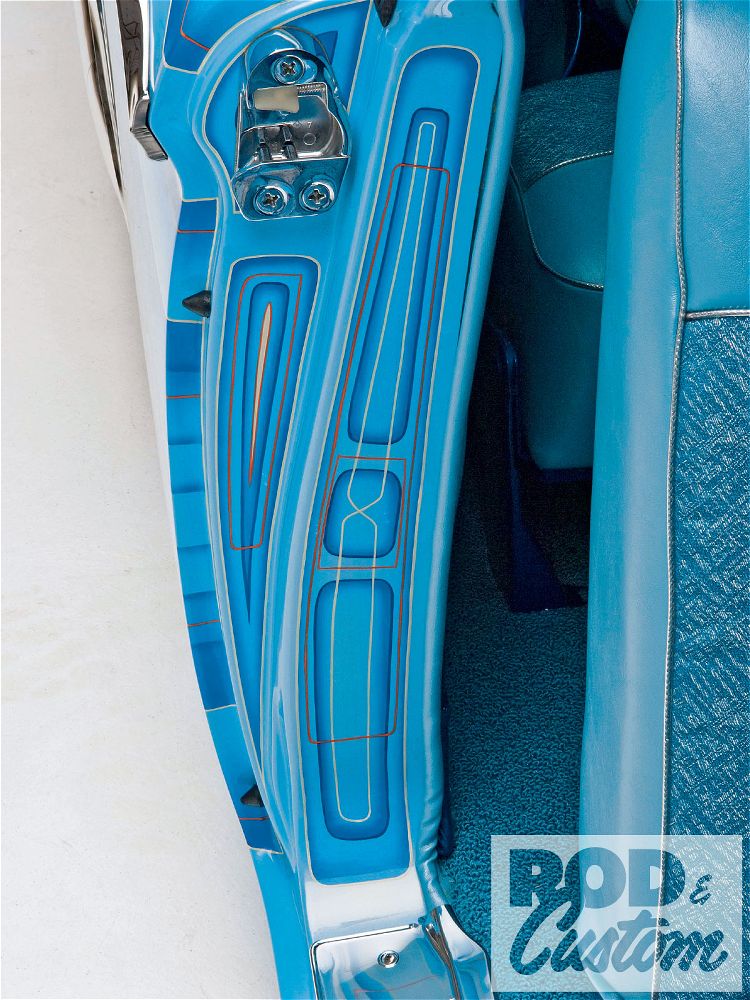 Inside the Ranch Wagon we find what we find everywhere else on the car. It is stock, stock, and more stock. The A/C system is a '60s-style unit that came with the car and some Vintage Air components bring function into the 21st century. The seats are stock Ford with custom vinyl/cloth covering. Divine's Custom Interiors in Pittsburg, California, handled the stitchery on the seats and installed the baby blue loop carpet.

_________________
We don't care the People Says , Rock 'n' roll is here to stay - Danny & the Juniors - 1958
The stunning wagon epitomizes the idea of a mild custom. While the car is basically, not to be overly repetitious, stock, it presents a singularity that makes it more noticeable and that attracts more attention than many cars that have far more modifications. Truly a driver, this car has few complications that will make it unroadworthy. "You want reliability? Keep it stock."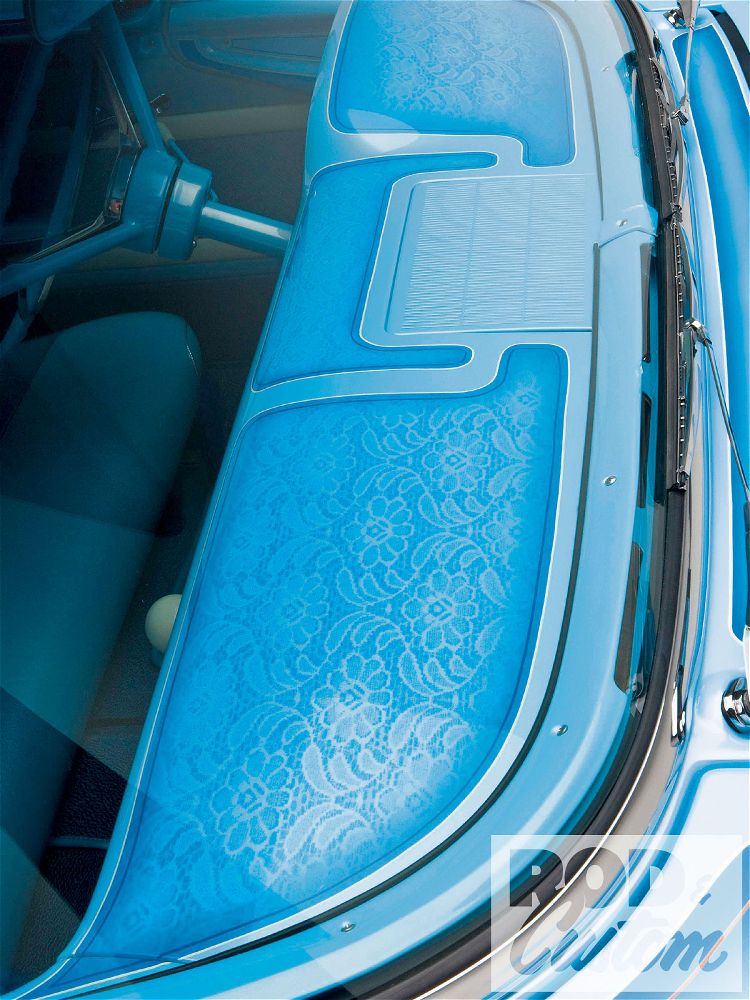 This thing is such a head turner that owner Norm better have insurance to cover all of the snapped necks that are sure to result from double take gawkers. Other than that, looks like Norm has found himself a real cure for the blues.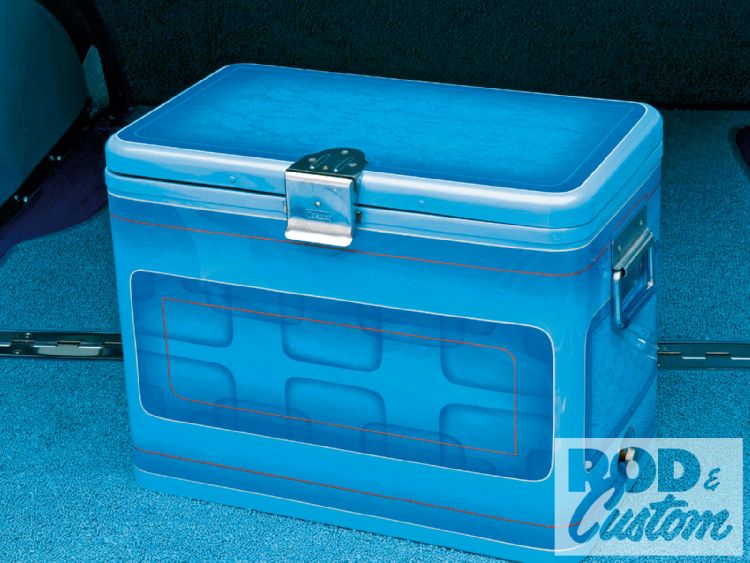 article original:
http://www.rodandcustommagazine.com/featuredvehicles/1010rc_1959_ford_ranch_wagon/viewall.html

_________________
We don't care the People Says , Rock 'n' roll is here to stay - Danny & the Juniors - 1958

_________________
We don't care the People Says , Rock 'n' roll is here to stay - Danny & the Juniors - 1958

_________________
We don't care the People Says , Rock 'n' roll is here to stay - Danny & the Juniors - 1958
une pure merveille

_________________
OLD KIT NEVER DIE
AUTOS-CAMIONS-WEBMAG

_________________
We don't care the People Says , Rock 'n' roll is here to stay - Danny & the Juniors - 1958

_________________
We don't care the People Says , Rock 'n' roll is here to stay - Danny & the Juniors - 1958

_________________
We don't care the People Says , Rock 'n' roll is here to stay - Danny & the Juniors - 1958
Sujets similaires
---
Permission de ce forum:
Vous
ne pouvez pas
répondre aux sujets dans ce forum