There are some differences of opinion that will never change as long as we're still able to modify cars; 'glass or steel, bias-plies or radials, and driven or trailered, all spring to mind. The "built not bought" debate is another, with some owners of cars they bought preferring to say they built them. Not so with Jack Elderkin, who, whilst capable of building his own—and indeed he has done—is the first to admit he bought this '55
Chevy
exactly as you see it here.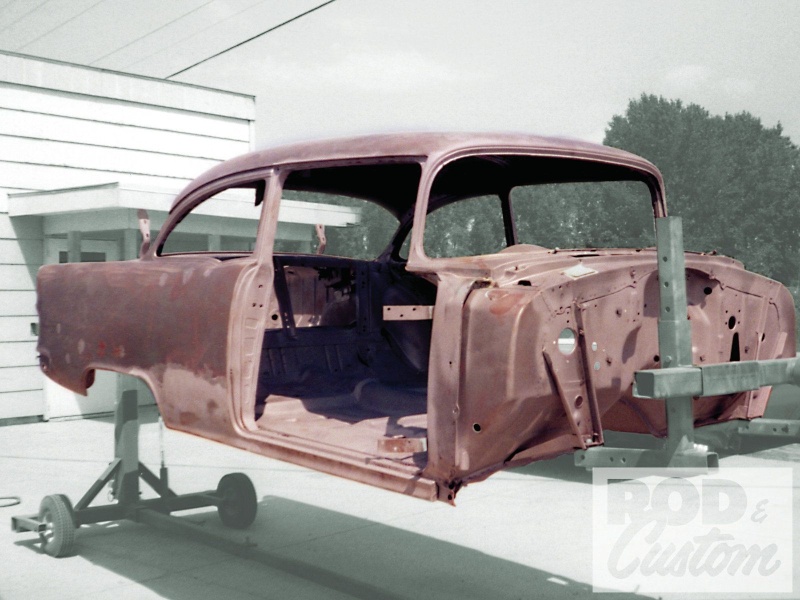 That was back in February 2009, though Jack's story goes back to the mid-'60s, when he owned a custom '58 Ford that was very similar in concept and execution to this '55—one of the reasons he was attracted to it when he discovered it for sale on the Internet. After that '58, he met and married his wife, Cathy, and found raising a family put his car hobby on the back burner for quite a few years. Familiar story, huh?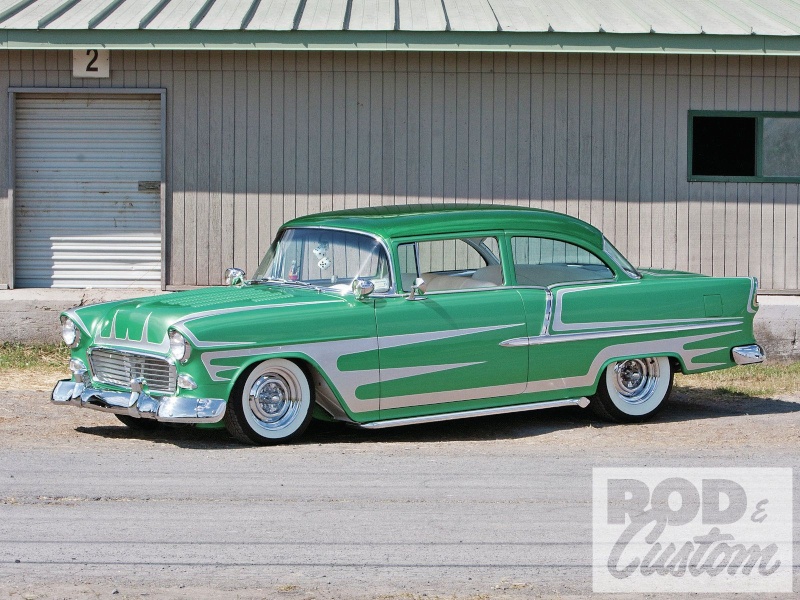 Returning to cars in the mid-'90s, Jack started small, buying, repairing, and selling, working his way up to a better car each time, and showing them at local shows, as well as Goodguys events and the Syracuse Nationals. According to Jack, "I would look and think how nice it would be to have a car of the caliber I saw at these shows." Meanwhile, the buying and swapping continued, with all that trading paying off when he found the '55 while browsing through car websites. "It immediately caught my attention. I called to my wife telling her she had to come see this car. 'What color is it?' she asked, followed by silence when I said 'green', until she came over to the computer. We both fell in love with it, as it brought back many memories of when we first met and married. Her graduation picture is now permanently mounted in the center of the dash."
 Turns out the '55 was owned by Mike Freund, proprietor of Classics Plus, Ltd. in North Fond Du Lac in Wisconsin. Specialists in modifying and restoring '55-57 Chevys, though not limited to, Freund had built the '55 not for a customer, but with the intention of selling it on completion. Jack and Freund developed a friendship via telephone, and a deal was put together that saw the '55 change ownership and move to the Elderkins' New York home. Jack is full of praise for Freund, impressed with his build quality and the fact that he stands behind the cars he builds.
 Even a cursory glance through the Classics Plus website will reveal that he knows his way around a Tri-Five
Chevy
, and this one received his full attention, with a body-off resto that resulted in the entire chassis—front to rearend—finished in the same shade of green as the bodywork. The entire underside of the floor is finished in white, lending a '60s show car feel to the very clean undercarriage. We don't envy Jack when it comes time to clean under there! Prior to paint, Freund boxed and smoothed the front framehorns then added McGaughy's disc brakes and gas shocks to the stock front suspension. The original rearend was mounted on 3-inch dropped, reversed-eye leaf springs, with an additional 3 inches of ride height reduction coming courtesy of lowering blocks. A 605 power steering box was added, before 15x6 and 15x7 Wheel Vintiques and Coker radial wide whitewall combinations made the package a roller.
 Freund dressed a white-painted 283 small-block with finned valve covers before adding an Offenhauser six-pack intake, making an impressive statement when the hood is lifted. Chromed hood hinges, master cylinder and booster, and a polished Griffin aluminum radiator all add to the underhood sparkle.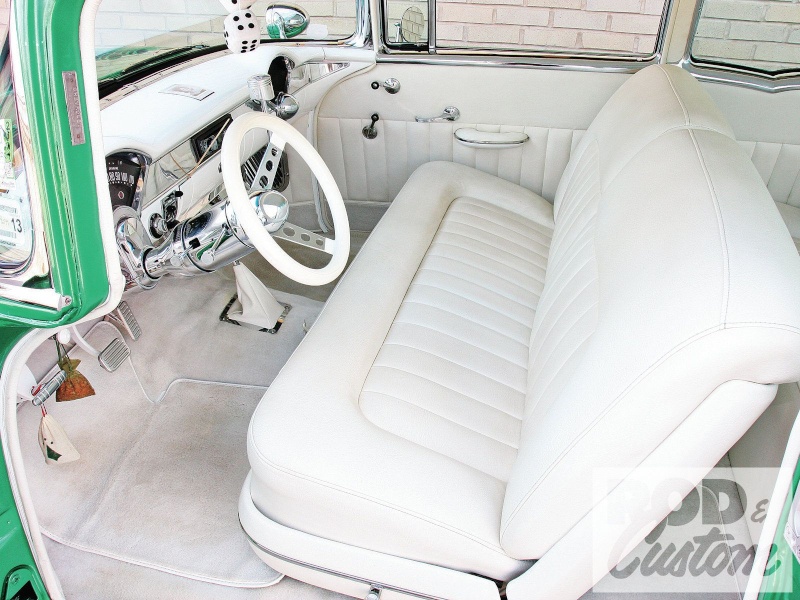 While all this was going on, the body was receiving its share of attention too, with a custom recessed firewall, shaved handles and badges, and a custom grille. A louvered hood and custom taillight lenses make a difference, but essentially it's a mild custom, relying on paint for its "wow factor", as so many '60s customs did. Freund used PPG and House of Kolor products to produce the end result, with silver metallic scallops and a darker green metalflake roof. Note also that the grille recess and fenderwells have been finished in white.

_________________
We don't care the People Says , Rock 'n' roll is here to stay - Danny & the Juniors - 1958
White is also the theme inside the car, with the stock bench seats recovered by United Auto Trim in white vinyl, white carpet throughout the cabin and trunk, a white steering wheel, and even white weatherstripping. An ididit chrome tilt column replaces the original, with the shifter and pedals coming from Lokar. The stock gauge cluster was retained in a custom insert, but Auto Meter gauges mount under the dash in chrome pods. There's more chrome, too, on all the window garnish moldings, another nice '60s touch.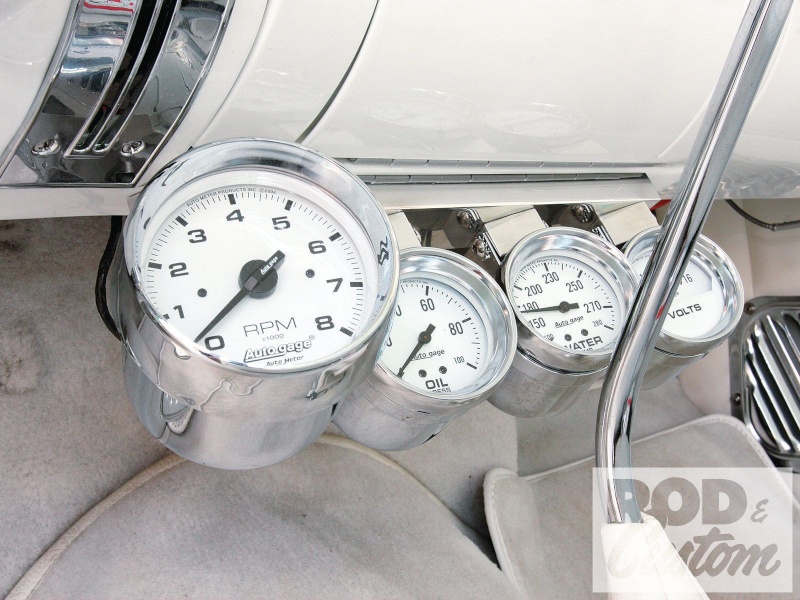 To say Jack is pleased with the '55 would be somewhat of an understatement, especially as it realized that dream for him of having a high caliber car. When we asked what had been his most memorable experience with it, he replied it was when he'd won a trophy at a national event, especially as it had been shared with family and friends. We'd say he's pretty happy with his '55! 
 This '55 150 Will Remain Just As Purchased
Rod & Custom Feature Car
Jack Elderkin
Walton, New York
1955
Chevy
150 sedan
Read more:
http://www.rodandcustommagazine.com/featuredvehicles/1201rc_1955_chevy_150_sedan/viewall.html

_________________
We don't care the People Says , Rock 'n' roll is here to stay - Danny & the Juniors - 1958

_________________
We don't care the People Says , Rock 'n' roll is here to stay - Danny & the Juniors - 1958

_________________
We don't care the People Says , Rock 'n' roll is here to stay - Danny & the Juniors - 1958
955
Chevy
150 2 door sedan, which came from Texas. Car received a rotisserie restoration with thousands of hours spent to make this a one of a kind custom. This car has high quality components abound and custom touches everywhere you look. This is a machine for someone who wants a truly special car. This car has won many National awards including Good Guys Custom of the Year Finalist, Street Rodder Top 100. The car has been featured in Rod & Custom in January 2012. This 55
Chevy
has more than 2000 hours of labor poured into it with pain staking attention to detail, the result is a "California Custom" which looks straight out of the late 50's or early 60's. Now for the facts on the car itself, it is a 283 small block
Chevy
topped off with a 6X2 Offenhauser polished intake from Vintage Speed, finned aluminum valve covers. Cooling is supplied by a Tuff Stuff aluminum high flow water pump with Billet Specialties pulleys, and a Griffin polished aluminum radiator, an aluminum 110 amp one wire alternator and a MSD ignition system, angle plug block hugger headers mated into a manderal bent 2.5 inch exhaust system with Thrush glass pack mufflers that give the engine that great 50's sound. The 283 is mated to a brand new Turbo 350 automatic transmission from B & M, has an external aluminum finned trans cooler, car has a 605 power steering box with Mike McGaughys 2 inch dropped spindles and dropped coil springs and power disc brakes, this makes it effortless for turning and stopping. Front suspension is all new with polyurethane bushings and new upper and lower ball joints. Has an original 55
Chevy
rear end. Rear suspension is a 5 leaf 3 inch drop leaf spring set up, with all new bushing and shackle kit, with 3 inch lowering blocks which gives this car an incredible look and stance. Grill is a hand made custom polished stainless steel tube assembly....absolutely one of a kind!! Every piece of chrome on the car is brand new and shines like a diamond! Another cool feature on the car are the dual fender mounted spot lights and the long chrome lake pipes, definitely a nice custom touch. All weather strip, seals, whiskers, grommets, fasteners and clips are brand new. The 55 rolls on 15 inch Coker tires mated to 15x5 front and 15X7 rear Wheel Vintique wheels. From every angle this 55 just pops!! The custom interior in the 55 is a classic and tasteful, yet infused with enough custom touches to set it apart from the crowd. The dash board is a stock 55 dash with a custom insert. All gauges are Auto Meter complete with tack which are installed in the chrome cups with a hand made aluminum bracket. All new wiring harness and an Ididit chrome tilt steering column and a Lokar shifter and pedals. The white tuck and roll interior is tasteful and attractive, nicely done by United Auto Trim of Fond du Lac, Wisconsin. In short this is a spectacular, purpose built car meant to drive and show!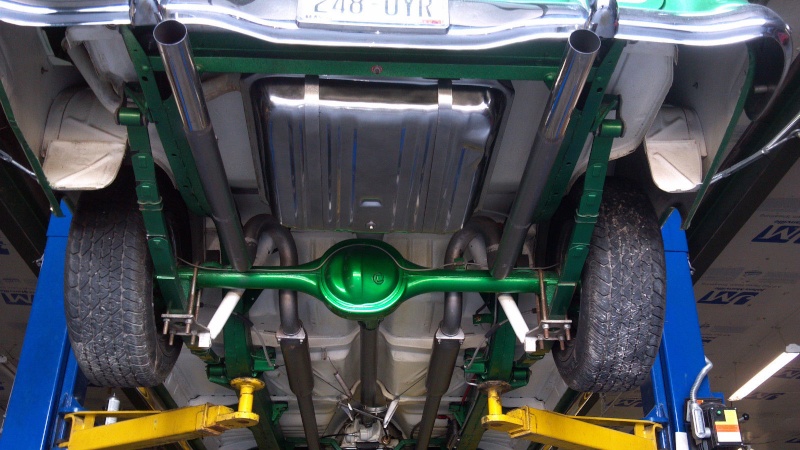 _________________
We don't care the People Says , Rock 'n' roll is here to stay - Danny & the Juniors - 1958

_________________
We don't care the People Says , Rock 'n' roll is here to stay - Danny & the Juniors - 1958
---
Permission de ce forum:
Vous
ne pouvez pas
répondre aux sujets dans ce forum