The Ford Thunderbird is an Iconic car...no collection is complete without at least one. Three men are generally credited with creating the original Thunderbird: Lewis D. Crusoe, a retired GM executive lured out of retirement by Henry Ford II; George Walker, chief stylist and a Ford vice-president; and Frank Hershey, a Ford designer. Crusoe and Walker met in France in October 1951. Walking in the Grand Palais in Paris, Crusoe pointed at a sports car and asked Walker, 'Why can't we have something like that?'
Walker promptly telephoned Ford's HQ and told designer Frank Hershey about the idea. Hershey took the idea and began working on the vehicle. The concept was for a two-passenger open car, with a target weight of 2525 lb, an Interceptor V8 and a top speed of over 100 mph. Crusoe saw a painted clay model on, which corresponded closely to the final car; he gave the car the go-ahead in September 1953 after comparing it with current European trends. Unlike the Corvette, the Thunderbird was never a full-blown sporting vehicle; Ford's description was personal luxury car, and the company essentially created this market segment. There was some difficulty in naming the car, with suggestions ranging from the exotic to the ridiculous (Hep Cat, Beaver, Detroiter, Runabout, Arcturus, Savile, El Tigre, and Coronado). Crusoe offered a $250 suit to anyone who could come up with a better name. Stylist Alden "Gib" Giberson submitted Thunderbird as part of a list. Giberson got the idea during a lightning storm when he saw an illusion of a bird getting hit by lightning, but this happened because of his view. Giberson never claimed his prize, settling for a $95 suit and an extra pair of trousers from Saks Fifth Avenue. According to Palm Springs Life magazine, the car's final name came not from the Native American symbol as one might expect, but from an ultra-exclusive housing tract in what would later be incorporated as Rancho Mirage, California: Thunderbird Heights.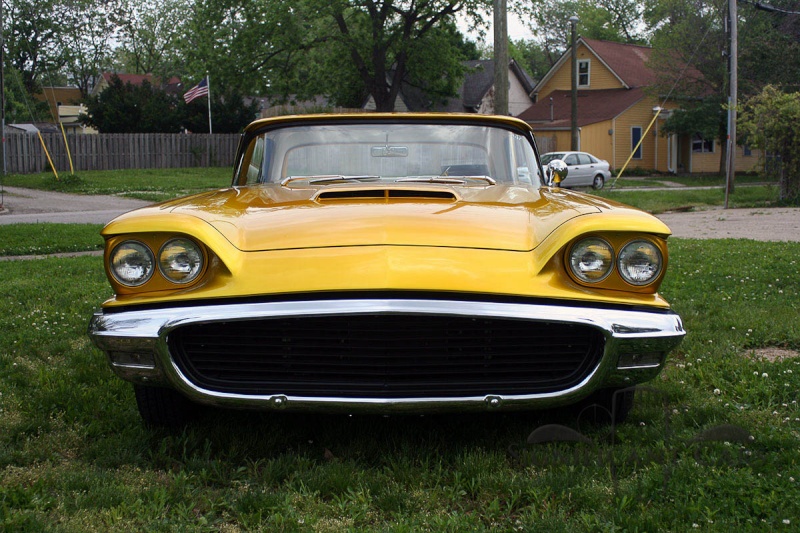 The car was shown at the Detroit Auto Show in 1954. The first production car came off the line in September, 1954, and went on sale in October as a 1955 model, and sold briskly; 3,500 orders were placed in the first ten days of sale. Ford had only projected building 10,000; eventual 1955 sales were 16,155. Although the original Thunderbird was successful, the corporation's executives -- particularly Robert McNamara -- felt its sales volume was small. Market research suggested that sales were limited by its two-seat configuration, making it unsuitable as an only car for families. The second generation, introduced for the 1958 model year, was designed as a four-seat car. Sales soared up to record-breaking 1960, at 73,051 including 10,516 convertibles.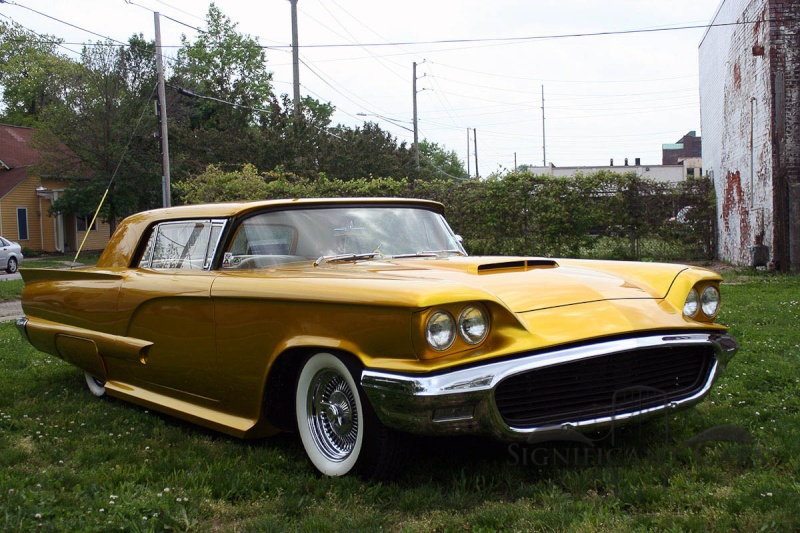 This amazing Custom has been chopped, shaved, widened and lots more- the body modifications on this car would take a page just to delineate. Everything was done correctly with metal MIG and TIG welded. Stripped to bare metal of course and painted with Orion Silver base, Pagan Gold Mid, and Hok. Clear. Phenominal paint job Featured in House of Colors annual calendar as one of the 6 best paint jobs using their product that year. Featuring a stock engine- rebuilt of course with Ford C6 Automatic, Aluminum Radiator, New Wiring Harness, New U joints, All new brake system with Dual Brake Booster, new NOS front end powder coated, , new shocks, and of course hoses, belts, rebuilt carb, Custom Dual Exhaust-Everything new and rebuilt. Vintage Air, Power Windows, Power Seats, Power Doors and Trunk, killer stereo, Custom White Leather and Gold Interior with custom dash and phone, Quad Guages, Everything is new on this car, and it has traveled only 2900 miles since completion in 2011. It has won many awards as well as being featured in Street Scene, Rod and Kulture 4 page spread. Gene Winfield Award Winner Personally picked by and signed Gene at Syracuse Nationals.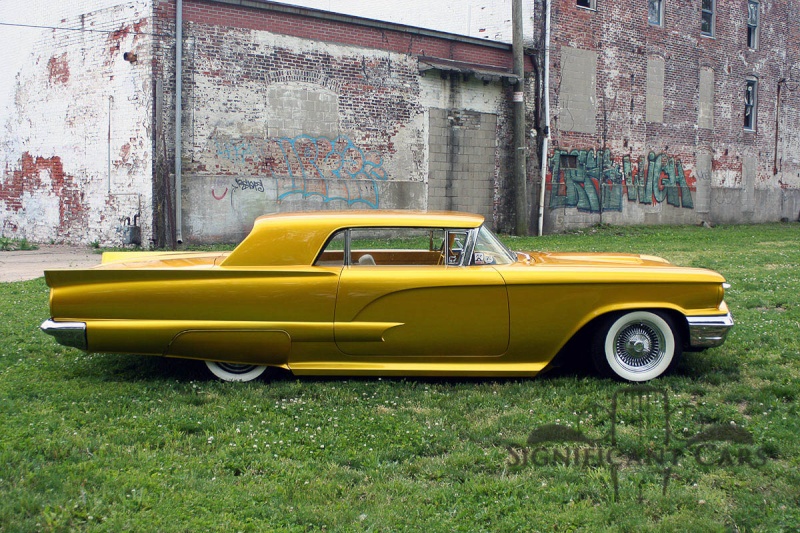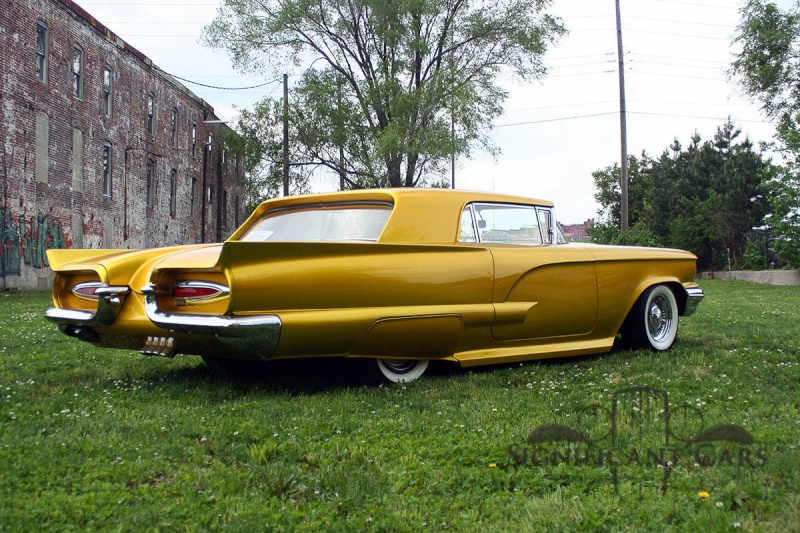 Dernière édition par Predicta le Sam 28 Mar - 13:19, édité 1 fois

_________________
We don't care the People Says , Rock 'n' roll is here to stay - Danny & the Juniors - 1958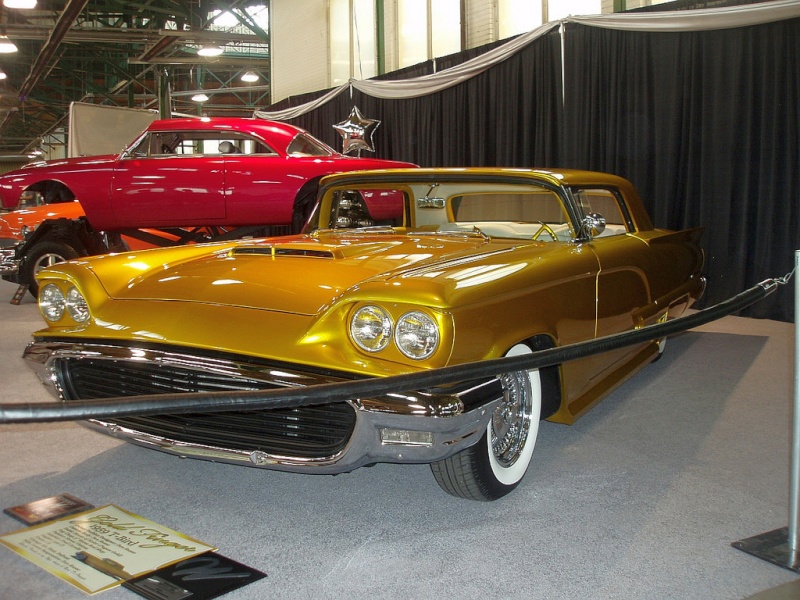 _________________
We don't care the People Says , Rock 'n' roll is here to stay - Danny & the Juniors - 1958
Ford Thunderbird . I JUST CANT SAY ENOUGH ABOUT HOW THE CAR TURNED OUT, AND THE TREMENDOUS REACTION OF PEOPLE WHEN WE TAKE HER OUT, BELIEVE ME ITS AN ABSOLUTELY STUNNING, DRIVING SHOW CAR, BUILT TO DRIVE AND DRIVE IT DOES, BUT MORE SO STOPS TRAFFIC FOR PICTURES ETC.THERES NOT ANOTHER SQUARE BIRD OUT THERE DONE LIKE THIS ONE,, I CALL HER GOLD FINGER,,,,,FINISHED IN 2011,, FIRST TIME OUT,,PERSONALLY PICKED BY GENE WINFIELD AT SYRACUSE NATS WINFIELD AWARD PRESTIGIOUS HOUSE OF KOLOR CALENDAR PICK 2012,,,2013 ROD&KULTURE MAG 4 PAGE SPREAD ISSUE 32,,,2011 YORK, NATS EAST STREET SCENE MAG. ETC..THE BUILD ,,THERE'S SO MUCH DESIGN,, PLANNING, MIG ,TIG AND HAMMER WELDING THAT ILL PROBABLY FORGET SOMETHING.......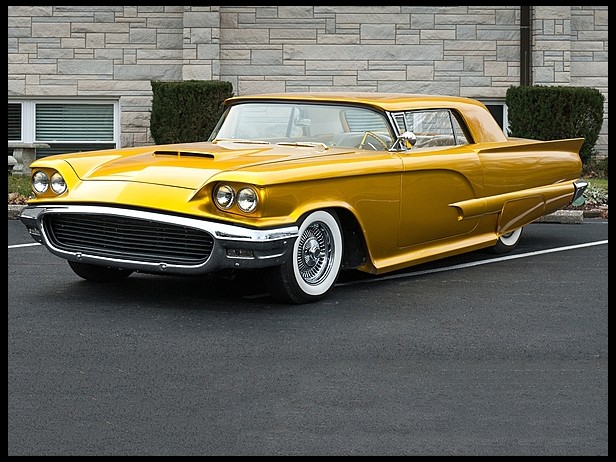 STRIPPED TO BARE METAL, EPOXY PRIMER ORION SILVER BASE, PAGAN GOLD MID COAT, HOK. CLEAR, THE CAR LITERALLY GLOWS IN THE SUN. BODY MODS;; ITS TOUGH TO CHOP A SQUARE BIRD, BUT THIS ONE IS DONE TO PERFECTION, ROOF CHOPPED 3" AND WIDENED 2" AND MOVED 3" FORWARD.,FRONT FENDER LIPS DROPPED 3" AND PULLED OUT 1",, NEW 14GA.EX TENDED ROCKERS, FILLED COWL, REMOVED DOOR CHROME SIDE SPEARS AND SCOPPED THE DOORS, NEW 16GA. FENDER SKIRTS,,REAR QUARTERS DROPPED 1" TO MEET THE SKIRTS,, CUSTOM FRONT VISOR, EXTENDED METAL AROUND THE REAR BUMPERS, CUSTOM MADE CONSOLE WITH PHONE, CUSTOM MADE DASH, STEERING WHEEL ETC. GLAS'S QUARTER WINDOWS SLIDE IN AND LOCK, TRUNK IS EXTENDED 3" IN CENTER, NEW 16 GA. REAR ROLL PAN WITH 4 OVAL EXHAUSTS,,VINTAGE AIR,HEAT,DEFROST,NEW WIRING HARNESS,QUAD GAUGES, ALUMINUM RADIATOR, ENGINE TOTALLY REBUILT 352 = 330 HP WITH NEW FORD C6 TRANS,NEW U JOINTS,ALL NEW BRAKE SYSTEM TOTAL,ALL NEW [NOS] FRONT END POWER COATED A ARMS, NEW 8' DUEL BRAKE BOOSTER, NEW [NOS BRAKE DRUMS, FINS MOVED BACK 7' OFF THE DOORS, ALL NEW SHOCKS,, ALL NEW HOSES BELTS TUNE UP, DROPPED COILS NEW REAR BUSHINGS SHACKLES, INTERIOR: FLAWLESS ,AND BEAUTIFUL,WHITE/YELLOW/GOLD TRIPLE STITCHED INTERIOR WITH CUSTOM WRAPPED GARNISH MOULDINGS. I MEAN EVERYTHING EITHER NEW, REBUILT OR REFURBISHED, STARTER, WATER PUMP 1 WIRE ALTERNATOR, CARB, PS PUMP, NEW GAS TANK, ITS A GREAT CAR RUNS 55- 60 LB OIL PRESSURE, RUNS ON THE TURN PIKE AT 75-80 ALL DAY, SMOOTH RIDE LAZAR STRAIGHT BODY, WOULD BE THE CROWNING JEWEL IN ANY ONES COLLECTION, AND ITS A DRIVER NOT A TRAILER QUEEN JUST ASK GENE WINFIELD. THANKS FOR YOUR TIME,,,,,,,,,,,
ITS A FRACTION OF THE COST IN CALIFORNIA THIS CAR WOULD GO FOR 120000 ,,,, IF INTERESTED PLEASE CALL OR EMAIL PLEASE NO TRADES AS I'M BUILDING ANOTHER KILLER, NO BROKERS OR DEALERS

_________________
We don't care the People Says , Rock 'n' roll is here to stay - Danny & the Juniors - 1958

_________________
We don't care the People Says , Rock 'n' roll is here to stay - Danny & the Juniors - 1958

_________________
We don't care the People Says , Rock 'n' roll is here to stay - Danny & the Juniors - 1958
Sujets similaires
---
Permission de ce forum:
Vous
ne pouvez pas
répondre aux sujets dans ce forum