Commissioned by the prior owner to reflect the groundbreaking customs he saw prowling the streets of Chicago during his youth, this 1936 Ford Roadster was built by Donn Lowe. The body was painstakingly restored, the rumble seat was eliminated in favor of a full-size trunk, the rear fender skirts were hand-fabricated and the cowl was hand-built from the best parts of three donor units, while the front headlight pods originated from a 1940 Chevrolet. A hand-made grille insert incorporates a narrow 1939 LaSalle grille, perfectly replicating a period customizing technique. The front bumper is a subtly modified 1940 Oldsmobile unit, while LED taillights with acrylic lenses highlight the rear, along with a windowed license-plate compartment.
Finished in metallic maroon lacquer, the Roadster has a speedster-style Bob Lee top, including hidden snaps and padded seams. The interior, trimmed by Jim Griffin of Bend, Oregon, includes a split-back bench seat with white and maroon leather, along with white Wilton wool carpeting, a theme continued to the trunk compartment. The stock dash features white-faced factory-style instruments, while the circa-1939 Ford banjo steering wheel was adapted to accept a standard horn button from a 1940 Ford. Wiring was provided by Painless Performance of Fort Worth, Texas.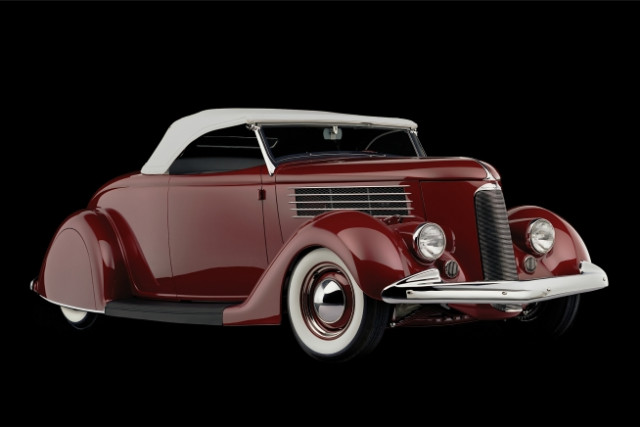 The hot 286 cubic inch Flathead V8 was machined by Yo Sigisawa of Contemporary Auto Machine of Huntington Beach, California and assembled by Bob Primmer of Costa Mesa, with a forged reciprocating assembly. Other equipment includes a 400JR Isky racing cam and a pair of aluminum high-compression Navarro cylinder heads, fly-cut by Bob McCray Performance for larger Isky valves. A Roadrunner Engineering Weiand supercharger, topped by a 390-cfm Holley four-barrel carburetor, provides induction. A Vertex magneto provides ignition, while ceramic-coated, three-into-one tubular headers feed a two-inch dual exhaust system with "glass pack" mufflers.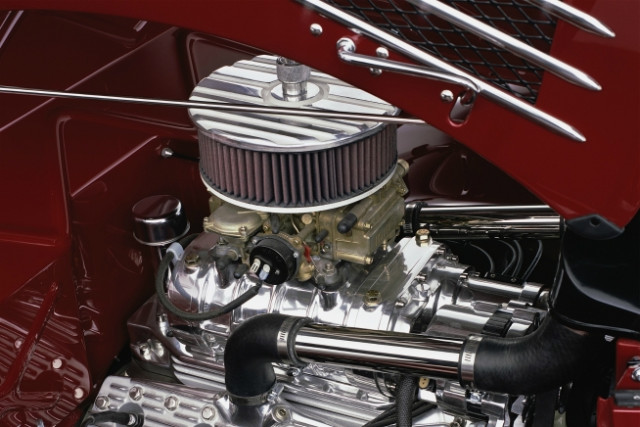 Rounding out the mechanical package, the Roadster has a Ford C4 automatic transmission driving a 1930s-vintage Ford banjo-type rear end with 3.54:1 gears, semi-floating axles and open drive by Hot Rod Works of Nampa, Idaho. The front suspension features a forged front axle by Chassis Engineering with stock-type 1937-1941 Ford spindles, while Pete & Jake's provided the bolt-on steering arms and wishbone split kit and Ken Fenical's POSIES contributed the reversed-eye spring. Braking has been upgraded with a hydraulic system, with a Pete & Jake's dual-circuit master cylinder controlling a set of front disc brakes with vented front rotors and four-piston calipers within Buick-style drums that are complete with Ford-style backing plates, by So-Cal Speed Shop. A pair of Ford Bronco 11-inch drums handles rear braking.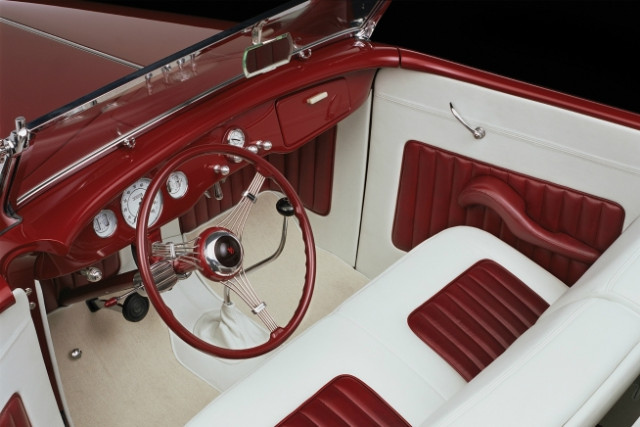 Rolling on a set of 1946-1948 Mercury steelies with 1940 Ford-style hubcaps by Wheel Vintiques and shod with a set of BF Goodrich-style tires from Coker Tire, the Roadster possesses an unmistakable profile, with all the power, performance and attitude of the early hot rods of the late 1940s and early 1950s. The subject of a February 2008 feature in Street Rodder, this magnificent 1936 Ford Roadster truly represents the fulfillment of boyhood dreams.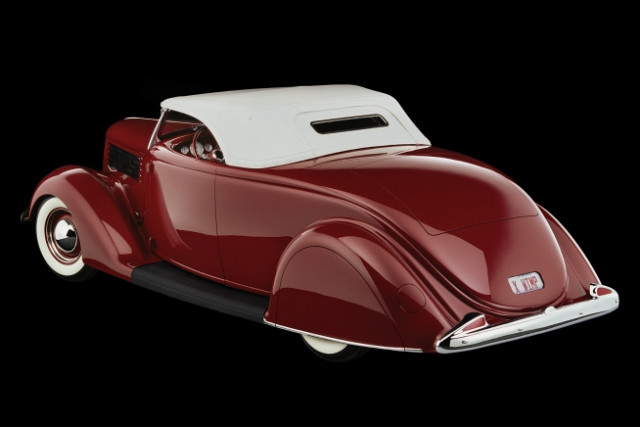 This car was auctioned off by RM Auctions in January of 2010 at the Arizona Biltmore Resort & Spa, Phoenix, Arizona.
231 hp, 286 cu. in. Ford "Flathead" V8 engine, Weiand supercharger, four-barrel Holley carburetor, Ford C-4 three-speed automatic transmission, forged front axle by Chassis Engineering, stock-style 1937-1941 Ford spindles, Pete & Jake's bolt-on steering arms and wishbone split kit, reversed-eye spring by POSIES, semi-floating rear axle, and hydraulic front disc, rear drum brakes. Wheelbase: 106"

_________________
We don't care the People Says , Rock 'n' roll is here to stay - Danny & the Juniors - 1958
---
Permission de ce forum:
Vous
ne pouvez pas
répondre aux sujets dans ce forum