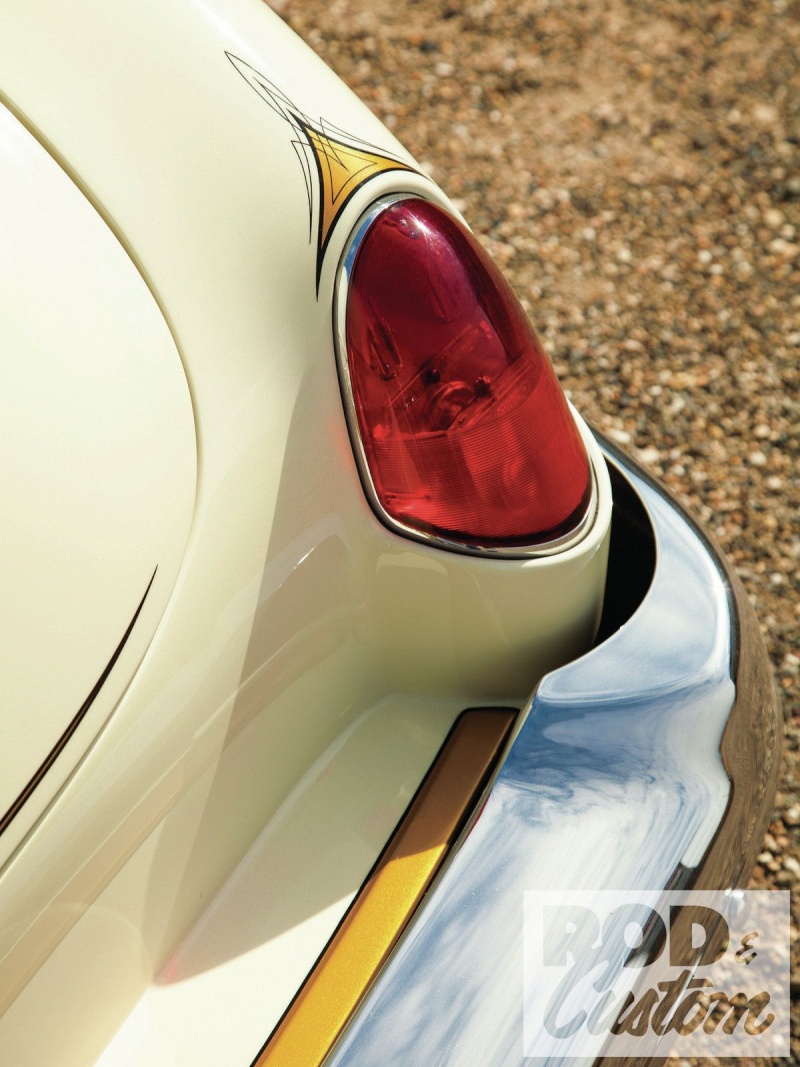 Sam Barris, Gil Ayala, Harry Westergard, and Donn Lowe? Probably the only valid argument one could pose to not justify that last name into the "legends of customs" list would be nothing more than a generation gap—because when it comes to style, vision, quality, and hands-down raw talent, Donn's the cream of the crop and at the top of any qualifying list of traditional custom car builders … then, now, and even those yet to come.
While maybe not quite the household name as the aforementioned (yet), Donn Lowe's credentials truly speak for themselves. Most recently, many of you may recall, we featured his work resplendent on the "Futurama Forty", recipient of America's Kustom D'Elegance at the 2011 Long Beach Motorama. And when we got word that Donn not only was about to debut another one-of-a-kind creation at the most recent Cruisin' Nationals in Santa Maria, but a "personal" car of his own, there was no thinking twice about shuttling ace lens man Tim Sutton up to capture it on film—sight unseen. Without question, the only thing we were disappointed with was the fact that, unlike his previous efforts, we didn't get to see his '50 Bel Air in person. So, as will have to be the case with the majority of you, our esteemed readers, we'll have to settle with the best printed reproduction can offer.
According to its current curator and re-creator, the hardtop Chevy is, or should we say "was", a one-owner gem prior to it changing hands. Having wanted to build a '49-52 custom of his own for quite some time, upon learning of the Bel Air's availability through his friend, Al Pierish (a little eavesdropping at car shows never hurts), Donn wasted little time getting in touch with the original owner's son to make a deal happen. Within days, he and his wife, Jeanie, drove down the coast from Oregon City to Coos Bay, paper was exchanged, and just as quickly the Chevy (under its own power, no less) was headed to Lowe Customs. This was back around 2006, however; the following transformation wouldn't come together in such a timely manner—but what custom does … especially one not getting billed for all the countless hours of labor?!
Donn says it was a couple of years before he actually got started on the '50; four years from first slice to final polish. In our book, that's no back-burner build. He also noted the Bel Air is his 73rd top chop—that's right, 73 lids lowered over his career. And even with that many over the beltline slices under his belt, not to mention the minimal amount of material removed (a couple inches, max), it's still what he considers the project's most challenging aspect, obviously the pillar-less model option having much to do with that (i.e. massive stainless reworking and a tricky three-piece backlite). Donn furthered his reassessment of the build, claiming that in retrospect, he would have sectioned the Chevy as well. Don't think we need to question that, regardless of how impressed we are with the hardtop in full lower profile.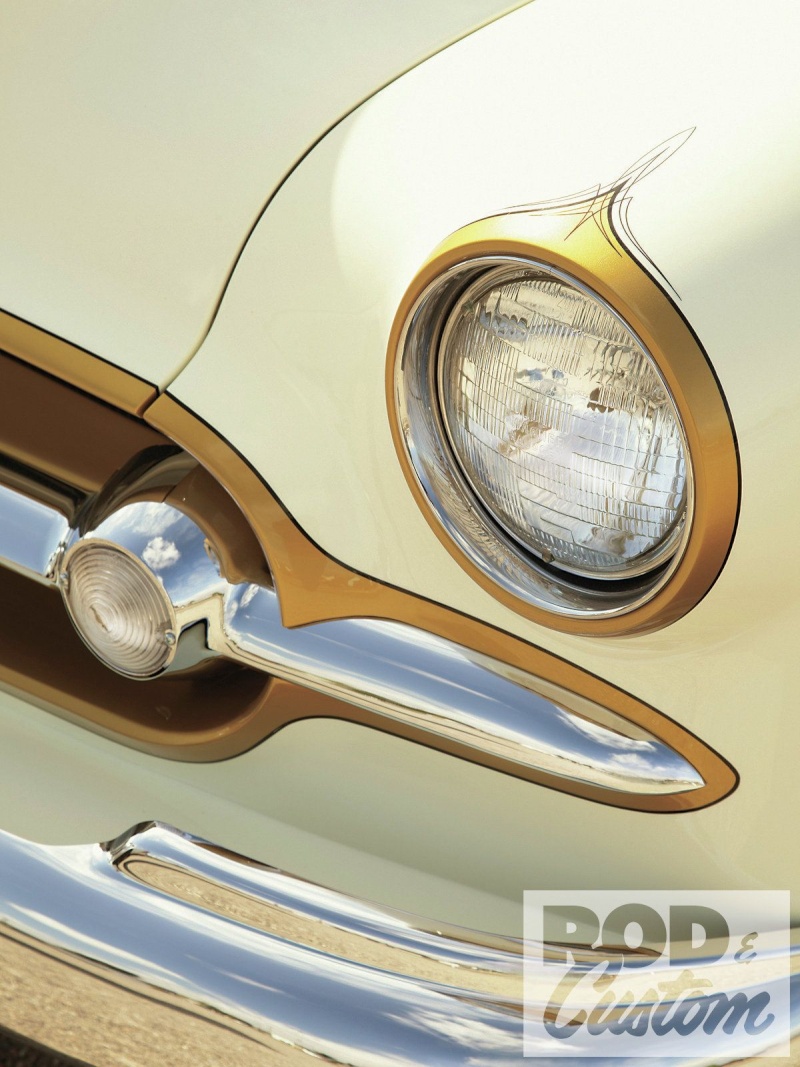 _________________
We don't care the People Says , Rock 'n' roll is here to stay - Danny & the Juniors - 1958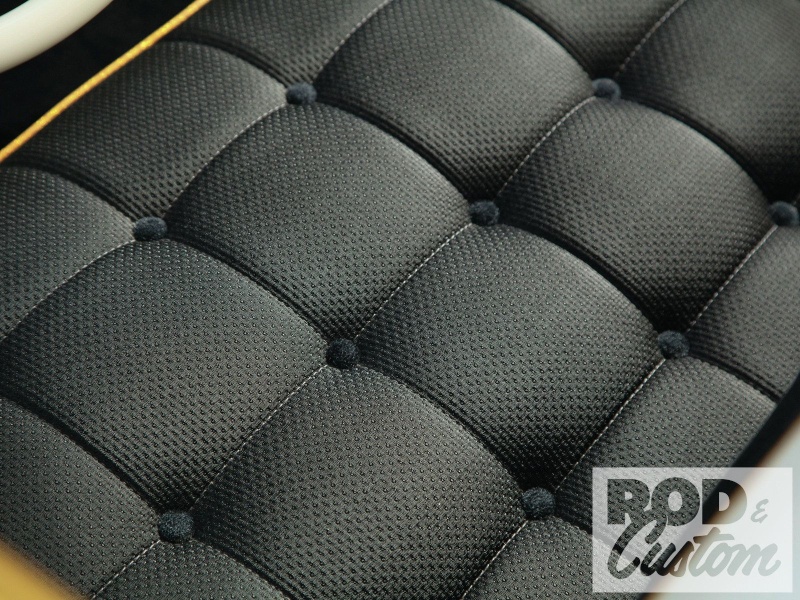 Now, when we use the term "traditional" in regards to Donn's custom, well, it goes deeper than the gold-accented creamy white exterior skin. While the old Blue Flame inline 216 has given way to a slightly newer '62 283 V-8, the powerplant is still considered vintage to some degree; the original IFS is still intact, albeit now outfitted with Fatman Fabrications dropped spindles and cut coils; and each factory 15x5 wheel retains drum brake mounting (the rears a bit newer by way of a Ford 9-inch, however). So basically, minimal modernist modifications, as it were.
OK, let's get back to the body where Donn and Lowe Customs' Eric Johnson undoubtedly spent the majority of their time and effort. Beyond the chop, here's a summary of what it took to achieve the final product: filled hood, '53 Chevy grille surround with custom grille, frenched headlights, '52 Ford front fender flares, tapered quarter-panels, wedge-sectioned decklid, inverted '51 Frazer taillights, '50 Olds one-piece windshield (and same-year rear bumper), front/rear splash pans molded in, handmade side trim, and scratch-built (smooth) rockers. The Bel Air's main coloring, PPG Vanilla Shake, was applied by Gene Delco, while Donn teamed up with Mitch Kim (Oregon City) for the accenting scallops and striping. For the interior, Jim Allmer (Longview, Washington) carried out the hardtop's early/elegant vibe perfectly by outfitting its innards with cream-colored, biscuit-tufted vinyl complemented with similarly templated black Cadillac material inserts.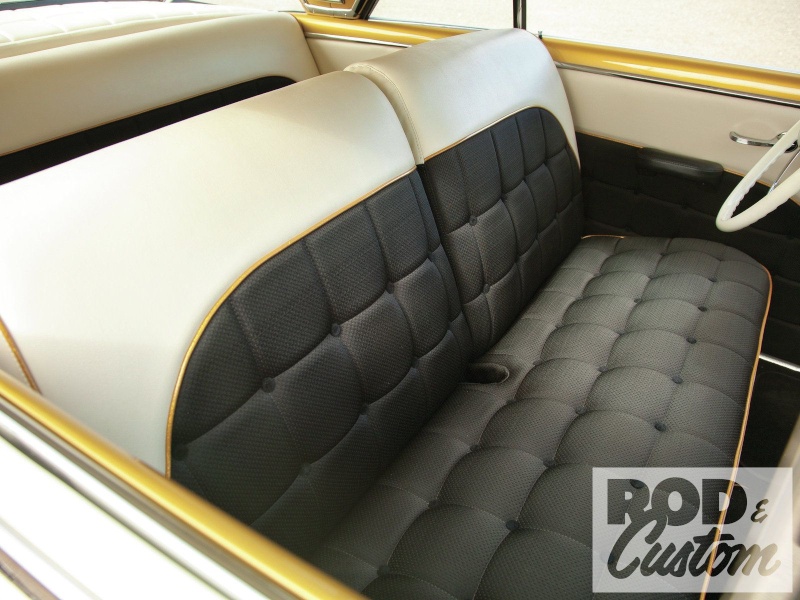 About the only thing we're wondering at this point is whether or not Donn's got anything special planned for his stellar 75th chop? Only time will tell.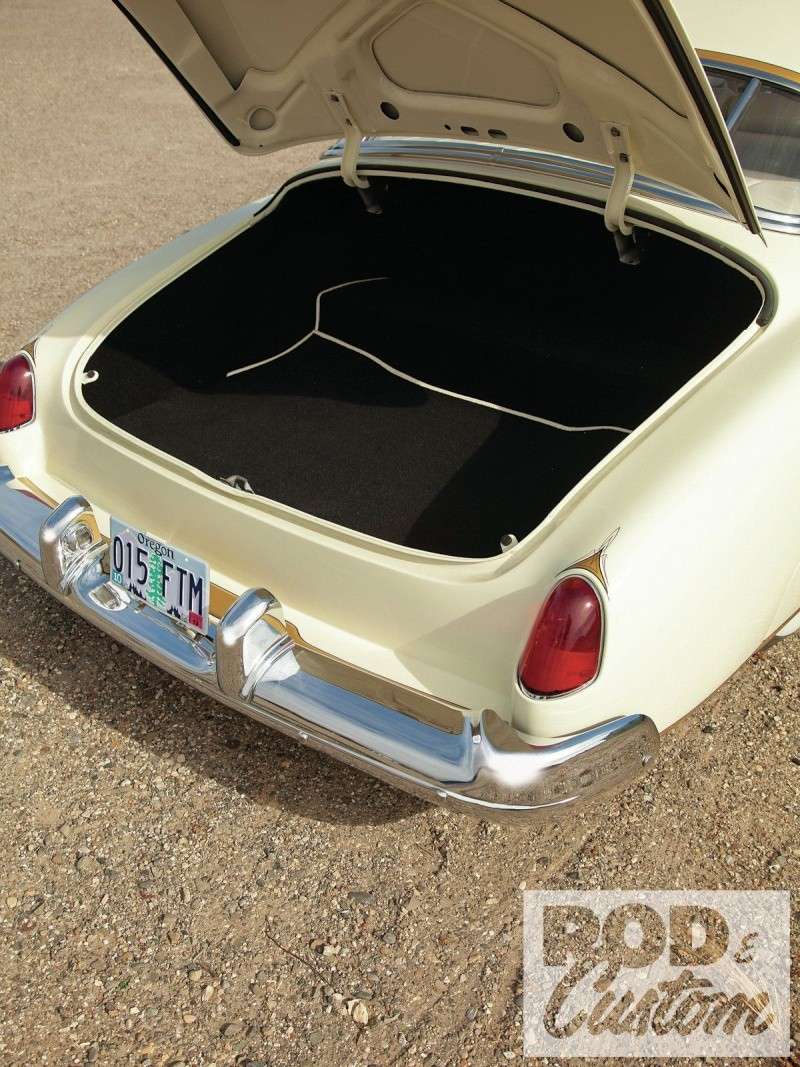 Read more:
http://www.rodandcustommagazine.com/featuredvehicles/1301rc_1950_chevrolet_bel_air

_________________
We don't care the People Says , Rock 'n' roll is here to stay - Danny & the Juniors - 1958
Dernière édition par Predicta le Sam 28 Mar - 8:42, édité 1 fois

_________________
We don't care the People Says , Rock 'n' roll is here to stay - Danny & the Juniors - 1958

_________________
We don't care the People Says , Rock 'n' roll is here to stay - Danny & the Juniors - 1958

_________________
We don't care the People Says , Rock 'n' roll is here to stay - Danny & the Juniors - 1958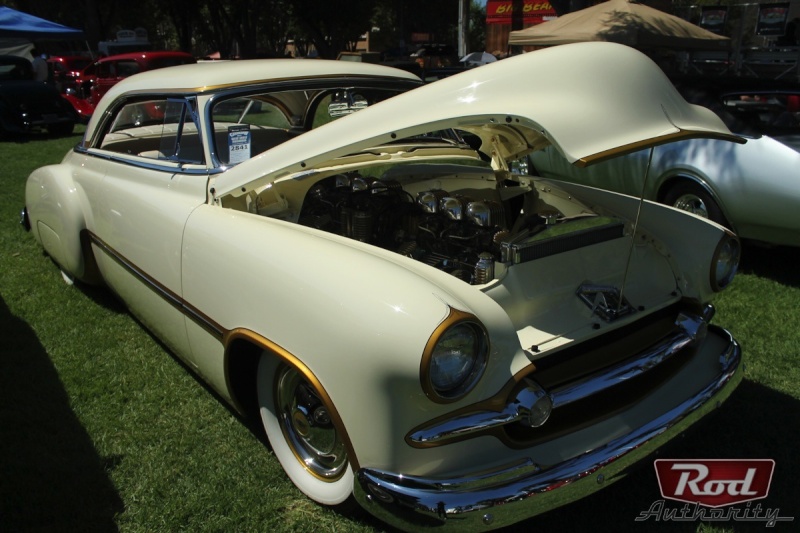 Jerry Logan's '50 was one of the most standout traditional show-kustoms that we saw at the event. When he pulled in, around all the roadsters and street rods, people stopped what they were doing in order to admire some real wild class from the past.
Jerry brought his '50 hardtop kustom down from Hilsboro, OR and we're glad he did! Although we weren't able to catch up with the man himself we still paid our respects to the car by snapping a few shots and doing a couple, plus a couple more, walk arounds to see what it was all about.
The 350 ci/TH350 powered '50 houses the powerplant inside of a beautiful bay–not as pretentious as a shaved and smoothed Ridler bay, but tidy, consistent, and with some real soul. The kind of soul from a driver that knows a thing or two about living fast, but looking presentable. The mirrored firewall and matching gold/chrome finned beauty kit tie everything together.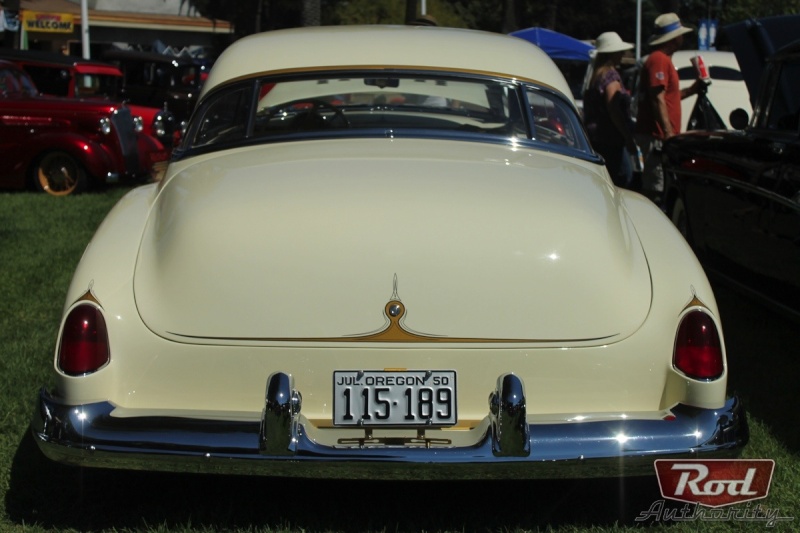 Frenched headlights, reshaped fenders, and a floating grille are all fundamental and executed with reserved confidence. The cream/gold color combo is reminiscent of a puff pastry that registered at Kool Skool for some AP classes on 60s West Coast flavor.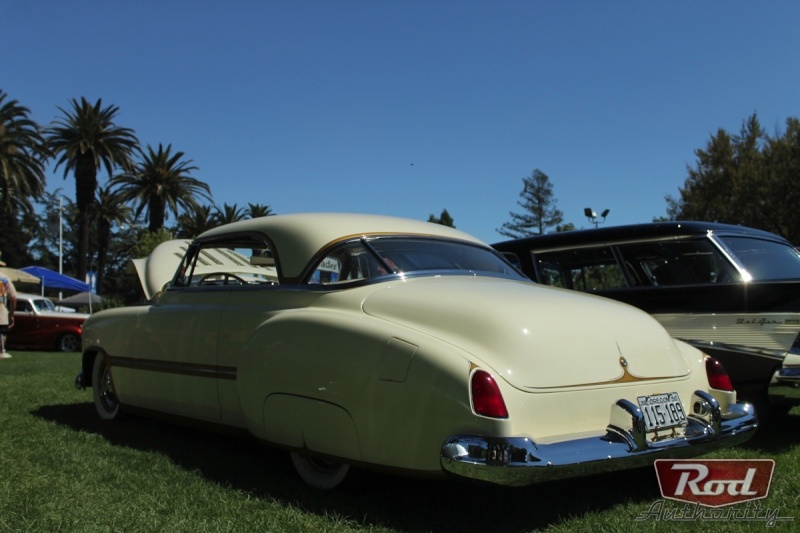 On the inside, gold piping and cream seats keep the whole build in line. The dashboard was extended downward to house a modern AC/heating unit that looks like it was designed in the 50s. There's nothing out of time about Jerry's kustom and it's always a pleasure seeing traditional rides like this at Goodguys.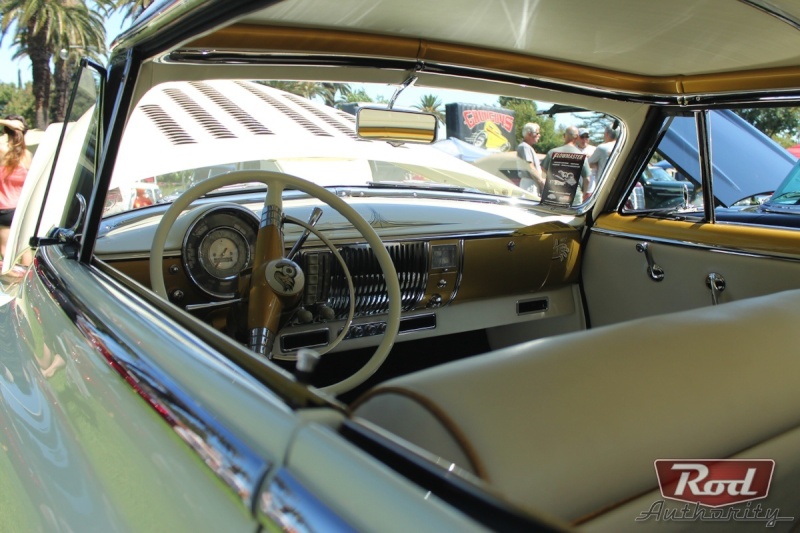 _________________
We don't care the People Says , Rock 'n' roll is here to stay - Danny & the Juniors - 1958

_________________
We don't care the People Says , Rock 'n' roll is here to stay - Danny & the Juniors - 1958
Magnifique !
quel dommage d'exposer une telle beauté avec tout ouvert ...

Zed




Messages

: 149


Date d'inscription

: 10/11/2012


Age

: 51


Localisation

: Oraison (04 )



---
Permission de ce forum:
Vous
ne pouvez pas
répondre aux sujets dans ce forum