Oftentimes we can be in awe of a hot rod so well done we aren't sure where to begin or even where to point and say, "There, that's what makes this car so special, so different from the rest."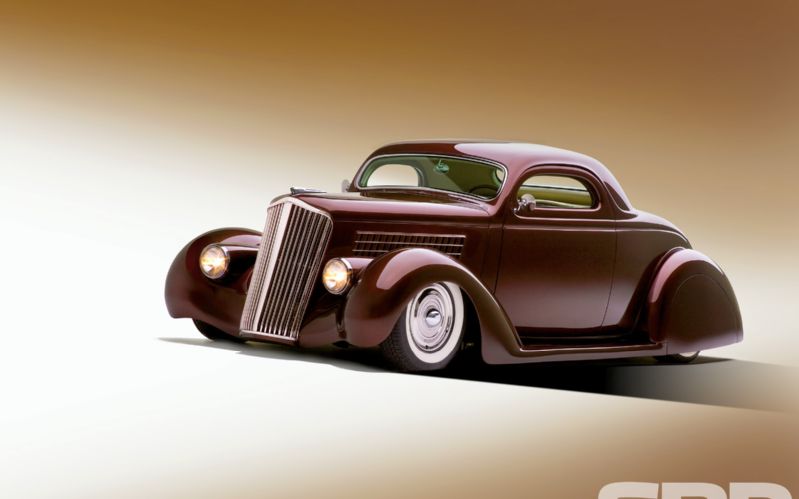 "Bugs", from SoCal, enjoyed the lines of the original Lincoln Zephyr, but not having one he took a different approach. He felt the Zephyr styling reflected his like of the art-deco era and knew he wanted to incorporate this look and feel into his custom. His '35 Ford custom coupe just might be one of those cars that's special, different from the rest. Well, we called it a "coupe" but the reality is this piece of historic Ford tin began as a '35 humpback sedan and turned into a coupe by Troy Ladd and his staff at Hollywood Hot Rods (HHR) in Burbank, California. To get to this point, a great deal of effort and talent was pressed into service.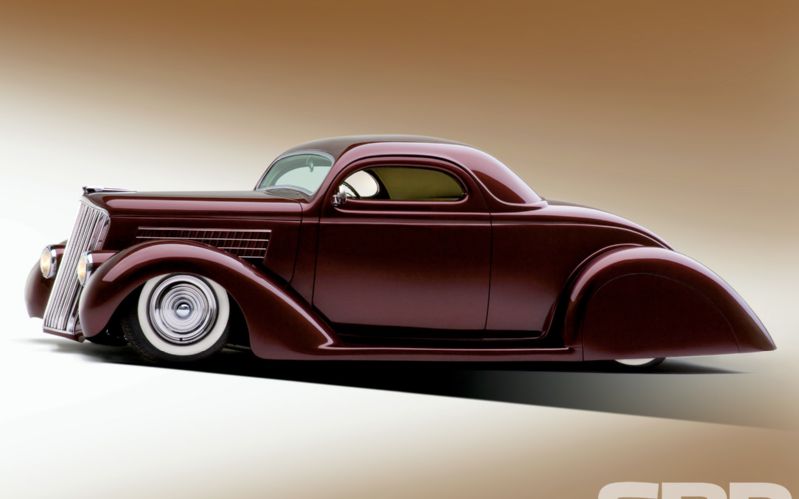 HHR began with the sedan body, chopping it 5 inches, fitting it with a fabricated steel roof insert, all the while retaining the sedan rear window, utilizing suicide sedan doors along with custom sweeping window frames. Look closely at the lower door body line and you'll see that it "flows" into the custom-fabricated rocker panels. The sharp non-symmetrical peak rear fenders are custom, pontoon style, extended 8 inches, and filled with fabricated-full cover fender skirts.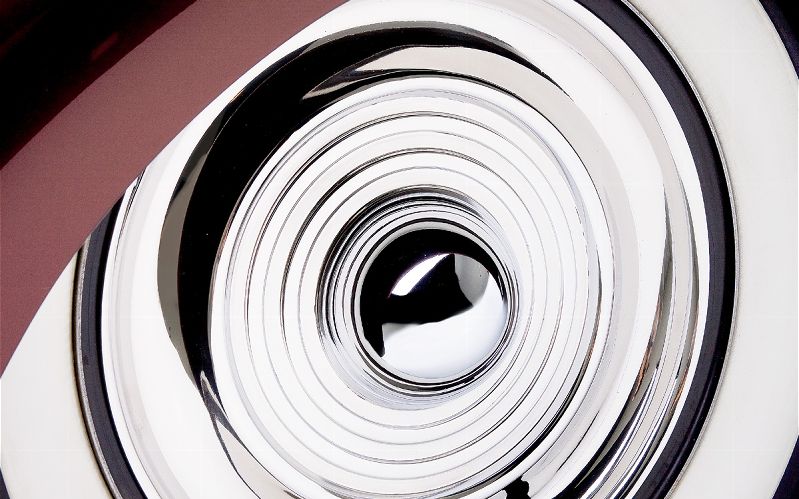 The rear section of the car is extended 6 inches and outfitted with '46 Hudson taillights, integrated into a custom rear rolled pan. More custom work in back includes the fabricated rear bumper using '49 Merc bumper bullets, while resting between the rear fenders is an aluminum decklid made from a Bentley hood skin.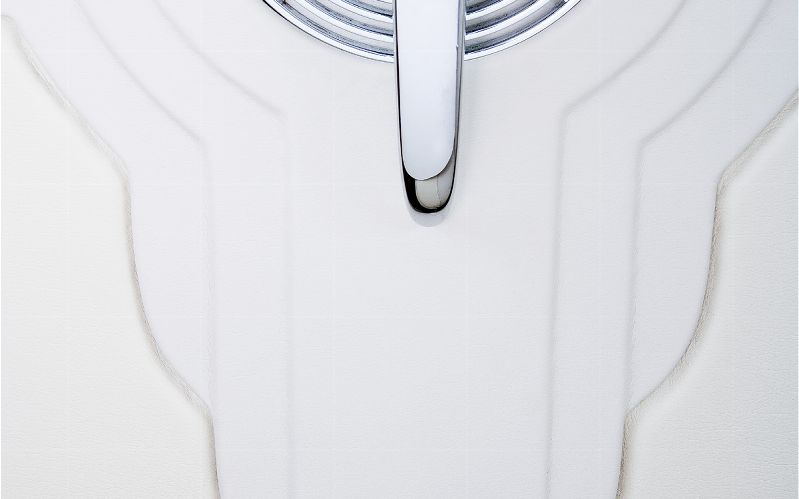 The front fenders also fell into the custom-fabricated category beginning their life as '35 Plymouth fronts with a peak added along with integrated contoured running boards and horizontal joints. The headlights started as '41 Chevy truck buckets but were neatly molded into the fenders. Resting directly between the front fenders is a '41 white commercial truck grille with a handmade stainless surround and a custom hood featuring a peaked crown and handmade sides resurrecting '35 Ford louvers. All the HHR massaged sheetmetal was then taken to John Harb and his crew at The Shop (Los Angeles) for one final bit of bodywork and then painted in a PPG Cherry Amber Red.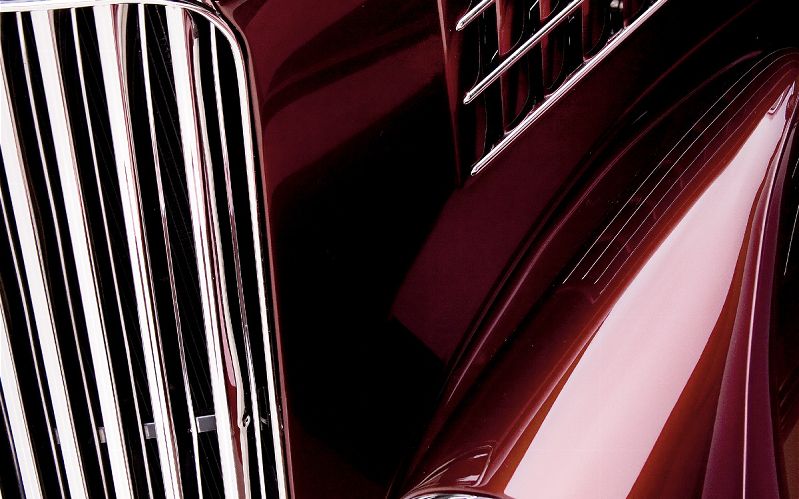 All this massaged and painted sheetmetal rests on a Fatman Fabrications (Charlotte, North Carolina) chassis featuring an independent front suspension, power rack-and-pinion, Firestone airbags utilizing an Air Lift digital air suspension, KYB shocks, and drum brakes linked to a dual reservoir master cylinder with a power booster.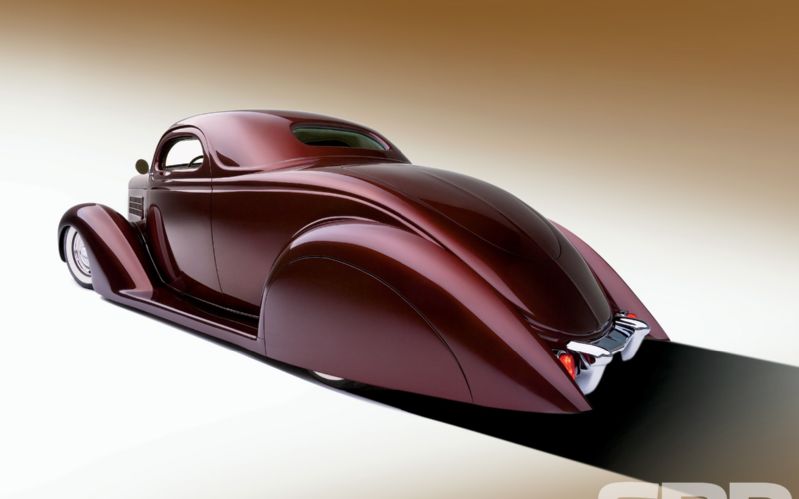 _________________
We don't care the People Says , Rock 'n' roll is here to stay - Danny & the Juniors - 1958
The rear suspension is again a combination of Air Lift, Firestone, and KYB linked to a triangulated four-bar built around a Ford 9-inch with 3.08 gears. More corner items include Wheelsmith Smoothies, measuring 15x6, wrapped with Coker radial wide whites, and dressed with '41 Studebaker caps.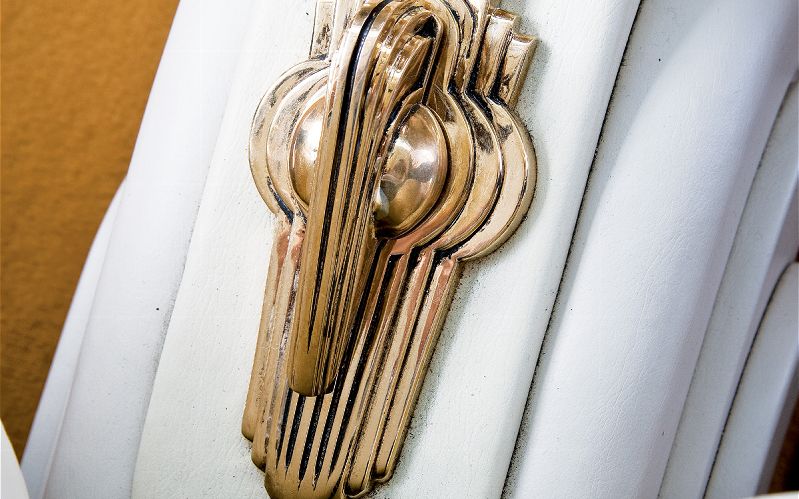 The engine is the hot rod workhorse in the small-block Chevy crate motor with an Edelbrock intake, 650-cfm four-barrel, and finned air cleaner and valve covers. An HEI ignition is retained along with block hugger headers and 21/2-inch exhaust system and turbo mufflers. Hooked to the small-block is a 700-R4 prepped by Transition (Sun Valley, California), equipped with a Gennie (Denver) shifter and linked to an Inland Empire Driveline driveshaft (Ontario, California).
The early Mustang buckets are covered in Ultraleather by Dave Martinez. Note the trim line
Bugs wanted to have a hand in his hot rod, so the well-known tattoo artist made his artistic talents visible throughout the interior. The art-deco design and renderings came directly from his mind to his pen and through his hands yielding the one-of-a-kind art-deco dash knobs, center console, ignition bezel, and key.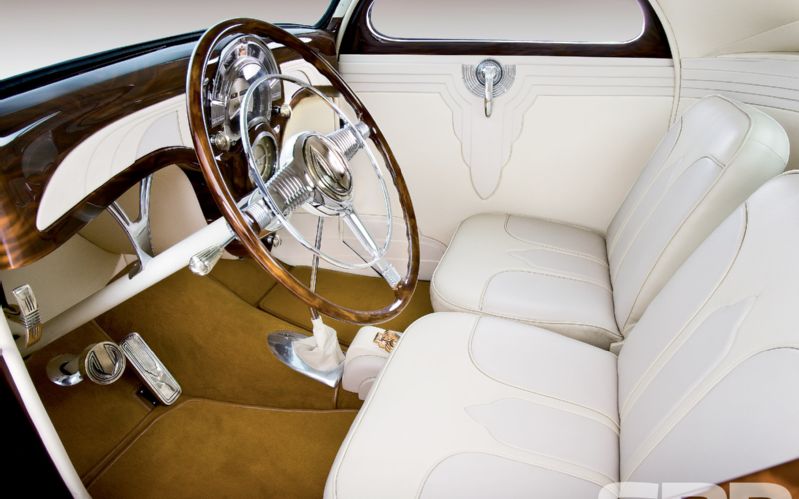 The '46 Pontiac steering wheel features a matching horn button matching the custom brake pedal, shift knob, and handles all made by Bugs. Other interior appointments include the custom-fabricated one-off steel dash by HHR while the gauge cluster is a restored early Chrysler with a '41 Mercury clock. The dash and garnish molding was painted in a woodgrain pattern by Jon Harb. The interior stitch work was handled by Dave Martinez, of Martinez Custom Upholstery (Burbank, California), and covers early Mustang buckets in Ultraleather.
This custom coupe will most definitely stand the test of time bringing the best of a bygone era forward and coupling with today's craftsmanship.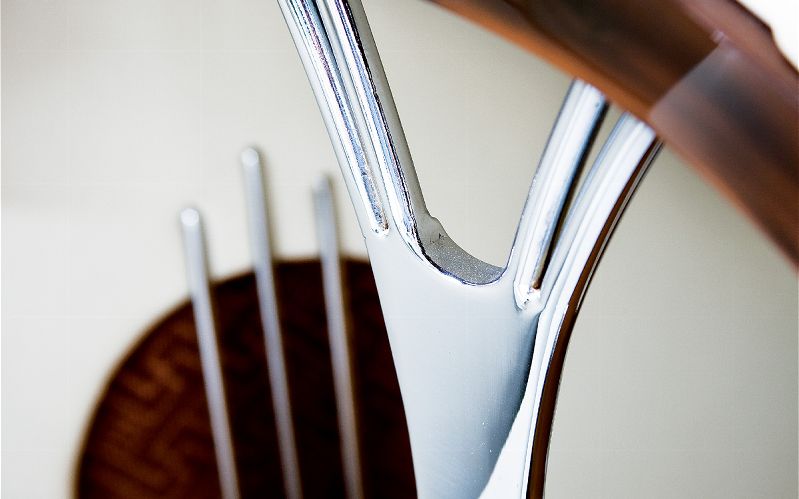 _________________
We don't care the People Says , Rock 'n' roll is here to stay - Danny & the Juniors - 1958

_________________
We don't care the People Says , Rock 'n' roll is here to stay - Danny & the Juniors - 1958

_________________
We don't care the People Says , Rock 'n' roll is here to stay - Danny & the Juniors - 1958

_________________
We don't care the People Says , Rock 'n' roll is here to stay - Danny & the Juniors - 1958
---
Permission de ce forum:
Vous
ne pouvez pas
répondre aux sujets dans ce forum